Buy now, pay later— When e-commerce boomed from the COVID-19 pandemic, so did commerce trends like buy now, pay later which made online shopping easier and more accessible than ever. But what is BNPL and why should you be using it for your Shopify store?
Let's dive into the trends we're seeing with its widespread adoption, why it's beneficial to you as a merchant, and how it elevates the customer experience.
What is Buy Now, Pay Later?
Buy now, pay later (BNPL) is a point-of-sale financing solution that lets shoppers choose a financing plan and pay in installments over time rather than the order total all at once. It usually comes with no (or very low) interest, making it no additional cost to the user.
How Does BNPL Work?
With BNPL shoppers pay the initial installment amount and then the BNPL provider, like Sezzle, covers the remainder of the order cost. The merchant (that's you) is paid in full immediately and can process/ship the order like any other. The shopper in turn pays over a series of predetermined installments directly to Sezzle until their balance is paid.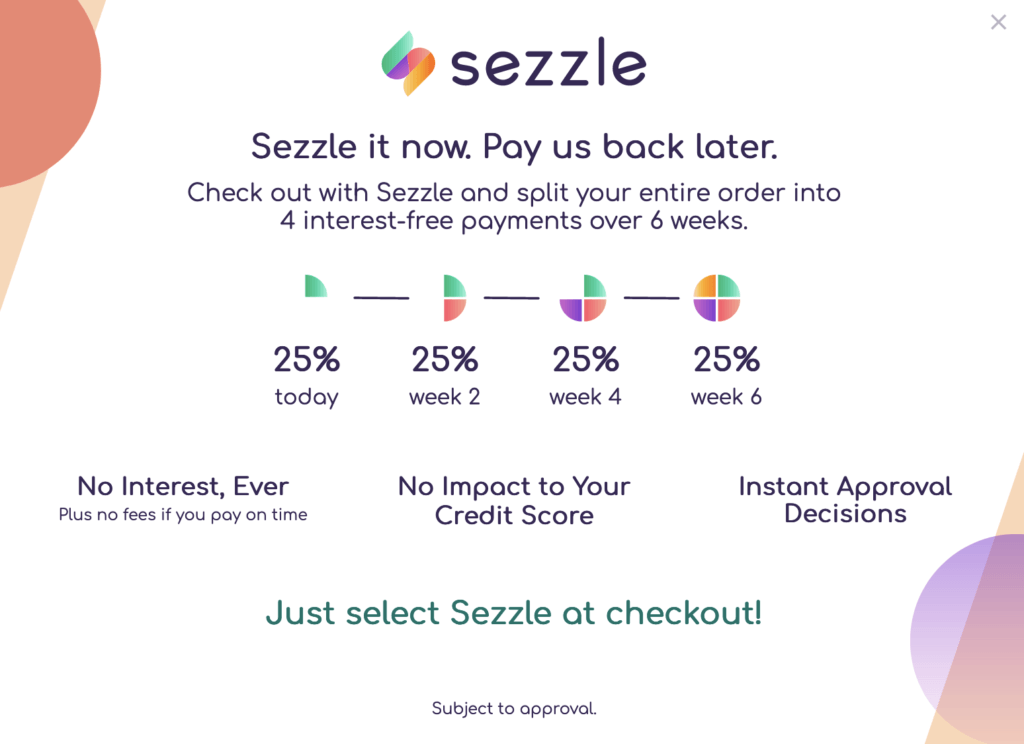 Why You Should Add BNPL to Your Shopify Store
First and foremost, flexibility! It gives shoppers the ability to spread out their purchase over a series of installments but without the delayed gratification of a layaway plan. Additionally, they're usually charged no interest (aka no extra cost) and there won't be any impact to their credit. But for you as a merchant, there are even more benefits like the ability to bring in new customers, close more sales, and sell products at a higher price-point without having to take on the risk of non-payment.
1. Millennials Prefer The BNPL Option
Millennials and Gen Z have a combined $350 billion worth of buying power and they like the flexibility that BNPL provides them. They make 60% of their purchases online and are wary of the traditional credit card industry, making BNPL the golden child for this generation's financial choices. Millennials make up 51% of reported BNPL users, but they're not alone, Gen Z also is also wary of the potential to rack up high-interest debt and eschew credit cards.
As these generations continue to grow into their prime consumer years, it's important to note the behavioral shift in their preference for alternative payments and how merchants need to evolve with them.
2. Streamlined & Flexible Checkout Process
The fewer steps there are between a shopper and the order confirmation page the better. Using BNPL solutions streamlines the checkout process since a shopper can simply log in to their account with that provider and the necessary information is already there.
No need to enter shipping/billing information, get up for their credit card and potentially get distracted—BNPL keeps them on task at the point of checkout with almost no user friction.
In addition, the flexibility that BNPL provides consumers is key—30% of Americans don't have a credit card (that number is much higher among Gen Z & Millennials) so BNPL makes online shopping easier with additional options for payment. The ability to get their order now even when they don't have the funds on hand or the card to get them, BNPL provides them instant gratification with easy and flexible terms.

3. Reduce Abandoned Carts
About 8 out of every 10 carts are abandoned online, so anything you can do to reduce that by even 1 would mean a 10% lift in sales! Out of BNPL users, 31% said they would abandon their cart entirely if BNPL wasn't an option.
One of the most common reasons given for abandoning a cart is overall price or surprise costs at checkout. Promoting your BNPL options early in the customer journey, for example, in a banner on your home page, would let shoppers know that's an option from the start and keep them confident.

Plus, you can place BNPL messaging in a cart abandonment offer that can help reduce sticker shock, showing them that they can, in fact afford the items in their cart.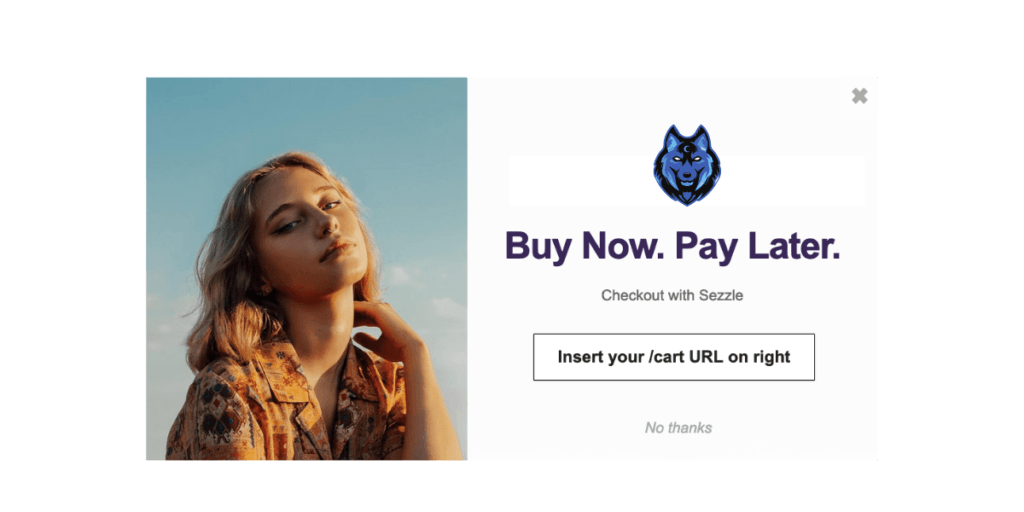 4. Increase Average Order Value (AOV)
BNPL can increase order value in the same way it reduces abandoned carts: it gives shoppers control of what and how they buy. The ability to pay in installments gives shoppers the option to purchase larger orders without an immediate, larger impact on their wallets. Not to mention during the holiday season, when many consumers are spending more than normal, a way to purchase the gifts they want at a pace that's right for them while still getting them under the tree in time.
For those who are already users of BNPL, 48% of them say its availability influences purchasing decisions, perhaps swaying them into adding a bit more to their cart than they originally intended. According to Scott Galloway, its presence alone can increase AOV by 20-30%.
5. Foster Loyalty & Retention
The fifth and final reason to add BNPL options to your Shopify store is that it fosters loyalty and improves customer retention. By creating an easy and positive purchase experience, you'll experience more repeat customers, and knowing that you have BNPL options will be top of mind for them when it comes time for their next order.
The convenience factor alone fosters loyalty, with 33% of BNPL users using it monthly and 17% weekly, making this one of the most engaged and profitable customer segments out there.
It's worth noting that though you should be thoughtful in your approach and use of BNPL options, the transparency and ease of use shouldn't overshadow the key point that this is still money being borrowed. And when used improperly can result in debt for customers. Shoppers and merchants alike should be aware of the responsibility and potential risk factors of its use. Despite this risk, the BNPL industry has had a huge impact on the e-commerce industry, helping retailers provide affordable options for payment when and how customers want them.
Looking for a BNPL provider? Check out our technology partner, Sezzle, a payment provider available on both Shopify and Shopify Plus.
Looking to add BNPL promotions to your Shopify store? Check out their pre-built templates in the Justuno library to make every visitor on your site aware of your options!