We're finally past the slow summer months and speeding toward the biggest shopping season of the year. As e-commerce has continued to grow and evolve, Q4 becomes bigger and more competitive every year.
2022 is definitely set to make history—inflation is at record highs, rising ad costs, and talks of a looming recession, all competing against record-low unemployment and generally robust consumer spending reports. Conflicting information can make it hard for brands to know what to expect and plan accordingly for a successful holiday season.
According to a Justuno survey, 62% of U.S consumers are planning to shop online this year, and 67.32% of them plan to spend the same or more than they did during the 2021 holiday season.
Armed with the right information to cater to consumers' wants, that's a MASSIVE opportunity for e-commerce brands to dominate this year's holiday shopping season. In addition to other economic considerations, there is a continued influence on the market as more and more buying power shifts to younger generations as they continue to grow in both money and influence.
Let's dive into some important demographic trends that will help you refine your strategy for this year through buyer personas to properly target and market to each generation of shoppers.
Gen Z
Gen Z will be a reliable segment of online consumers, more so this year than any year before. TikTok's explosion onto the social media scene has built up purchase influence for this demographic, with 39% of them saying they're most likely to purchase a product they learned about on TikTok. In fact, 87% of Gen Z reportedly rely on social media for gift guidance and inspiration.
A big component of these numbers is the rise of social commerce, which is selling goods and services directly through social media. The ability to contain the entire customer journey, from discovery to checkout, within a single social media application is crucial to take advantage of. New methods for this, like last year's partnership of TikTok and Shopify to power in-app purchases and other launches from Meta, mean that brands can't afford to ignore the power of social commerce if their target audience is even partially Gen Z. If Gen Z is your primary audience, you need to focus on this now. Another key trend to tap into when appealing to Gen Z is the rising popularity of 'Buy Now, Pay Later' (BNPL) payment solutions. This payment option allows buyers to pay over a series of installments as an alternative to traditional purchase models so they can make larger purchases. BNPL raises the average order value for stores, encourages consumers to buy items they may not have been able to before, and provides an easy, reliable way for shoppers to splurge on gifts this year.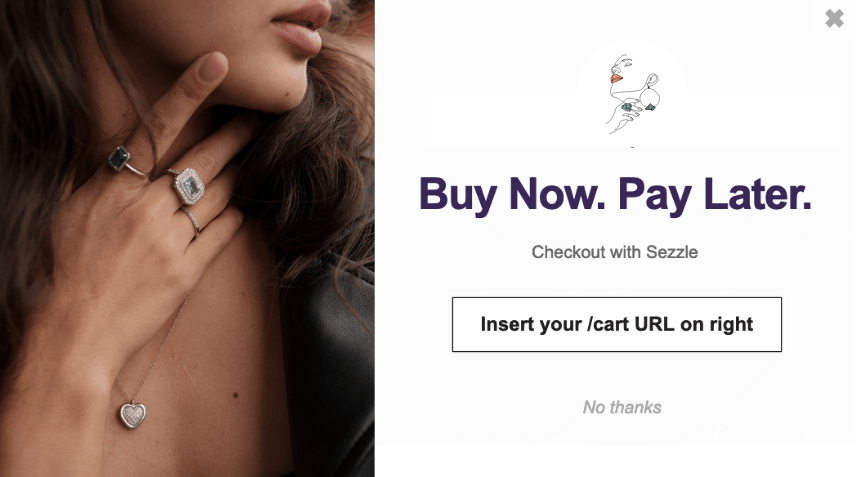 Gen Z has a rosy spending outlook, with 77% of them planning to spend the same or more than they did in 2021. Combined with the majority of Gen Z's gifting budget falling between $100-$500, BNPL will help provide seamless checkout options and flexibility to spend how and when they want, especially with a less than rosy economic outlook for the 2022 holiday season.
Gen Z is not the early bird segment: they'll be beginning their holiday shopping primarily in November, before and during BFCM. According to the Justuno 2022 consumer trends report, 32% of Gen Z plan to begin shopping before November, 30% in November before BFCM, and 27% plan to begin on BFCM.
Out of all respondents, Gen Z led the way in prioritizing sustainability within their shopping. About 49% of Gen Z responders reported that they would be willing to pay more for sustainable products, so offer a way for these shoppers to make an impact this season through their purchases. Giving Tuesday is a great opportunity to do this and make your brand stand out with charitable support as your differentiator in a crowded e-commerce landscape. Use one of our preferred sustainability-focused partners like ShoppingGives to make donations easy to either a specific charity or leave the choice up to the shopper to support a cause important to them. Alternatively, you can showcase carbon offsets or other shipping efforts to reduce each order's footprint. This is great via a banner on the homepage like Sheets & Giggles does for TOFU education. They continue to emphasize that message throughout the funnel—maximizing impact for shoppers like Gen Z who this appeals to. Emphasizing the environmental impact the shopper's order will have at every point of abandonment to drive home their core value.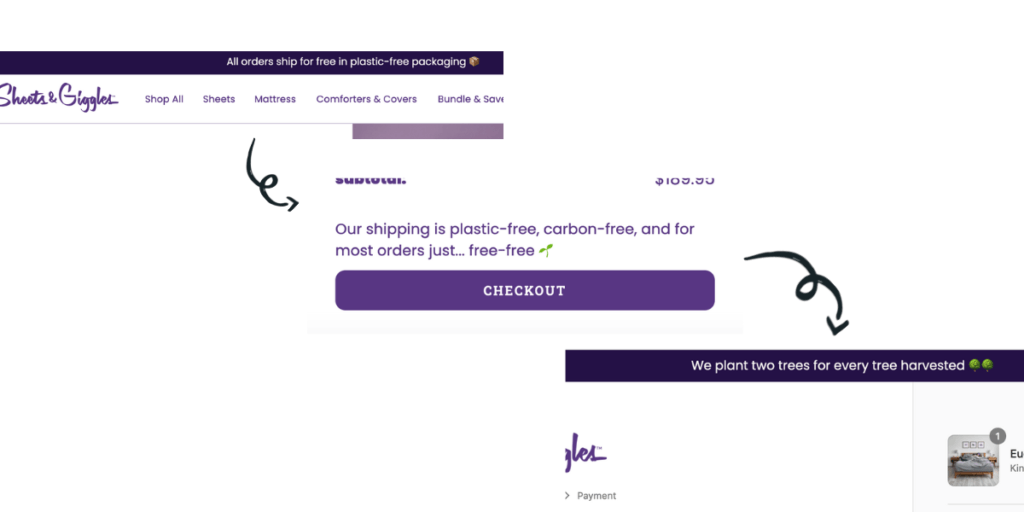 Finally, Gen Z is a mixed bag regarding what channel they prefer to hear from brands on. We already covered product discovery and inspiration, but when it comes to marketing campaigns, social media wins again, with 42% of Gen Z preferring it to 33% email comms. Amongst respondents, Gen Z has the highest preference for SMS with 16.9%, so make sure that this is on your holiday roadmap if you're targeting them.
Millennials
Millennials are looking to in-person shopping (30.6%) and Google searches (38.71%) to help them find gift guidance and inspiration. Making them a prime candidate for retargeting ads and messaging designed to bridge the on to off-site gap.
Millennials are a prime candidate for BNPL messaging with a similar budget as Gen Z despite being in their prime earning years. 63% of millennials plan to spend about the same as last year, which is by far the highest amongst any segment. They're feeling the squeeze of inflation, and while they're spending, it's definitely tighter than ever. Adding BNPL options to your checkout flow could be a great way to provide Millennial customers with a way to purchase gifts for their loved ones (or themselves!) affordably.
Millennials are getting started early this year, with respondents reporting that 45% of millennials plan to start their holiday shopping before November, 16% plan to start on BFCM, and an understandably small 3% waiting until December.
Millennials prioritize faster shipping and guaranteed delivery, with 43% willing to pay more for it. Build out campaigns around order deadlines, show expected delivery dates on product pages/ in-cart, and when possible, provide expedited shipping options for them in checkout.
Finally, Millennials are more like Gen Z when it comes to their preferred channel to hear from brands, with 45% saying social media. But email was a strong contender at 37%, and their <10% SMS preference was in line with the overall averages of other segments.
Gen X & Baby Boomers
Gen X and the Boomers are lined up for the early bird special this year, reporting that 45.6% will start shopping before November! If you have an audience and channels to reach these age ranges, it would be advisable to start early!
Like the millennials, these generations prefer in-person shopping (23%) and Google searches (24.8%) for their gift guidance but their most preferred channel? Recipient requests at 29.3%. This makes sense when you consider who they're buying gifts for and that 43% of them tend to explore new brands when holiday shopping!
Gen X and Baby Boomers lead the charge in gifting money/gift cards, so make sure that this is an option on your brand's website and well-marketed so that new visitors are aware of it!
Trends Across All Shoppers
Mobile First
There were a few key trends that were present across these generations and demographics, and one of them was the use of mobile devices for online shopping.
51% of all respondents reported that they primarily use their mobile phones for online shopping and 33% use their desktops. Keep in mind that a customer may use multiple devices within the same journey, doing initial discovery and research on mobile before ultimately converting later on a desktop. The key takeaway here is that stores must optimize for a great mobile experience this year in addition to the traditional desktop experience and ensure it's a cohesive experience across both.
A newer solution for creating a seamless mobile experience is by creating a mobile app. Apps like Vajro and Tapcart allow brands to create a fast, seamless mobile app experience.
On the mobile side of things, Google has prioritized the mobile-first experience and bases many search engine optimization signals and factors on a website's mobile experience. No matter the brand, mobile optimization is an absolute must.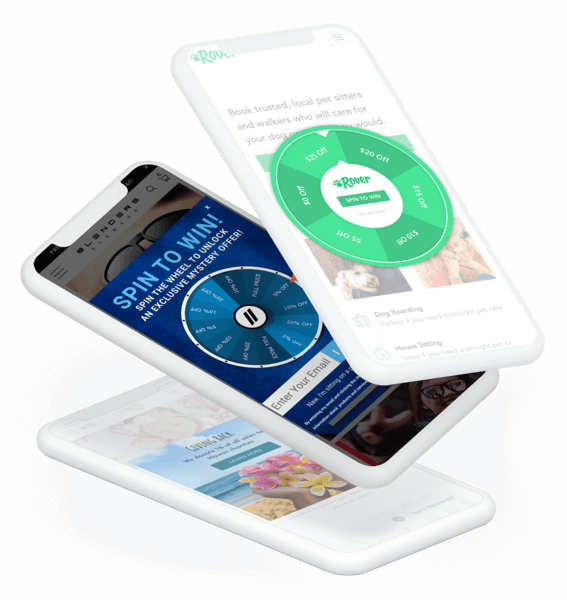 Top Purchasing Factors
When asked to rank the factors that ultimately influenced their buying decision, every demographic listed price as their number one factor, a likely result of the current economic climate.
Interestingly, the things you most expect customers to prioritize – brand reputation, ratings/reviews, and even shipping speed—were all under 10% each. However, we'd like to note that these responses by no means indicate that these aren't important to consumers. Rather it's likely that they simply aren't rare enough amongst most retailers to be true differentiators. Consumers are used to fast/free shipping; they regularly read reviews before purchasing online, etc., so to them—they aren't the main purchasing factor…they're simply an expectation of their online experience.
It's long been said that BFCM is a race to the bottom, which couldn't be more true according to these results.
Key Takeaways & Conclusion
The 2022 holiday season is set to be a mixed bag between economic impacts and a slowing in e-commerce growth. Let's recap a few takeaways so you can head into Q4 prepared:
67.3% of shoppers plan to spend the same or more as last year, and "Buy Now, Pay later" payment options have greatly increased in popularity.
The vast majority of shopping will take place on mobile devices.
Many shoppers, particularly Gen X and Boomers, plan to begin holiday shopping before November.
Social media is better than ever for reaching younger audiences, especially with the massive growth of TikTok and other social networks.
Remember these trends and generational differences as you plan your marketing campaigns; each requires different channels, messaging, and styles. You know your target audience the best and how your brand fits into their lives, take a few of these trends and use them to tweak your campaigns to maximize sales this holiday season!
The Justuno platform is centered around increasing conversions onsite and will play an instrumental role in many brands' conversion strategies this Q4. If you'd like to see how our platform could help you fully capitalize on traffic this season, check out our 14-day free trial or learn more about our 2022 holiday package!
Good luck this year!