Costumes, candy, and decorations, Halloween is an incredibly fun holiday. It is also the 4th biggest shopping holiday for e-commerce which means it's a big opportunity for sales!
Here are three reasons why every online retailer, regardless of what they are selling, needs to gear up for Halloween sales.
Halloween shopping revenue is expected to reach $8.4 million in 2016. (Source)
It gives you a reason to re-engage leads and previous customers
25% of holiday shoppers will buy products for the holidays before Halloween
The Halloween season is not just a time to sell Halloween-related products; it's also a great time to get ready for Black Friday and Cyber Monday.
Don't ignore this valuable period of increased traffic to collect new email leads, close sales, and test out your holiday marketing strategy. Here are five tips for driving more online sales this Halloween season.
Get Emails Out Now
With almost 70% of all Halloween shopping occurring within the month of October, the sooner you get your emails out, the better. If you're selling costumes, decorations, accessories, makeup, or candy, your emails should be sent already. If not, get sending!
For those retailers that aren't selling Halloween-related products, you still want to drive as much traffic as possible leading up to the big shopping holidays. Halloween gives you an opportunity to market to your shoppers with a Halloween theme. This, in turn, will drive more engagement and create more opportunities to convert your shoppers.
A recent post from Listrak displays Halloween marketing emails that were sent as early as June 30th! While this may be a bit overkill, Listrak provides some great examples of Halloween-themed emails. 

Spookify Your Site With Halloween-Themed Pop-ups
Just like your email campaigns, your website should also be decorated with a Halloween theme. It's something fun and new for your visitors, which always grabs attention.
Yes, custom pop-up designs look awesome on-site, but they also perform better. Branded and themed promotions can drive up to 5X more engagement which definitely warrants a couple of minutes of adjusting your design. 
Here are a couple of our favorite Halloween-themed designs from last year.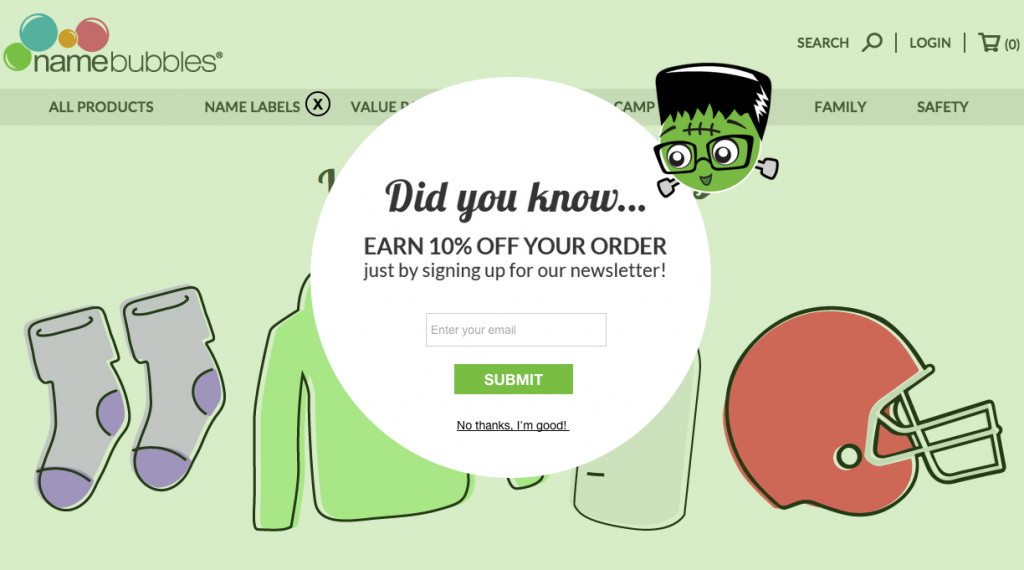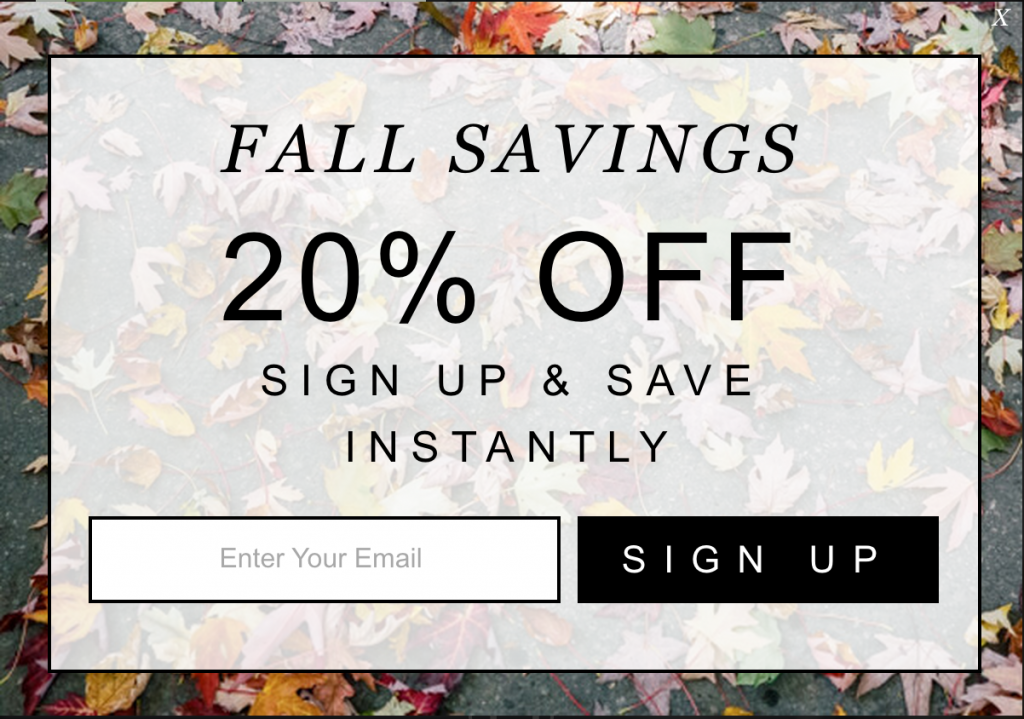 Run Special Halloween Promotions
Halloween shoppers are just as difficult, if not more so, than your everyday shoppers. They are frequent window shoppers and fierce price hunters. This means you've got to trigger them to make a decision to purchase. You can do this by presenting special Halloween promotions. Offer a higher discount or throw in some free swag. These incentives can and will sway shoppers to purchase.
Shipping options can also set you apart from the competition. Since Halloween shoppers must receive their products by a certain date, you can offer free or discounted expedited shipping as an incentive to purchase. Use shipping thresholds like "Free Shipping on orders of $75 or more" to encourage larger orders and to make shipping promotions work for your business.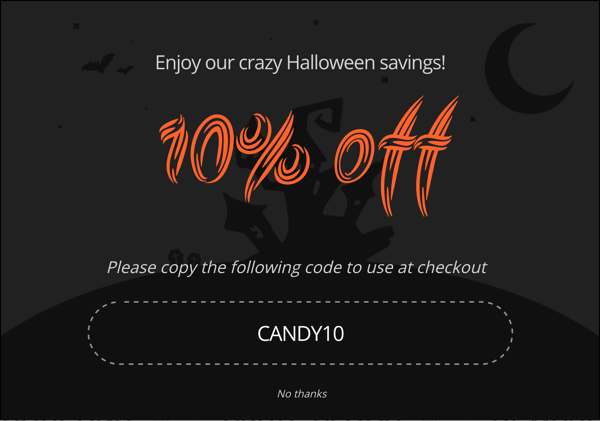 Build Your Email List With a Contest
Email list growth is a must as we approach the busiest shopping weeks of the year and a contest is the most effective way to acquire a ton of new email leads. Engage your visitors with an offer for a big-ticket item that they can enter to win by entering their email addresses.
Whether it is Halloween themed or not, you'll be able to generate new leads that are interested in your products. Now you can market to these new contacts with holiday marketing emails.
Evo has seen great success with its contest. This gives them extra firepower when it comes time to engage shoppers as we enter the holiday season. Add some fall and Halloween design elements to boost engagement!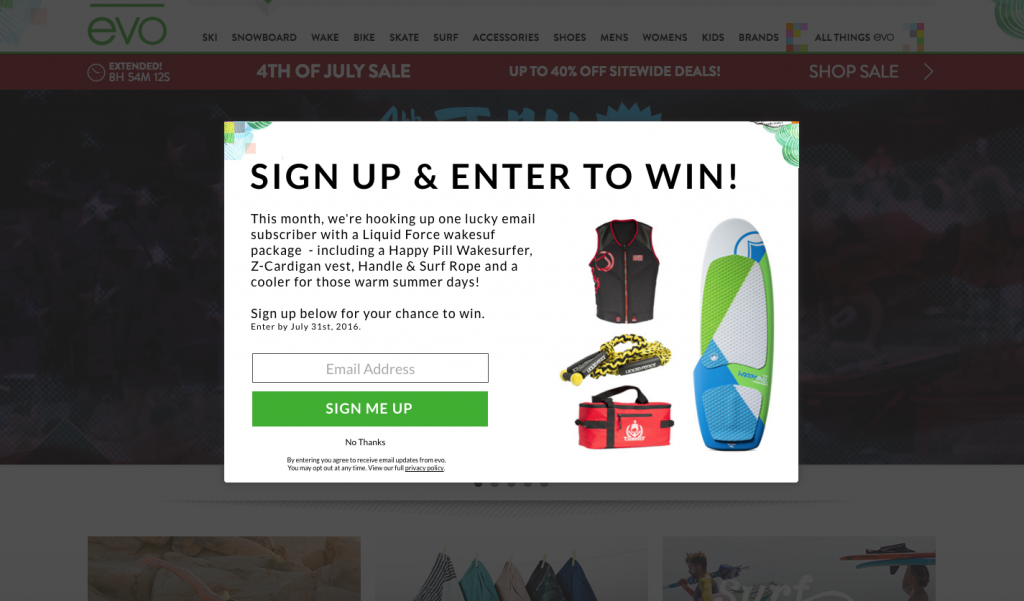 Close Sales With Exit Offers On The Cart Page
A very important stage of the purchasing process is on the cart page. This is where visitors see what the price of their cart will be and ultimately make the decision to purchase or not. You need a targeting tactic for those visitors who decide to leave the cart page to drive them to purchase from you.
Present these shoppers who attempt to leave your cart page with an offer that they can't refuse. Provide them with an unlocked promo code that they can immediately redeem on the cart page. Making the process of receiving a discount or free shipping on their order will drastically increase the likelihood of a sale.
Let's Make This A Happy Halloween!
Halloween is a great opportunity to market to your website, visitors. Have some fun with festive promotions and convert more traffic. The resources provided above will help you capitalize on increased traffic for both Halloween and holiday shopping.
Be sure to share your Halloween promotions with the Justuno team, and we'll give you a shout out!
Want to convert more traffic this Halloween and holiday season? Hop on a trial of Justuno and see why over 30,000 marketers trust the platform to grow their business.