Black Friday 2017 was the biggest one yet and it's no surprise 2018 is projected to be even bigger. While the holiday rush can put a strain on your team, if done right, this final push can get your bottom-line goals across the finish line for the year.
However, many companies still believe that all it takes to capitalize on BFCM is running a deep discount and sending out a few social media posts. While that may work to meet your bare-minimum revenue goals, there's a next level to great BFCM strategy beyond a weekend flash sale and the first step in planning is reviewing what works.
They say hindsight is 20/20, so let's take a look at some of the lessons we learned from Black Friday's past.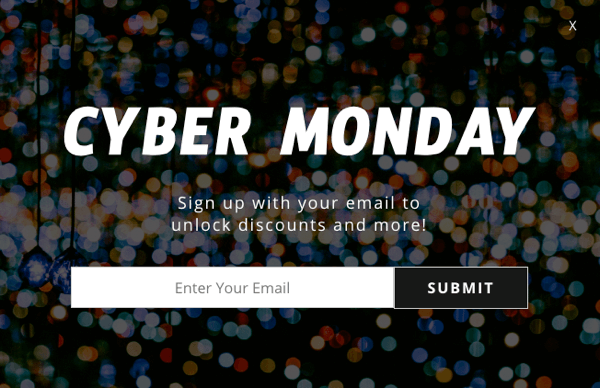 Capitalize on early birds
Most merchants start planning for BFCM early, but did you know shoppers do, too? In 2017, more than half of consumers began researching sales in October or earlier, which means you have an opportunity to start capturing email leads and building your audience lists, now.  
By mid-October, you should be running email capture promotions on your website teasing your BFCM sales to come. Below are a few examples: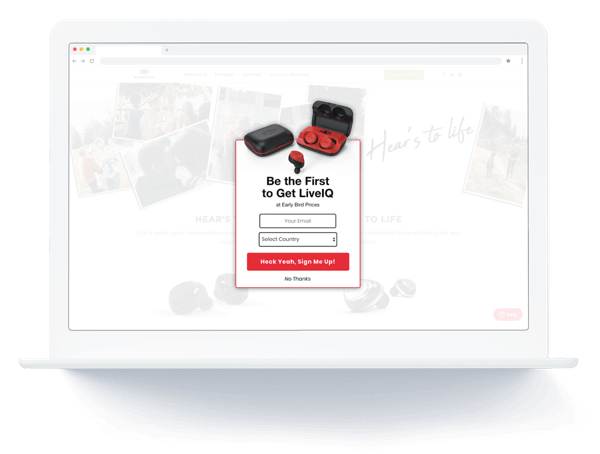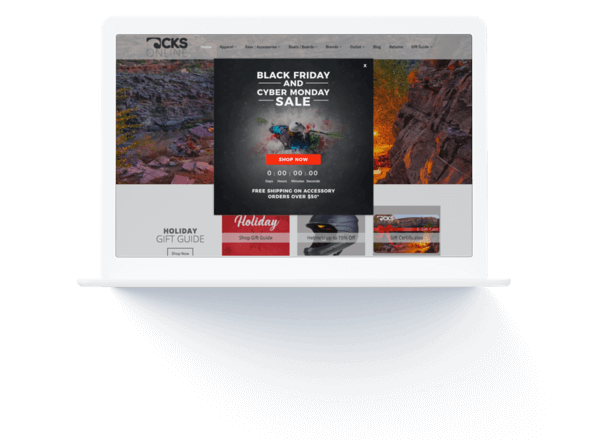 By running these sale teaser promotions, you're checking off multiple boxes in one swoop.
You're letting visitors know that there will be sales worth coming back for.
You're capturing email addresses so that you can announce your sales to a larger audience.
You're providing an incentive for one-time buyers to become repeat customers.
The first step of developing your content strategy for this part of the buyer's journey is to review what worked last year and what didn't.  
If you utilized a content marketing strategy before, what appealed to your consumers? This post is about lessons learned, so look back at your own data first to see what's worked and what hasn't, while also keeping in mind new ideas to try.
If you have a formula that works for you, keep doing it with little tweaks each season to stay relevant, but you should also be testing new strategies and observing your competitors to see if there's something you may be missing.
Create content for early shoppers
One of the easiest ways to engage shoppers in the research phase is to create helpful content such as gift giving guides. These guides can not only be pushed all over your social media but can also help to drive organic traffic and new visitors.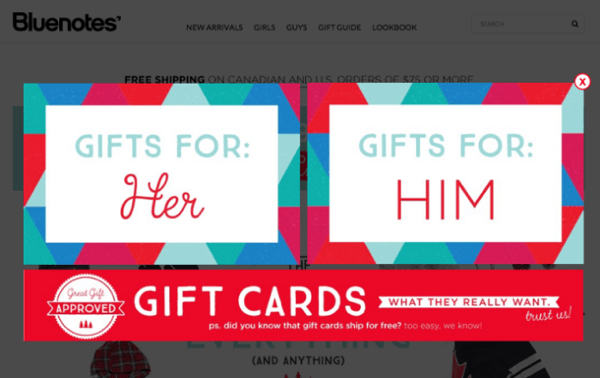 For customers actively searching for information and inspiration, these guides are exactly what they need and provide value, while demanding nothing in return.
In addition to gift guides, product reviews and giveaways are a great way to get influencers to engage with their followers and promote your brand in a natural way.
Whether it's in the form of influencer content, gift guides, or blog posts, make sure you are providing these early birds with not only what they want, but what they need while doing their research.
The more value you offer to your customers without asking for anything in return, the more likely they are to come back to you when they reach the buying point of their journey.
Mobile is going to continue to grow in popularity and importance when it comes to e-commerce.
Purchases on mobile amounted to 54.3% of all online visits on Black Friday in 2017. Optimizing for mobile isn't a nice-to-have. It's an expectation. Make sure you're meeting it because otherwise, you will lose sales. Period. 
Even though mobile users tend to have a lower conversion rate, people are still using it to facilitate their buyers' journey. Following best practices for mobile devices and providing continuity in your site experience is the best way to retain visitors across devices.
When running pop-ups or promotions, make sure to create a unique display used only for mobile. Not only will your visitors thank you for a better user experience, but your targeting rules should also be adjusted.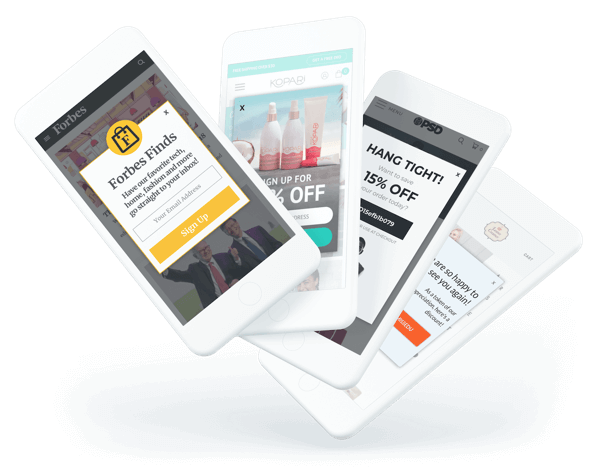 Take a look back at last year's BFCM sales — are people falling out of the funnel after interacting with your mobile site? Use cross-device tracking to watch a shopper's journey across all devices from initial search to checkout.
This will show what users interacted with last before falling out of the funnel or completing a purchase, so you can start to optimize your site and remove any barriers in the check out process.
Let last year's lost sales inform your decisions this year so you can capture more and leave less money on the table.  
When looking at your promotion from last year, take note of the specific offer and the appeal.
Free shipping is a no brainer if it's feasible for your margins.
In this day and age, it has become an expectation. Customers will add $200 worth of product to their cart and feel no remorse when they abandon it all because they realize there's a $12.99 shipping
However, the psychological barrier that shipping payments create can be removed easily for relatively low costs to merchants.
If your margins can't handle offering free shipping on all orders, that's okay you can still take advantage by using a threshold promotion.
Figure out what your AOV is during the rest of the year and then offer free shipping on orders that are slightly higher. This helps to encourage visitors to spend more, but also makes the free shipping more realistic for your store expense-wise.
If you want to really drive this promotion home, you can personalize the pop-up to let each visitor know how much more they need to spend before they reach the free shipping threshold.
It's common to get wrapped up in the idea that if you don't offer a deep discount on BFCM, you won't be able to attract the sales you need.
Sometimes offering discounts on your products isn't something that you can do or that type of promotion doesn't align with your branding.
That's okay. Don't jeopardize your margins or do something that isn't in line with your marketing messaging throughout the year.
Instead, think outside the box and realize there are plenty of ways beyond a simple 50% discount to attract customers.
For example, Chubbies has a great "Thighber Monday" campaign where they give away a different gift each hour for 12 hours. They really nailed it with this campaign, since they designed items their fan base would actually pay for normally.
With a new offering every hour, Chubbies motivated customers to keep checking back in and engage with their site.
In addition, you can even make the incentives items that you no longer offer. This will help to remove discontinued products that you don't have enough of to officially stock from your shelves, and also attract any customers that may still want this product.
This is a great example of how you don't have to offer a discount on BFCM to attract traffic and convert visitors.
Decide what works best for your brand and margins. Don't be afraid to have alternative offers and get to know your customer base and what they want.
A well thought out and optimized email marketing campaign is your new best friend. With email marketing, you're able to turn inactive customers into active shoppers by placing items they're most likely to buy straight in their inbox.
According to emarketer, 80% of retail professionals said email marketing is their greatest driver of customer retention. Not to mention, consumers who purchase products from email offers spend 138% more than those that don't receive email offers.
Not only does email have the highest potential for ROI of most of your online marketing efforts, but it also offers an opportunity for segmented targeting and personalization.
For example, geo-targeting your emails can allow your company to take a more realistic approach to discounts and promotions. Can't afford to do free shipping nationwide? By geo-targeting your emails and offers, you can offer free shipping to customers within a certain proximity to your store and a threshold offer for free shipping for everyone outside of that area.
Alternatively, you could offer a faster delivery time or free in-store pickups for customers within certain areas.
Increase returning customers
Emails provide an opportunity to reward returning customers with early access or sale information that isn't available to the general public — an effective way to build loyalty and drive engagement.
Creating a sense of exclusivity appeals to the psychological need to not miss out on something (AKA FOMO). Providing people with something makes them want to do something in return. According to QuickSprout, email subscribers are three times more likely to share content on social media than leads who came through another channel.
When you continually provide value to your customers, it will ultimately translate to traffic and sales.
Email marketing is also a compelling way to showcase your brand personality and create synergy between marketing efforts. Thoughtfully crafted emails appeal to your customer base and help you cut through inbox clutter and combat sales fatigue.
If you're a brand like Chubbies, humor is the way to go. For a brand like Patagonia, it makes sense to encourage thoughtful consumption, even if that means people buy fewer products overall.
Don't change your brand just because it's BFCM, the more consistent you stay in your messaging the more success you'll have. Both Chubbies and Patagonia are great examples of finding what works for your customer base and letting that drive your strategy.
Take a look back at your data from years past and pay special attention to marketing channels with high open and click-through rates.
Replicating previous messaging with higher engagement rates can be key to driving returning visitors and converting leads.
Black Friday and Cyber Monday are huge but don't get so caught up in the hype and think you have to do what you see others doing.
Take the time to think through your strategy, what's worked in the past, and what is going to be best for your brand long term. Do what you can to delight your customers, but in an effective way that still creates ROI.