Back to School is the silent Q3 sales booster that can be worth almost as much to your bottom line as year-end sales. The National Retail Federation (NRF) reported 2023 B2S spending is expected to reach $41.5 billion and back to college (B2C) to be nearly $94 billion—breaking all previous records and reaching unparalleled heights.
Much like the winter holidays, back-to-school as a season spans almost three months. Though Q3 doesn't have many specific holidays, there are a few times when spending spikes and sale trends are routine, for example, July Fourth, Labor Day, and the infamous Prime Days on Amazon. 68% of shoppers plan their back-to-school purchases around these sales, so it's worth it to personalize your summer sales campaigns with the intention of appealing to these shoppers.
In this article, we will cover where the majority of the back-to-school spending is concentrated, the purchasers and influencers, as well as a few tips for how to optimize your on-site promotions to make the most out of this season.
2023 Back-to-School Marketing
Several industries are sought out heavily during the back-to-school season — the top categories being clothing, electronics, shoes & accessories, home goods/furniture, & supplies.
According to the NRF, spending is expected to be up in these top categories, with shoppers spending the following for back-to-school:
Clothing – $257.11
Shoes – $166.59
Electronics – $325.96
Supplies — $140.39
Total — $890.06
With this in mind, the average consumer is set to spend about $890.06 per family this back-to-school season.
While this is where the money is mainly concentrated, that doesn't mean shoppers aren't spending more in other categories. Parents shopping for kids' school supplies may pick up something extra for themselves or see a sale for an item they've wanted, so they add it to the cart.
Taking into account both the necessary and unnecessary products that back-to-school shoppers may be interested in, you can create targeted marketing efforts that appeal to both the practical and luxurious sides of the consumer.
However, it's important to note that your previous audience lists will most likely require a refresh. As school-age children grow, last year's marketing messaging may no longer apply to some shoppers. Kids grow out of clothes, move up in sizing, supply requirements change with age, or consumers have more kids in school than before. Keeping these shifting needs in mind is vital to creating marketing content that is personalized and up-to-date.
Another critical factor in how money is concentrated is the collegiate aspect of back-to-school shopping. College is the driving force behind a lot of the spending done during this season. So it's not only crayons and folders that consumers are buying, but also outfitting dorms & apartments, branded college gear, and graduating to more advanced electronics. The average household spend here totals $1,366.95, and the market could reach up to $94 billion. According to the NRF, spending is expected to be up in these top categories, with shoppers spending the following averages amongst demographics:
Clothing – $182.39
Shoes – $112.81
Electronics – $336.65
College Branded Gear — $78.49
School Supplies — $95.03
Home Goods — $190.80
Food — $151.54
Personal Care Items — $114.48
Gift Cards — $104.75
Total — $1, 366.95
Spanning the market from crayons and playdough through to bedding or dorm room organization is something that makes back-to-school unique. Make sure that you understand where your e-commerce store lies in the spectrum, understand your target audience, and know where they want to spend money this summer.
Know Your Back-to-School Target Audience
Obviously, parents (mostly) are the purchasing authority for most household units, but you may be surprised to know that kids hold significant influence over these purchases. Make sure to take this into account as well when it comes to where you fall into the shopping to-do list.
While kids may be influencers, parents are still the final say so. They're heavily price-conscious, with a vast majority saying it's the most significant factor for purchases during this season. Not to mention the impact of inflation on the price of goods across the board. That plays heavily into their choices this season, with 80% expecting to see higher prices this year. Other notable comparisons include:
38% said they'll do more online comparison shopping
45% shopping for sales more often, up from 36% the year before
39% are buying more store-brand/generic products
27% will be using coupons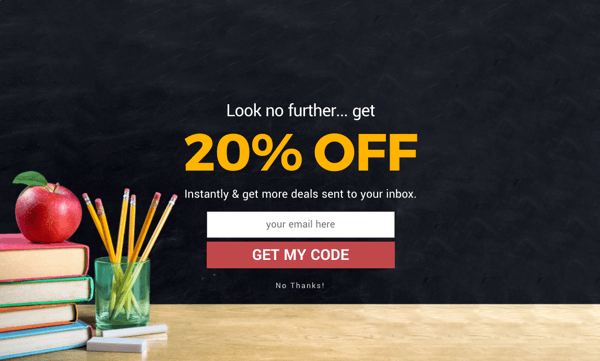 Amazon's Prime Day already made this time of year a race to the bottom for many retailers, but the current economic climate has inflated that need even more so.
Keep this motivation in mind and make sure that deals are heavily advertised onsite as well as email campaigns to appeal to these price-conscious shoppers. 68% of consumers said they will plan at least some of their back-to-school shopping around retailer sale events like Prime Day, Labor Day Sales, & even the Fourth of July.
If you're a brand or retailer whose products aren't discountable, or it's not something you normally do, don't change that. Your customers and target audience understand that, and doing anything that seems off-brand won't necessarily help sales and may even hurt your business in the long run. Simply provide value in other ways, like added gifts with purchase, customization options, or a better customer experience.
On-Site Back-to-School Marketing Promotions 101
Tie in your off-site marketing efforts (paid social or Google ads, email campaigns, etc.) to your onsite strategy. As with most holidays or shopping events, we recommend that you create a specific landing page or product collection for the season.
Back-to-school content on your site will help direct traffic to desired pages faster and ease their site experience. Short, actionable emails to drive your subscribers back to those specific pages will help you move customers through the funnel.
Use purchase history to segment customers and create targeted emails designed to appeal to their general interests or lifecycle stage. These personalized emails will not only be better converters but also allow you to drive traffic to specific areas of your site for an optimized sequence. Then mirror those experiences onsite with similar language, relevant product recommendations, etc., for a full-funnel approach.
According to RetailMeNot, 56% of retailers want to use geo-targeted coupons on mobile devices to drive digital shoppers to brick-and-mortar locations. This is a great chance to capitalize on the increasingly large portion of millennials with kids that want to research their purchases online before buying. Drive traffic in-store with coupons that target digital shoppers who haven't converted yet to capture the full spectrum of shopping preferences.
Geo-targeted coupons are also a great way to segment customers, serving different ads to those located near college campuses offering deals on more college-geared needs vs. those in more residential neighborhoods near schools.
55% of back-to-school shoppers are planning to shop online, with department stores and discount stores tied for second at 45%. That's in contrast to back-to-college shopping between those channels at 49% online, 35% at department stores, and 33% at discount stores. Those of you marketing to the B2S crowd are better off focusing on online-only traffic vs. B2C marketers who may find more luck in uniting the online & offline experiences.
That's not to say you shouldn't still segment; if you have a local storefront—leverage it; just be aware of who you're selling to (& what they're looking to buy from you).Use intelligent product recommendations to increase shoppers' average order value (AOV) based on items in the cart, cart total, etc. For instance, a shopper who added a twin bedspread to their bag would be shown a pop-up with the matching pillowcases and sheet set.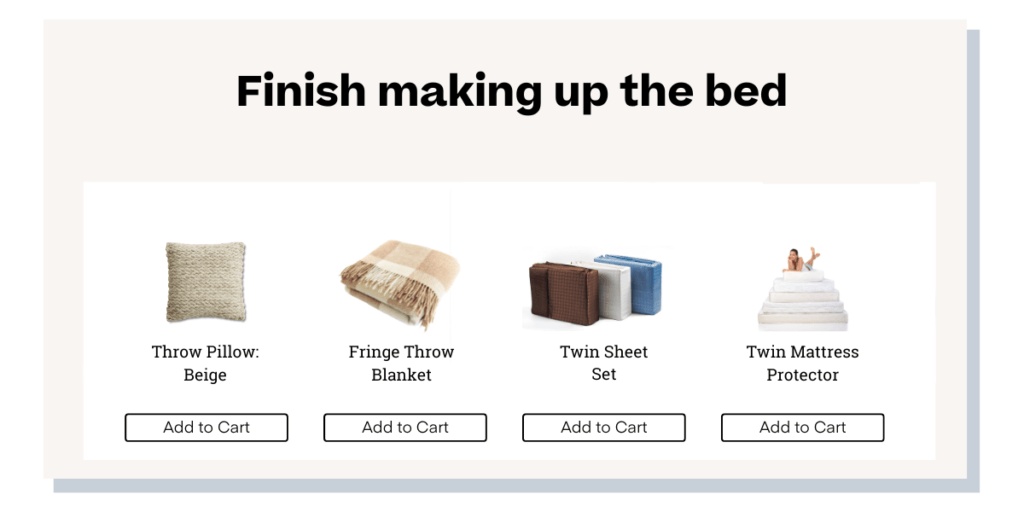 Rather than merely showing other products you carry, make recommendations for ones complementary to those they're interested in. If you'd rather go the freebie route, perhaps trigger a pop-up with a free cup for their college (and let them choose the right one)–for ownership over the gift & a more personalized experience). These offers have a higher conversion rate and make the user's journey even easier.
The more advanced you get with targeting rules, the more likely you are to stand out from the crowd of 78% of retailers who are offering deeper discounts this back-to-school season.
Final Thoughts
Back-to-school is a critical time for retailers, even if you're not in one of the "top" product categories. Make sure that you've optimized your pages and made a targeting plan for which audience segments you're campaigning for.
Differentiate yourself with thoughtful content both on and off-site, discounts that appeal to your customer base, and streamlining the process to help overwhelmed parents and students out.
Use the back-to-school season as a sort of trial run for the winter holidays. While the intentions, motivations, and consumers may be different, there are still lessons to learn. Find holes in your ordering system, streamline logistics, and figure out where in your system there are places to improve efficiency. Doing this now will save you a headache later and get you prepared for the busiest time of the year.
Check out some more advanced uses of the Justuno onsite conversion platform in our academy for inspiration about how to elevate your on-site conversion efforts, or get started with a free 14-day trial today.