Everyone in online business, from employee to founder, is constrained by multiple aspects of business. What's the biggest commonality between us all? Time.
To help digital marketers make better use of their time, we've launched a new Promotion Setup Wizard! Justuno users can now follow a simple process to launch a pop-up or promotion in just a couple of minutes without any design or coding experience.
Powerful on-site CRO (Conversion Rate Optimization) is key for any online business looking to optimize their website experience. This streamlined setup process will help you, the digital marketer, implement powerful lead capture and conversion focused strategies faster than you ever have before!
Let's see it in action.
How to build a pop-up with Justuno
If you are a current Justuno customer, log into your admin today and click the 'New Promotion' button on the top-right. (Don't have an account? Sign up here!)

The next screen will offer the options of Customizing and creating a promotion using our setup wizard. Enter in a name for your promotion and click 'Get Started.'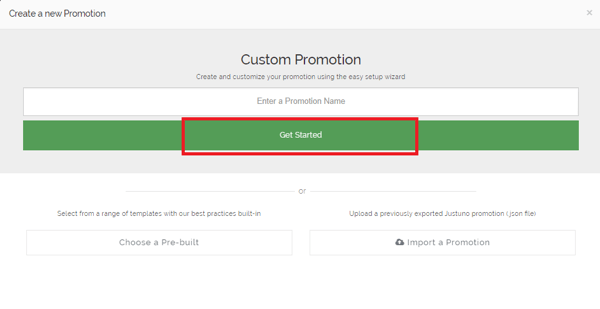 What follows will be the device selection screen. Justuno separates Desktop and Mobile promotions to help you target your consumers where they browse. Since desktop and mobile experiences differ quite a bit, we've provided specific designs for both device types. Also, Justuno mobile pop-up templates have the added benefit of avoiding SEO penalties imposed by Google.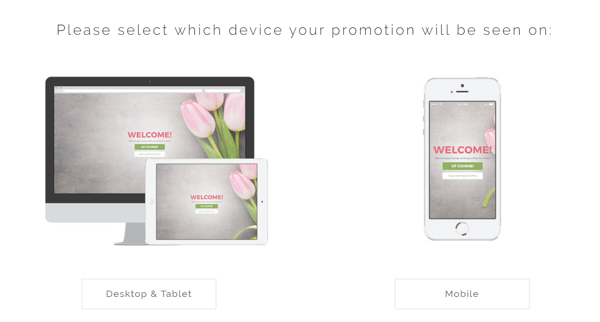 Selecting your desired type of promotion is simple and visual, in the Display section of the wizard. Choose from Fullscreen, Center, Banner and Corner styles for Desktop and Fullscreen, Centered and Banner for Mobile.

Simply select which variation of promotion you desire after selecting device type. Every promotion has a different goal! You may want to gather every email possible from your website traffic with the Lead Capture option, or you may want to promote your biggest sale of the year with the Website Messaging selection!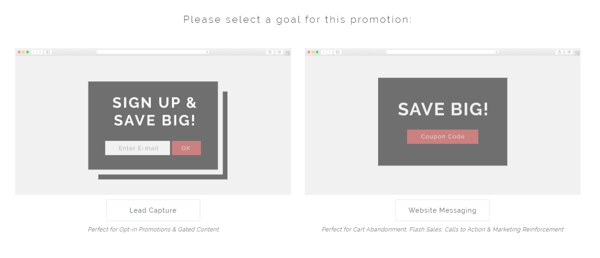 In the following section 'Themes', you are able to browse a selection of pre-optimized Justuno created themes. Choose from our 'Featured' themes or our huge library of Seasonal promotions! Not sure how they will look on your site? No worries! Just select the Preview function and see the example themes live on your website. Once you've found the perfect promotion, choose Select Theme!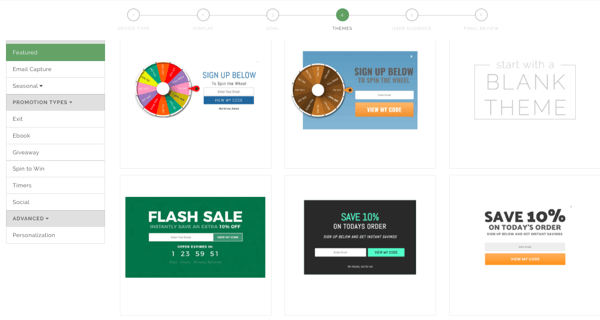 Next is the 'Audience' section of the setup wizard, where you select which website visitors you want to display your promotion to. With Justuno's granular targeting rules, with one click you are able to segment triggers for New Visitors, Exit Intent, Cart Abandonment, and Scroll Distance, all with the push of a button.
Want to get even more specific or stay generic? No problem. If the audience selection isn't what you're looking for, select 'Build Basic Audience' or 'Build Advanced Audience Later' to set up the perfect amount of rules you need.

Want to edit your promotions copy or offering? In the 'Final Review section, easily change the text, background, or discount offers in the Justuno promotion.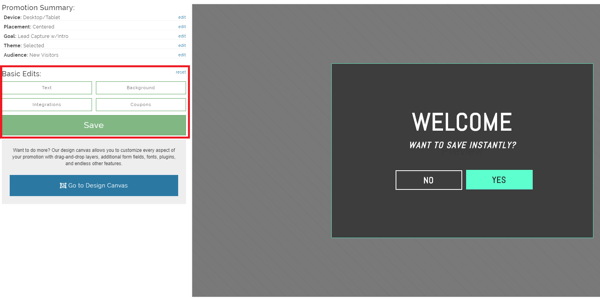 Access the Form Integrations by selecting 'Integrations' under the Basic Edits section. Here, you will select the platform you'd like to integrate this particular popup with. Here's a full list of integration setup instructions.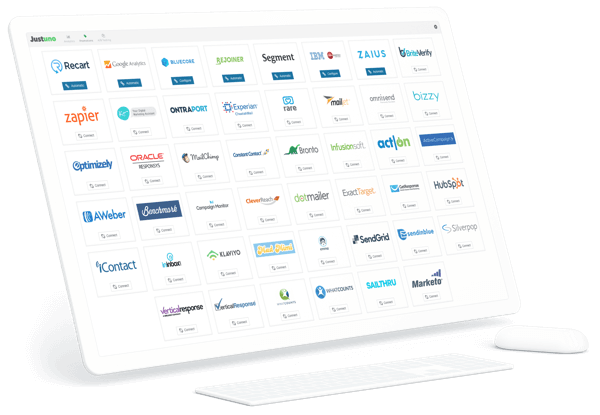 Click Save and you're done! Once familiar with our new onboarding wizard, you'll be able to go from conception to creation in minutes. If needed, you can also dive into the design canvas for further editing and customization capabilities.
Login to your Justuno account today and experience the speed and reliability!