We're excited to announce our latest addition to the Justuno platform, Audience Sync, a feature empowering customers to get more utility out of their onsite conversion rate optimization (CRO), by automatically connecting captured emails to Google Ads and Facebook Ads while protecting subscriber privacy.
This feature, exclusively available on Justuno Flex and Enterprise plans, enables brands to power their customer match audiences (on Google Search, Display, Shopping, Youtube) and custom audiences (on Facebook and Instagram) using their onsite promotions.
What It Takes to Set Up
Audience Sync is a one-time set up between your Justuno account and paid ad platforms, Google and Facebook. From here, your subscriber lists will sync automatically every hour unless paused, saving you time and keeping your customers' data private.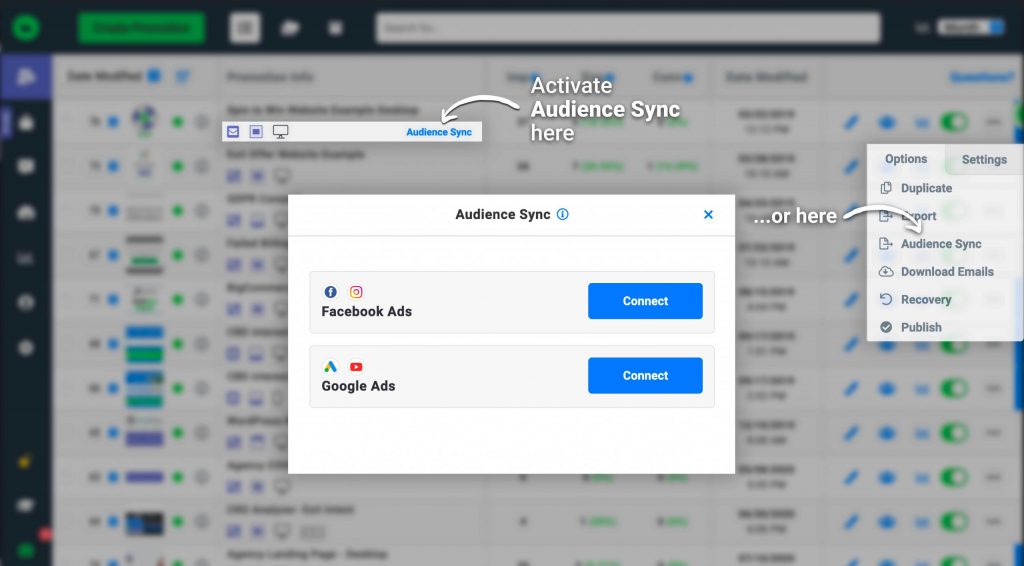 You'll need at least standard level access to the Google account you want to connect to. Facebook requires connecting through your business manager, which should have you associated as a standard user at the ad account and page level. From there you'll only need to authenticate your accounts one time and then your lists will be ready to sync!
Use Cases for Audience Sync
You may be thinking great, a new feature for helping me get more return on ad spend (ROAS) out of my paid ad campaigns, but….how exactly? We've got you covered, here are a few ways that Audience Sync can help you with Google and Facebook Ads:
1. Targeted promotions across ad platforms
Using Audience Sync to integrate your Justuno audiences into Google Ads and Facebook Ads, you'll be able to ensure your campaign creative is being served to a curated and prequalified audience. For example, if a shopper comes to your site via organic search, opts into your new visitor pop-up in exchange for 15%, but leaves before they complete a purchase, you'll be able to target them on both Facebook and Google with specific messaging urging them to use their coupon before it expires.
2. Focusing budget on or away from specific audiences
Audiences can be used to bid up, down, target, or exclude users from your advertising campaigns. For instance, exclude users who have already engaged with you from general campaigns or segment them into campaigns with a dedicated budget.
With Audience Sync, you can easily create these audiences and apply the strategies above based on specific email lists. Focus your budget on audiences who are high intent, just needing a little push to convert and away from audiences who aren't there yet.
3. Finding new prospects based on profitable traits of existing customers
Similar and lookalike audiences in Google and Facebook Ads let you find new leads based on the interests and qualities of an existing audience. Using your Justuno audience segments as the source for these ensures your marketing spend has the greatest ROAS possible while leaving the door open for any truly new prospects.
Why Audience Sync Is Important
Audience Sync is the next step for Justuno when it comes to helping our customers optimize their conversion rate by improving their ROAS. In a world where first-party data is becoming the gold standard and crucial for targeting/personalization capabilities, it's more important than ever to make sure our customers are ready with their onsite lead capture.
By passing hashed email lists directly into the advertiser's audience manager, customers are also cutting out the privacy liability that comes from manually exporting and importing email lists across marketing channels. This is critical in a world of scrutiny where customers demand both personalization and privacy at the same time.
More than first-party data and privacy, it's also about you, the marketer, and how we can help you stretch your marketing dollars further so your budget is efficient and your results on target. Audience Sync is the answer to improving ROAS as ad platforms change their targeting and cookie rules, providing the peace of mind that you can effectively market to consumers at every stage of the customer journey.
Justuno's Director of Paid Media, Navah Hopkins, shares initial performance expectations for Audience Sync and the impact it will have on your paid media efforts:
Lower CPA due to improved budget allocation and message mapping by using customer match/custom audiences. This is dependent on the audience being applied by your team as Audience Sync creates/maintains the audiences in ad account ad managers. Audience sync also provides guardrails for your budget by either outright targeting or excluding customers or using similar/lookalike audiences to prospect based on a high-quality seed audience. This helps lower CPA and helps overcome any hesitancy about dedicating resources to paid media.
Improved cross-platform attribution because audience sync runs on emails earned through on-page CRO, you'll be able to see the originating traffic source of your converting audiences.

Ex: Someone starts the journey on Microsoft Ads but converts on Facebook = you'll be able to make more intelligent budget allocation and channel decisions for your clients).

Message mapping using Justuno audiences (which can be informed by 82+ targeting rules) means that you can ensure the right creative is reaching the right user at the right stage in the journey–which is the best outcome for any marketing campaign!
We're thrilled to continue adding on features to the Justuno platform that empower our customers to improve their marketing across channels. Justuno Flex and Enterprise customers receive access to our AI-powered product recommendations, Audience Sync, and a dedicated CRO strategist to help them drive impressive results. If you want to learn more about how Audience Sync works or have a full demo of the Justuno platform, you can book one below.
This is just the start of exciting things to come, we're continuing to improve and develop other ways of helping our customers grow their businesses. Stay tuned for more updates from the Justuno team!