It's no secret that laws relating to sales and marketing of CBD products at the local, state, federal, and international levels are complicated, confusing, and often conflicting. This has led banks, lenders, and other potential partners to perceive CBD brands as high-risk businesses.
Needless to say, this impact is felt by CBD brands trying to work with payment processors, e-commerce platforms, Google ads, and beyond.
However, according to a study conducted by High Yield Insights, approximately 40% of U.S. consumers aged 21 and above claim that they would consider trying CBD. In addition, industry analysts at The Brightfield Group predict the hemp-CBD market in the US alone is projected to be a $22 billion dollar industry by 2022.
As a consequence, more and more companies are starting to get on board. For example, as of September 17, 2019, Shopify now supports merchants selling hemp or hemp-derived CBD products. For more information on this, click here.
As with any brand, it is already difficult to differentiate your CBD e-commerce business from your competitors, but in these formative years for the industry, it's more important than ever to create a strong base of loyal customers.
So how do you do this when it feels like your marketing hands are tied? The answer is never simple. In this article, we'll break down how to capture leads and increase conversions using more personalized campaigns.
"Marketers see an average increase of 20% in sales when using personalized web experiences."

— Monetate
The Legality of CBD Marketing
CBD has enjoyed a popularity wave since the sale of CBD products became completely legal after passage of the Agriculture Improvement Act of 2018 (aka Farm Bill 2018).
There are hundreds of scientific research studies and reviews showing that CBD is indeed effective in addressing a wide array of conditions related to depression, anxiety, and pain. Unfortunately, as a marketer for a CBD e-commerce business, you aren't allowed to reference any of that.
To date, FDA has not approved a marketing application for cannabis for the treatment of any disease or condition and thus has not determined that cannabis is safe and effective for any particular disease or condition, what the proper dosage is, how they could interact with other drugs or foods, or whether they have dangerous side effects or other safety concerns.
According to former FDA Commissioner Scott Gottlieb, M.D. "We'll continue to support rigorous scientific research on the potential medical uses of marijuana-derived products and work with product developers who are interested in bringing patients safe and effective, high-quality products.
"But, at the same time, we are prepared to take action when we see the illegal marketing of CBD-containing products with serious, unproven medical claims. Marketing unapproved products, with uncertain dosages and formulations, can keep patients from accessing appropriate, recognized therapies to treat serious and even fatal diseases."
Further, the FDA website states:
"FDA continues to be concerned at the proliferation of products asserting to contain CBD that are marketed for therapeutic or medical uses although they have not been approved by the FDA. Often such products are sold online and are therefore available throughout the country. Selling unapproved products with unsubstantiated therapeutic claims is not only a violation of the law but also can put patients at risk, as these products have not been proven to be safe or effective. This deceptive marketing of unproven treatments also raises significant public health concerns because patients and other consumers may be influenced not to use approved therapies to treat serious and even fatal diseases."
So what does this mean for marketing your CBD business?
It means you should NEVER do any of the following…
Make claims related to health benefits
Recommend using CBD as a replacement for prescription medications
Recommend CBD as a dietary supplement
Promote external content (such as news articles or blogs) that make health claims
If you do, you'll be hit with a warning letter from the FDA followed by subsequent fines, product seizure, or injunction if you fail to comply with the initial warning. Here's a list of warning letters that have been sent so far.
CBD Marketing
Ultimately, marketing a CBD brand follows the same general rules as any other brand. Factors like proper branding, a well-defined CBD marketing strategy, and product placement are some of the checkpoints that must be in place to ensure that your brand will grow in this incredibly competitive market.
However, in the case of CBD, there is an industry factor present, as well.
The legal status of CBD products varies from state to state, and many people are still not well-educated about the differences between CBD and marijuana.
Beyond being unable to reference any benefits of CBD, brands are hit with a second blow from some of the biggest players in paid marketing — Google and Facebook. These are two of the world's dominating ad-buying platforms, and neither permits advertising for marijuana-derived CBD. (That being said, hemp-derived CBD products are now being "considered.") 
As of June 26, 2019, Facebook announced it would be lifting its ban on CBD products, meaning that advertisers can now publish ads promoting topical hemp products via the social networking platform. However, the keyword to note here is "topical hemp products" only.
Ultimately, paid ads can be more of a headache than they're worth for CBD companies. Instead of focusing on driving more traffic, here are a few ways for CBD brands to further capitalize on their current website traffic.
Learn how Justuno Plus client, Cornbread Hemp, uses onsite promotions to effectively grow their business and increase their revenue by 200%.
How CBD Marketing Can Turn New Visitors Into Repeat Customers
Use Content To Capture Emails
As a marketer, you know that content is everything. However, creating high-quality, engaging content that is original and relevant to your target readers is only half of the battle.
The other half is turning those readers into customers.
Carefully curated content will bolster your credibility as an authoritative and influential leader in the CBD industry. However, that credibility doesn't always directly turn into sales.
For this, you need lead magnets. A lead magnet is an incentive that marketers offer to potential buyers in exchange for their email addresses or other contact information. Lead magnets usually offer a piece of digital, downloadable content, such as a free PDF checklist, report, e-book, whitepaper, video, etc. 
The lead magnet provides value to the user, and their email address helps you nurture this potential customer into a paid customer.
When setting up your lead magnet, start by identifying your core content topics. For CBD companies, these often break down into categories like CBD Science, General Health and Wellness, CBD Laws, etc.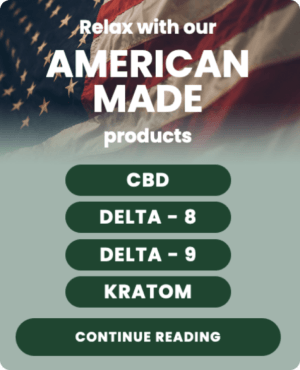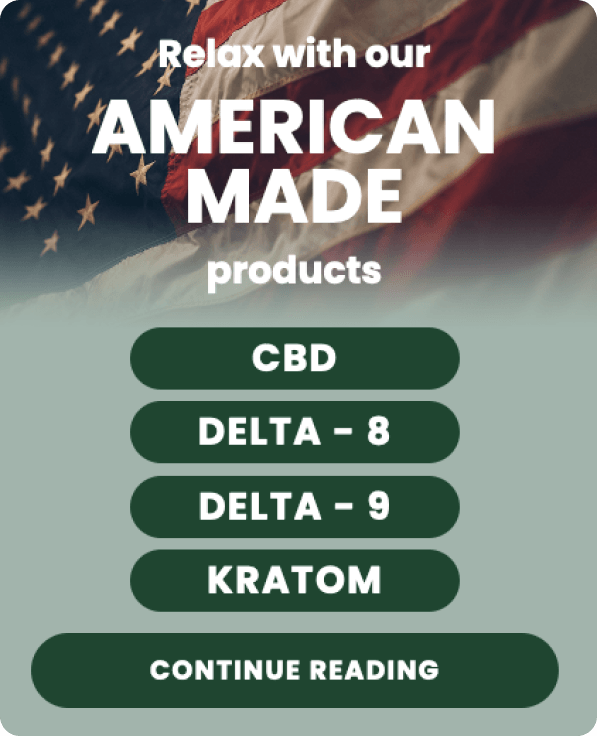 Try to keep your core topics limited to only 3-5 categories. Once you've identified your core topics, create an e-book related to each topic (or use your pre-existing content).
In addition, assign each article on your blog to one of your designated topics.
Next, use a lead capture tool like Justuno to create a visually appealing email capture pop-up for each core topic that highlights the e-book download. In the words of Leo Burnett, "Make it simple. Make it memorable. Make it inviting to look at. Make it fun to read."
From here, set your targeting rules so that each core topic pop-up will appear on the associated blog articles. This strategy creates a more personalized experience by giving visitors already interested in this topic the option for additional reading.
When setting your targeting rules, make sure your pop-ups won't annoy visitors with a bad experience. A few things to keep in mind:
Don't fire the pop-up immediately. Use either a time delay or a scroll percentage to ensure the visitor is engaged with your content before firing a pop-up at them.
Don't ask for too much information. The more fields a visitor has to fill out, the less likely they are to complete the form.
Don't fire the pop-up too often. If a visitor has closed the pop-up multiple times, chances are they aren't interested. Set a rule not to fire your pop-up after a visitor has closed the pop-up at least three times. 
For example, let's say a visitor has landed on your blog article about "10 ways your stress and anxiety are impacting your health." You've already identified "Stress" as one of your company's core content topics. Therefore, after the visitor has read 30% of the article, trigger a pop-up for an e-book about "Mental, Spiritual, and Physical: The Ultimate Guide to Reducing Stress." 
Benefits of this strategy:
Build your email list. Email marketing is an incredibly effective channel, and the more subscribers you have, the more sales you'll see.
Segment your email list. Segmenting your email lists is incredibly important and allows you to deliver messaging that's geared toward the person's interests — ultimately making them more likely to convert.
Increase your organic traffic. Typically, pages with pop-ups will see a decline in bounce rate and an increase in average time on page. Both of these things are indicators to Google that you're presenting readers with relevant content and can help improve your search rankings and overall organic traffic.
Turn Email Subscribers Into Purchasers
In the last section, we discussed how to capture more emails using your existing content. In this section, we'll cover how to nurture those email submissions into purchases.
Despite the negative talk around email marketing, email is very much alive and kicking. In fact, email marketing drives more conversions than any other marketing channel, including search and social.
But don't just take our word for it; here are a few statistics that others are reporting:
Email marketing has an ROI of 3800%. – DMA
The average order value of an email is at least three times higher than that of social media. – McKinsey
For every $1 spent, email marketing generates $44 in ROI. – Campaign Monitor
An actionable email strategy begins with a highly-segmented email list. According to Hubspot, recipients are 75% more likely to click on emails from segmented campaigns than non-segmented campaigns.
By segmenting your email lists by previous purchases, browsing history, or interests, you'll be able to create emails with messaging that actually speaks to the person and not just the persona.
As an example, let's continue with the strategy used in the previous section. The visitor was reading the article about the effects of stress and then submitted their email to download the guide on how to reduce stress, turning the visitor into a subscriber who has self-indicated a high level of interest in the core topic of stress. 
Within the next few days, send an email to the subscriber to welcome them to your company's community and offer an exclusive discount on their first purchase using a coupon code.
Be sure to tailor the email messaging around stress. You can do this in multiple ways, including:
A subject line that alludes to being stressed. Example: "Stress got ya down? Here's a discount to make you smile!"
Messaging in the email mentioning stress. Example: "Welcome to the Justuno community! At Justuno, it's our company goal to spread a little joy in this world and leave our customers better, happier, and less stressed than we found them. That's why we offer every new subscriber a 15% discount on their purchase as a token of our appreciation."
A coupon code with stress in the name. Example: "STRESSLESS15."
Display products with customer reviews related to stress. Example: CBD Gummies – 5 stars – "I feel the stress melt away every time my CBD gummies arrive on my doorstep." – Cheryl from Wisconsin.
Note: Be very careful with any customer reviews. Remember, they still should not make any health claims in order to avoid warnings from the FDA.
In these examples, notice how the copy lightly references stress but doesn't go overboard. There's a fine line between appealing to a subscriber's interests and creeping them out by making them feel like their being targeted.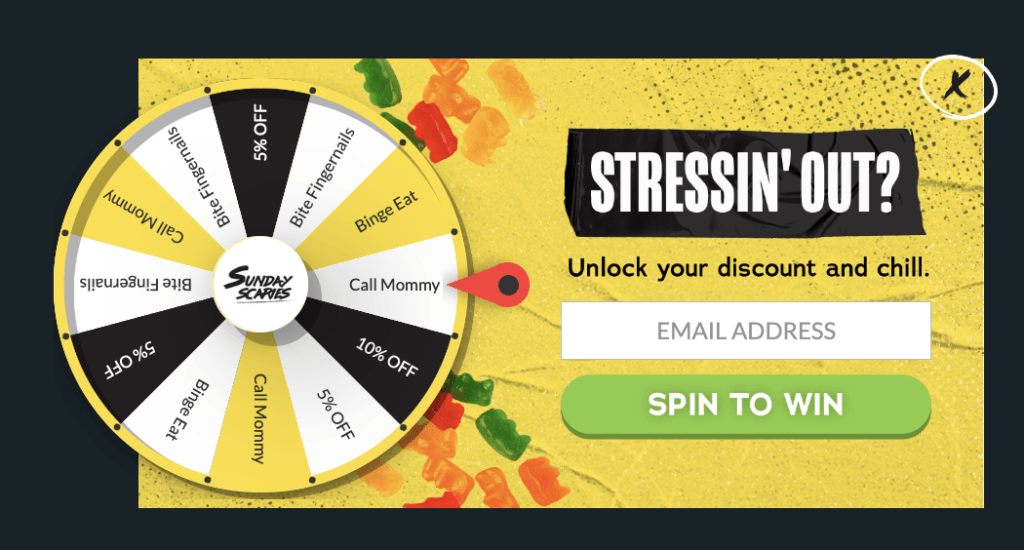 Once the subscriber clicks the link, use a tool like Justuno to auto-apply the coupon code to the subscriber's cart. In addition, use a banner that shows on every page to remind the subscriber they have a 15% discount waiting in their cart.
If the subscriber clicks through on a specific product but then continues browsing without adding it to their cart — wait a few minutes and trigger a slide-in pop-up for the original clicked product that shows the discounted price plus related products the user might also be interested in to remind the subscriber why they clicked through in the first place.
Here's a great example of how one running shoe company used this tactic.
Turn Customers Into Brand Advocates
Once a subscriber has made a purchase and becomes a customer, marketing's job is far from over. Your customers are your company's biggest marketing asset — especially in an industry where brands can't directly tell people why they should use their products.
Below are a few examples of how to leverage your current customer base to drive more sales:
1. Product Reviews
Featuring legitimate customer testimonials on your website that make statements in compliance with all laws will boost your reputation and keep customers returning for more.
After a customer has received their purchase, send a follow-up email a few days later asking them to leave a review on your website.
If the customer doesn't complete a review, target them with a pop-up the next time they're on your website also asking for a review on their previous purchase.
Be sure to make this process personalized by showing a picture of their previous purchase and as easy for the customer as possible. You're asking your customer for a favor, and they're more likely to complete it if they don't have to jump through hoops to do it.
2. Invite a Friend
People are more likely to make a purchase if someone they know has recommended the product or brand. If a customer has made multiple purchases, the next time they visit your website, trigger a pop-up that offers a discount or a free gift in return for inviting a friend.
If the customer invites a friend, automatically apply the discount to their cart. If they don't complete a purchase during their visit, send a follow-up email with the code as a reminder.
Using a loyalty program like Loyalty Lion or Smile.io can help you track, grow, and nurture this type of engagement from your customers.
This strategy will both increase your sales and go a long way in building your email list.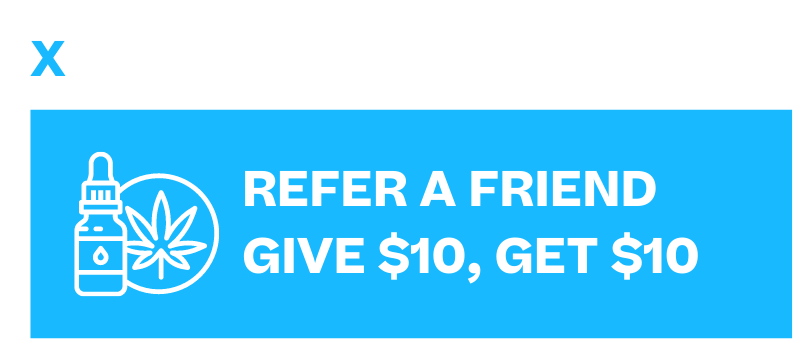 3. Social Advocacy
While you can't necessarily sponsor ads on social media, you can still generate an organic buzz with help from your customers. After a customer completes the checkout process, display a pop-up that says you'll include a free surprise gift in their order if they share their excitement about what they just purchased on Facebook, Twitter, or Instagram.
To make this as easy as possible for the customer, you can even pre-write suggested text or hashtags for the customer to use.
Conclusion
The CBD market is already huge, and it is growing rapidly thanks to increasing acceptance by consumers, continued research into its benefits, and favorable legislation like the federal Farm Bill 2018.
Want to see an actual case study? Check out this Shopify Plus merchant success story for more insight on succeeding in the CBD market.
Want even more CBD marketing strategies plus industry benchmarks for performance? Check out our CBD industry benchmarks report, featuring 22 additional strategies to impact every part of your brand's marketing.
The truth, however, is that getting a CBD brand off the ground can be particularly challenging.
It is imperative that brands adopt a proper CBD marketing strategy if they are to rise to the top of the graph and stand apart from their competition.
Always remember: Every single thing you say (including consumer reviews, testimonials, social media posts, marketing, and claims made on any forum where the consumer may see the product) when trying to lure in buyers with an online CBD marketing campaign must be backed up by reputable sources and cited where/when necessary. Claims must always be substantiated, credible, and authentic, and you should always avoid making disease or health claims.