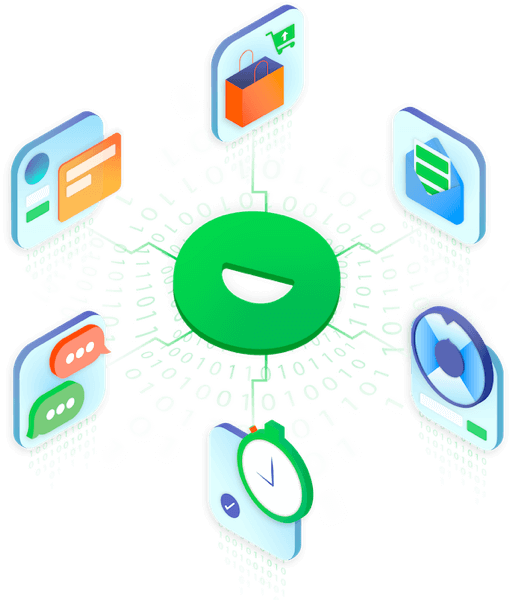 Justuno Plus is a premium solution that offers mid-to-enterprise level businesses exclusive access to our newest AI-powered features, as well as strategic account management and support.
Combining the power of Artificial Intelligence with the expertise of a dedicated account strategist, Justuno Plus offers additional features and services to help manage the increasingly complex marketing strategies of larger businesses.
Exclusive AI-Powered Features.
Justuno's AI-driven product recommendation engine is built on insights from over nine billion user sessions and is the core technology behind some of our most powerful products to date. Available exclusively to Justuno Plus and Professional Services customers, intelligent upsell and cross-sell promotions are the first of our AI-driven products to be released.
Learn more about the power of our core technology.
New Recommendations. More Possibilities.
Intelligent upsell and cross-sell promotions aggregate your website's visitor behaviors, transactional data, and insights gleaned from billions of additional user sessions to learn and continuously optimize the displayed product suggestions.
Learn more about our upsell and cross-sell products.
Are you an agency with questions about Justuno Plus?
Check out our Agency FAQ.
Personalized Onboarding & Strategy.
Every Justuno Plus customer receives a dedicated Plus Strategist who will design a personalized onboarding process to get your site setup and running. In addition, your Plus Strategist will create a strategic roadmap for how to achieve your marketing goals and setup ongoing strategy check-ins to ensure your metrics are staying on track.
With a vast knowledge base and a wealth of experience, your Justuno Plus Strategist is the perfect support system for your marketing strategy.
AI-Powered. People Focused.​
Justuno Plus accounts receive exclusive access to all of our current and upcoming AI-powered features, including intelligent upsell and cross-sell promotions.