In June of 2017, Justuno became a Certified Shopify Plus technology partner as we quickly became a top-tier conversion platform for best-in-class agencies and growing e-commerce brands. 
Today, we're excited to announce we've been re-accepted into the new and improved Shopify Plus Certified App Program!
We've worked diligently with the Shopify Plus team to re-apply and provide detailed information about our app stability, security, and functionality in hopes of being a part of the most exclusive technology group in the Plus ecosystem.
Little did we know when we began this process that merchants would be facing extreme highs and lows due to a global pandemic.
So now more than ever, we are prepared to support Shopify Plus merchants through their unique business journey. Building and maintaining trust with merchants is a cornerstone of Shopify. As a Certified Partner, we are an extension of that trust, and we aim to uphold it to the same degree.
"Shopify Plus Certified Apps are hand-selected for their quality and ability to solve complex merchant needs."
How will Justuno and Shopify Plus be working together for you?
Our Shopify integration is powerful. Justuno can leverage things like your cart value, products in your cart, and we can ingest your entire product feed for things like intelligent cross-sells and upsells. Our seamless installation process will have you gathering leads and converting cart abandoners in a matter of minutes. Create New Visitor or Exit Offer display ads to capture and convert those that matter most. Consider these:
Exit Offers: Only show to people with a certain value or amount of product in their cart
Dynamic Headers: Show a dynamic free shipping bar threshold – as visitors continue to add things to their cart, they get closer to free shipping upon reaching a certain value
AI Cart Selling: Show an in-cart upsell or cross-sell with intelligent product recommendations based on your website visitor's behavior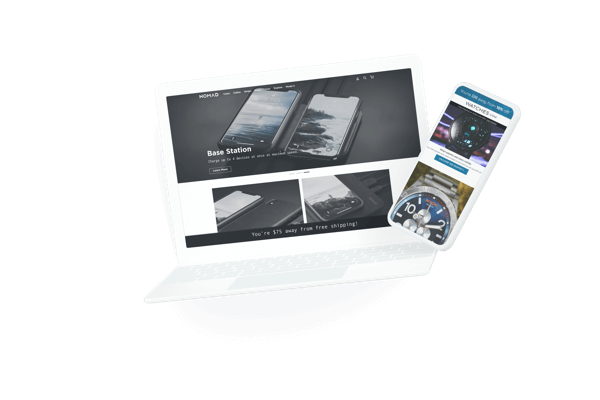 Justuno & you
"Trust is the foundation on which merchants can build and scale thriving global businesses."
With the qualifications now being far more rigorous to ensure performance, security, privacy, and support, becoming a Shopify Plus tech partner is now much more exclusive.
Shopify Plus wants to create a higher-performing ecosystem with the apps that have proven their worth to the Shopify community. In doing so, they allow Shopify merchants to systematize their operations within the ecosystem – quality apps for quality results, seamlessly. Justuno is proud to have made the cut.
On average, Shopify Plus merchants use 16 apps simultaneously. Adding a new app to your store can be a risky move – if one breaks another, you could lose out on valuable leads or miss sales. This is a promise that that won't happen.
There are over 7,000 brands with Shopify Plus, over 175 countries being sold in, and 11,000 checkouts per minute. Around the world, Shopify businesses have made more than $155 billion in sales – and that number is only getting bigger.

We offer solutions for merchants of all sizes, but it's with the Plus community that our power really begins to shine.
Shopify Plus merchants using Justuno have the advantage of utilizing some of our most impressive and robust features – seamless integration, Commerce AI's intelligent cross and upselling capabilities, product recommendations, and more. Streamline your entire on-site conversion rate optimization strategy with our help (fully included!)
What does this mean for our agency partners?
With our reacceptance into the Shopify Plus Certified App Program, our agency partners can be confident that Justuno's capabilities and successes are only going to improve in every aspect.
Being a Shopify Plus Partner means that agencies can have the confidence in the ability of Justuno to perform and deliver what we say we can do. It means we can handle the variety of marketing challenges that come with scaling merchants while remaining compatible with the other apps available in the Shopify Plus ecosystem.
Justuno is already the #1 conversion rate optimization app agencies use to get results for their clients. As a certified tech partner, we have both the ability and bandwidth to support our agency partners and keep the Plus ecosystem thriving. In doing so, agencies can use Justuno to close more business and retain clients for longer, which is especially important during the current crisis. Companies throughout the world are being hit hard, and it's more important than ever to make every website visit count – and we do.

Conclusion
We're incredibly happy to be a Certified Shopify Plus Partner, but we're even happier to be able to support our Shopify Plus customers at a time when converting online traffic is more important than ever. The world was already becoming more online, but the speed of it has only increased in the past two months. We're here to assist you in any way we can.
Additionally, working with our top agency partners to help keep e-commerce thriving during COVID-19 is of the utmost importance. So many sectors have been shut down, and losing any more will only hurt us further. Keeping businesses alive is the best thing we can do for each other, especially in the long-run.
Stay safe, stay healthy, and let's push the boundaries of e-commerce together.