It's no secret in the world of e-commerce that access to (potential) customers' inboxes can have major impacts on the success of your marketing campaign. Whether it's a personalized offer or an order confirmation, a clean, reliable email address database is a must. But how do you get there when 8.4% of email addresses entered on websites are invalid, fake, or misspelled? At Xverify, we're thrilled to announce our new integration with Justuno to help e-commerce, and retail marketers verify email addresses in real-time as they collect them.
Why is email validation important for e-commerce?
We've learned over the years that there's no guarantee an email address that comes through to a marketer's database is valid or real, and this is especially prevalent in the digital retail industry. But why?
It's the classic story of an amazing tool that marketers love but audiences sometimes misuse, email pop-ups. These have evolved into a great resource for e-commerce sites because rather than having to wait for a customer to purchase an item or service, email opt-ins provide an opportunity to start marketing to potential customers much earlier in their journey!
That's what makes them an e-commerce marketer's dream, empowering them to engage consumers before a purchase is ever even made while efficiently growing their database too. But with database growth comes issues like reduced deliverability.
It's not uncommon to see invalid or fake emails entered into email pop-ups, meaning when the next email send goes out, deliverability rates dip and bounce rates skyrocket. It's a double-edged sword that e-commerce marketers know all too well, but there's a way to mitigate these issues using email verification tools.
How to set up the Xverify + Justuno integration
It's simple to set up in Justuno. All you have to do is head to your Justuno account, click on your Justuno offer, and select the option to connect a technology partner to support your offer. From here, you have three options: email service provider (ESP), SMS provider, or an email verification provider. When you select email verification provider, you'll see the option for the Xverify integration.
From here, you'll be asked for three things: an Xverify API key (available from your Xverify account), a trusted domain, and a message to show users upon rejection should they provide an invalid email address.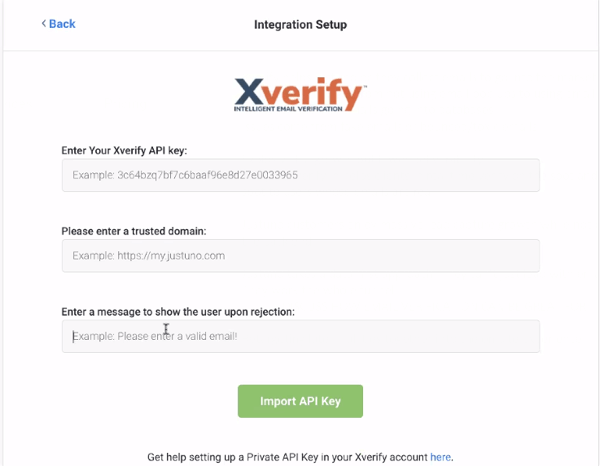 You'll hit the green "Import API Key" button once you've entered the information above, and that's it! Once the integration is linked, emails submitted through this particular email pop-up will instantly be verified by Xverify. Additionally, when you turn on this integration, you can later choose which email types to accept such as valid or unknowns. From here, it's just you and your clean database.
How does the Xverify + Justuno integration benefit e-commerce marketers?
At Xverify, our legacy is primarily built on our email verification tool that puts an end to bad email addresses by:
Increasing deliverability
Eliminating hard bounces
Reducing spam complaints
Protecting against fraud
And with our new API integration with Justuno, e-commerce marketers can have verified emails in real time for each email submitted via an email pop-up. For e-commerce websites using Justuno email pop-ups for an instant coupon code or other marketing micro-moment, instant verification keeps email databases cleaner than ever before. Allowing them to experience massive lead capture growth while not cannibalizing their deliverability.
The perks of Xverify's integration with Justuno are not just limited to an initial verified email capture; the benefits of a valid email in an e-commerce brand database exist throughout the customer journey. Justuno's software is an excellent tool for email address collection. Its diverse and effective lead capture strategies include:
Onsite pop-ups
Fullscreen overlays
Website message bars
AI upsell & cross-sell offers
…and more!
So what does this mean for e-commerce marketers? The verified emails obtained through the initial email pop-up lead capture tool can have major positive impacts on future marketing efforts. For example, a website message bar or full-screen overlay containing a relevant offer based upon past pages visited are excellent marketing micro-moments for any point of the customer journey, but an invalid or toxic email address can make these tools less effective due to incorrect data histories.
Additionally, verified email addresses increase the relevancy and likelihood of conversion from re-targeting advertisements because a verified email will have data tied to it that truly connects with a (potential) customer. Lauren's re-targeting ads should revisit her past browsing experiences, not someone else's, so having Lauren's correct, valid email makes the experience more personalized and applicable to her customer needs. And this obviously will increase the likelihood of her purchasing.
The power of personalization and valid emails
Creating a comprehensive, digital experience centralized on a single e-commerce site is critical for retail marketers. Personalization is a key component of this, and marketers know it. In fact, 94% of marketers say they know how valuable personalization is, but 95% of marketers also say their data within their organization has gone unused. It's hard enough to sift through a large email database, but a clean database with valid, usable emails makes segmentation and people-based marketing much easier to accomplish.
It might seem small, but email verification can have major, lasting impacts for e-commerce marketers, especially those who are heavy users of email pop-ups on their websites. Think of this verification step as an extra security layer for your promotions. It saves you time, resources, and the pain of seeing high bounce rates on that stellar offer campaign you set up. Overall, it enables e-commerce marketers to have greater effectiveness with their campaigns from pre-purchase offers all the way to the loyalty program emails they'll be sending down the road.
Ready to set up your Xverify account to enable this awesome Justuno integration? We'll help you get started – Create your Xverify account now.