Digital marketers can create more sales opportunities by focusing on email lead capture. More contacts to market to means more opportunities for a sale. The value of an email address lies in direct, sales oriented communication that drives revenue. It may differ from business to business but email still remains king when it comes to marketing ROI.
In this post, we take a look at a variety of lead magnet ideas that you can use on your website to increase email signups. It's the simplest way to convert your daily website traffic into qualified leads.
A lead magnet, also called gated content, is generally a piece of content that requires visitors to opt-in via email. This tactic is used in content marketing across almost all industries and for good reason. This gives you, as a marketer, the power to drive leads for your business while providing value to your prospects.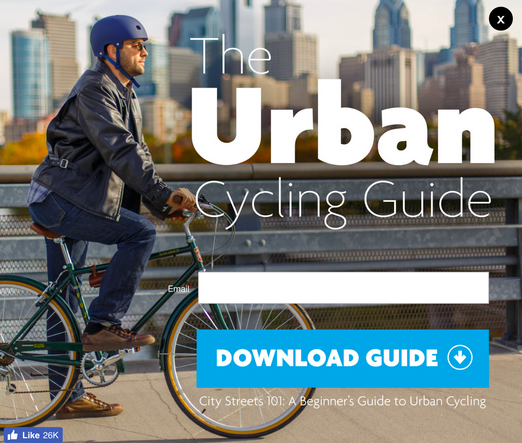 Below, we'll cover 10 ideas for lead magnets along with some high converting examples for inspiration when putting together your email capture campaigns.
1. Guides & e-books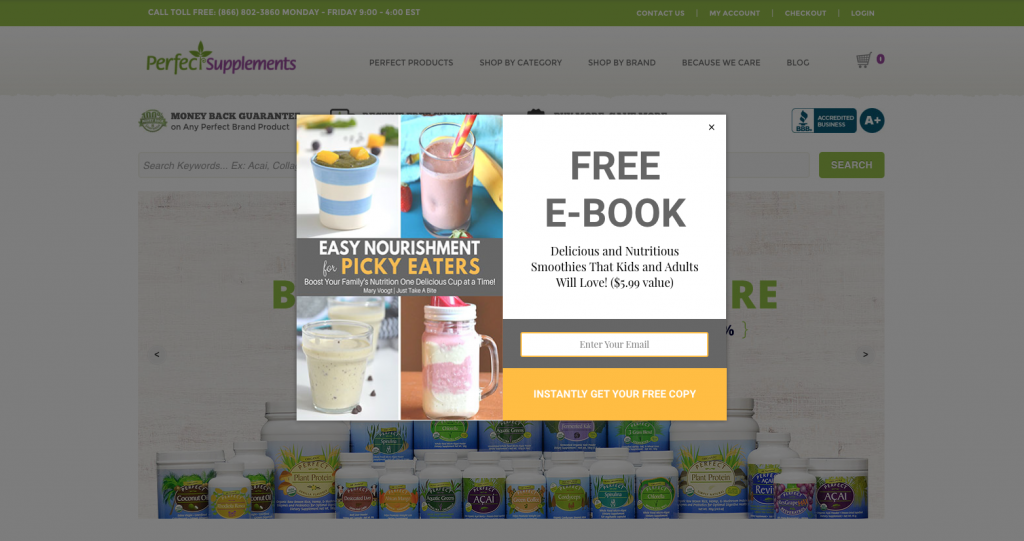 We've all submitted our email to access an e-book by now. It's an easy way to display longer form content in an organized and attractive manner. It's also a powerful lead magnet that you can use to convert visitors on a daily basis. Top performing e-books include "how-to" information that is appealing to almost all of your website visitors. Incorporating e-books into your content marketing strategy is a must.
Examples:
How-to Guides
Travel Guides
Fashion Look Books
Recipe Books
Exercise Guides
2. Lists
A list, short or long, tends to make a great lead magnet because they are usually a very absorbable form of content. If I sign up to receive a list of 10 Exemplary Email Campaigns for SaaS Companies, it's pretty clear what I'll be receiving and how I can benefit from it.
Another reason why I love turning lists into lead magnets is that you can largely create them from re-purposed content. This post could easily be turned into a downloadable list to use as a lead magnet. If you're short on time and want to add a valuable incentive to your email opt-in offering, turn an older list post into a visual lead magnet!
3. White papers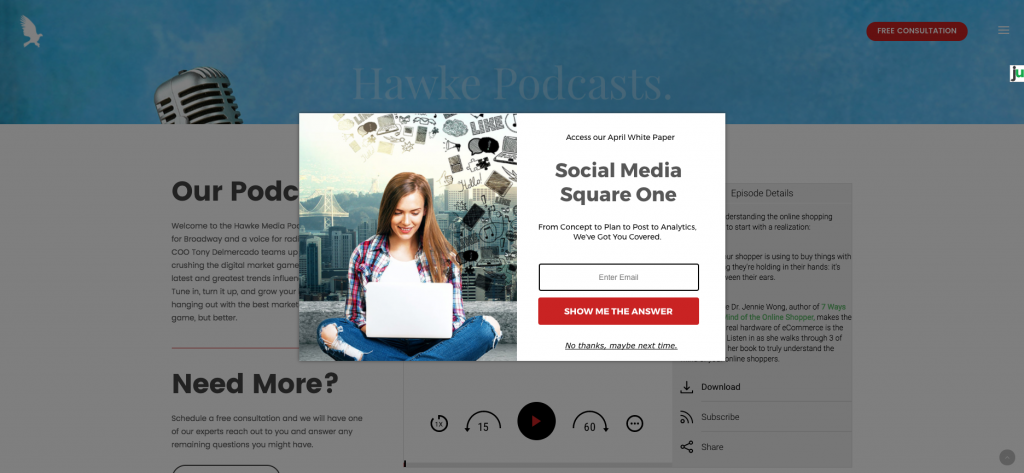 White papers are another form of longer content that is usually packed with valuable data and information. These in-depth reports help build credibility and trust with prospects. White papers are widely used in B2B marketing, especially as a piece of gated content.
4. Infographics
These are a visual form of content that people eat up! Infographics receive high engagement and have a high degree of share-ability. They also display a lot of value in a clear and fun way. If you have an infographic, chances are I'm downloading it.
5. Videos
Video marketing has become an exciting and effective area for many businesses. It's a medium that speaks to today's consumer and it's effective. How-to videos, whiteboard sessions, past webinars, or even a teaser for an upcoming product are great pieces of content to gate behind an email signup form. Don't have a video? Try a podcast. These work well too!
6. Marketing materials
As a marketer, I can speak to the struggles of not knowing where to start on certain projects. When I come across an email signup offering that provides helpful materials for certain projects, I usually buy-in. Common marketing material lead magnets are worksheets/workbooks, excel templates, spreadsheets, or even stock images.
7. Design templates
Another great type of gated content are design templates. Businesses are always looking for things that will help them be more productive and design is an area that many need help with. By providing templates for commonly used materials, you can help visitors save time and headaches. This could be Photoshop templates, downloadable images, printable documents, a worksheet/workbook, or even stock images.
8. Calendars
Sometimes a short, simple piece of content is just what people are looking for. A short checklist, cheat sheet of best practices, or a marketing calendar can be your most effective lead magnet. You can take the thinking out of a certain process and lay out all the information for your new subscribers!
Justuno currently has this type of lead magnet available on our site. We offer our visitors a 2019 holiday marketing calendar so every big sales opportunity is taken advantage of.
Update: 2020 Calendar can be found here.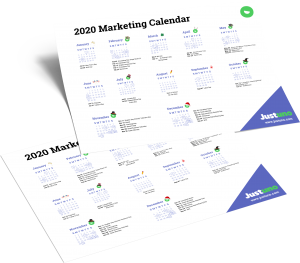 9. Holiday checklist
You don't need to spend a ton of time on content to put together an attractive and valuable lead magnet. Sometimes shorter is much sweeter. Create a one pager that focuses on solving one particular task or problem. This can be done using a checklist or providing all information in a cheat sheet layout.
10. Monthly giveaway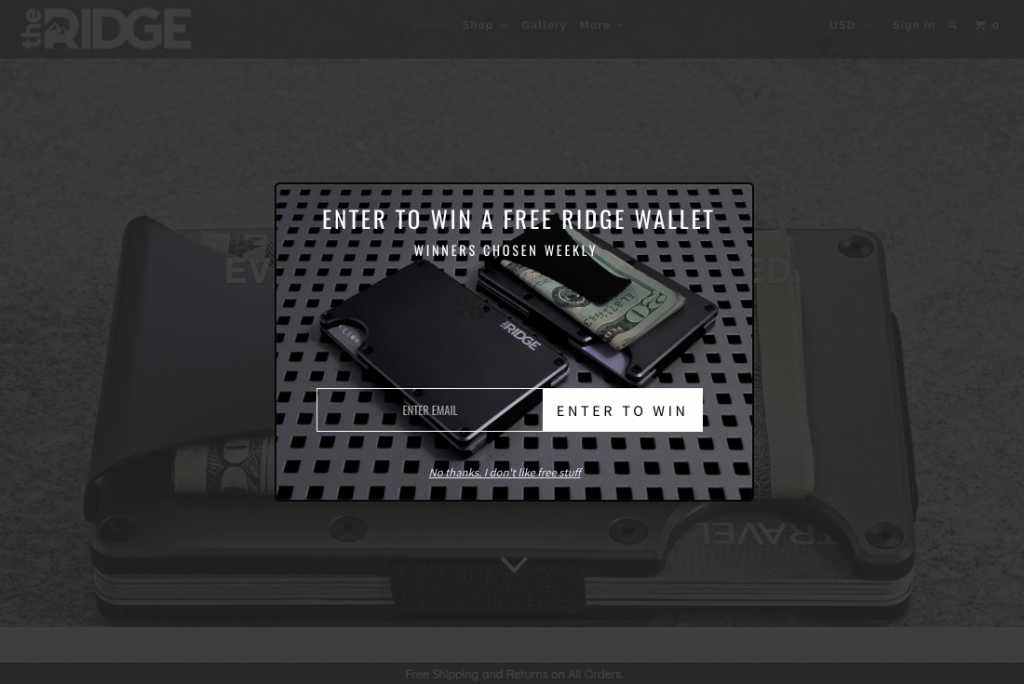 Contest giveaways for big ticket items are an excellent way to capture email leads from people in your target market. There is a high perceived value associated with the offer and they generally have higher engagement rates because of it.
Pick an item that your ideal reader or customer would be interested in and offer a chance to win the item/package by simply entering their email. This lead magnet generated over 18,000 emails for a wallet retailer in just 14 days!
Grow your email list with lead magnets
If you've made it this far in the article, chances are you understand the value of email marketing and want to increase your daily email capture rate. Use these lead magnet ideas to craft a perfect email signup offer that your visitors will not be able to resist.
Stay tuned for part two of our lead magnet series. In the mean time, create your offer using Justuno's conversion marketing platform, did you know that it only takes two minutes to build a pop-up? Check it out today!