Increasing shipping costs have made it more difficult for merchants to sustain profit margins in today's hypercompetitive markets. Numerous shipping fees imposed by carriers are one of the primary drivers of rising shipping costs. Shipping surcharges are introduced for various reasons, and they can significantly increase the cost of exporting merchandise domestically and internationally.
Shipping companies charge varying fees to pass on fuel price fluctuations and other transportation costs to the client. A shipping surcharge is an additional price applied to ordinary shipping costs. It may be categorized as an accessory fee or an accessory.
Shippers should be aware of additional fees, such as fuel surcharges, oversized package surcharges, or temporary surcharges (e.g., peak shopping seasons). It is essential to recognize that each carrier applies a special surcharge to comprehend the scope and specifics of these additional costs. Companies like UPS and FedEx have special surcharges.
Despite the variety of alternatives to avoid surcharges and save money, businesses frequently pay significantly more than necessary on package overhead. In addition, the shipping contracts of freight companies contain complex expenses. Numerous shippers must know this fine print, which might impact potential charges, lead time, and pickup locations.
Why Do Carriers Charge Additional Shipping Fees?
The vast variation of shipping fees adds to the confusion of retailers. Vague levies on-base transportation expenses might get perplexing. FedEx and UPS put a variety of fees on packages to cover the costs of additional handling or transportation for a specific item. Extra shipping costs include
Residential and signature delivery fees
Charges for deliveries outside of regular service locations
Weekend shipments
Typically, private carriers revise their shipping surcharge rates annually or biannually. Typically, items such as fuel surcharges change every week. This may result in weekly or semiannual increases in retail shipping charges. For example, if oil prices increase one week, fuel surcharges will likely increase in the subsequent weeks. In addition to the surcharge fee rise, UPS and FedEx have raised their shipping charges by 5.9% in 2022.
Businesses must be aware of the ongoing premium changes for each shipment when utilizing a private carrier. Consider the impact these surcharges have on shipping costs after obtaining an up-to-date understanding of the current surcharge rates imposed by shipping carriers. In addition, the following must be taken into account:
The weight of the shipment
The destination
Specific handling specifications
Therefore, supply chain managers and online retailers must comprehensively understand shipping fees and transportation expense management. With this knowledge, they may better plan for cost and expense budgeting.
Four of the Most Prevailing Shipping Surcharges
A wide variety of shipping surcharges can considerably impact delivery costs. They can also make it difficult for businesses to calculate the shipping costs associated with each shipment.
1. Fuel Surcharges
To mitigate variable gas prices, carriers levy a fuel fee as an additional charge. This is done to maintain profitability independent of rising or falling global fuel pricing. Typically, fuel surcharges are calculated as a percentage of the base rate and added to the overall cost of shipment.
2. Fee for Residential Delivery
All deliveries to residential addresses, including those to residences where companies operate, incur residential delivery fees. There may be an additional charge per shipment for home delivery. Typically, this fee is added immediately to the regular shipping cost.
3. Oversize Package Surcharge
A shipment incurs an oversize package fee when it exceeds the weight or size constraints of the shipping company. An oversize package surcharge can considerably raise shippers' shipping expenses.
4. Saturday Surcharge
Saturday surcharges are added to typical shipping costs for deliveries made outside the average work week (i.e., Monday to Friday). These are instances of expedited shipping costs.
Signature surcharges, address correction fees, and weekly service fees are other less frequent charges. It is advisable to confirm with your service provider about any additional surcharges they may levy on their services.
Carrier Deadlines
Due to a lack of workers, delivery companies now operate through the clock to get packages to their destinations. With ongoing bottlenecks in the supply chain, new merchandise shipments may still be coming in spurts, elongating the season for some time. But no matter how well things go, there will always be frantic last-minute buyers. These are the USPS shipping date deadlines:
USPS Holiday Shipping Deadlines in the US for 2022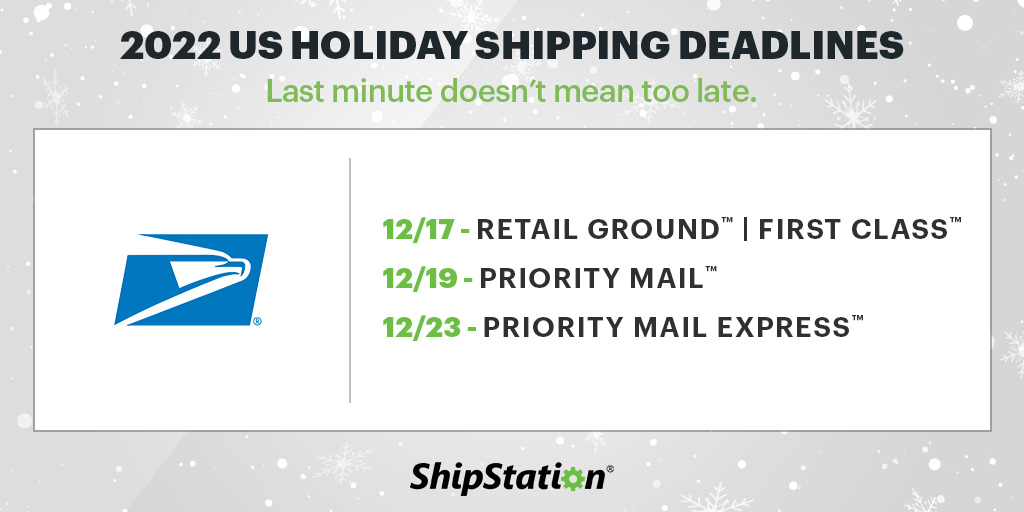 UPS Holiday Shipping Deadlines in the US for 2022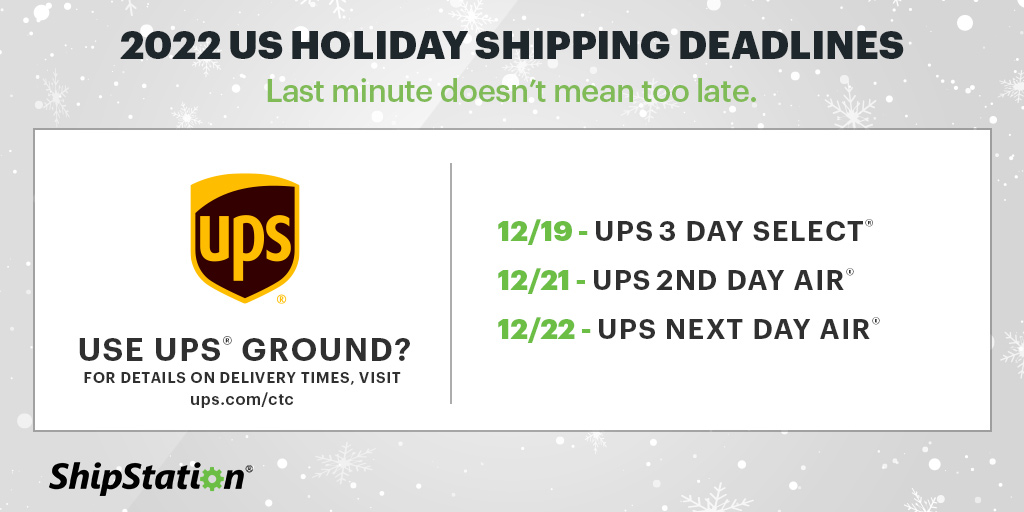 FedEx Holiday Shipping Deadlines in the US for 2022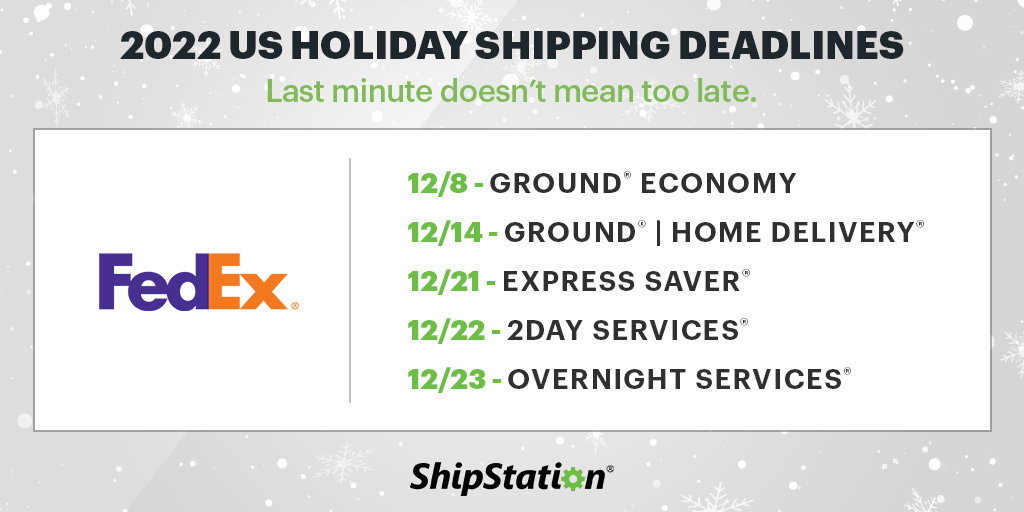 Check out all the 2022 shipping deadlines on the ShipStation blog and learn more about how to ensure all your orders make it out on time.