Whether you sell t-shirts, coffee, niche tech accessories, bean bags, or underwear, there's one product that every merchant can sell that topped shopping lists this holiday season – gift cards.
According to a survey conducted by Justuno, close to 54% of shoppers planned to give gift cards, and a report from Square indicated that sales of gift cards were up 43% during the 2021 holiday season. Long gone are the days where gift cards were seen as something thoughtless, hidden in a drawer and forgotten about till months later. People actively want gift cards – in another survey, gift cards topped respondents' wishlists when asked what they'd most like to receive.
Moreover, the global digital gift card industry is growing exponentially having generated $258.34 billion in 2020 with expectations that it will exceed $1,101.03 billion by 2030. Gift cards then aren't just something people say they'll buy in a survey, it's a booming market driven by consumer demand.
So what's driving this growth? And what can merchants do to strategize their gift card experience?
Why Gift Cards Won the Holiday Season
The growth and interest in gift cards have attracted a lot of attention within the ecommerce space. Something that not too long ago wasn't seen as such a huge priority is now firmly in the spotlight, with many asking why. Gift cards are unique in that during the holiday season, they're hugely beneficial for both merchants and customers.
For Merchants
Gift cards helped to ease inventory and fulfillment pressure
Perhaps one of the primary reasons why gift cards became such a focus for retailers in the holiday season was as a result of global supply chain pressure. In fact, many of these issues are still ongoing into the new year, yet to be fully resolved. For big-box stores, they chartered ships and planes to secure their stock position for the holidays. However, this same action wasn't possible for most businesses that fell into the small and mid-size enterprises (SME) category.
So what are you to do as a merchant, when your inventory is stuck at a port thousands of miles away and won't arrive until after the holidays? You sell gift cards. These act as a sort of inventory stop-gap; you still get the sale from the customer, but you don't actually have to fulfill a physical product order until much later when the recipient redeems the card.
Merchants could sell beyond shipping deadlines
As well as supply chain issues, there was of course the usual holiday fulfillment pressure where shipments often take longer. All these issues compounded meant that for many merchants, shipping deadlines were brought forward to ensure that there were no disappointed customers with delayed shipments ahead of the holidays. For economy shipping, this deadline was somewhere around the 15th of December leaving well over a week before Christmas where orders would most likely not head out the door.
Gift cards then allowed merchants to sell online beyond shipping deadlines right up until the holidays were over. In fact, given the instant nature of digital gift cards they could be bought even on Christmas Day if a customer was really leaving it to the last minute – this simply wouldn't be possible with any other product.
Online-only meant gift cards lessened the pandemic's impact on brick-and-mortar
We've come to learn over the last couple of years that you can't take anything as a given when it comes to the Covid-19 pandemic. Not only do restrictions tighten and ease on a regular basis, but the level of comfort people have with what they deem as unnecessary trips outside changes too. The tail-end of 2021 saw a new variant start to spread, and this had the potential to impact in-person holiday shopping in that period of time between shipping deadlines and Christmas. Instead of risking going to a busy brick-and-mortar store, customers could instead choose to buy a gift card that the recipient can redeem online. This then lessens the impact of lower brick-and-mortar sales for merchants with both an online and offline presence.
Better solutions in the market allowed merchants to do more
The tools and attitudes around gift cards in the ecommerce space don't tend to change very much. They're a "need to have" item on a store that merchants add and typically forget about, and there hasn't been a lot of movement in the space in terms of how merchants can actually strategize their gift cards. Govalo launched in October 2021, with the goal of changing the gifting experience for both merchants and customers. The tools provided include giving merchants the ability to add gift cards as an option when a product is out of stock, as well as giving customers the ability to schedule send their card. With more innovation in the gift card space, this has the power to change how merchants use them as part of their holiday gifting strategy.
For Customers
Perceptions around gift cards have changed in recent years
Many years ago, receiving a gift card as a present wasn't the most exciting thing in the world. That perception is drastically different to how gift cards are viewed today. Now, they're seen as something desirable – it's the gift of choice, after all. When a customer doesn't know what to buy, they can get a gift card safe in the knowledge that the recipient will be able to pick something they actually want. For the recipient, a gift card is more than just the value of the card as 76% of consumers say they see gift cards as an excuse to treat themselves.
This shift in perception is also driven by younger generations and their experience with ecommerce and mobile commerce. There has been a noticeable push toward digital gift cards over physical cards, and 72% of Millennials and 63% of Gen Z say they've used a digital gift card. In fact, in one survey 68% of Gen Z respondents said they use their mobile device to shop online 1 to 4 times per week on average. Younger generations are very accustomed to mobile commerce and adopting digital technologies, so their desire for digital gift cards as holiday presents makes sense.
Customers can buy a gift that doesn't rely on shipping
Just as merchants had to navigate through supply chain issues, so too did consumers impacted by a lack of inventory and increased shipping times. During the holiday season, 38% of consumers said they were concerned about gifts arriving late and 25% said that they worried that gifts wouldn't arrive at all. We touched on the global supply chain resulting in tighter holiday shipping deadlines, and this of course impacts consumers as they then have less time to find the gifts they need. Gift cards on the other hand require no supply chain and are instant, giving the customer peace of mind that they have a gift and allowing the retailer time to catch up on inventory and fulfillment before the card is redeemed.
Perfect solution for a host of different holiday gift buying problems
We've all been there – you've got a list of people to buy for, and for half of them you don't know what to get. Perhaps you're unfamiliar with their hobbies, or you're just not sure what they'd actually like to receive. There is a lot of pressure on people to buy the "perfect" gift, and gift cards can help alleviate that stress. Plus if you're running behind on purchasing for the holidays, they make the ideal last-minute gift – 44% of last-minute shoppers said they planned to buy gift cards.
How To Improve The Post-Holiday Gift Card Experience
The holidays may be over, but the work doesn't simply stop when a customer purchases a gift card. From there, it's vital to nurture the relationship with both the buyer and recipient so that you can hopefully encourage them to become loyal customers. The primary method to do this is via email.
Gift Buyers
Engaging gift buyers requires some further segmentation than just new vs existing customers if you want to send the right message and stand out. Start by segmenting gift card buyers from your other customers, then segment further into new vs existing customers, then split the existing customer set further. This should be sorted into those who have previously purchased gift cards only, and those who have made other purchases. Those who only purchase gift cards may not be so interested in personalized recommendations compared to a customer with different purchase history but may be more likely to leave a review compared to a brand new customer.
#1 – Thank You Emails
A purchase of a gift card is just as important as a product purchase, therefore it's important to send a series of thank you emails to gift card customers. Start with your initial thank you email, tailored to suit the fact they've bought a gift card, rather than a physical product i.e. "Thank you for giving the gift of great coffee!". Include some recommendations here for the gift card recipient, such as dates for when new inventory is due to be released or bestsellers that they can then suggest to the recipient.
If the gift card buyer is a customer who has purchased other products in the past, be sure to thank them for their continued support as well as giving them recommendations for what's new in your store that they may be interested in based on previous purchases.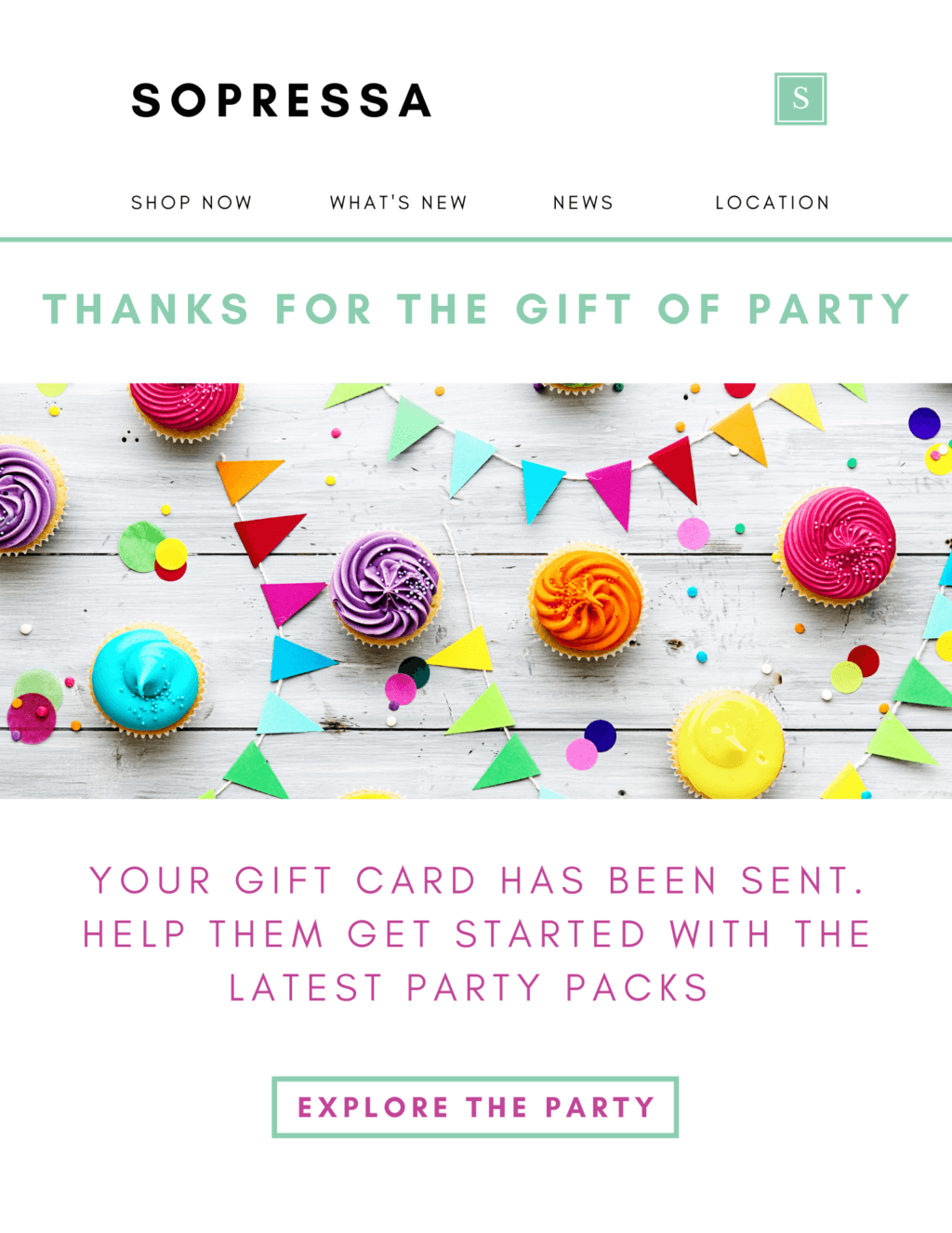 If they're a frequent purchaser of gift cards, then include an email that asks for their feedback and to leave a review. It may be more likely that they will follow through if they've sent several gift cards from your store, and their feedback will be valuable for future customers who may be considering a gift card.
#2 – Holiday Reminders
Especially if a customer has bought gift cards in the past around certain holidays, it can be valuable to send reminder emails about your gift cards at key periods throughout the year. Holidays such as Valentine's Day come early in the year, so it's worth creating an automated flow that targets gift card customers in the run-up to key events.
These emails can be more general or tailored to acknowledge that the customer has previously purchased a gift card and therefore may be interested in another for a different holiday.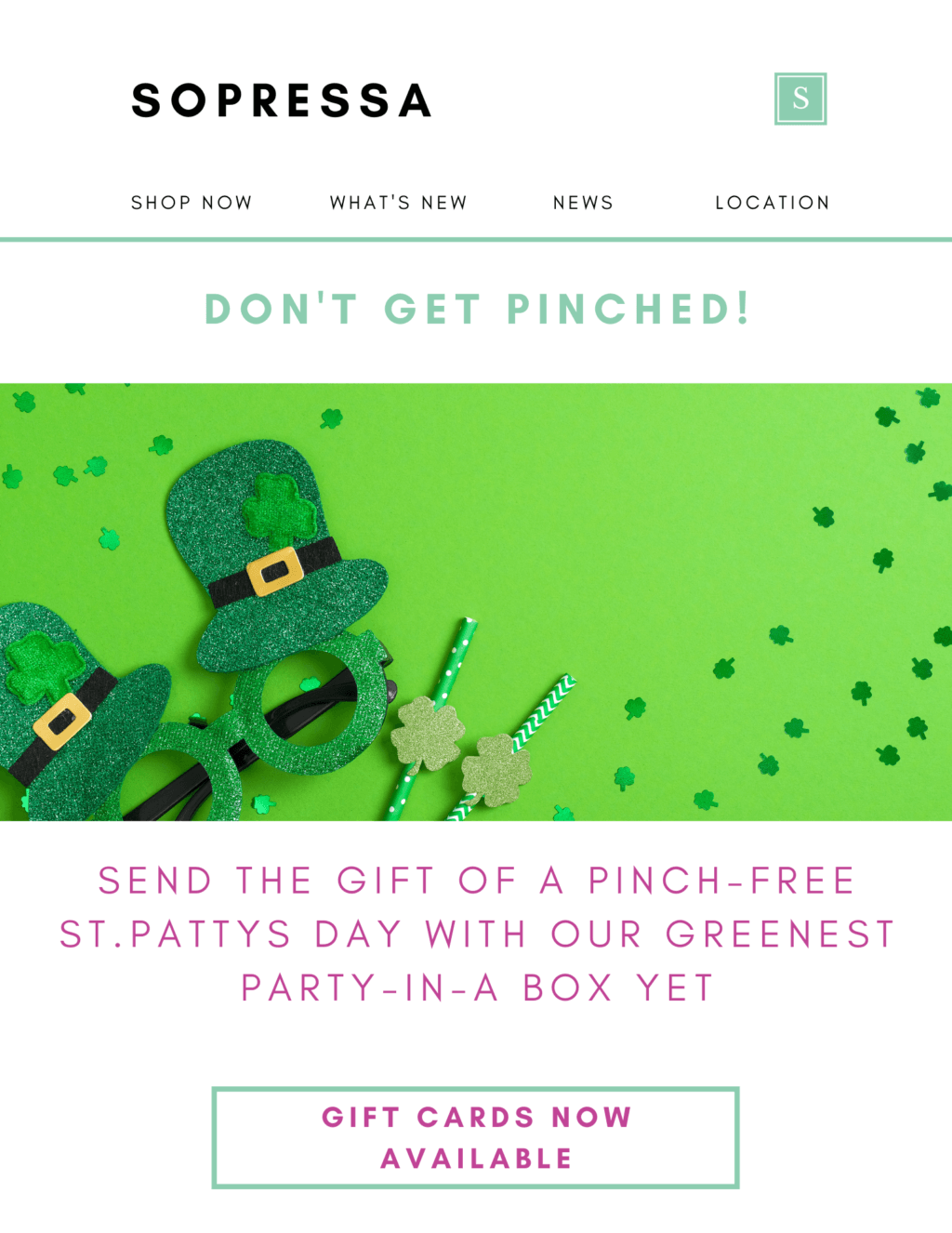 Gift Recipients
Engaging the recipient of a gift card is perhaps more important than the gift buyer – there's a much stronger chance to really build a relationship and turn them into loyal customers. There's already a possibility that they've made a purchase in the past or are already interested in your brand, so engaging them once they get a gift card is crucial.
There are three ways to engage gift card recipients using email and SMS:
#1 – Reminder Emails
No one likes remembering they have a gift card only to find it has already expired – more than 49% of US adults say at some point they've forgotten to use a gift card. Gift card redemption is important – total cart value is often higher than the value of a gift card, and it makes for a much better customer experience if a brand is proactive in reminding a customer to redeem.
Create an automated flow that sends reminder emails after a certain amount of time has elapsed. With how busy the holidays can be, it's likely that the recipient may have forgotten already that they have a gift card and if it's buried deep within their inbox, they may not find it easily. Sending them a reminder will be not only helpful but provide them with a much easier customer experience. This reminder flow should run right up till the expiration date – while many cards are redeemed before this, it's still helpful to have a reminder set up just in case.
If you want to really catch their attention, you can also personalize reminder emails with product recommendations. For new customers, this might be bestsellers or new products, and for existing customers, this should be based on what they may be interested in based on previous orders.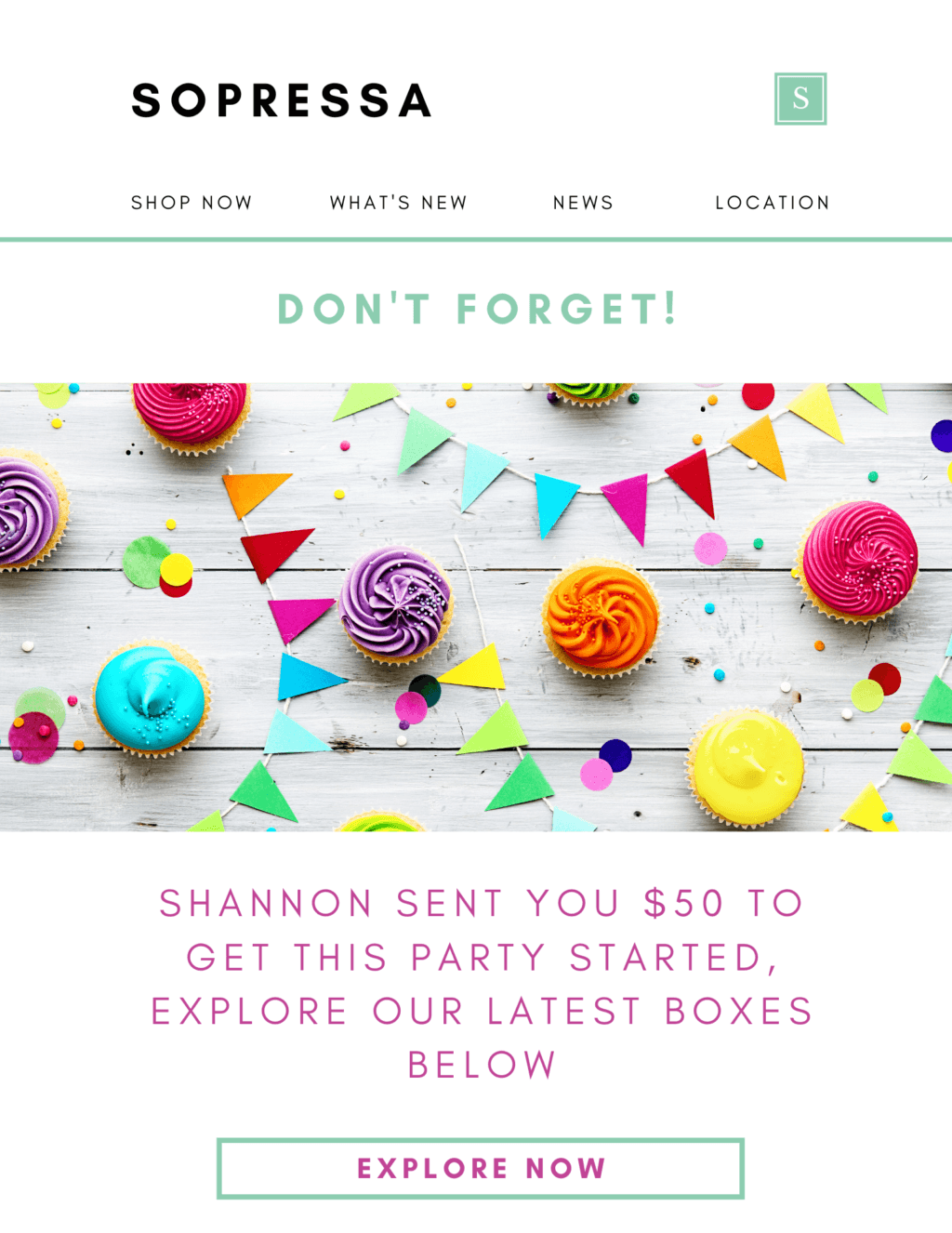 #2 – Personalized Recommendations
Personalization matters, especially when you're trying to build a relationship with a customer who undoubtedly receives many marketing emails on a regular basis. More than 90% of US consumers say they receive marketing messages they consider irrelevant, and 44% say they'd consider switching to a different brand that offered greater personalization. To make your emails stand out, tailor the content to exactly what the customer is interested in.
New customers may prove more difficult, however, you may be able to use on-site activity to tailor recommendations based on their browsing habits on your store. Browse abandonment emails tailored with recommendations can spark the customer's interest and bring them back to redeem their gift card.
You'll have a lot more data to work with for existing customers. Use data on previous purchases, browsing, loyalty program engagement, and email campaign engagement to tailor messaging and recommendations to suit exactly what that customer wants.
#3 – Post-Purchase Campaign
Once the gift card has been spent, you still have work to do to build a relationship with the customer. Using the new vs returning segments built previously, send the customers different messaging depending on their prior relationship with your store.
For new customers, put them on the path for a series of welcome emails that will introduce them to your brand and products. Give them personalized information about the products they've purchased such as care instructions, use cases, and user-generated content. You can also include recommendations for future purchases that will complement their existing order, as well as a small incentive for their second purchase to encourage them to return at a later date.
For existing customers, their flow should include a thank you email for their continued support as well as a reminder of any loyalty program benefits, and personalized recommendations for a future purchase. It's important to continue to foster that relationship, as a gift card means that the original buyer has essentially given your store another chance to demonstrate your customer experience to an existing customer.
Promoting Gift Cards Year-Round
While the end-of-year holidays are prime time for gift cards, there are many more months in the year when you want to sell gift cards. Knowing how to promote them outside of the holidays can be tricky, however there are a few ways you can do so that'll encourage customers year-round.
Consider Other Use Cases For Gift Cards Outside Of Holidays
Holidays such as Christmas, Hanukkah, Valentine's Day, Mother's Day, etc are the obvious tie-ins for gift card promotion. However, we all know those aren't the only reasons people buy gifts for others. Whether it's to celebrate a birthday, an anniversary, to congratulate, or "just because", there is a myriad of reasons why someone may want to purchase a gift card. Promote your gift cards for these purposes, and include them in any gift guides you may write related to these different events, for example, if you sell cookware and have a "Top birthday gifts for a foodie" gift guide, include your gift card as a suggestion.
Raise Awareness With Your Most Loyal Customers
Everyone loves a perk, especially if you're loyal to a brand. Demonstrating to loyal customers that you appreciate their support is essential to retention, and what better way to do so than a gift card? Rather than offering them a discount, consider instead offering loyal customers a gift card of say $5. This will not only encourage them to place another order but will also help to promote your gift cards to your most engaged customer base.
Promote Gift Cards Strategically Throughout Your Store
Having a product page for your gift card is just the beginning; there are plenty of other ways you can promote your gift cards throughout your site that will ensure they're seen by your customers. Even if they don't buy one right away, promoting awareness is important.
Include your gift cards on your…
Primary navigation menu – This will mean it follows your customers as they navigate the site.
Homepage – Upgrade a homepage feature to a hero image during key sales periods to make the most of your highest traffic landing page.
Product pages – Including a link to your gift card on product pages will help customers who are shopping for gifts if they find themselves unsure of what to buy.

You want to make it as easy and accessible as possible to buy a gift card from anywhere on your store. If they're hidden away in a sub-menu or not linked from key landing pages, customers won't be able to find them and they're unlikely to want to hunt for them.
Use Gift Cards As Part Of Your Out-Of-Stock Strategy
Inventory issues aren't unique to the holidays. Perhaps a product has gone viral on social media, or you've run into some supplier delays just before a key sales period. In any case, you want to have a plan ready so you don't lose out and give your customers a poor experience when they try to make a purchase.
Govalo's out-of-stock integration makes it so that when a product runs out of inventory, the option is displayed to instead purchase a gift card.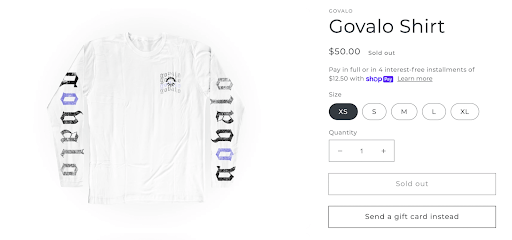 Instead of the customer being disappointed, they're immediately presented with a convenient alternative. Even if the customer is shopping for themselves and unlikely to purchase a gift card, it will still raise awareness that they're an option on your store for the future.
The market for gift cards is growing. Customers are actively looking for and purchasing them, seeing a convenient alternative to stressing over what to buy as a gift. Understanding why they're so popular, and what merchants can do to strategize gift cards beyond the holidays is essential in making the most of a fast-growing niche in e-commerce.