Yesterday on February 15th, Google released a new Google Chrome ad blocker that aims at cleaning up poor ad practices that damage user experience – blog post can be read here. If you spend any considerable time browsing on the web (which by reading this, I can assume you do), then you have some idea of how poor marketing and advertising practices can hurt the website experience.
User experience has been a priority for Google over the past few years and as a digital marketer, you need to be aware of how these rules and guidelines impact your on-site advertising and marketing campaigns. Here's Google's 2017 policies for mobile websites along with website best practices for SEO to get a better understanding of Google's approach to user experience. After all, better user experiences are typically going to translate to more long term success.
This post will cover everything you need to know about the new Google Chrome Ad Blocker, proper marketing practices to ensure you're compliant, and how you can prepare your website today with greater control over your on-site marketing.
Why is Google cracking down on ads?
We've all visited a website that provides a less than stellar browsing experience because ads got in the way. This ends up making website content inaccessible, frustrating the user because they could not access what they searched for. In short, Google wants to eliminate poor advertising and on-site practices while promoting positive advertising and on-site marketing experiences.
Google wants to provide a better experience with search and AdWords functionality. To improve this, they must reward websites that take user experience seriously and penalize websites that do not have the best on-site marketing practices. Google will follow the Better Ads Standard which is a result of a consumer research study surveying over 40,000 internet users on their online ad experiences.
While this announcement does has some marketers frustrated, it should be a good move long term. Putting more focus on the visitor is going to push marketers to focus on providing relevant content, more value, and personalized experience. Digital marketers will have to focus more on the on-site experience to create something that works for their business, but more importantly, for their audience.
What is the Better Ads Standard?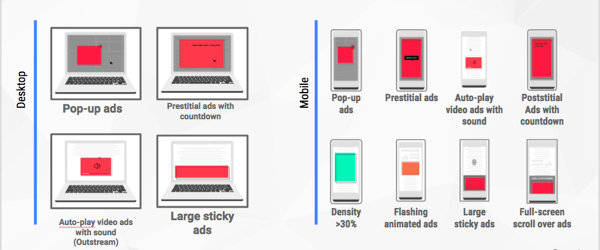 The Coalition for Better Ads pinpointed 12 different ad practices (Shown above) on both desktop and mobile that disturbed users. The most intrusive form of ad was the prestitial ad, an ad that completely blocks the content of the page upon entry for a specific period of time.
Sites will be evaluated based on how many violations of the Better Ads Standard are found. Website owners can access their own Ad Experience Report to gain insight on how to improve their site and avoid penalty. This move from Google is fantastic because it provides the necessary info and transparency that is needed to improve this issue on a large scale.
Desktop vs. Mobile Browsers
It's important to note the differences in mobile and desktop experiences. Since mobile content appears on a smaller device, these advertising tactics above can substantially prevent visitors from accessing content. Here's a cheat sheet on mobile pop-up practices for SEO.
Timing and triggers are important
Another key distinction is that most of these on-site displays will appear immediately upon page load which is clearly a distraction from page content. This puts more responsibility on the marketer to gain more control over on-site ads and displays.
Pop-ups, ads, and messaging that displays upon a specific behavioral trigger (exit intent for example) do not fall under the 12 poor ad practices identified by the Coalition for Better Ads which means these marketing practices are fully compliant with Google.
Here's an excerpt from the Better Ads Coalition regarding timing and triggers of pop-up ads.
In connection with the initial Better Ads Standard for Pop-up Ads (desktop or mobile web), two types of ad experiences have been brought to the Coalition's attention:
(1) Ads appearing in images or interactive content (videos or games) and that take up 30% or less of the image or interactive content; and
(2) Exit pop up ads that occur after a user has ceased active engagement with content, and which occur (a) when the user starts to leave the page (without interfering with the user's departure); (b) if the user has been inactive or idle for more than 30 seconds on a page that does not contain video content; (c) once the user has reached the end of the first article on a page; or (d) if a user purposely navigates to another tab and then returns to the open page.
The Coalition determines that these two types of ad experiences are in contention, and are therefore not presently included under the Better Ads Standard for Pop-up Ads (desktop or mobile web). It is anticipated that these ad experiences will be submitted for evaluation.
We'll dive into this topic in more detail later on.
How does this apply to on-site marketing?
With all of this information, it can be difficult to figure out the next step in making your site compliant with these rules. Below, I've provided five best practices that you can implement on your site to create a better visitor experience and avoid penalty from the Google Chrome Ad Blocker.
1. First, don't freak out
Whenever Google makes an announcement like this one, certain people tend to treat it as the end of the world. Your popups, ads, and forms will not be blocked immediately as of 2/15/2018.
Google has a three-part evaluation process and if your site does fall under a violation, you be notified and given 30 days to fix the issue. If it is not fixed within that period, your ads will then, and only then, be blocked.
It also remains to be seen if Google will just focus on blocking poor ad practices or if this will extend into poorly executed overlay and popup practices. Rest assured, this section will provide you with the necessary guidance to be prepared for both scenarios.
2. Avoid poor advertising practices
This is straightforward. Don't restrict access to your website's content with ads. The short term benefits of these practices will be overshadowed by the long term costs incurred. It hurts the visitor experience and will deter visitors from coming back to your site.
3. Place more importance on targeting, segmentation, & control
As a digital marketer, you have to take more responsibility and control over your on-site experience. By targeting and segmenting traffic based on behavior and data, you can deliver more relevant touch points at the proper moments during their visit (not just upon entry to your site). This will keep you in compliance with the ad blocker and allow you to more effectively market to your visitors.
Justuno offers both basic and advanced targeting capabilities with 75+ parameters to target and segment visitors. This kind of control is what you need to fully customize your on-site marketing campaigns.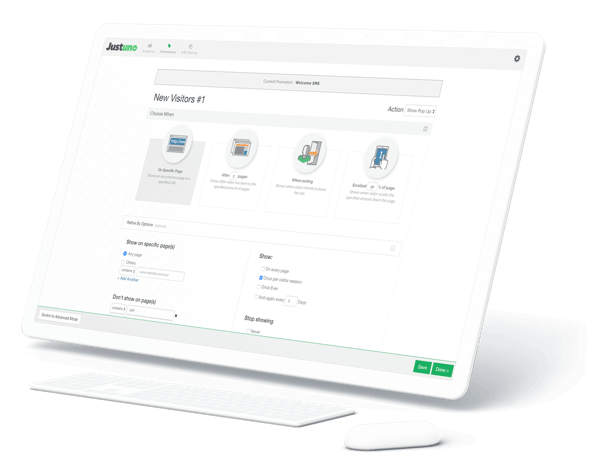 4. Treat desktop and mobile traffic differently
Google has been calling for websites to treat desktop and mobile differently for quite some time now. The poor ad experiences identified are separated into desktop and mobile. Make sure that whatever tool you are using for on-site marketing has a distinction between desktop and mobile browsers. Mobile responsive functionality will most likely not provide you with what you need to fully control the website experience.
Here's an example of a Mobile banner that is designed specifically for the mobile browsing experience and Google's rules.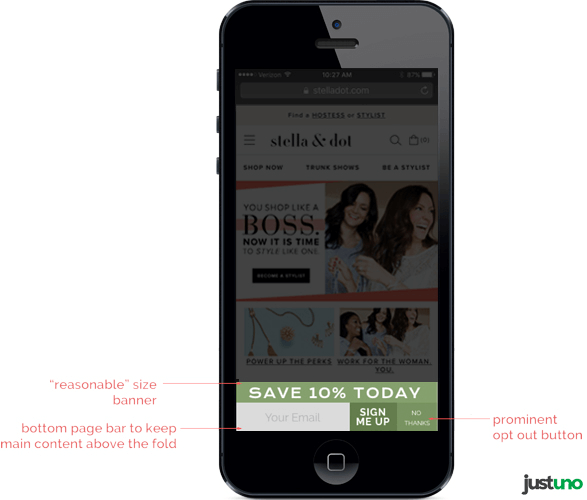 5. Use triggers that are compliant with Google
Behavior-based triggers are going to be your best friend moving forward. Triggering popups based on exit intent, scroll detection, time on site, cart value, CTA click, and many more is in full compliance with the Better Ads Standard.
How to gain full control over your on-site marketing
We've covered the details of the new Google Chrome Ad Blocker, The Better Ads Standard, and what you can do to provide your daily website visitors with a browsing experience. The biggest thing to take away from this article is that websites need better control over the on-site experience
Increased control and functionality allow for marketers to make changes, react quickly to external factors, and improve marketing practices for higher conversion rates and better website experiences.
If pop-ups, promotions and messaging are part of your on-site marketing strategy, ensure that you have the right software and tools to do the job. You need completely customizable design, behavior-based targeting and segmentation, desktop and mobile capabilities, and real-time implementation.
Justuno is your complete on-site marketing platform with all the control and customization needed for compliance with the Google Chrome Ad Blocker.
Sign up and get started today with a free 15-day trial.