June is the end of Q2, and July is the beginning of Q3—both of which are notoriously slow times for e-commerce businesses unless you sell cool AF summer supplies like pool floaties, swimsuits, etc.
But for everyone else who may need a little extra inspo during this time, let's take a look at some of the holidays/sales opportunities on the calendar to build out creative campaigns that engage and delight your shoppers while they're out soaking up the sun or cranking up the AC!
June Calendar
June 1: National Nail Polish Day
June 4: National Cheese Day
June 14: Flag Day
June 18: Father's Day
June 21: Summer Officially Begins (Longest Day of The Year)
June 24: National Take Your Dog to Work Day
National Great Outdoors Month
Pride Month
June is a surprisingly full month for marketers, with opportunities for fun campaigns that fall into several categories for different brands. Whether these tie directly into your products, like National Nail Polish Day on June 1st for beauty & cosmetics brands or are more complementary, like National Cheese Day for cookware/hosting brands. These outside-the-box holidays are perfect for one-off campaigns with fun creative and copy to show off some brand personality.
Beauty brands could offer a free nail polish bottle as a gift with purchase promotion or run a contest for email opt-ins to let the winner name your next product drop/color!
Other options include creating a unique design using your own products like our client, ella+mila, for a visually engaging and fun promotion!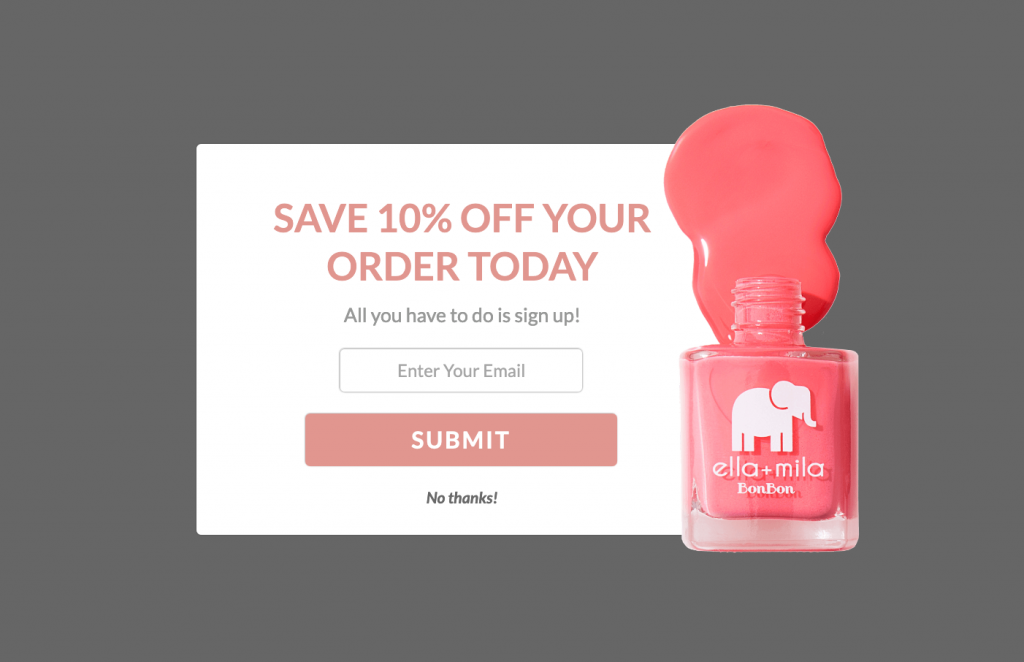 If you're a gift basket or subscription service with food items that pair well with cheese or simply cheese itself, run an email capture that day with a free block in their order/first box if they purchase today! Use radio buttons to let them pick their preferred kind for maximum personalization!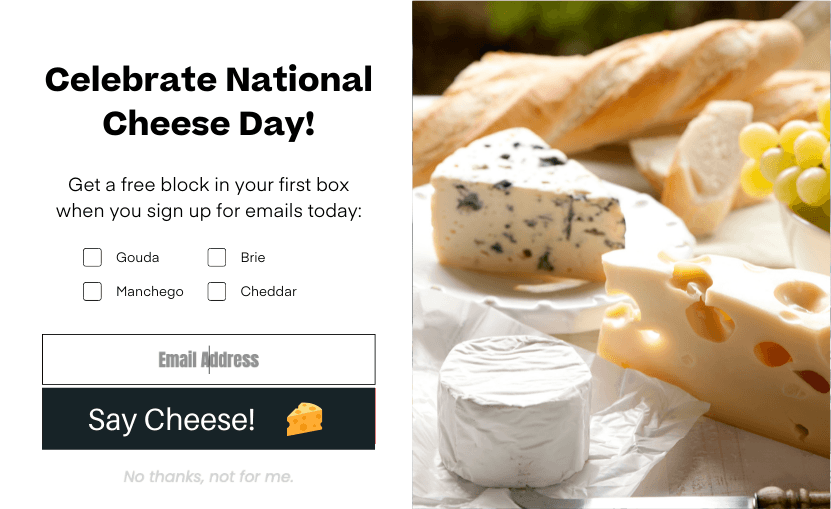 The blockbuster sales opportunity of the month is, of course, Father's Day—falling on the third Sunday of June every year. Like Mother's Day in May, it's usually a key sales date for brands when we buy gifts to celebrate the men who have had an impact on our lives and spend time with our loved ones.
But like other holidays, it can be a challenging time for some; we highly encourage providing the option to opt out of Father's Day campaign messaging; that empathy will go a long way in helping consumers who are otherwise struggling. Once you've done this & set up those opt-outs with exclusion from campaigns, create your on and off-site messaging.
Start by creating a previously purchased segment for those who most likely purchased Father's Day gifts last year, sending them an email or SMS highlighting gift ideas for this year. Bonus points if you can personalize this based on last year's gift for a truly custom experience. If you have a blog on your website, create gift guides for different personas, "Gifts for Grillers, Gifts for the Gardener, etc." These will help guide browsing shoppers to find the right gifts; plus, if you use a product recommendation carousel directly on the page, it's simple to add any of the items mentioned directly to their cart while they're reading. Remove the opportunity for browse abandonment, provide gifting inspo, and make an easy shopping UX? That's a win-win!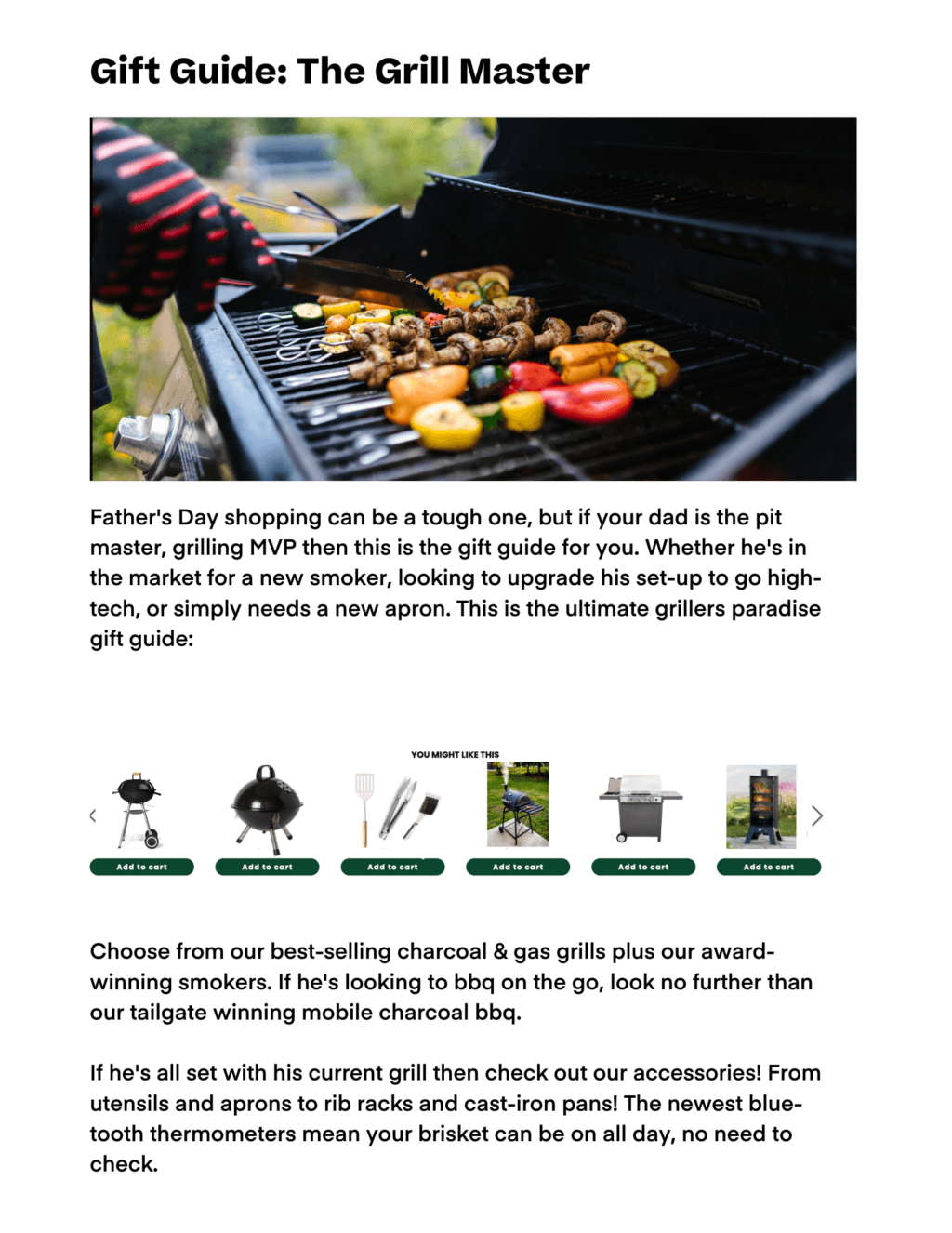 Another great option for gifting inspiration is to leverage influencer marketing. Have your ambassadors create their own gift guides based on their audience's interests and style—then create an onsite experience targeting each influencer's campaign UTMs. These can greet their followers with an offer, drive them to a dedicated landing page rounding up their recommendations, etc.
This strategy can work even better than traditional email or blog post gift guides since influencers confer a certain level of social proof and trust onto the products they're recommending. Continue that positive association with instant personalization to unlock new audiences!
Later that week, we've got the longest day of the year which marks the first official day of Summer! While most think of summer beginning as soon as school is out in late May or early June—technically, it's when the sun is directly overhead the Tropic of Cancer! Celebrate it with a flash sale to mark the longest day of the year and maybe a timer for extra FOMO. Try later-in-the-day texts or emails with messaging like "Don't let the sun set on your extra 20% off" or "Kick off summer with savings."
June 24th is national bring your dog to work day, which is less about a sale and more about organic campaigns utilizing employee-generated content (EGC) and user-generated content (UGC) to have a little fun. Snap some photos of your team bringing their best friend to work to show some behind-the-scenes fun and introduce the people behind the brand. Encourage customers to snap a photo of their dog with a certain hashtag and then reshare some on your social profiles! You'll generate engagement and help strengthen your brand community through non-marketing marketing, AKA just having fun!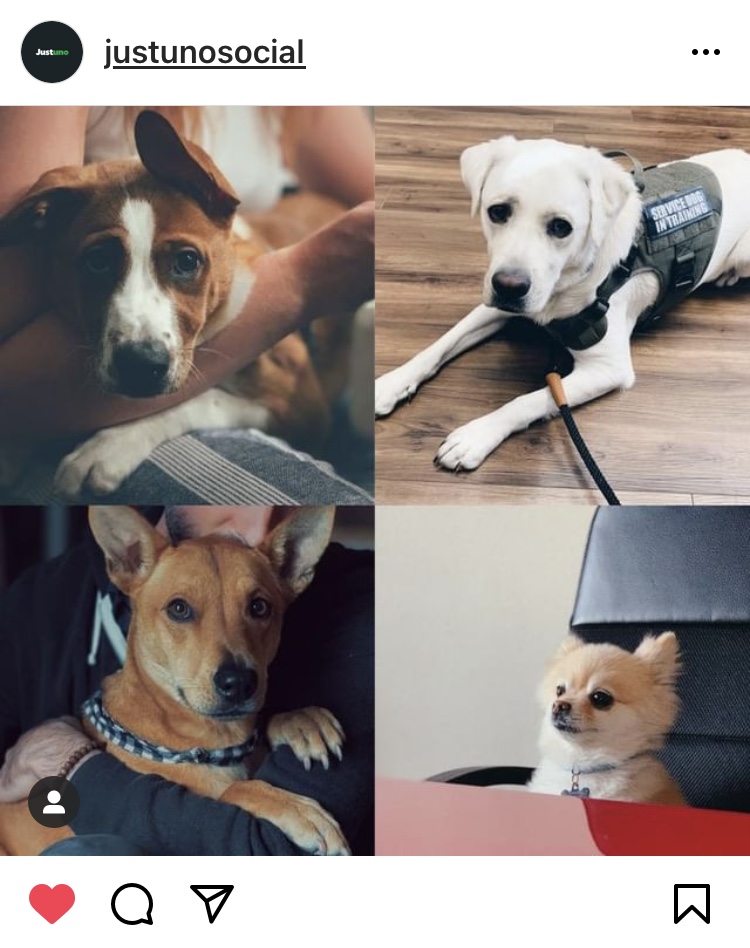 For outdoor & sporting goods brands, June being national great outdoors month makes it a great time to run a month-long campaign like a giveaway or charitable drive. Encourage email or SMS opt-ins for a chance to win a big-ticket item like a kayak or canoe. Or partner with a charity/non-profit to give back to conservation/sustainability initiatives like The Conservation Alliance, The Ocean Cleanup, etc.

Use onsite messaging to inform shoppers about what you're doing and how their purchase is going to support one of these causes. Use a social impact platform like ShoppingGives to make it even easier to give back with every purchase, or let shoppers choose where their support will go at checkout!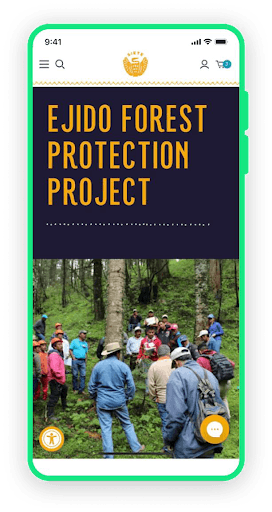 And finally, June is pride month! Celebrated globally as a dedication to the success of the LGBTQIA+ movement and continuing to fight for equality. Many brands try to leverage this in their marketing using rainbow-hued products and campaigns all month long, but it's key to note, like any other cause-based marketing, the need for authenticity. It should be a true reflection of your company's values, both in terms of how your business supports current LGBTQIA+ employees and why you're wanting to create this messaging. Central to authentic celebration is not only supporting the cause but directly supporting it through the resulting sales— unlike the two in five companies with Pride campaigns are not donating proceeds to LGBTQA+ causes,
Donating proceeds from your campaign/collection or collaborating with a charity for overall awareness are great options. But it's important to note that sometimes it's not about the glitz and rainbows but being inclusive all the time. Being an ally doesn't have to be a rainbow on every email, but creating products and messaging with LGBTQA+ customers and perspectives in mind.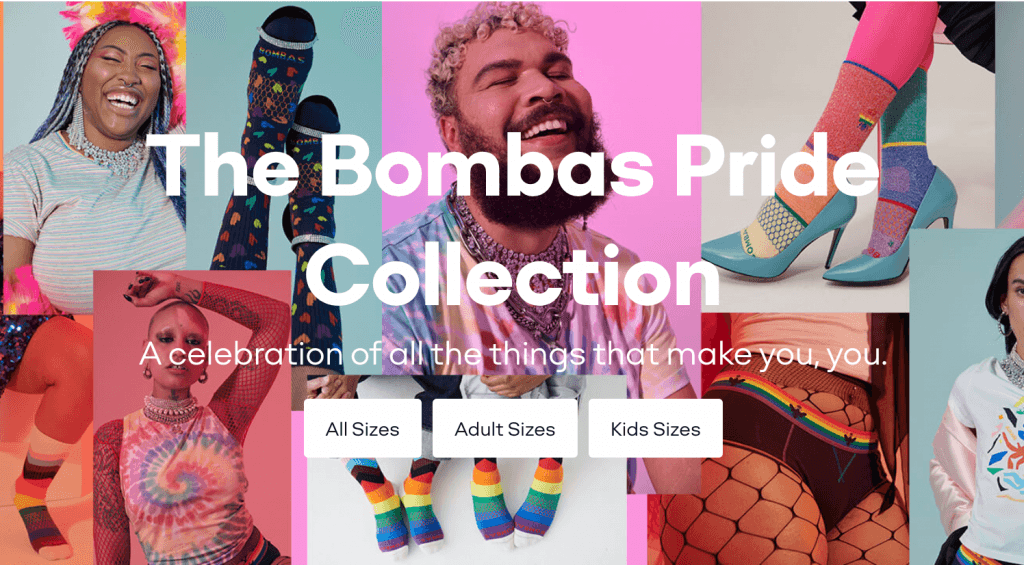 July Calendar
July 1: Canada Day
July 4: US Independence Day
July 11: National Mojito Day / Swimming Pool Day
National Grilling & Ice Cream Month
[Varied] Prime Days
July is a little sparser when it comes to holidays—first up is Canada Day on the first commemorating the country's founding. Much like the US's independence day on July 4th, Canadians commemorate it with parades, fireworks, festivals, and outdoor events. Create a geo-targeted segment in your CRM for Canadian customers to send an email or SMS campaign out—if they click through to your site, you can have red/white or maple leaf-themed onsite messaging targeting those UTMs!
July 4th is America's Independence Day, and while it's an American holiday, international retailers can still hop on it as a key sales date. Americans get pumped for the fourth of July; if you sell anything remotely related to America or summer, it's a key date to jump on. Use it as an opportunity to have a summer sale or drive traffic to other goods like BBQ, water sports, camping, summer apparel, coolers, etc. Make sure to use red, white, and blue colors and maybe some fireworks for extra fun!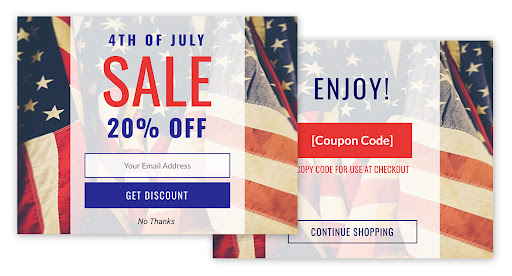 That brings us to July 11th, which is both National Mojito Day and Swimming Pool Day—both are great opportunities to create a more content-based campaign. For alcohol retailers or kitchen goods brands, send out an email or SMS featuring a mojito recipe and recommended products to use. For swimming/pool-related companies, you can write up a blog on swimming pool safety or maintenance to share with your audience—for the right niche, these are natural touchpoints to leverage with your subscriber base. Create fun summer-themed promotions to capture more leads like this summer savings design below from our template library—that takes a static lead capture to the next level with simple animation like a rolling beach ball!
July is also the home to Amazon's infamous Prime Day(s), which have been informally coined the Black Friday of the Summer. Last year's grossed $12+ billion, up 8.1% from the year before, which makes it a great opportunity to be leveraged for its buzz! Run a prime-day-themed email campaign with flash-sale messaging, a timer, etc. Plus, they are a great way to clear out seasonal inventory to get ready for back-to-school and fall.
The entire month of July is national grilling (and ice cream) month—If you're an outdoor goods, food/beverage, or grilling company, make sure to take full advantage by running a month-long giveaway or killer sale. You could create weekly campaigns featuring new recipes or professional chefs reviewing different grill brands to help those undecided shoppers pick. Lean into themed designs for maximum impact (if it works with your brand) for a memorable first impression and strong engagement numbers. Spin-to-wins average a 13% opt-in rate making them the ideal choice for maximizing your July campaigns.
These are just some of the many sales and marketing opportunities you can find leverage over the summer during June and July. Lean into the magic of summer for your campaigns to make the most of this time of year's fun spirit alongside big sales dates and non-traditional holidays to create a strong sales funnel from Q2 into Q3! There's nothing better than building up momentum early to head into the upcoming winter holidays full steam ahead!
Check out our handy 2023 marketing calendar to stay on top of seasonal trends and keep your onsite marketing in tip-top shape!