What exactly should you do once you've captured the email address of your site visitors?
In this blog post, we're going to study the welcome email sequence from Big Life Journal (BLJ).
As context: BLJ creates journals and worksheets to help children develop a growth mindset.
BLJ's welcome experience sends eight emails over a 10-day period. Their goal? Become their prospective customers' trusted resource, giving them the confidence to make a purchase.
We've broken down BLJ's strategy into four key themes to help you tune up your own welcome experience and build confidence in your prospective customers :
Capture and welcome new subscribers with thoughtful, engaging resources
Stay front of mind by following up with more valuable content
Make it very easy for your customer to buy
Personalize your content to make it relevant
Does This Really Work?
In their 2019 benchmark report, Klaviyo calculated the average KPIs for Welcome emails across 13 industries. 
Here's how those rates compare with Big Life Journal's Welcome series: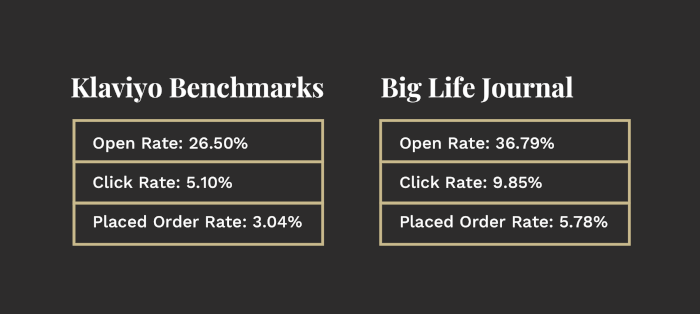 Conclusion: These strategies work!
Theme 1: Capture & Welcome New Subscribers With Thoughtful, Engaging Resources
Your first impression counts. If you open with a coupon, you're telling your future customers they can expect this type of discount-focused relationship.
Sometimes discounts are the way to go, but make sure your offer is relevant to your ideal customer.
BLJ presents the following email pop-up to offer a free resource in exchange for an email address.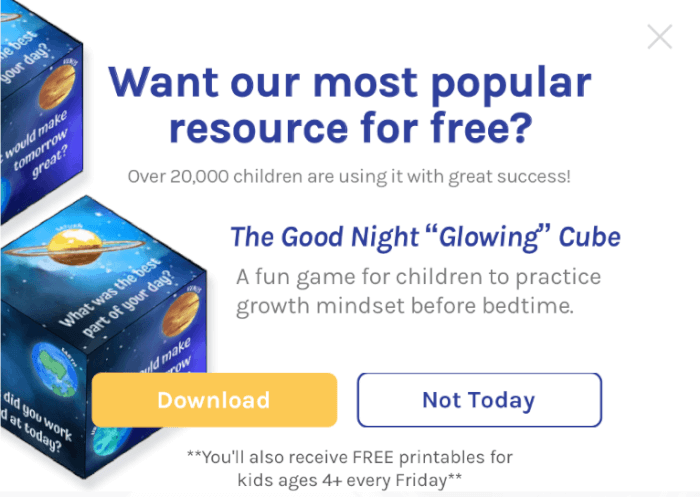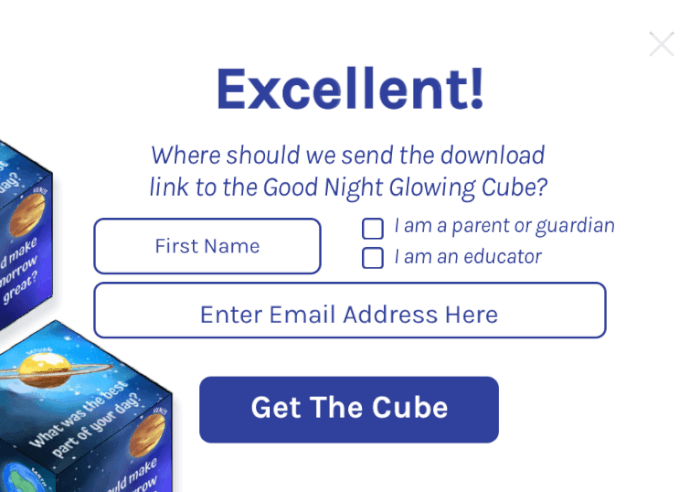 After signing up, subscribers receive their free PDF within this first Welcome Email: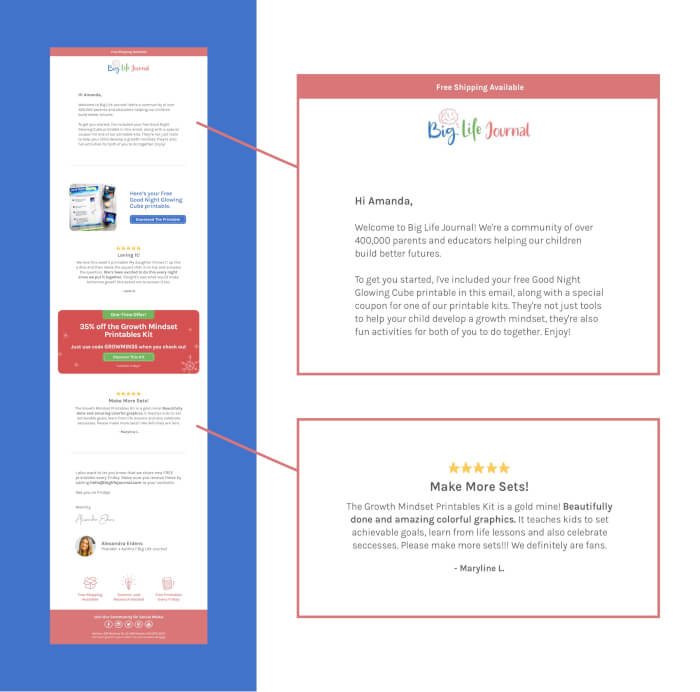 This email is an opportunity to introduce readers to the brand and community. The enthusiastic reviews build excitement and a sense of belonging, while the friendly founder's note—including a signature and headshot—creates a strong human connection.
This email also offers 35% off other PDF kits to encourage new subscribers to place their first order.
Takeaways:
Create a high-value, relevant offer in exchange for an email address
Give new subscribers a warm welcome (show off your brand personality)
Share engaging content to entice readers to open future emails
Clearly highlight your brand values
Theme 2: Follow Up With More Valuable Content
It's important to follow up with more valuable content to train your customers to open up your emails.
That's why BLJ sends their subscribers a second email with a motivational message and another free resource.
This email strengthens the relationship through empathy and by proactively sharing knowledge.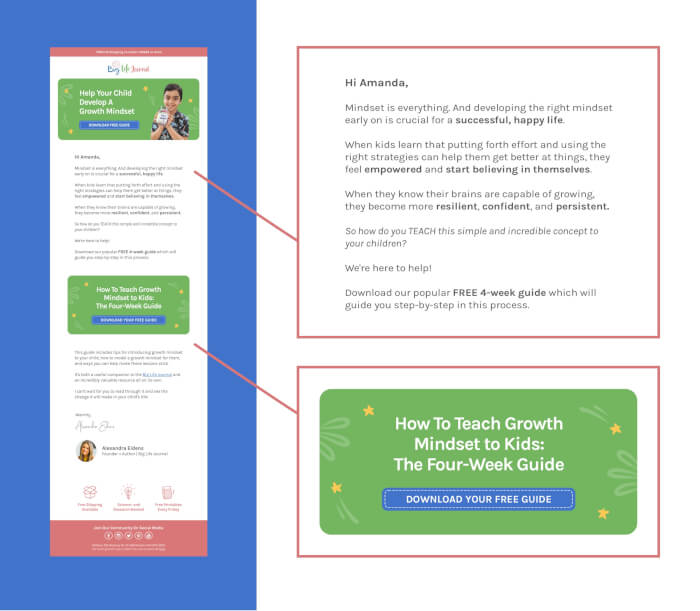 Takeaways:
Create "How-To" content to nurture your new lead
Empathize with your customer's pain points
Establish yourself as their go-to resource
Theme 3: Stay Top Of Mind By Following Up With More Valuable Content
If you sell a range of products, do everything you can to facilitate the first order.
BLJ sells a lot of different resources but has two best-selling journals. They focus on these two products in an email to avoid overwhelming the customer with too many options. The email clearly highlights the product values and shares a testimonial as social proof. 
Takeaways:
Highlight your top sellers
Explain the difference in product categories
Share case studies or reviews to add social proof
Theme 4: Personalize Your Content To Make It Relevant
Because you know your audience, you can speak to them in a language they understand.
As you saw in the email capture pop-up above, BLJ asks subscribers to share whether they are educators or parents. This zero-party data makes it possible to segment subscribers and personalize email content accordingly. 
For example, in the best sellers email mentioned above, educators see a teacher's testimonial, while others receive parent reviews instead.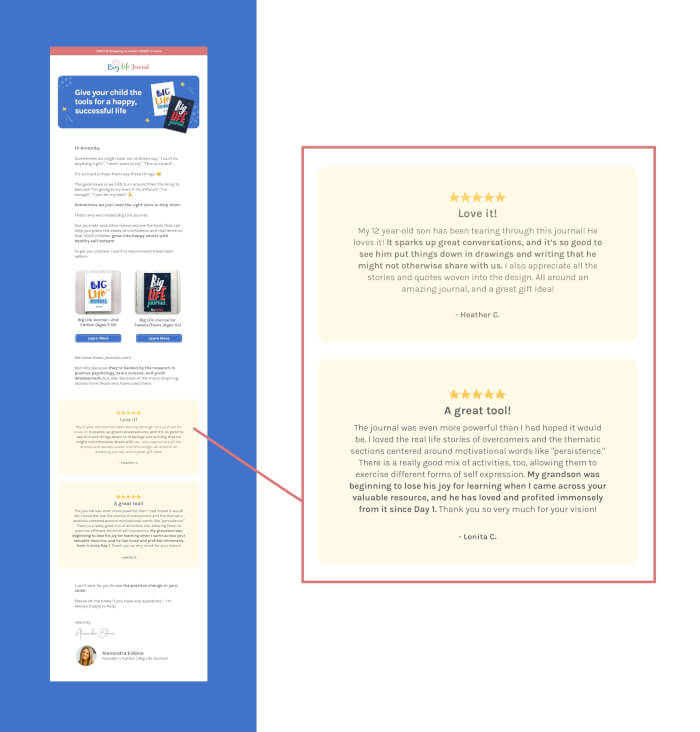 The flow is also segmented by geo-location, separating countries that BLJ doesn't ship to. You can see below that customers in these countries are told about downloadable kits instead of physical products.
Takeaways:
Consider asking customers about their interests during email capture so you can send them more relevant content
If you have Men's vs. Women's collections, show gender-specific photos
If you don't ship everywhere, think of segmenting shipping vs. non-shipping countries
Now that you've seen how Big Life Journal welcomes its new subscribers, apply this strategy to your brand. Think of how you can customize a valuable experience that will blow away your new subscribers. A warm welcome experience can go a long way, even turning your subscribers into loyal brand advocates.
Over the past six months, Big Life Journal's welcome emails were responsible for 59% of their total automated email revenue. This is one of the most important parts of your funnel – make it count!