With summer winding down, there's one thing looming large in the minds of marketers: The Holidays. Major sales are kicking off earlier and earlier every season, so it's never too soon to start strategizing to ensure your brand captures the biggest slice of the revenue pie. But before your plans get fully baked, take some time to put data behind your decisions with pre-holiday testing.
As digital traffic balloons over Cyber Week and beyond, achieving an incremental bump across your core KPIs can lead to a huge lift in revenue. Testing your way into an optimized email program now is your best bet to blow it out of the water this holiday season.
Below are our top five-holiday A/B testing recommendations for list growth and email campaigns to set your brand up to sleigh all day, every day.
1. Promo Type
In email marketing, there are no take-backs or do-overs, so nailing your Cyber Week offer(s) can be a little tricky. While running through a competitive analysis will help you gauge how your offers stack up against similar brands, it won't necessarily tell you what types of promotions resonate with your audience. Get a read on the best motivators for your database by testing various offers to see what converts best, and apply those learnings to your holiday promotional strategy.
Pro Tip: You'll still want to reserve your steepest discounts or hottest deals for Black Friday or Cyber Monday, so take a more conservative approach during the testing phase.
Promotion Types To A/B Test
Dollar Off: Try it with and without a minimum spend threshold to see how conversion rates and average order value (AOV) shift.
Percentage Off: Test against dollar discounts to see which approach is more impactful.
Shipping Offers: Test free standard shipping or free/flat-rate upgrades on faster shipping methods.
Tiered Offers: Test a "buy more, save more" approach to incentivize a larger basket size.
Gift With Purchase (GWP): For those looking to try non-discount strategies, test a free gift on its own or in tandem with a discount; try gifts with differing values to see which kind generates the most excitement among your audience.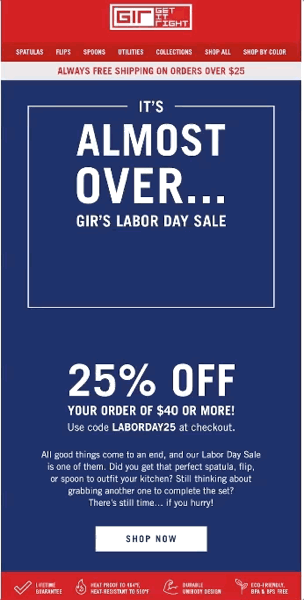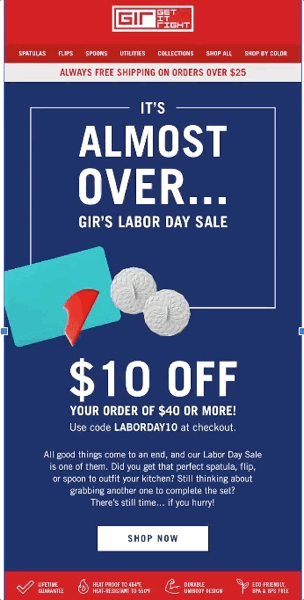 2. VIP Treatment
You don't have to have a sophisticated VIP rewards program to build up and capitalize on brand loyalty during the holidays. Create simple segmentation within your ESP to identify cohorts of existing and potential VIPs based on the number of purchases, purchase frequency, or recent/total spend, depending on the right indicators of loyalty for your brand. Once these audiences are created, test the most optimal opportunities to give them special treatment to inform your holiday approach.
Treatments to A/B Test
VIP Messaging: Test tweaks to your existing creative that speaks to your VIP audience, including call-outs in the subject line, banners, or body copy.
VIP From Name: Try a custom From Name for your emails that denotes VIP status to determine lift on open rates or purchase intent.
Early Access to Sales/Launches: Determine if your VIP audience converts better when they get access to promotions or new products earlier than the rest of the database.
Additional Discounts or GWPs: Try adding a VIP-only deal-sweetener to determine if a lift in conversions outweigh the impact to your margins.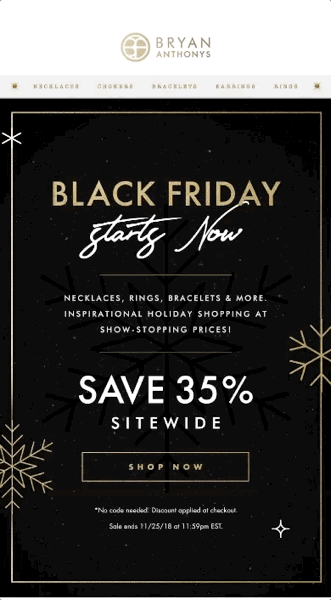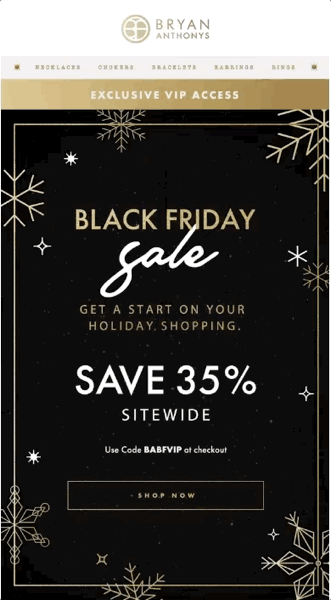 3. Email Capture Pop-Ups
Site traffic naturally increases over the lead-up to the holidays, so dialing in your email capture methods will allow you to significantly grow your list for retargeting later during the busy shopping season and beyond. Make the most of this spike in visitors by optimizing your email capture pop-ups to trigger at the right time, and offer the right incentive for sign-up.
Email Capture Tactics to A/B Test
Trigger Timing: Test triggering quickly versus after 20-30 seconds on site, or after a user has browsed a certain number of pages (or scrolled a certain amount on mobile).
Creative Type: Try a standard lightbox versus a full-screen overlay versus a spin-to-win gamified capture method.
Incentive: Test both the type and depth of discount to find the sweet spot; remember that too deep of a discount will bring in low-intent leads looking for a steal or freebie, so proceed with caution.
Exit Prevention: Try triggering an exit offer when a user intends to leave the site to prevent customers from abandoning without providing a way to keep in touch.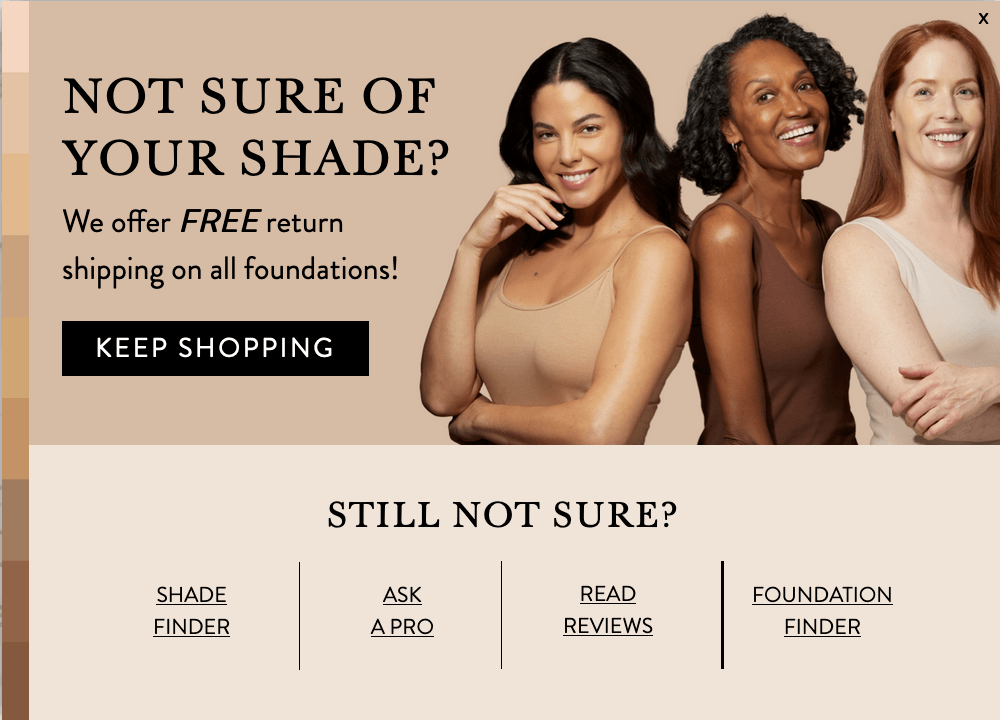 4. Triggered Messages
Similar to email capture, your triggers will see more action with the increased volume during the holidays, particularly your welcome series, cart and browse abandon flows, and post-purchase emails. Take some time to test across your email automations, as even a small lift on a core KPI can make a big revenue impact.
Trigger Elements To A/B Test
Timing: Test the timing between the user's behavior and the deployment of the first message, as well as the duration of time between follow-ups.
Number of Touches: If you do not see a huge dropoff in engagement at the end of an existing series, consider adding an additional touch to drive more revenue. This is especially true if your triggers are not currently built out as series'.
Order: Review KPIs to determine which message in a series is most effective at converting subscribers and move it up to capture revenue earlier on.
Incentives: If you offer incentives in your triggers, test a variety of promos (see the Promo Type testing ideas above) or the level of the discount to strike the right balance between conversions and margin.
Subject Lines: It might sound like A/B Testing 101, but changes to the subject line can have a big impact on not only opens but also purchase intent. Test personalization, the inclusion of incentives, emojis, urgency statements, and sell-out risk messages to elevate the performance of your automated campaigns.
5. AOV Drivers
In the peak of discounting season, it can be tough to lift the AOV of your emails. But 'tis the season of both gifting and self-gifting (one for them, one for me!), so opportunities abound to increase the number of products each shopper is ordering. Keep a close eye on the relationship between conversion rate and AOV, ensuring you're not losing out on volume in favor of lifting basket size.
AOV Drivers To A/B Test
Number of Products: Test how many products are featured in a given message; sometimes, less is more when it comes to driving clicks.
Dynamic Recommendations: Add recommended products based on a customer's past behavior and test various display rules (recently browsed, frequently purchased together, cross-sell, etc.). Do this both in your email and on your website using intelligent product recommendations.
Threshold for Incentives: Offer promotional pricing or free shipping only once a certain purchase threshold has been met, or multiple products have been added to the cart.
Final Thoughts
Above all, it's important to execute true A/B splits whenever possible; introducing more than one variable makes it difficult to ascertain the source of a lift, muddying how actionable your insights will be. Since the options for testing are virtually endless, don't feel like you have to do it all. Examine your existing program to identify low-performing campaigns that could use some attention, or choose to run tests in areas where you feel your decisions are being made by your gut rather than backed by data.
We've got a couple of months yet before the Christmas music becomes inescapable, which means there's plenty of time to execute a few key A/B tests to help improve the performance of existing campaigns and inform your holiday email strategy.
Happy Testing!
Looking for more holiday content? Check out our BFCM resources corner with all the latest to help you make this Q4 your best one yet!