Email marketing is more relevant now than ever before. Research has shown that email is still the best channel to reach people, even with the increase in the popularity of social networks and other messaging platforms. In fact, email reaches three times as many people as Facebook and 15 times as many people as Twitter. Statistics show that 64% of small companies use email marketing to reach customers, and by the end of 2023, its revenue is expected to reach about $11 billion. 
However, in order to get the most out of email marketing, you must first grow your email list. And if you're reading this post, you undoubtedly already know that building an email list can be challenging.
Luckily, we're email list growth experts. Below are 9 simple and effective strategies that can help you grow your email list. But first, let's explain what email lists are and why email list building is important for your business.
Why is Email List Building Important For Your Business?
An email list is a list of email addresses from people who have consented to receive news, updates, promotions, and other information from a company. In other words, it is a list of email addresses that digital marketers use for email marketing to reach out to prospects or leads. Here are a few reasons why having the right strategy to grow your email list is so important:
People frequently check their email inboxes several times a day, giving you the opportunity to contact them whenever you choose.
Emails are direct and personal. As a result, they give you the chance to create unique content and personalized email marketing campaigns.
By segmenting your email list, you can send highly relevant offers to high-intent individuals based on their previous behaviors and zero party data collected.
In the event that platforms like Facebook, Twitter, or Google change their regulations, your digital marketing and SEO efforts might go to waste. Your email list, however, is your property, it is owned media, and changes in cookies/data collection won't put an end to your campaigns.
3 Important Things To Know About Email List Building
Before moving on to the best strategies you can use to grow email list subscribers, here are some important considerations to keep in mind.
It takes time to build an email list. And no matter how impatient you are, despite this, it's never a smart idea to purchase an email list. No matter what they claim in their marketing material, companies that sell email lists can never guarantee the accuracy of the contacts. Building your email list gradually and over time is the best approach, not only will you be collecting accurate subscriber information but you'll have more quality contacts that are actually interested in your brand. Quality > quantity is key here.
Consistency is key. Growing an email list demands persistence. To attract new subscribers, you should constantly promote your offer (checklist, quiz, free video training, etc.).
Your email list's quality will decline with time. People stop opening their emails, change jobs, have their accounts closed, or change their email addresses. This is why it's crucial to continually expand and grow your email list. This way, you are consistently adding new contacts to replace the ones you lost. In tandem with this, make sure you are consistently cleaning up your database, so keep your email list healthy and head off any deliverability issues.
9 Email List Building Strategies You Should Try
Below are 9 email list building strategies to keep in mind. Following these best practices will help you create a more valuable subscriber list for successful email campaigns.
Use Welcome Pop-ups
Welcome email pop ups are a great way to collect emails from new visitors who are interested in finding out more about your brand and what you are offering. 
New visitor exit offer pop-ups, on the other hand, resemble the welcome pop-ups with promotional offers mentioned before. The only difference is they tempt new visitors who are about to leave your site to stay a little while longer. You are teasing them with one final attempt to keep them hooked by appearing just as they are ready to leave your site by offering a deal that is difficult to refuse: a discount code in exchange for their emails.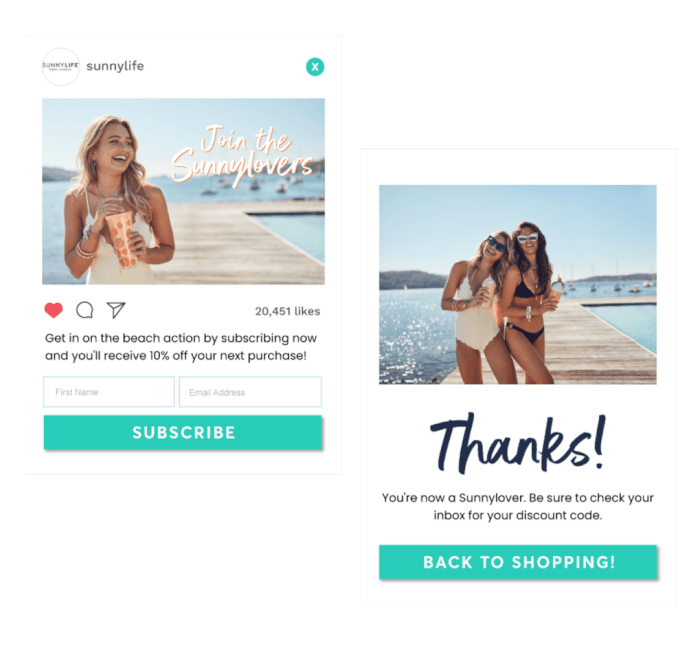 Offer a Sign-Up Option at Checkout
If you are an eCommerce business, give your customers the option to subscribe for updates when they purchase your products online. This is a great tactic because you respect the customer's right to choose not to receive promotional messages but can collect high-intent subscribers more likely to become repeat customers.
Don't forget to remind shoppers about the coupons or incentives they will get which they can use on their next order.
Use Social Media
Social media platforms are a great place to grow your email list audience. For instance, you can add links to your social media accounts directly to your website's sign-up page. There are several effective strategies you can use to grow your email list subscribers across different platforms, including:
Promoting content that requires an email address to access
Promoting additional email content on social platforms (For instance, "Increase the number of your leads with our new eBook")
Using targeted ads on Facebook
Hosting a social media live event
Joining online communities and groups with engaged and interested subscribers that relate to your industry
Sharing newsletter previews on your profile to entice your social media followers to join your email list.
Host Giveaways
Offering free products is probably the best way to generate positive word-of-mouth and increase awareness of your brand. In exchange for a chance to win a free item, they only need to enter their email address. With giveaways, you can keep your potential customers excited while at the same time ​​spreading the word about your product.
In addition to being an incredibly quick approach to raising your subscriber count, using a giveaway to grow your email contact list has other advantages, including:
Running giveaways is less expensive than using Facebook advertisements or other forms of advertising.
Giveaway subscribers are people who are interested in the goods and services offered by your company, making them more likely to convert and make purchases from you.
Giveaways and contests encourage quick action. The average target audience member finds it impossible to resist the sense of urgency and the fear of missing out.
A great option for those who don't like to offer discounts or have big-ticket items where profit margins don't allow for widespread discounts.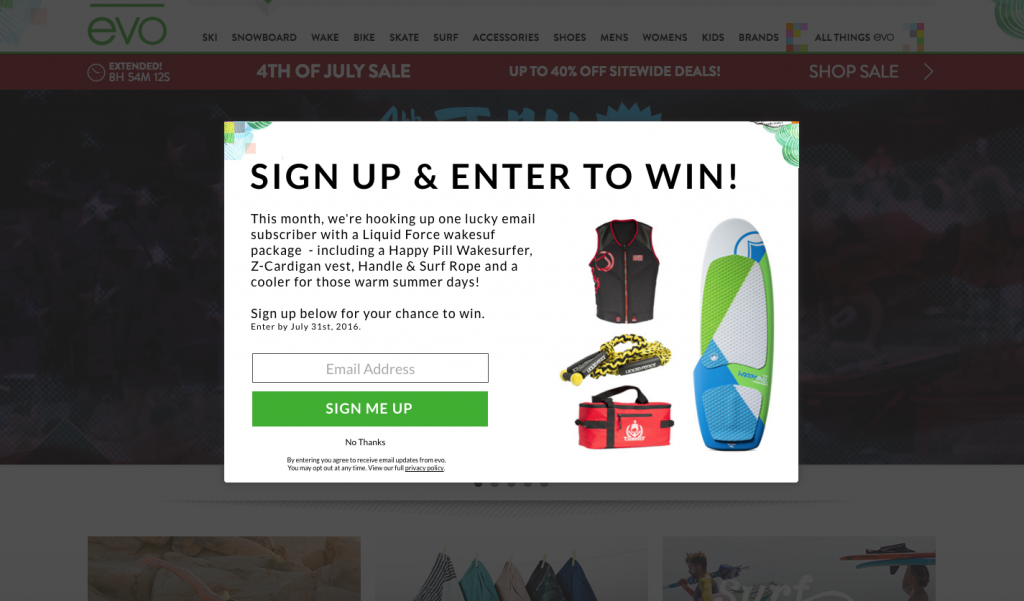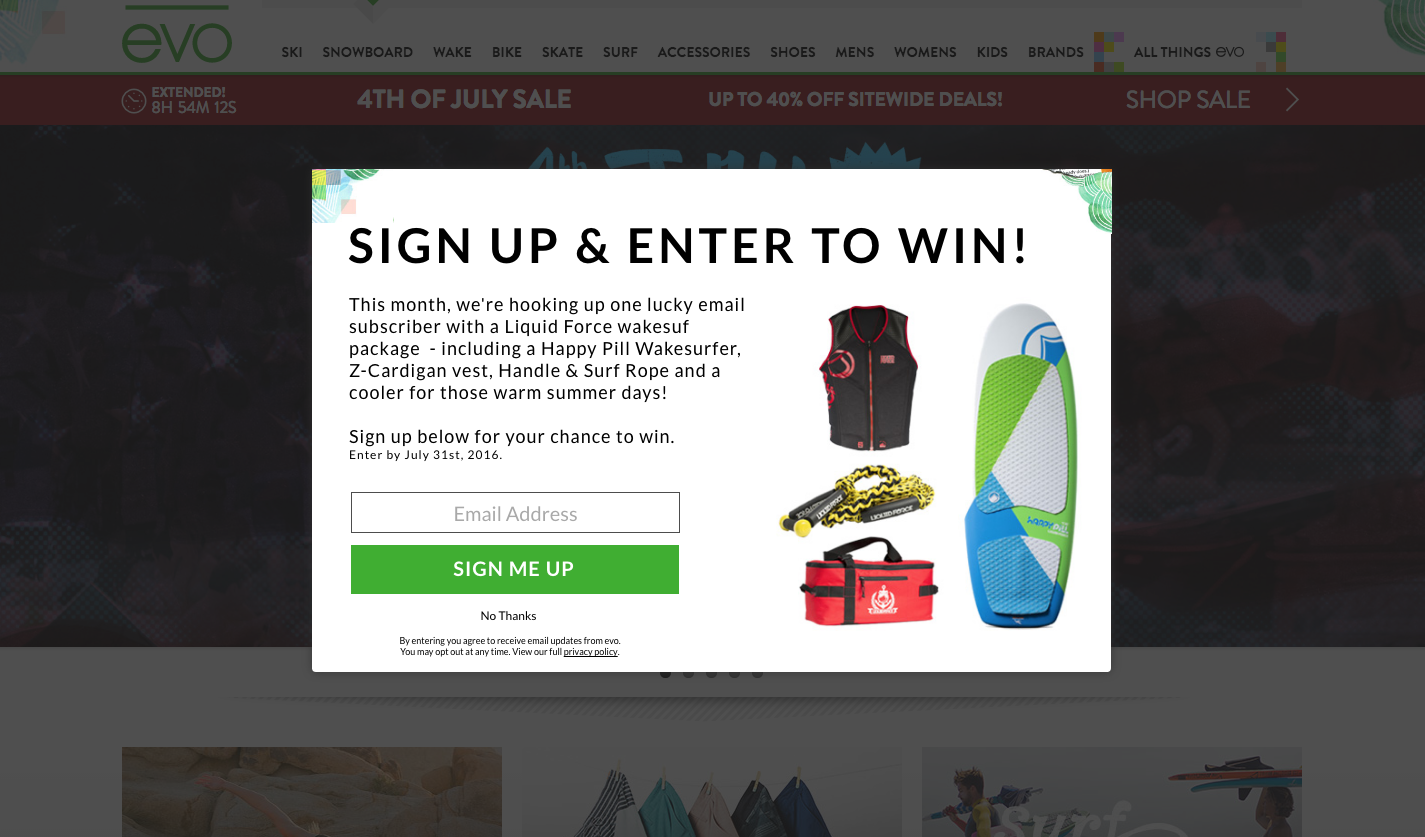 Leverage the Power of Video
You can increase the number of email subscribers you receive with the aid of video by using entertaining, insightful, and engaging moving images. Here are a few ideas to get you started:
Create video lead magnets. Video is not only much more engaging than reading pages and pages of a text ebook but it can also be watched on the go and allows for quick sharing of information.
Did you know that a landing page with an integrated video can boost conversions by as much as 86%? Creating a realistic video that demonstrates the human aspect of your brand and emphasizes the benefits of joining it is a great way to grow your email list. In fact, having an explanation video or a filmed endorsement from a satisfied client gives your brand instant credibility and immediately increases subscribers' confidence.
You can also incorporate videos into your social media campaigns to boost email signups. TikTok is a rising social media star platform with one billion active users spread across 154 countries, which makes it a great place to start.
Add Embedded CTAs
A CTA (call-to-action) is a text link or button that instructs users to take a certain action (make a purchase, visit a site, complete a contact form, etc.). In this case, embed a CTA to sign up for your newsletter or subscribe to emails in different places on your site for an easy opt-in experience for visitors without interrupting their shopping experience.
The only thing to bear in mind here is relevance. It's not a good idea to attack your website visitors with calls to action prompting them to join your email list everywhere on your site. Keep it tasteful and suitable for the area of the website they're browsing. Perhaps embedded in a blog post after a certain percentage of the page has been scrolled, in the footer, or in the middle of a product collection page.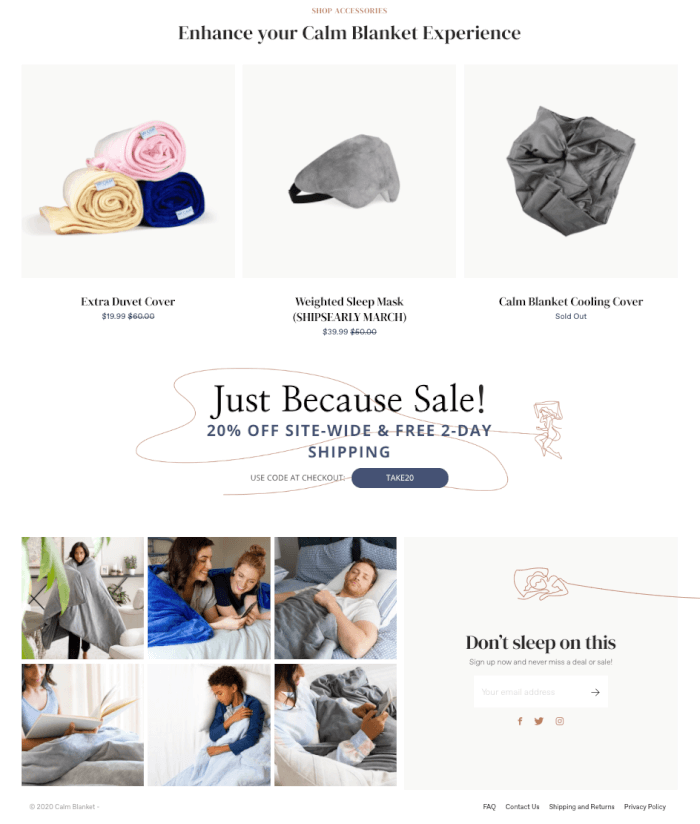 Use a Lead Magnet
Using a lead magnet strategy can help you track people who are checking out your services and products or are reading up on a certain topic.
Can't decide what to offer? 58.6% of marketers say that short-form written lead magnets (checklists, newsletters, copy examples, and ebook samples) result in the highest conversion rates, whereas only 41.4% of them say that long-form written content (whitepapers, guides, reports, email courses, and spreadsheets) makes for the highest conversion rates. Be sure to keep your lead magnets free, but make full access contingent on providing an email.
Rely on Blogging
If you don't already have a blog, you should start one ASAP. Having a blog will help you to improve your search engine rating and attract blog subscribers. According to HubSpot, businesses that blogged 11 times or more per month received three times as much traffic as those that blogged once per month or less.
Additionally, you can write a guest blog for other websites. There are numerous websites and publishers that target your demographic. Guest blogging for such websites helps you increase the size of your email list by increasing your exposure to new audiences. When you publish guest blogging content, make sure to include a call to action encouraging people to sign up for your website's blog or email newsletter.
Collect Email Addresses in Person
Another way to grow your email list is by in-person at offline events. Places such as conferences and trade shows are great places to present your most recent product and solicit high-intent signups in person.
As an alternative, you can organize your own events. Lectures, meetups, competitions, conferences, and educational panels put you at the forefront of a networking event. Attendees are frequently better candidates for contact because they are already interested in your brand or offer. Take the opportunity to get participants' email information, send welcome emails, and encourage them to learn more about your business.
If you have a physical store where you deal with customers face-to-face, consider launching an incentive that consumers may sign up for via email at the register. Perhaps a discount on today's purchase, double rewards, a free gift, etc. Then create a dedicated email campaign specifically for these in-person customers, keeping in touch, letting them know about in-store events, and rewarding their commitment to your brand.
A great way to tie together offsite and online experiences if it's too hard to collect the email addresses face-to-face is by utilizing QR codes. When the shopper scans the QR code, it can trigger a personalized onsite experience encouraging them to sign-up, feature their exclusive offer, and more.
Tips to Optimize Your Email List for Best Results
While expanding your list is important, managing it will help you get the best results. By optimizing your email list, you'll be able to increase your email's performance metrics, including open rates, click rates, conversion rates, and even unsubscribe rates. There are various successful optimization techniques you can use, but the following are the most popular and effective:
Segmentation. List segmentation can raise your open and clickthrough rates, as well as increase your revenue by 760%! The demographics and online behavior of your list are two common ways to segment it. This is very easy to do if you already use an email automation tool like Klaviyo or Omnisend. 
Personalization. Personalizing your emails can be as simple as adding the names of your subscribers to the subject line. Your subscribers will be 26% more likely to open your email as a result of this small modification. Request Subscribers' first names in your email opt-in to power this kind of personalization.
Automation. You can automate everything from your social media postings to your email campaigns. In fact, compared to single-channel marketing automation, omnichannel marketing automation can result in 250% greater engagement and purchase rates. An email marketing automation tool will help you gather, segment, and personalize your marketing campaigns quickly and easily. 
In Conclusion
If you are new to developing email lists, now you have a few new strategies to get started with. Keep in mind that it is a process that requires patience and commitment. The best approach to accomplish this is to combine several of the strategies on this list in order to reach your target audience from different angles and improve your chances of expanding your list.
Consider A/B testing your copy, visuals, CTAs, and lead magnets to measure your results and find an email campaign format that works best for you. Interested in trying to improve your email list growth? Try Justuno for free for 14 days to see how many new subscribers you could be collecting.