Email marketing has an ROI of around 4,300% according to the Direct Marketing Association.
But, what does that mean to you?
How much return are you getting from your email marketing?
To truly understand your email marketing ROI, you need to start from the beginning. How much is a new email lead worth to your business? And how much value do email signup pop-ups provide for your email marketing efforts.
Most online businesses don't understand the true value of an email address, causing confusion when it comes time to determine the ROI of your marketing spend.
Today's post is going to show you exactly how to calculate the value of an email address, so you can be a part of the companies seeing a healthy ROI from your email marketing.
What's your most valuable marketing channel?
How many marketing channels are you currently funneling money to? My guess is you've got a mix of email, Facebook, Instagram, GoogleAds – maybe you're using all of these!
The problem with having so many channels is that you complicate understanding the return on any of your marketing efforts.
While focusing on acquiring new customers through Facebook or Instagram ads is proven to be cost-effective, email marketing is – by far – the best channel to spend your marketing budget.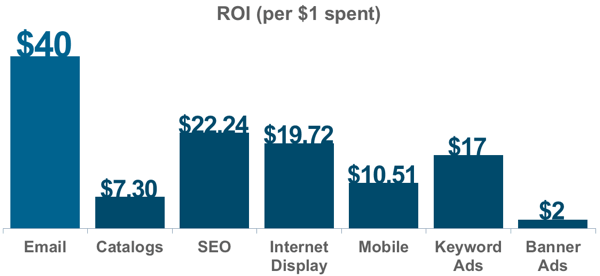 The true value of an email is considerably higher than showing an ad to a person who isn't familiar with your brand.
The true value lies in building your email list
Understanding your email marketing ROI in comparison to your marketing ad spend is simple: the customers on your email list are much more likely to engage and buy from your brand than a person who's seeing an ad for the first time.
When it comes to purchases made from marketing, email has the highest conversion rate (66%), when compared to social, direct mail and more.
That's because email is the most personal place you can speak to your customer: their inbox!
Think of it this way: imagine your email list has 1,000 people on it. The majority of these people either opted-in to your list somehow (they gave permission to be on it) or they purchased something from you before.
Sending these 1,000 qualified folks an email with an offer to buy a new product for $10 costs you $0. You just have to spend the time creating the offer.
81% of those customers will likely purchase a product directly from that email.
That's an additional $8,100 from one email blast!
In comparison, let's imagine you run a Facebook ad for the same $10 product.
Even if you run the ad to a very targeted and specific audience, you're spending money to serve the ad to the audience.
So if you're able to achieve a marketer's dream and have a Facebook ad converting at $1. If 810 people converted at $1, you will have spent $810, cutting a chunk out of the profits made.
As you can see, email marketing is king…because it's FREE.
A simple calculation to find the value of an email address
To find the value of an email address, we're going to build off of the model in the previous section.
Start with your email campaign. This campaign will either be a single email blast or a series of emails. Here's the equation to finding the revenue generated by an email campaign:
# of Contacts X Sales Conversion Rate X Average Order Value = Revenue
Here's an example using a very low conversion rate for email marketing:
1000 Contacts X 2% CVR of email campaign X $10 Average order = $200 generated
Note: If you already know your email campaign revenue, you can just plug it into the next equation.
Then use this equation to find the revenue per email lead:
Revenue generated / # of contacts in campaign = Revenue per email lead
In our example:
$200 / 1000 contacts = $0.20 revenue per email lead
$.20 per lead isn't too shabby. However, it's totally reasonable to see revenue per lead between $5 and $8.
Now, imagine if you had 10,000 contacts to reach on this campaign. That's $2,000 from one campaign with a below average conversion rate and a small average order size!
So how do you take your list from 1,000 leads to 10,000 leads and fuel your email marketing campaigns?
Email pop-up signups are the most profitable low-hanging fruit
As you can see, an email list is something to be leveraged to increase revenue and nurture customers into repeat customers.
But, you have to actively collect those addresses.
Having newsletter signups are a great start, but optimizing your email list to transform into a revenue-generator is going to require a more focused and aggressive effort.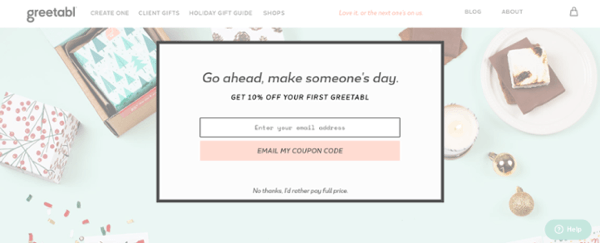 Start with an irresistible offer
Getting a customer to give you their email address is easy if you can make your offer truly valuable.
Customers don't care about you.
They care about themselves!
What is your offer going to do for them?
One of our clients, ISLE Surf & SUP, understands this perfectly. They created a pop-up offer that was just too good to say "no" to: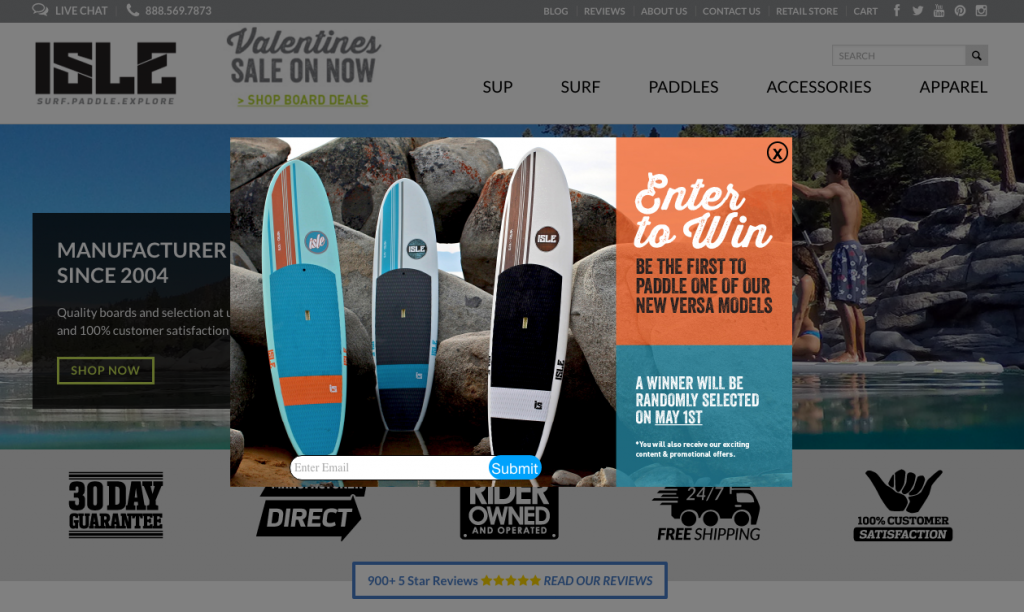 This "Enter to Win" offer increased ISLE's email list by 660% – and, it tripled online orders!
So, not only did they increase sales from this pop-up offer, but they grew their email list significantly, creating a qualified base of customers to market to in the future.
How to get started on your own email pop-up strategy
Now that you can grasp how valuable an email address is and you've seen a good example, let's look at how to kickstart your own lead capture strategy.
Create a Valuable Offer
What if you don't have a spectacular giveaway?
Maybe you're not at the level where you can offer something like a free product bundle or an all-inclusive experience for your audience.
That's OK!
Remember, customers care only about themselves, so focus on offering something they would find valuable.
Here are a few examples of email pop-up offers you can easily create:
First-time website visitor discounts
Also, don't default to discounts. Yes, they are attractive, but you can also create something of value in exchange for an email address that's not a discount.
Many e-commerce brands don't understand you can create "lead magnets" (downloadable PDFs, webinars, checklists, etc.) to incentivize your customer base, too.
If customers get too used to discounts, they can begin to devalue your brand. That's very difficult to recover from.
Embrace the idea of lead magnets and tailor it toward your brand.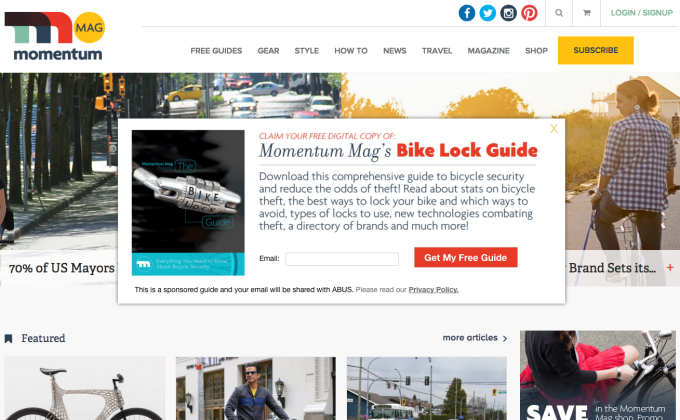 Check out how Momentum Mag does it: they offer a pop-up to a "Bike Lock Guide".
The pop-up explains exactly what the user will be receiving, leveraging transparency to make the offer attractive and communicate its true value.
Or, if you sell products in the pet industry, create a PDF guide relative to the product you sell. Example: if you sell organic dog food treats, create a PDF guide to keeping your dog healthy without spending a ton of money. Inside the guide, you can outline money-saving tips while featuring your organic products.
Both of these examples are FREE and valuable content for your website visitors – the lead magnet is still interesting enough for the opt-in to be attractive.
Determine the true value of an email for your business
In order for your business to fully benefit from email marketing, you first have to understand the true value of a single email address for your company.
The value, as we've discussed, can be extremely potent in terms of increasing revenue and sales.
Are you ready to start building your email list and adding value to your business? Get started today on Justuno's powerful lead capture platform!