As we approach the tail end of Q3, marketers across the world are beginning to gear up for the Q4 holiday season. Justuno's consumer trends report aims to empower marketers with actionable insights for an improved online experience for shoppers.
This report surveyed the preferences and experiences of respondents' 2021 holiday experiences, with over 200 respondents contributing from the UK, Australia, and the United States, respectively.
The experiences of consumers last year can help serve as a guiding light for brands looking to refine their strategy for the 2022 holiday season: providing insight into consumer behavior and what it is they're looking for from brands this year.
Jump to each region's section below:
United States 🇺🇸 I Australia 🇦🇺 I United Kingdom 🇬🇧
Top Findings
While we break down each country's results individually below, take a look at the most immediately surprising results:
Inventory Issues, I Don't Know Them. Across all three countries, consumers overwhelmingly did not have issues with out-of-stock items during their 2021 holiday shopping.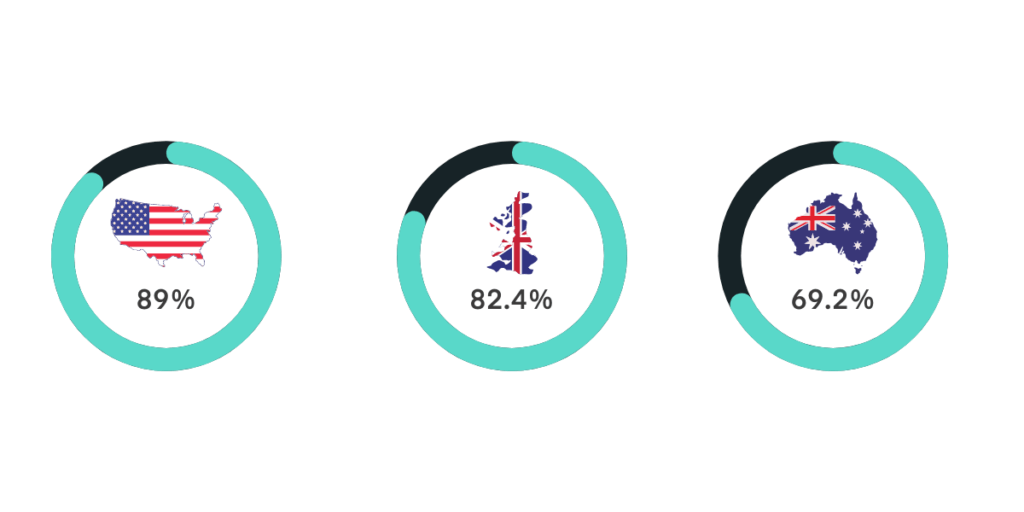 Despite the doomsday proclamations of last year's supply chain delays—consumers didn't seem to notice or care. This year's shopping will be influenced by that experience since they won't necessarily be compelled to buy out of inventory fears.
Bullish On Spending. The spending outlook is robust for 2022 despite record inflation and economic uncertainty worldwide. On average, 35% of consumers plan to spend the same as in 2021, and 17.6% are not planning out spending ahead at all.
Activism Takes a Backseat. Social causes don't seem to matter to consumers, at least when it comes to holiday shopping. On average, 63% of consumers say a brand's social causes aren't a consideration for them this year.
United States
Our US survey of 250 consumers had a few more questions than those we could ask in the UK and Australia versions due to software restrictions. Let's start with those and the behavioral trends they revealed:
Where do you typically get your gift ideas?
This question is meant to answer acquisition and TOFU-stage questions for brands—essentially, where to focus their acquisition dollars to drive awareness.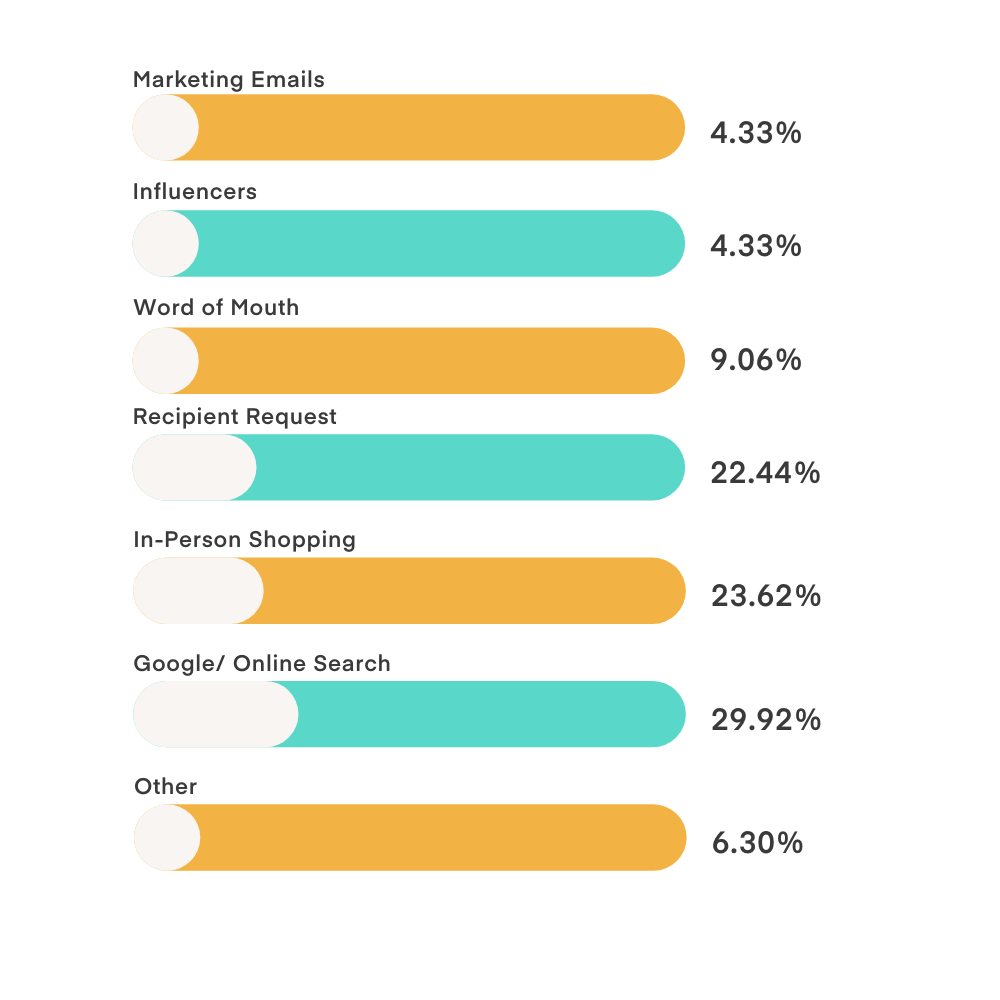 Google and online search being the front-runner is not surprising; it's a clear indicator that paid search is a key player in acquisition strategies, not to mention the shopping ad carousel at the top playing a huge role in initial brand awareness. In-person shopping as second place surprised us by beating out recipient requests (albeit not by much). With the last two holiday seasons being shopped predominantly online, this result may be due to a consumer desire to get out and about; or they're browsing in-stores and then go search online to actually purchase (more on this below).
But what surprised us the most was the low-end impact that word of mouth (9.06%) and influencers (4.33%) had—both of which make up a huge part of many brands' marketing strategies. Yet, consumers aren't pointing to them as their guiding light for inspiration.
Where do you plan to do most of your holiday shopping?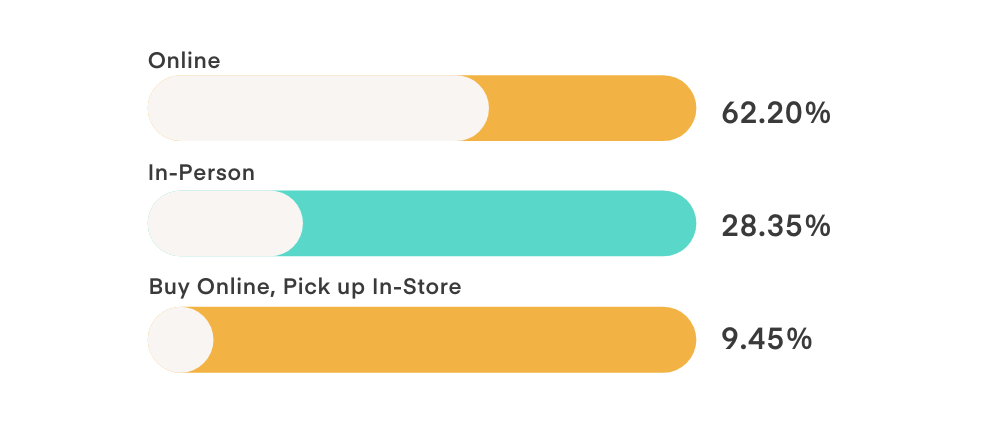 Unsurprisingly online was the resounding winner at 62.2%, BOPIS was only 9.45%, and 29.35% shopping in person. Are the people from the question above making up the entirety of that in-person group? Who knows—but it's clear that brands with storefronts or in-person placements are in a prime position to win market share this year.
BOPIS (buy online, pick up in-store) was a buzzword of the last few holiday seasons, which made its low performance here surprising. Though if you think about it in terms of how people usually have a bias towards painting themselves in a more favorable light…which in this case is not procrastinating their shopping list…BOPIS becomes an option of necessity rather than intention. So make sure to promote its availability as an option later on in the season, especially for those late December crunch days for maximum impact.
When holiday shopping, do you tend to shop with brands you know or explore new ones?

This came out close, with 60.24% sticking with what they know and 39.76% exploring new brands. So, while it's always important to market to your previous customers (we all know they're much more cost-effective to retain), there are plenty of shoppers out there looking to be inspired and discover new brands. The key is following up in the new year to bring them back into the fold so they don't become a one-and-done sale.
Which of the following would you pay more for?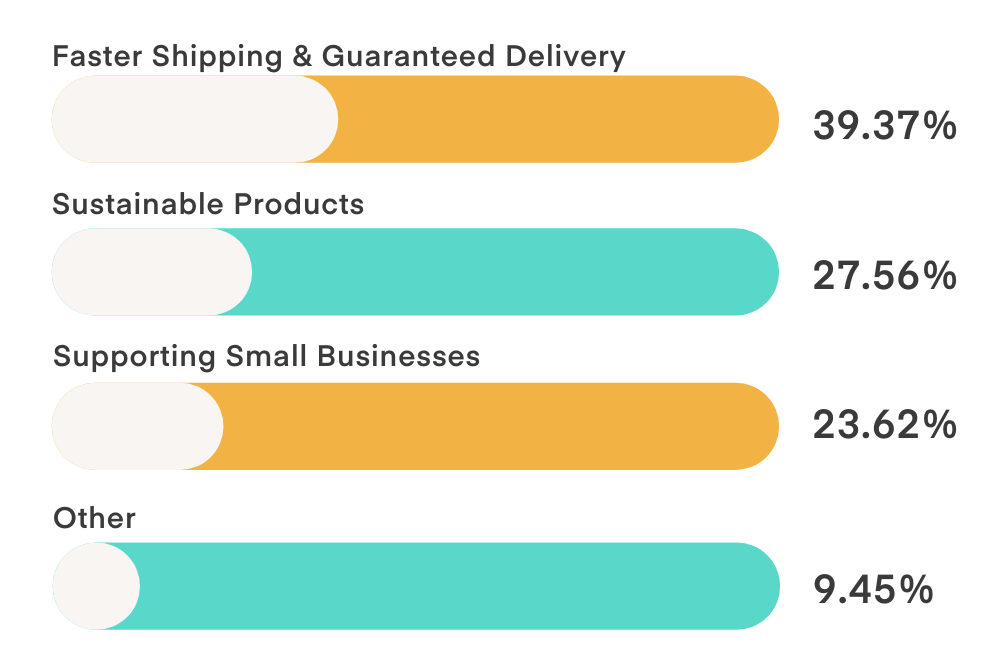 This question looked at consumers' bottom-line motivators and what they will truly do when their money's on the line.
39.37% picked faster shipping/guaranteed delivery, 27.56% would pay more for sustainable products, 23.62% to support small businesses, and 9.45% said other.
The shipping/delivery option is interesting since it directly contradicts the "free-shipping" expectation we typically hear about. However, through the context of the holidays, it makes more sense…they're willing to pay more when it's for someone else, and there's a hard deadline for arrival.
The sustainable products result is interesting as we continue to hear about consumers voting with their wallets and wanting to see brands take a stance on this. But less than a third of consumers are willing to pay more for it…meaning sustainability is great when it's at the same price point as other options, but for many consumers, it's not worth the extra expense.
Finally, supporting small businesses was a trend we saw emerge during COVID-times with consumers thoughtfully trying to support their local communities and keep businesses afloat. But, like sustainability, it ends up a nice-to-have instead, with only about a fourth of consumers willing to pay extra.
What is your holiday gifting budget this year?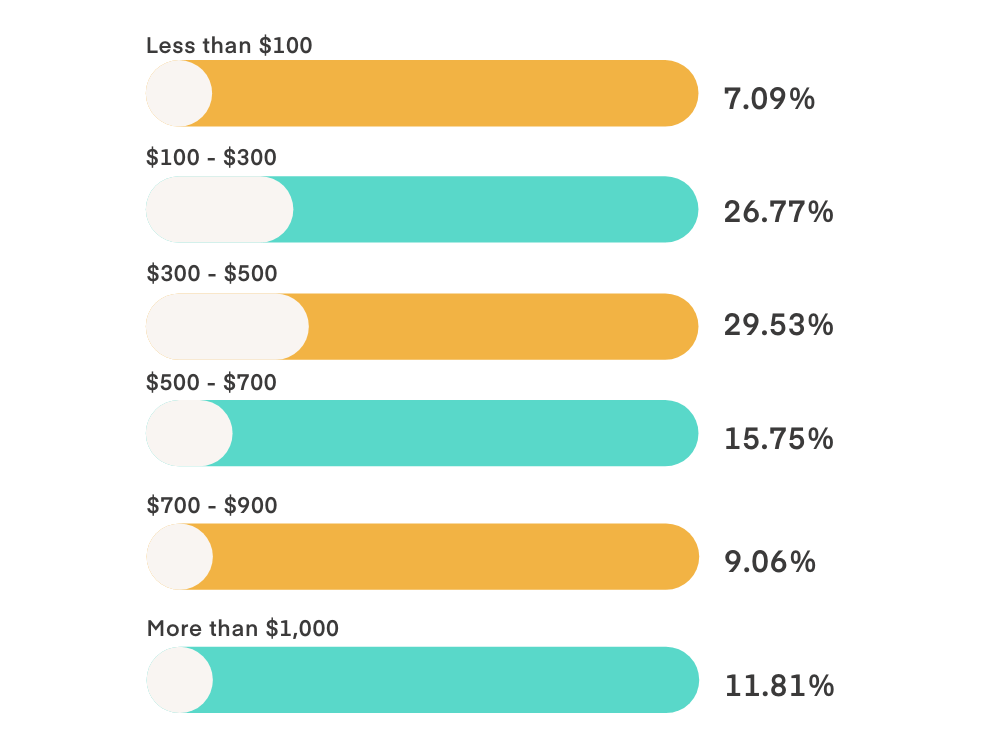 With the current economic climate and surging inflation in the US, this question is meant to get at the true buying power that consumers are heading into Q4 with.
The $100-300/$300-500 bracket dominated, with over 56% of consumers falling into this range. When compared with the NRF's 2021 holiday gifting budget of $648, this is a little lower, meaning that while consumers are bullish heading into this season, their budgets aren't quite as steady as they reported when comparing this year to last.
Now on to how the United States compared to other countries on the ten questions we asked everyone:
When do you plan on starting your holiday shopping?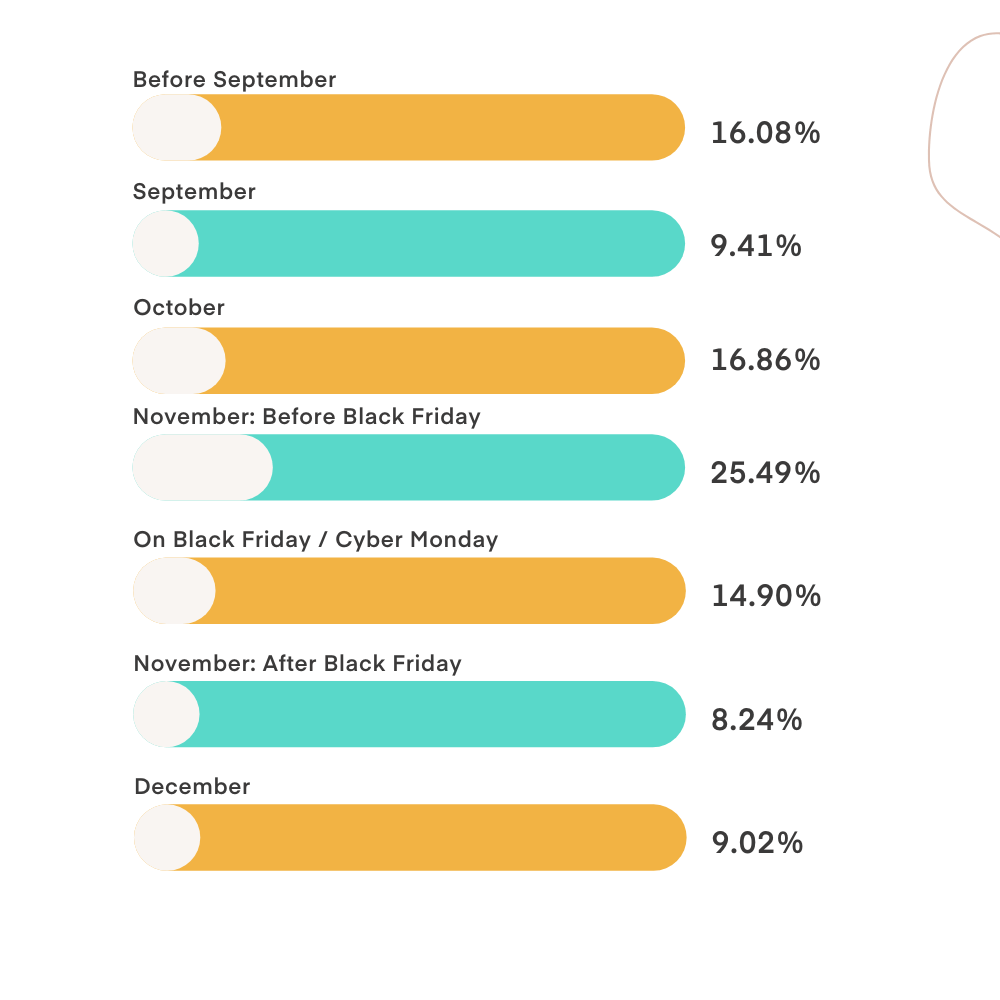 A quarter of US consumers are planning to start shopping before October—which means that you need to get started right now. A longer sales cycle is here to stay – before November arrives, 42.35% of consumers will have already started shopping. If you're waiting for BFCM, it's too late.
Get started early and keep momentum throughout the entire quarter. If you choose to wait until BFCM to start your holiday sales, build buzz and advertise its upcoming debut through VIP early access sign-ups, a countdown, etc. Make sure customers know about it so they can choose to wait if they want; otherwise, they may simply go elsewhere without knowing any better.
Are you planning to shop during any of the following days?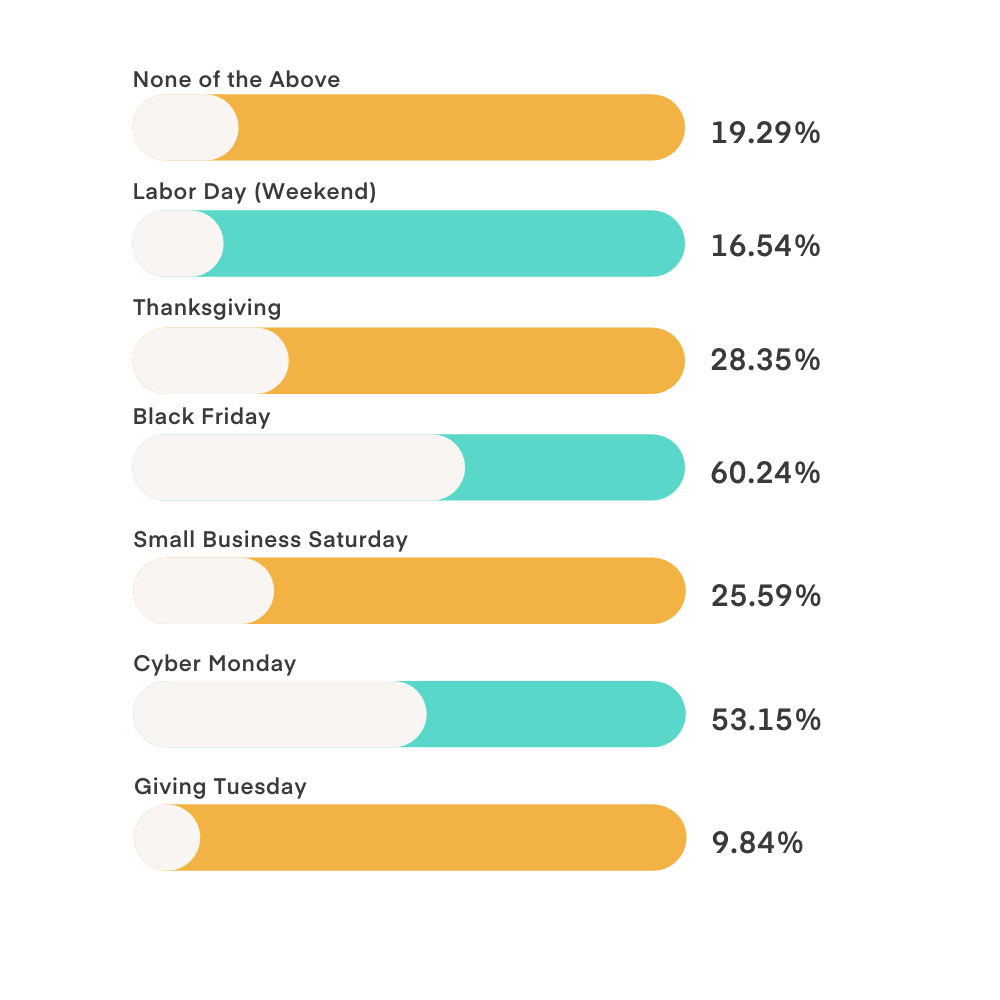 Black Friday is the biggest day for US shoppers coming in at 60.24%, and Cyber Monday isn't too far behind at 53.15%. The most surprising is the 19.29% who are not planning on shopping at all during Cyber Weekend. They may be already done by the time that the end of November rolls around, or they may think that BFCM sales just aren't all that anymore. Make sure to find alternative ways to appeal to this segment for a strong Q4 through alternative campaigns or unique incentives.
Thanksgiving continues to grow in popularity, with 28.35% of consumers planning to shop in between their turkey and pie courses. Run a themed campaign on this day with special gifts or fun imagery—right out of the gate, you'll stand out from the crowd and get in some early sales.
25.59% of shoppers are looking for deals on Small Business Saturday—make sure to drum up interest for this day by playing up the back story behind your brand, connecting with consumers, or using social proof/reviews. This is a great opportunity to shine in a way that big box stores can't compete with and leverage your unique brand experience.
Finally, the last day of Cyber Week is Giving Tuesday and it's still the smallest spending day of the weekend. For consumers to whom corporate responsibility is important—Giving Tuesday is a great way to connect and showcase all the ways your brand aligns with their values. Despite many consumers saying social causes aren't a huge guiding factor in their brand choices, there is a small but devoted segment for whom it is—this is their day.
Which of the following types of retailers do you plan on purchasing from?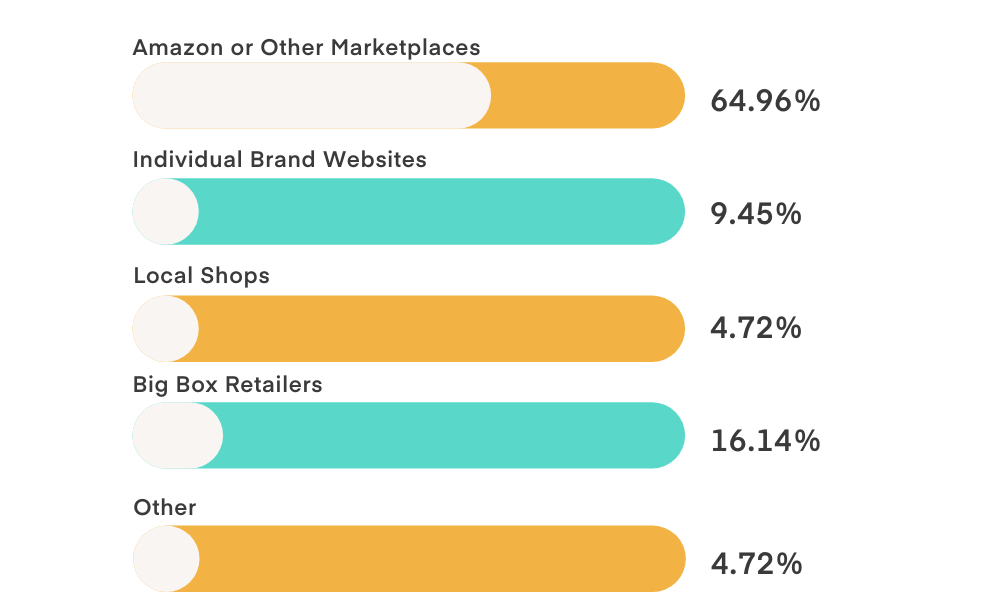 Unsurprisingly Amazon/marketplaces won by a landslide, with 64.96% of consumers planning to shop there. This is something that many e-commerce brands have a tough time with—not being in these marketplaces is damaging when it comes to being where shoppers are, but they reap none of the rewards when it comes to zero/first-party data, not to mention the cost of doing business.
So how can they compete and bring that measly 9.45% of consumers going to brand websites up? By providing an Amazonian-like experience. Clear, seamless checkouts (one-click = best); payment options; personalized product recommendations; and ultimately, by playing up the one thing that Amazon can't compete on—the why behind the brand. Give them that and provide a great CX? You'll have a customer for life.
What are the top categories you expect to be gifting this year?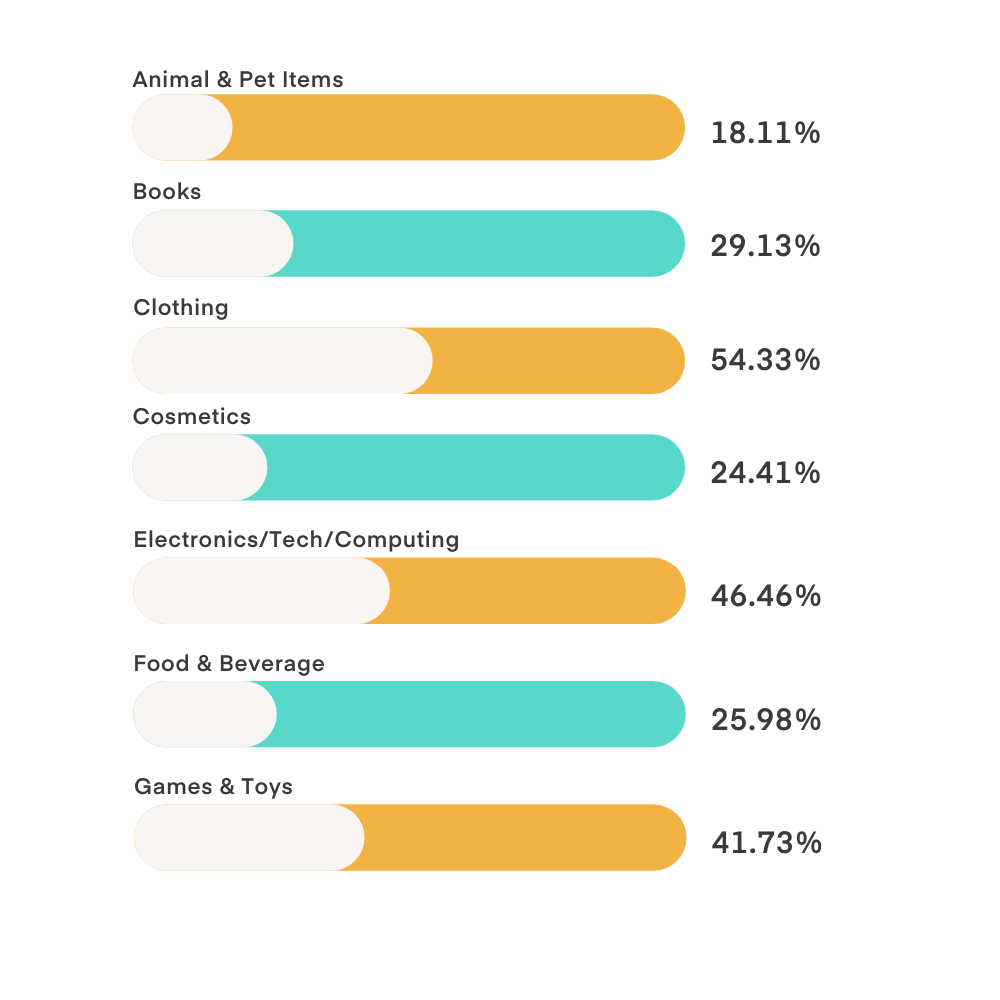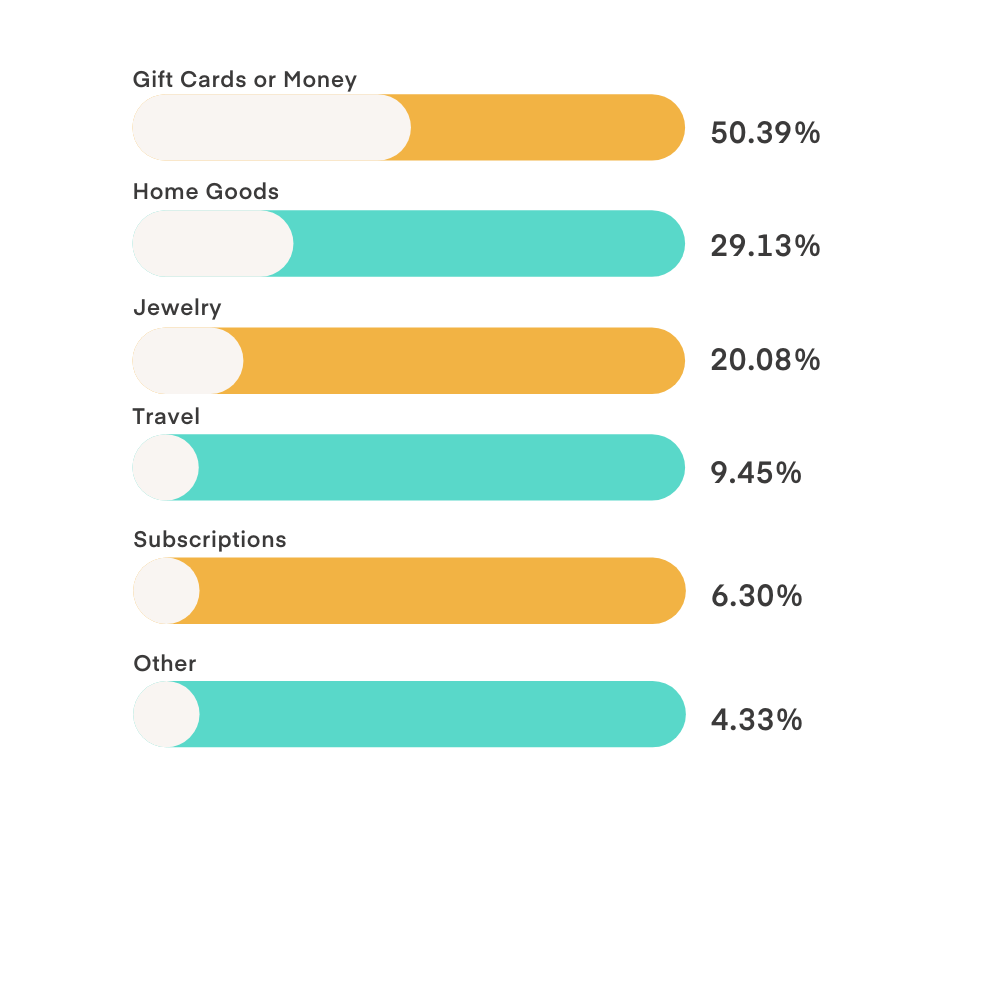 This is one of the few questions where there weren't many surprises in the data; the top industries were clothing, electronics/tech, games/toys, and gift cards/money. If you're not currently offering a gift card option on your website, you're leaving money on the table. Position this as a safe choice for picky recipients or as a solution for indecisive (late) shoppers. You'll close more sales, expand your audience, and provide consumers with the flexibility they're looking for.
Which of the following is most important to you while shopping during the holidays?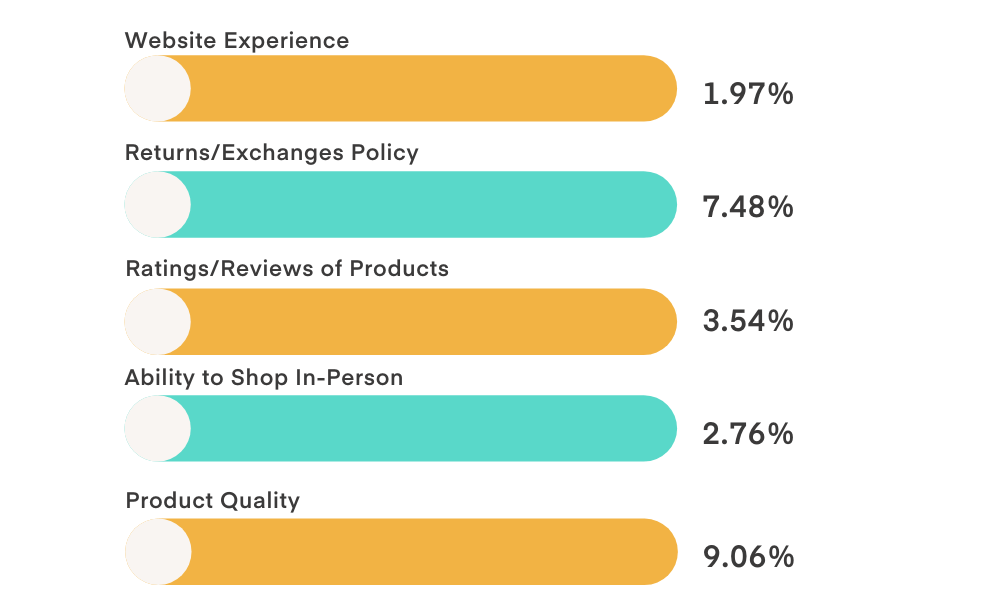 No surprise here that price took the gold medal with 50% of the vote—the rest are kind of a mixed bag with a few surprising contradictions to previous answers. Shipping speed was only 4.33% here, yet over a third of consumers were willing to pay extra for it just a few questions above. 
Ratings were only 7.48%, but reportedly 95% of consumers read them before making an online purchase. With inconsistencies such as these in survey data, the cognitive dissonance in consumers becomes clear. They say they value one thing, but then when it comes down to it, they behave in a manner that proves overwise. There's one thing we can all agree on, though—the most significant motivator for buyers is price. Everything else is just people being people.
Do you take into consideration a brand's support for social causes when shopping?

20% of US consumers say yes while nearly 80% of US consumers say no, which leads to an interesting split in how brands are being evaluated. There is also a generational component to take into consideration—younger consumers for whom this is a reportedly strong factor were only 25% of the respondents.
What type of device will you do most of your holiday shopping on?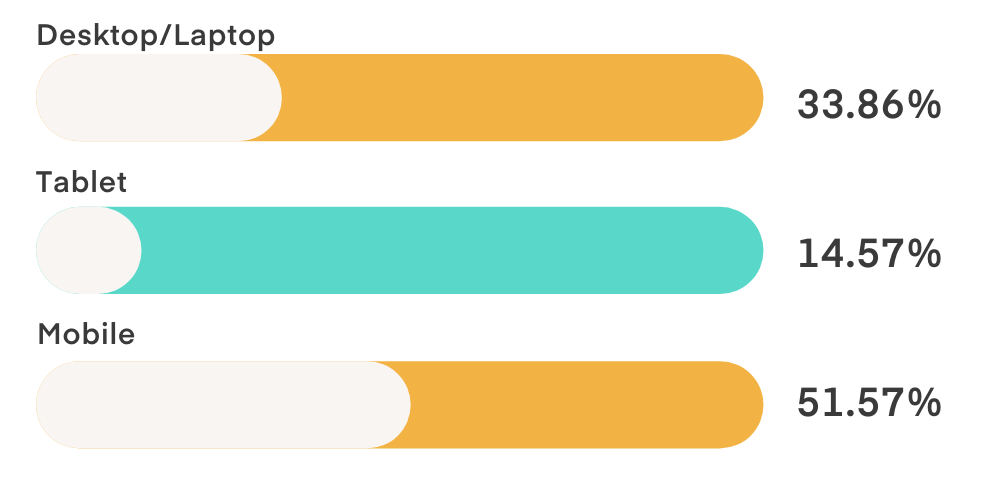 Mobile takes the lead with 51.7%, while only 33.86% are on desktop, and 14.57% on tablets. This domination emphasizes how important a good mobile UX is, so run through your site to find any roadblocks to conversion these visitors may experience, including checkout, onsite messaging, and product pages.
Did you have issues with out-of-stock items during your holiday shopping last year?

89.7% of US shoppers said no, which is particularly notable when thinking back on how much the media played up the supply chain issues of 2021. While there's no denying that stores had problems with inventory last year, we're thinking this speaks more to consumers being willing to pivot and find products elsewhere or substitute them all together. When it comes to reflecting back on it—it wasn't nearly as much of an inconvenience to shoppers as it was to merchants—plan accordingly.
How will your spending compare to last year?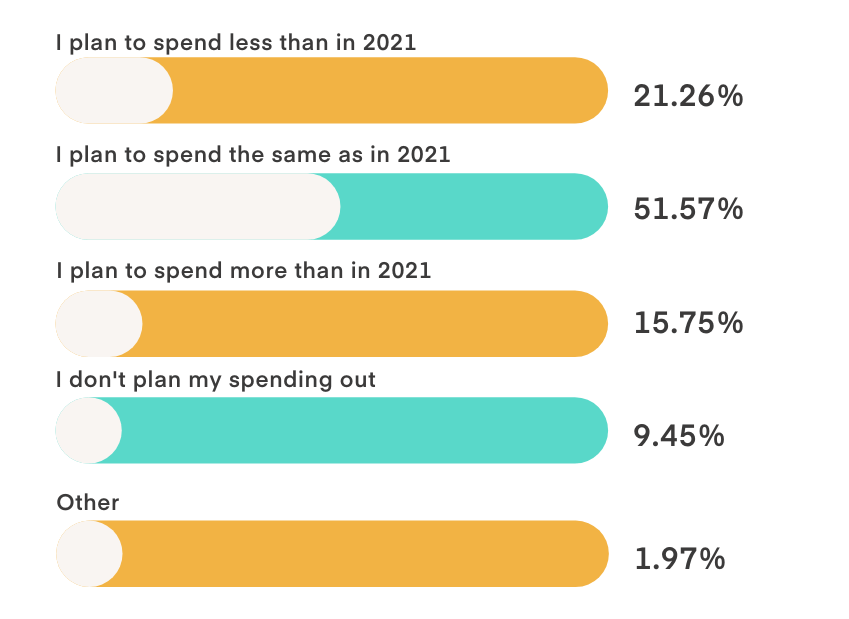 This was an interesting one considering the economic climate we're in right now; you'll see in the graph, though, that a little over half of US consumers are planning to spend the same as last year. So despite looming recession talks, people are ready to celebrate the holidays in style, even if rising prices result in gifting less while spending the same amount this year.
What channel do you prefer to hear from brands on?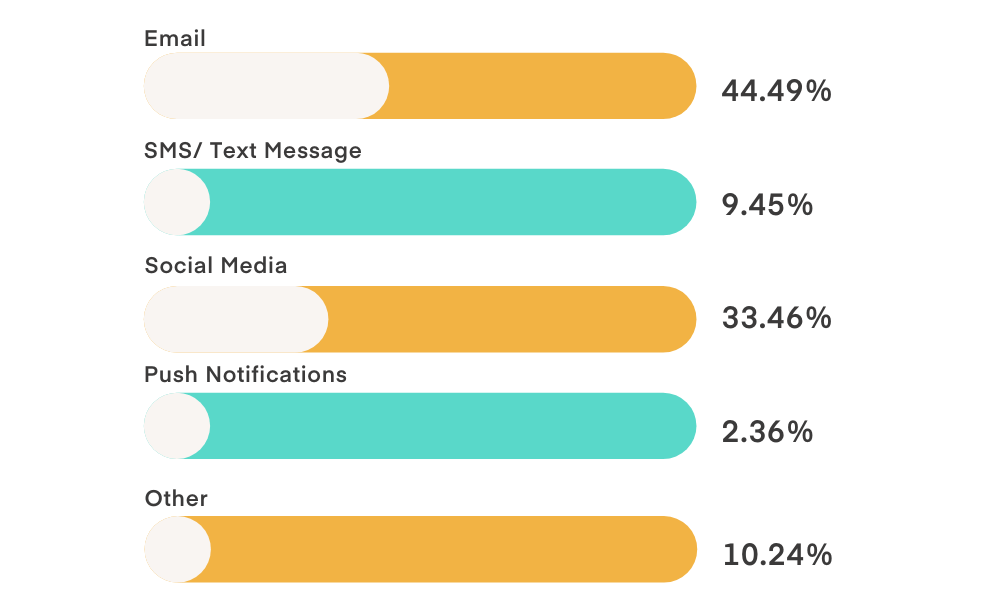 This provided an interesting snapshot into the minds of consumers—we've all heard many people proclaim that email is dead (FYI, we're not one of them), and we're happy to report they couldn't be more wrong.
44.5% of US consumers would prefer to hear from brands via email versus only 9.45% via SMS, 33% on social media, and 2.36% from push notifications. That's an impressively low number for SMS despite its growing popularity amongst brands as their primary list-building focus. We think this goes to support the view that consumers see SMS as a more sacred channel. Reserved only for brands deemed worthy enough, and when it comes down to it…they would rather shift through an email inbox.
This survey yielded some interesting insights for brands looking to optimize their 2022 holiday campaigns for US consumers. Overall, we'd say that shoppers in the US are browsing on their phones, looking at social media/email for the best deals, and while they're starting early, there is still a strong habit to hold on until BFCM to make sure they're getting the best deals of the season.
Australia
Our survey of 200 Australian consumers yielded some interesting results for DTC retailers to take into consideration:
When do you plan on starting your holiday shopping?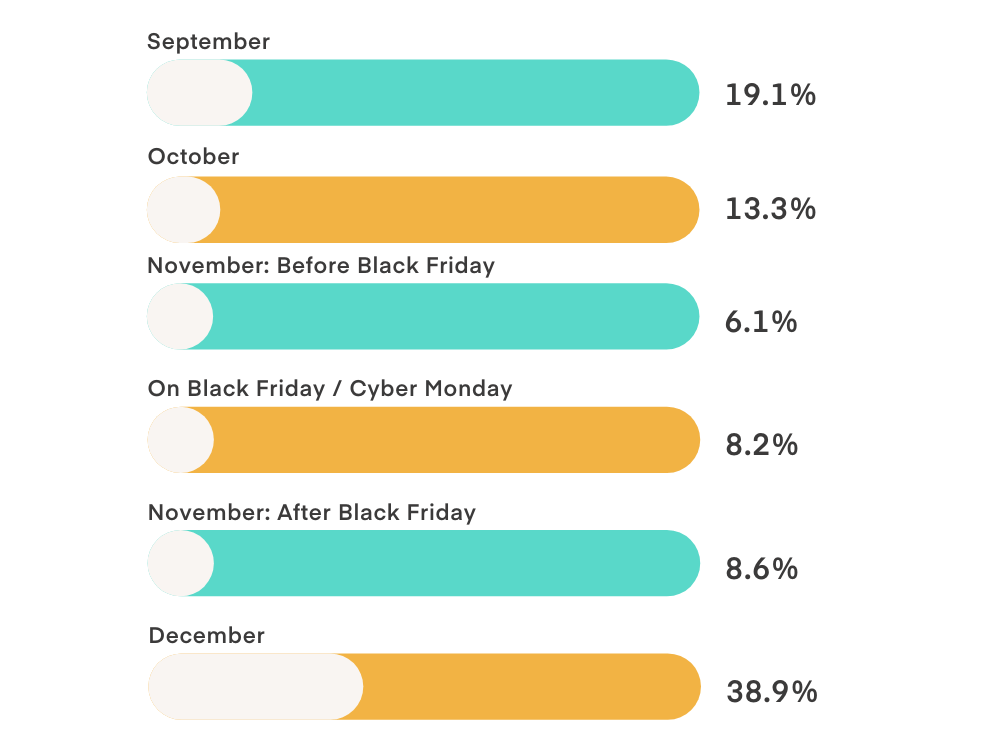 Australians are a procrastinating population, with 38.9% of them planning to wait until December to start shopping! The graph below shows the rest of them spread out relatively evenly with a solid group of early starters (19% in September), so if you sell in Australia, plan for a long and varied shopping season.
Are you planning to shop during any of the following days?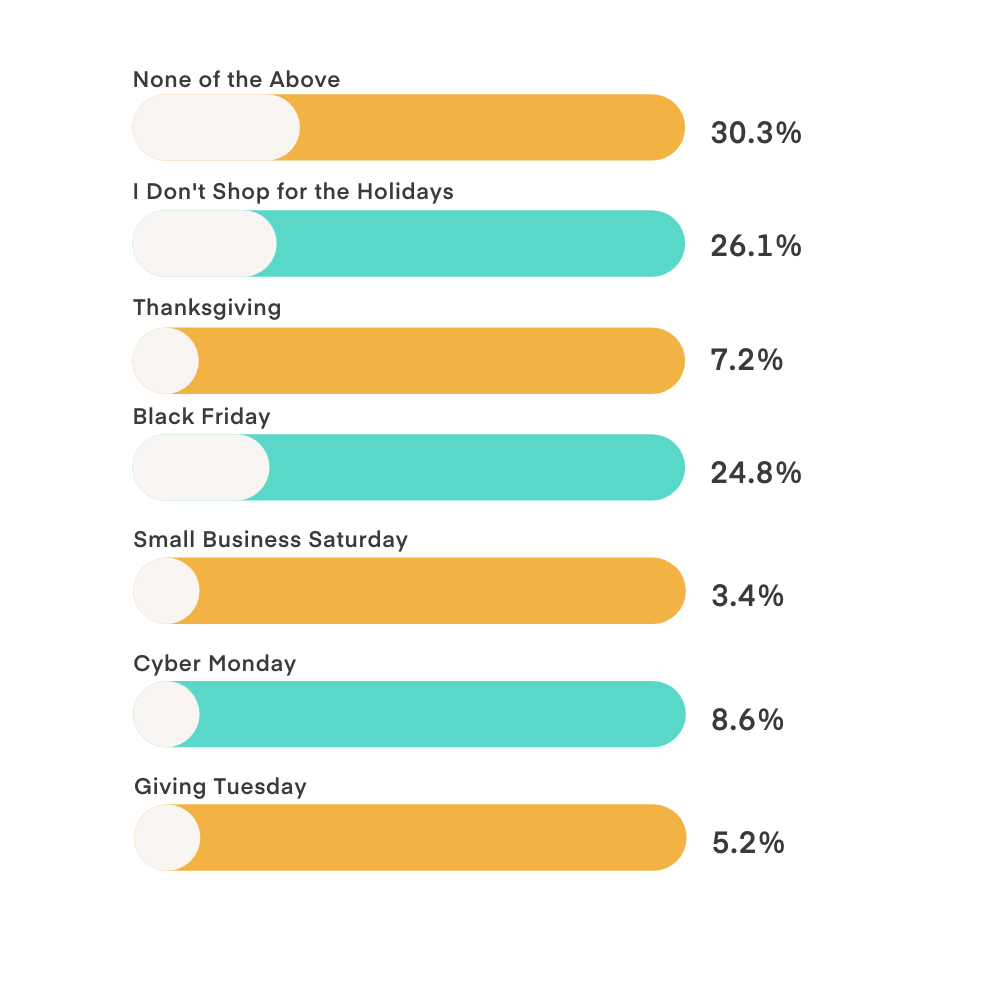 As a uniquely American holiday, it is unsurprising that 30% of Australians aren't planning to shop during Cyber Weekend. But the 26% of them who don't shop for the holidays at all were very surprising to see.
For those who are planning to partake in the BFCM craze, Black Friday is the big winner with 24% of shoppers. If you are running a sale in Australia, make sure it's a Black Friday one!
Which of the following types of retailers do you plan on purchasing from?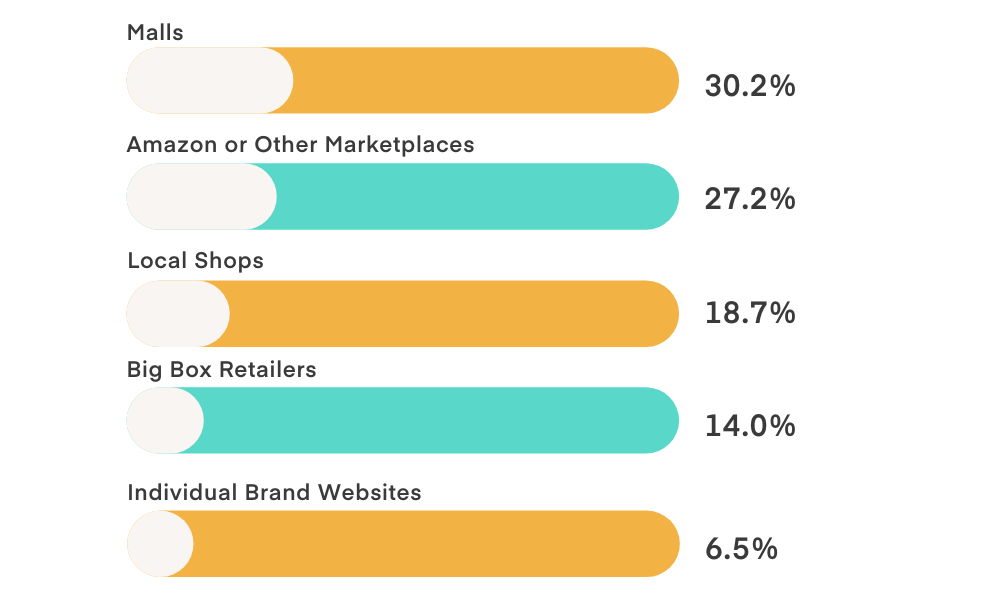 Malls (i.e. Westfields) were the winner with 30% of the vote, Amazon/marketplaces with 27%, local shops at 18%, and individual brand websites with only 6.5%.
Malls were unexpected, given that they've been on the decline in the US. but are clearly still a strong channel for Australians. Amazon and other marketplaces are unsurprising considering their convenience and variety, but local shops still have a fighting chance. So if you're an Australian brand with a presence in malls or have storefronts, make sure to let online visitors know & drive foot traffic to nearby locations.
What are the top categories you expect to be gifting this year?
This one is unsurprising, with books/games/toys, clothing/jewelry, and electronics/tech taking the top spots. For those of you in these traditionally gifted niches, make sure you're heavily marketing during this time and not missing out on possible conversions. Try activating those who purchased a gift last year with win-back email campaigns or reminders for shipping deadlines this holiday season for quick wins.
Which of the following is the most important to you while shopping during the holidays?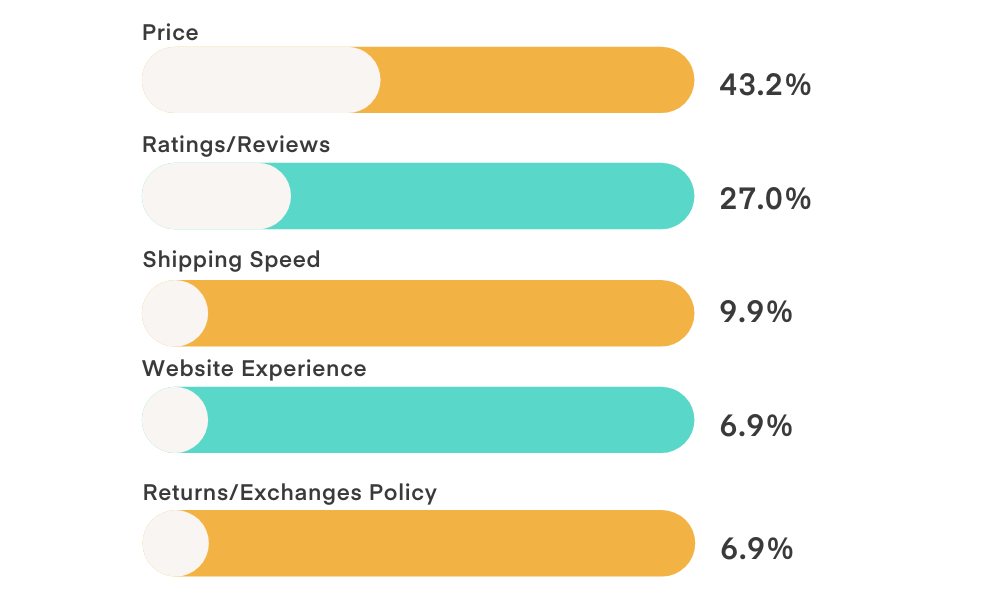 Price was the winner here, which is unsurprising, but the second place went to reviews/ratings at a much higher rate than with US respondents (27%). Make sure that you're actively asking for these from customers after they've completed a purchase so you can leverage them across your website and campaigns. Use testimonials to create ads, feed ratings into Google shopping ads, place into onsite messaging, etc. Social proof can enhance marketing in many ways, making a key difference when customers are comparison shopping.
Do you take into consideration a brand's support for social causes when shopping?

Australians were split 50-50 on this—so if this is a core tenant of your brand and differentiator, it will help you with consumers who strongly identify with your values but likely won't be a huge sales driver for the other half of shoppers.
What type of device will you do most of your holiday shopping on?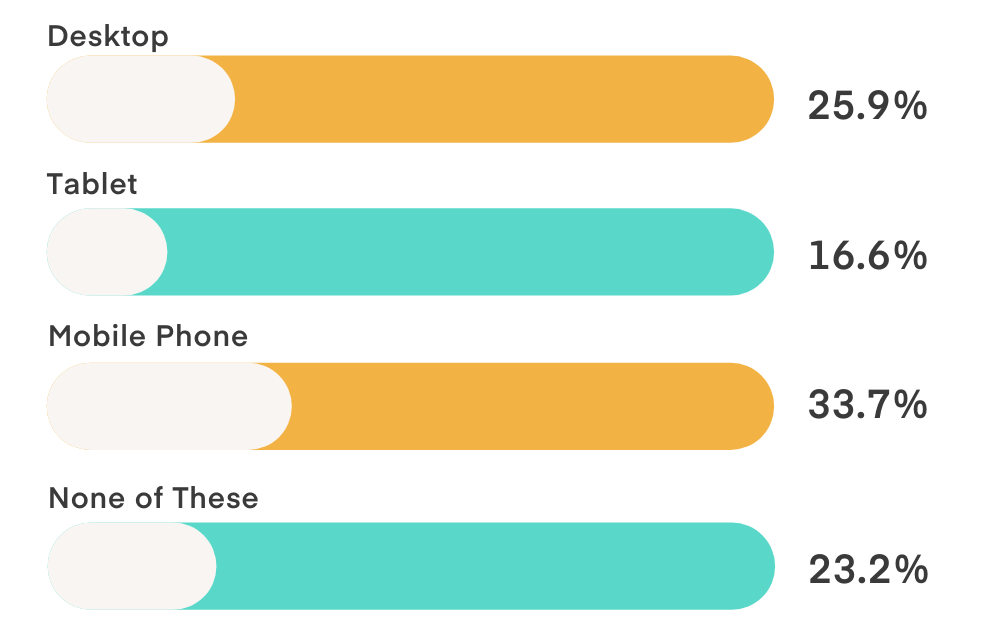 Australians are a little more split when it comes to device preference, but mobile is still king with 33.7% of shoppers. Desktop (25.9%) and tablets (16.6%) aren't far behind, but what's more surprising is that 23.2% said they used none of these. Meaning there is still a solid chunk of Australians looking to shop in stores, and when taken into consideration with their preference for malls, this makes a lot of sense!
Did you have issues with out-of-stock items during your holiday shopping last year?

69.2% of consumers said no, which again is very surprising given what we know from last year. But their yes segment was the highest of all three countries, which, when you consider how heavily Australia relies on imported goods–makes sense. So a "get it while it lasts" mentality isn't likely to resonate much with these shoppers, and you'll need another strategy for the region.
How will your spending for the 2022 holidays compare to last year's?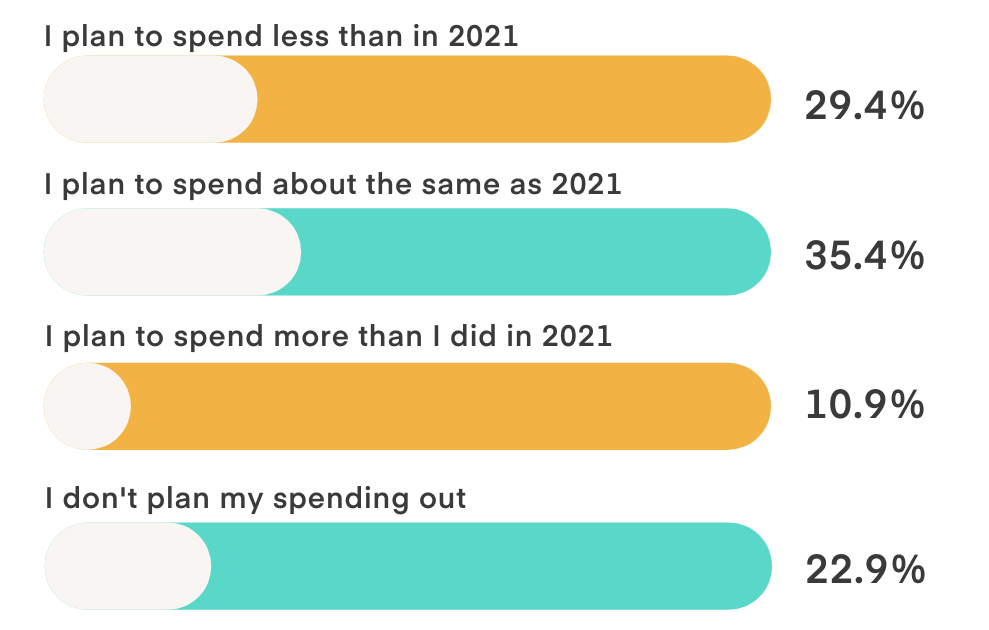 As we stated earlier, this was a surprising result to us (across all three countries) due to rising global inflation. Currently, Australia's inflation rate is around 6% and is expected to rise to 7.75% by December. The 35.4% of Australians planning to spend the same, 10.9% planning to spend more, and the 22.9% who don't plan their spending out at all—paint a very rosy picture of consumer confidence in the face of rising costs. So while price is the most important factor, Australians are not afraid to shop—they just want to do so wisely.
What channel do you prefer to hear from brands on?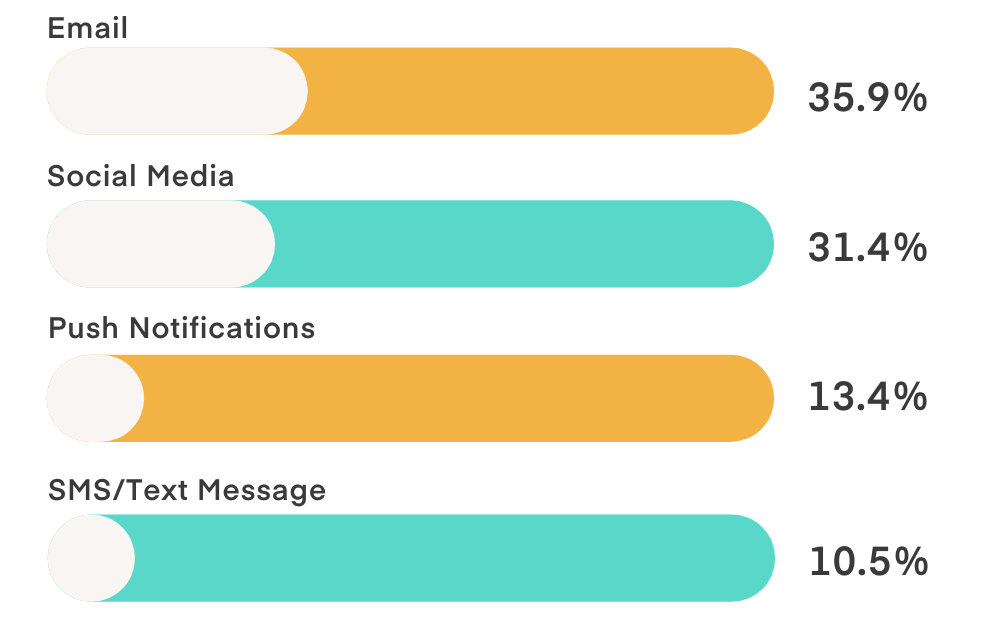 This is a great example of different strokes for different folks—email is the number one channel with 35.9% of the vote, social media close behind at 32.4%, then push notifications, and at the bottom is SMS with only 10.5%. For those of you looking to appeal to Australian visitors, maybe don't start with SMS opt-ins or at least have two-step lead captures so they can choose their preferred channel. As SMS has caught on with e-commerce brands, these results imply that it's a definitively more American trend than an international one, so make sure to give shoppers options. But most surprising was the highest showing for push notifications we saw across all three countries–maybe use push notifications during the holidays to collect opt-ins for product launches, early access to sales, or out-of-stock notifications on popular items. Push notifications are extremely valuable as a time-sensitive info channel so plan accordingly!
Overall, we'd say that brands aiming to sell down under this year, should plan for a truly omnichannel experience, emphasize email opt-ins over other channels, offer great sales, and, when possible—look to connect with off-site retail locations for wider distribution.
United Kingdom
We surveyed 200 consumers in the United Kingdom with the same questions, let's see how their answers differed:
When do you plan on starting your holiday shopping?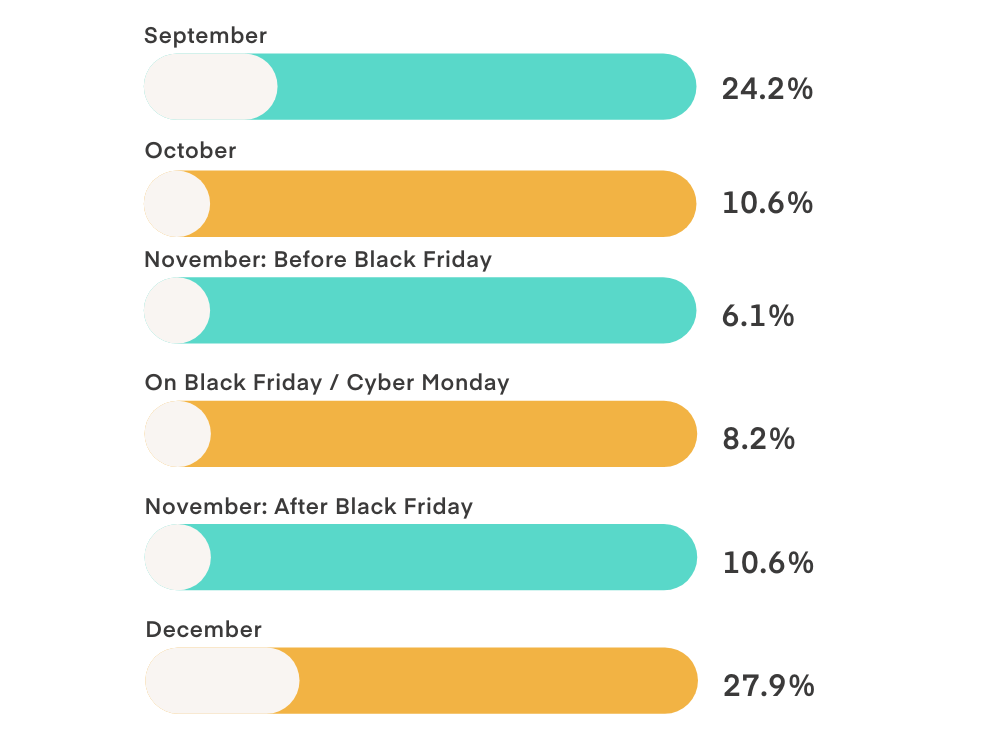 UK consumers procrastinate as well as plan ahead, with 27.9% of them waiting until December to get started and 24.2% of them starting in September. So if targeting the UK, make sure to have multiple campaigns at the ready for both the early bird and last-minute shoppers.
Are you planning to shop during any of the following days?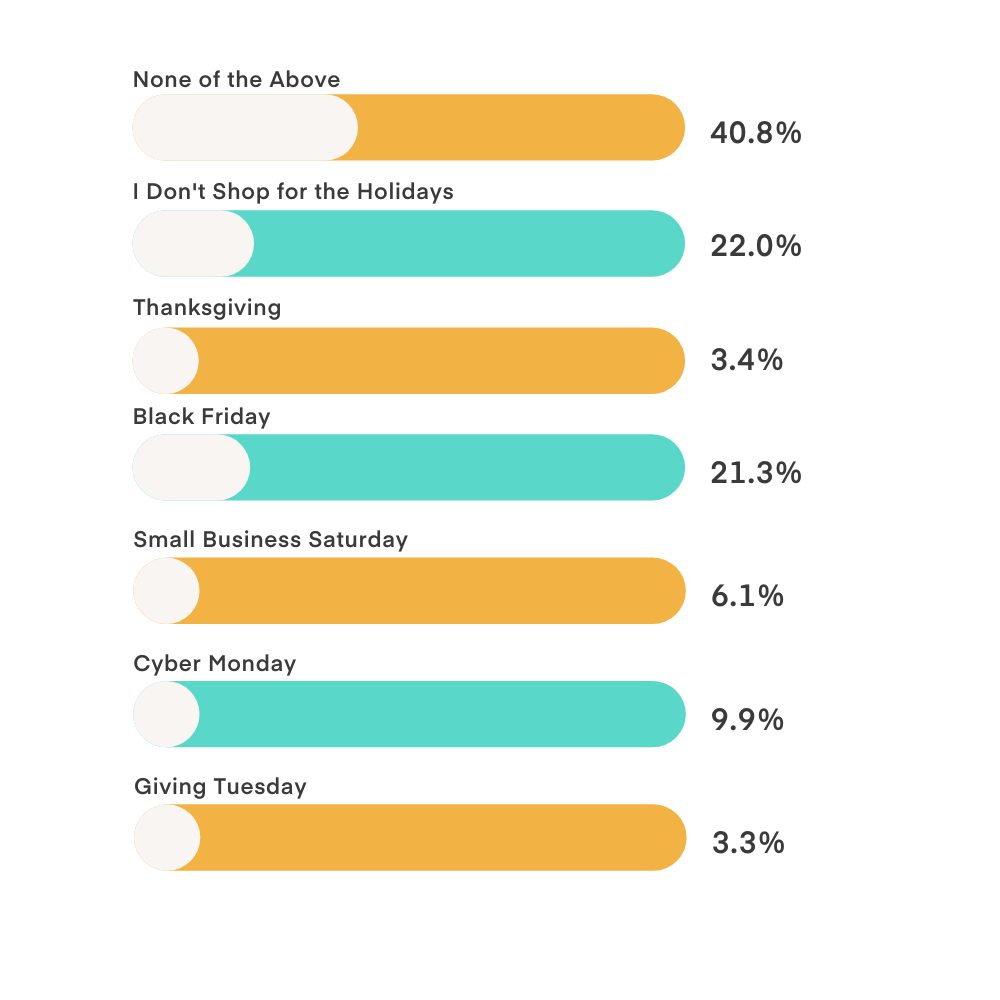 Overwhelmingly UK consumers don't shop during BFCM, to the tune of 40%. This was striking in contrast to the US and Australia. But for those who do plan to participate in Cyber Weekend, it's on Black Friday, so if selling internationally, Black Friday is the way to go. The rest of Cyber Week just hasn't caught on outside of the US, and trying to stand out by focusing on another day may cause you to lose out on the weekend entirely.
Which of the following types of retailers do you plan on purchasing from?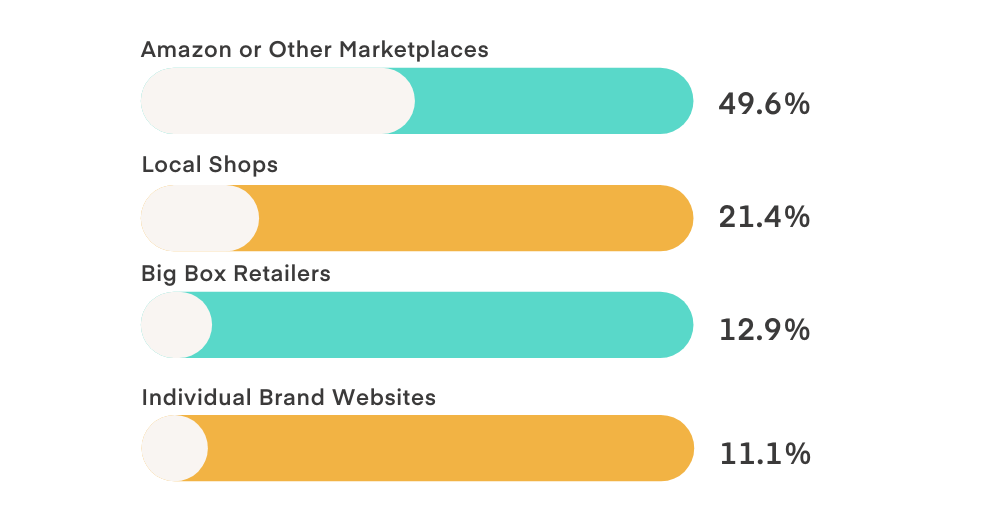 Nearly 50% of UK shoppers are planning to shop on Amazon or other marketplaces this season, making them the most popular shopping destination across the board. The rest of the responses are varied but local shops and individual brand websites do still hold a spot in the wallets of UK consumers not to mention the big box retailers that feature some DTC products as well. Make sure to capitalize on this support for small and local retailers with a strong digital presence and compelling incentive to compete with Amazon and co.
What are the top categories you expect to be gifting this year?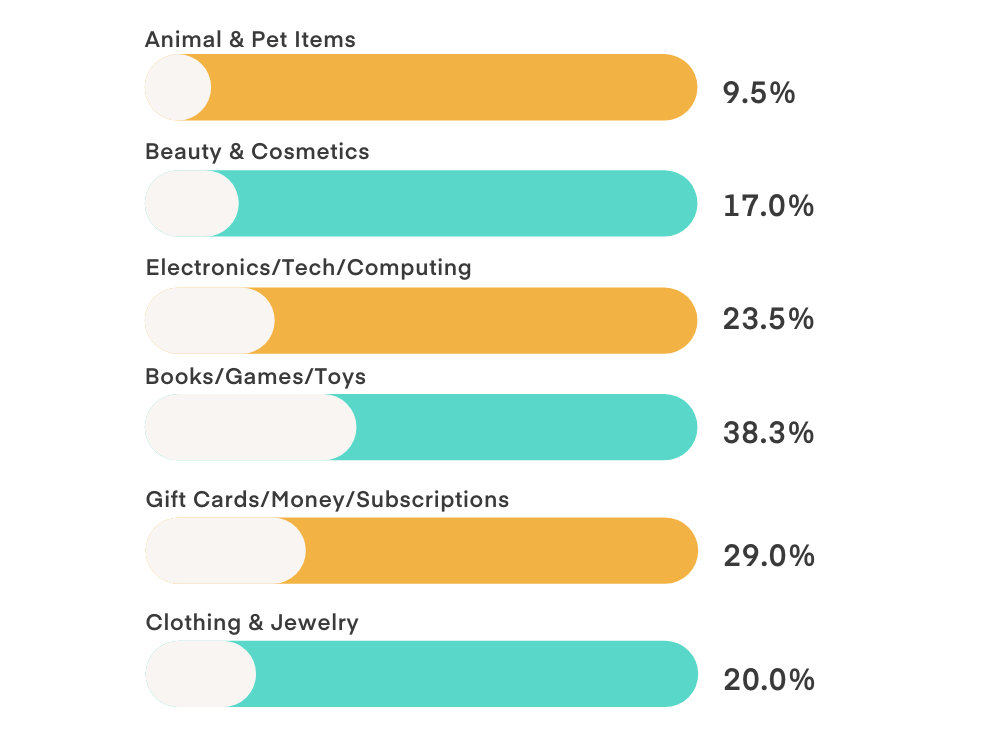 Yet again, the standard verticals win out though it is worth noting that gift cards, money, and subscriptions are in second place for UK shoppers. Make sure to offer gift card options, especially for the last-minute segment, so you're not leaving money on the table. Alternatively, if you have a subscription program, make sure to market it heavily as an alternative. A great idea our partner, Smartrr, suggested was to give VIP customers a free 3-month subscription to gift to someone—not only are you building loyalty with them but also a future customer!
Which of the following is most important to you while shopping during the holiday season?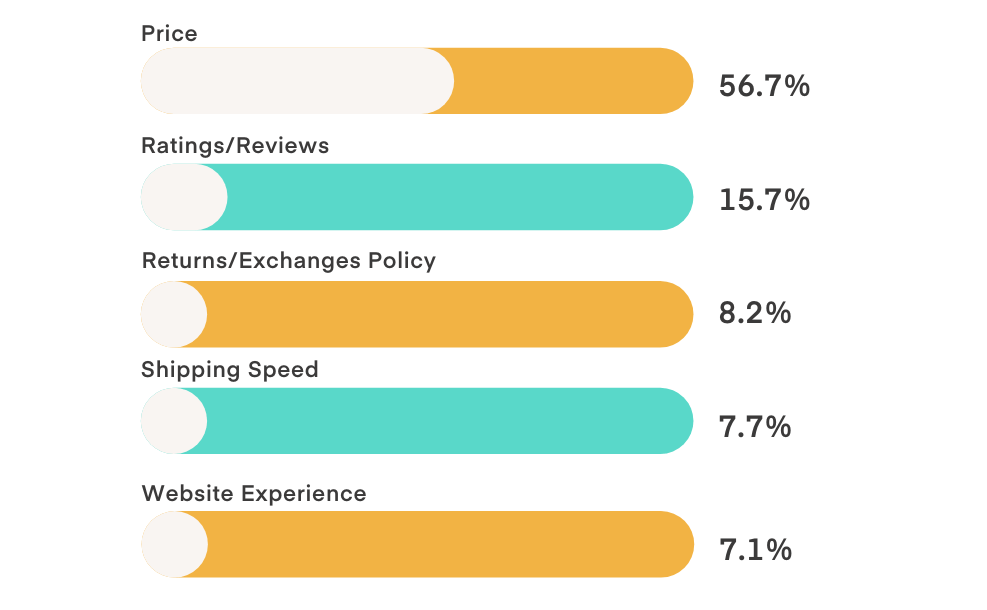 Price won again with 56.7% of the vote, and the rest of the options were pretty scattered amongst respondents. Clearly, consumers are extremely aware of getting a good deal during the holidays, which is something to keep in mind when it comes to your seasonal planning. Make sure to emphasize heavily what sales you have going on so that you don't lose out to competitors whose deals were more accessible. The lack of emphasis on the other services in purchase decisions doesn't necessarily mean they're not important, but that they aren't rare enough amongst retailers to be true differentiators. It's long been said that BFCM is a race to the bottom, which couldn't be more true according to these results.
Do you take into consideration a brand's support for social causes when shopping?

61.2% of UK consumers said no, which is in line with what we saw in Australia and a bit higher than the US, so while it may be something people say they look for in a brand…when push comes to shove, it's not the determining factor and others like price play a much bigger role when it comes time to make a purchase.
What type of device will you do the most holiday shopping on?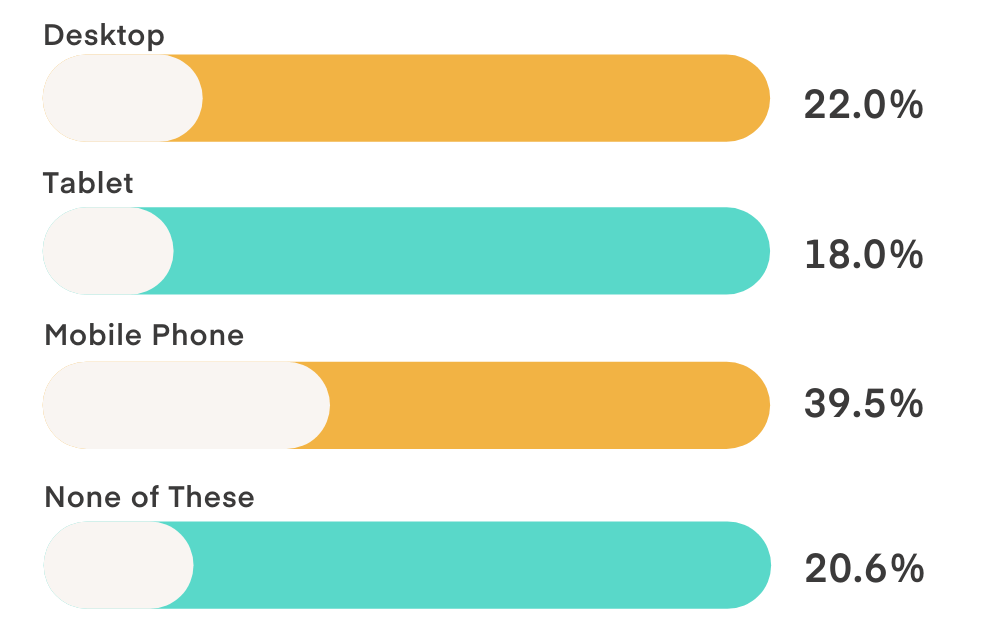 Once again, mobile takes the gold medal with 39.5%, but desktop (22%) and tablet (18%) aren't without their own solid user groups. Retailers should be designing and streamlining digital experiences for the small screen. Things like slow page speed, unclickable elements, hard-to-read text, etc. can wreak havoc on your seasonal bottom line if not corrected.
Did you have issues with out-of-stock items during your holiday shopping last year?

Again the majority of UK consumers said no (82.4%), and we are just as surprised as we were for both Australia and the US. The same suggestions apply here when it comes to what this means for messaging and behaviors to look for.
How will your spending for the 2022 holidays compare to last year's?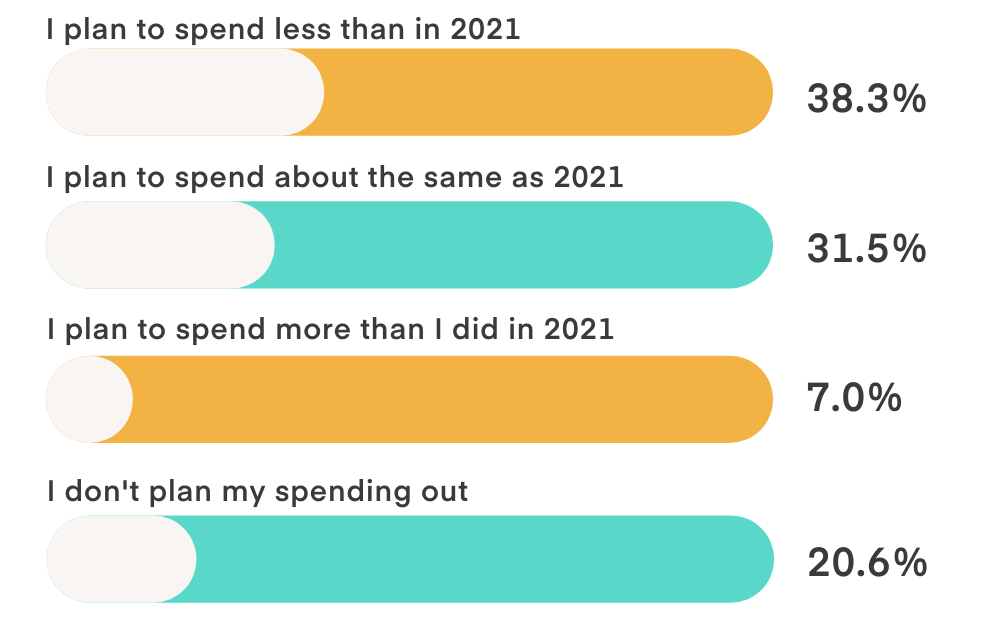 The UK was the only time when the segment of those planning to spend less than last year were the majority the largest at 38.3%. Those spending the same aren't far behind at 31.5% and 20.6% aren't planning it out at all. If you take into account the projected increase of inflation reaching 18%+ by years end…it makes sense that UK consumers are planning to tighten the belt a little more than most and will be extremely price-conscious when shopping this year.
What channel do you prefer to hear from brands on?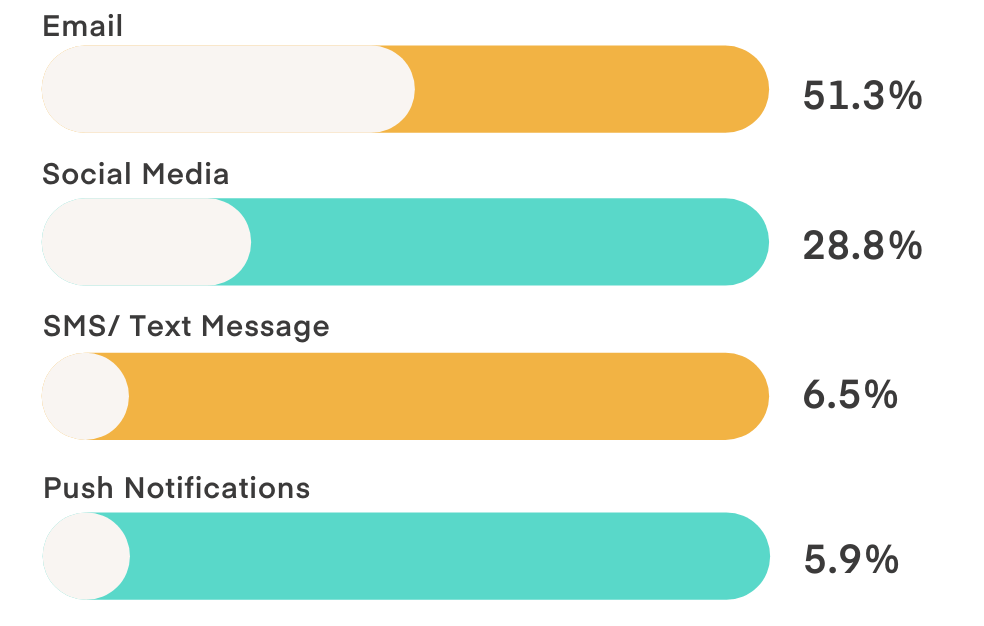 Yet again, email comes out on top at 51.3%, and social media behind it at 28.8%. The rest of the options drop off steeply after that, but like Australia, they're definitely not on the SMS craze yet. 
Provide UK visitors options in terms of lead captures so they can select their preferred channel. Lean into social media, build up your profiles, and leverage UGC to build strong relationships. In tandem, influencer marketing is a great way to build awareness and reach a wider audience more organically to drive website traffic.
The UK survey results were interesting, showing several key differences from both the US and Australia. We would say that UK consumers are a little more cautious when it comes to their spending outlook but will still be shopping, make sure to optimize email lists now in addition to putting resources toward social campaigns, and definitely look for ways to stand out like gifting subscriptions or gift cards.
Takeaways
While these surveys are only a snapshot of each country's consumer bases—they offer insight into how brands can position themselves in each region for their biggest Q4 yet. These results can help power campaigns that resonate more with shoppers and give them what they really want rather than what we as marketers assume they do.
Some key takeaways to apply to your marketing plans are:
Create mobile-friendly experiences. Shoppers across the globe are continuing to shop heavily on their phones. Streamline their experiences, and plan for the small screen. 
Don't assume their channel preferences. Never make SMS your only channel to opt-in to. Always provide the opportunity to choose email as well, and we don't recommend making both a requirement to earn an incentive. Don't let short-term goals get in the way of long-term growth (or short-term money at that rate).
Amazon is a necessary evil. Amazon and other large marketplaces are key channels for consumers, which opens up the door to a huge number of new audiences. Obviously, purchasing directly from your website is the preferred method, but we can't argue with the visibility and awareness it can bring to your brand.
There is no "start" to the season anymore. Consumers have been fundamentally changed by the past few years, and therefore we can't truly say there's an official start to the shopping season now. Before, it could've been said that Amazon Prime Day was the unofficial one in October, but with it moving to July..it's anyone's game. Plan to start early, be present, and stay late with your messaging…it's not your mother's BFCM anymore.
2022 has not been without its issues, and while we refuse to use the word unprecedented anymore—there is yet another holiday season upon us that requires nimble execution, offers little resemblance to years past, and has many factors impacting its success.
Good luck this year! If you're looking to take your onsite experience to the next level and personalize it for every visitor (from every region); try our free 14-day trial to experience the Justuno difference, or let us do the heavy lifting with our 2022 holiday package.