If you are already on Shopify, you are probably familiar with the importance of crafting the perfect email newsletter. Even if a customer visits your site but doesn't make a purchase, your newsletter can be the right motivation that will bring them back when a special promotion is on the line.
Shopify's suite of email marketing features offers businesses the ability to create personalized email campaigns and target audiences effectively.
Since the newsletter is an integral part of email marketing, let us walk you through the steps of creating a winning newsletter capable of turning subscribers into buyers.
What is a Shopify Newsletter
Most commonly, a Shopify newsletter is an initial marketing step that includes relevant information regarding company updates, special offers, limited-item offers, and anything else that could incentivize customers to visit your landing page.
After they have reached the destination of your eCommerce page, it's in your hands to grab their attention. To achieve that, there are various tools that can easily integrate with Shopify and help you engage with customers and drive sales. For instance, popups are consistently used to guide website visitors through pages toward the desired action.
Popups can also be employed to help eCommerce businesses build their newsletter email list organically. By using the right CTA in your email newsletter popup for Shopify-based eCommerce stores, you can change the pace of your email address accumulation process and help yourself reach a wider audience – all by using a simple incentive such as a special offer discount code on a specific item or a freebie in exchange for the client's email address.
To start crafting newsletters for both your new and loyal customers, you can either opt for the standard Shopify email marketing options or look for a tool that seamlessly integrates with the Shopify platform and further enhances the already robust key features.
Our marketing automation software partners such as Klaviyo, Omnisend, Sendlane, and Dotdigital, will allow you to deploy various email program plans specifically designed for the upcoming holiday season and grace the inbox of all your email subscribers. Programs can help you welcome your newly added newsletter subscribers during the festive periods and, on top of that, help your business reduce potentially high cart abandonment rates from browsing holiday shoppers.
When combined, a solid pop up platform that tightly integrates with Shopify and marketing automation software can help you skyrocket your conversion rate in no time.
Why is Email Marketing Important for Shopify Owners
The ROI eCommerce businesses can enjoy from email marketing is unparalleled and no other channel comes close in the competition. Although diverse, email marketing is most effective when used to reach and inform prospective and loyal customers. At present, 50% of the global population is using email, which further solidifies its potential for exponentially boosting a business's conversion rate.
That being said, some email marketing methods flourish while others fail at a breakneck speed. This is why, in order to create a fail-proof strategy, businesses heavily rely on email templates and software that allows them to strategically design their entire email marketing approach from a welcome series to a yearly birthday flow.
For instance, Shopify newsletter popup creation tools that easily integrate with your eCommerce store help you craft the perfect personalized newsletter pop-ups. A platform such as Justuno allows you to supercharge your visitor's experience by allowing you to create fun and unique interstitials in a manner of seconds. Popups entice your store visitors to join your email subscription list and, on top of that, provide them with a much better. With the right prompt and eye-catching popup design, both new and loyal customers will not view the email signup form as a chore but rather as an opportunity to elevate their overall customer experience.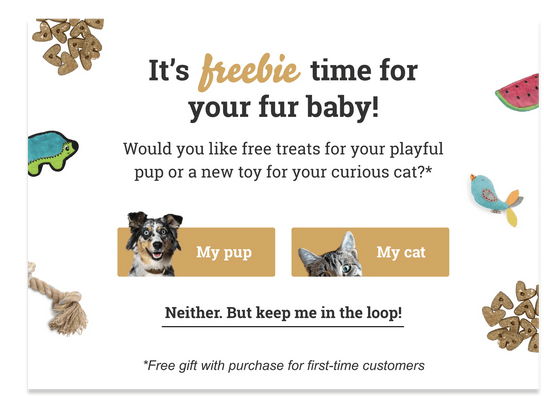 Before launching your Shopify store's newsletter, you'll need to find the right template for your overall newsletter campaign and any additional sends.
With a full-bodied email marketing campaign, you can expect to:
Have a cost-effective marketing option with high ROI and conversion rates;
Add value to your customer's experience with your brand;
Inform loyal and potential customers about relevant and upcoming brand updates and boost sales;
Increase engagement rates and improve your relationship with customers.
After you deploy your email marketing strategy, the best course of action is to closely monitor the metrics and pinpoint whether everything is performing. By analyzing the incoming data, you can spot bottlenecks and improve your email marketing approach.
Build a robust email list with Shopify newsletter popups
A newsletter is the backbone of every successful eCommerce email marketing campaign.
To create the perfect conversion rate increasing newsletter, you will have to keep the following steps in mind.
Build a robust email list
A newsletter can only be as successful as the size and quality of your email list.
As previously stated, popups are the best way to engage with your new and past website visitors. Of course, some argue that popups can be intrusive but with advanced targeting to provide value to every visitor, you can hand-craft popups that actually delight not annoy.
To make your email-gathering process more exciting, you can turn away from cookie-cutter popups and opt for newsletter popup designs perfect for Shopify-based eCommerce stores. The popup's design and style seriously impact your conversion rate as unique popups will garner much more attention. And, if you add a fun factor to them, such as gamification, you can expect to see a drastic surge in conversion rate.
Timed popups and discount popups are great when you want to keep the customer on your page and potentially sway the conversion tides in your favor. Timing is key when it comes to popups, as the difference between a high abandonment cart and a drastic sale boost can lie in perfectly executed. For instance, when an exit offer popup for Shopify-based eCommerce stores appears on your visitor's screen just as they are about to leave.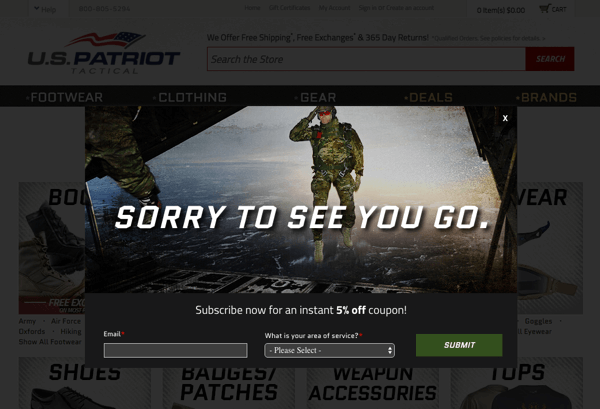 Furthermore, with the right tools, you can position your popups to serve as mini customer service windows rather than intrusive onsite text. As mentioned above, you can use gamification and add fun features to your popups, such as spin to wins to keep visitors engaged and delighted during the whole duration of their stay in your e-store.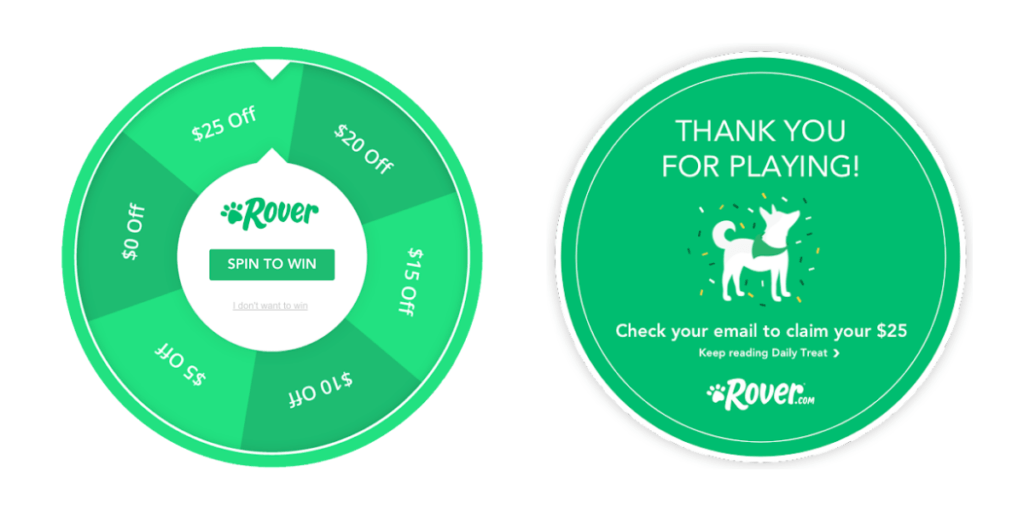 Or, if you want to keep it formal, opt for a more traditional popup design or a popup template that best serves your current marketing needs.
Cultivating a connection with your prospective and loyal customers in a manner that's enticing and offers additional positive experiences is the best way to grow an eCommerce business organically.
Outline the goals of your newsletter
Setting achievable goals in the marketing department will help shape your whole newsletter campaign. So, before you take matters into your own hand and send the mail out, make sure that it's not half-baked and that your whole team shares the same vision for that particular batch of newsletters.
For instance, your goals can be to
Sell products and services;
Educate your customers, and showcase the value your products and services can bring to their everyday life;
Conduct research and receive customer feedback;
Transform loyal customers into brand ambassadors and increase your referral rate.
Make it all come together
The main goal of your newsletter is to entice readers to click the CTA link and land on your eCommerce page. To make the whole newsletter tie in harmonically, analyze the data of your previous campaign and determine how you can improve your CTA, subject line, and overall newsletter design.
If you search online for "newsletter examples", you will find that newsletter templates differ regarding the eCommerce's market intent. So it will all boil down to whether your goal is to inform or to promote.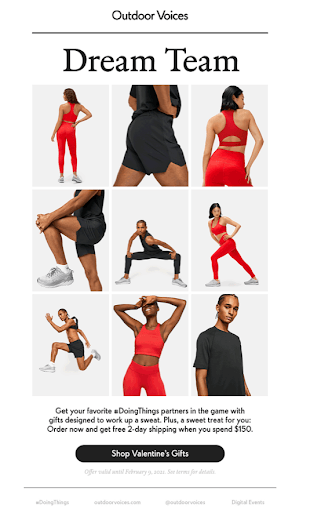 Launch the newsletter campaign
Reaching your entire newsletter list through Shopify is possible with just a few clicks. Simply click on the "Create a Campaign" option and choose from the plethora of mailing options at your disposal. After you carefully select your preferences, make sure that your ESP and Shopify are in sync so that you can hand-pick the newsletter template that will amplify your customer engagement and sales.
After that is done and dusted, you can choose who will be your newsletter's lucky recipient. Will it be just the most loyal customers or all the email subscribers?
If you want to have a preview of how your template looks and feels, send a test email to yourself. Carefully review whether your newsletter content stands out and whether the included CTA is clear, actionable, and prominent. Lastly, take your smartphone and see whether the newsletter is easily accessible via mobile. This is extremely important as the majority of email users opt to check their inboxes via their smartphones.
Long-Term Strategies For Shopify Email Marketing
To bolster your chances of success online, you will have to employ various email marketing techniques other than the tried and true Newsletter. Try to develop a cadence that will allow your customer to easily recognize your uniqueness among the heap of emails they receive each day.
In addition to that, you should make all your email content easy to skim through. Of course, that doesn't mean that quality should be sidelined. Make sure that all your emails, not just your newsletter pack enough information to capitalize when the opportunity occurs and secure the customer's attention.
Moreover, it's important to understand that people will only make purchases if they are interested in your brand as a whole. There might be some instances where an individual has no use for your service. So, to keep everything simple, you should make it easy for them to unsubscribe and be excluded from your email list.
And lastly, while growing your subscribers is extremely important, you should know when to press that restart button and clean your email list. Avoid catering to the vanity metric, which is subscriber count, and remove users that don't respond to your campaign. However, don't go without a fight; try re-engaging with them with special offers and limited promotions. If it's still in vain, your best course of action is to move forward and focus on new horizons.
After your clients click on the CTA included in the email, it's down to your eCommerce layout and tools to help your customer navigate through your store and make purchases.
In conclusion
When done correctly, email marketing has the capacity to be the driving force behind your eCommerce business's sales. However, before you deploy the perfectly optimized email content, make sure that there are prospects who will read it.
To ensure that your email campaign is a success, building your email list via creative methods such as CTA popups is always your best course of action. Steer away from generic and intrusive popup messages and try to create effective email popups that will even entertain your web page visitors.

Using Shopify-integrable tools to create a newsletter popup from a trusted platform such as Justuno will help you gather emails fast and allow you to then utilize the strength of your newsletter marketing campaign to its fullest.