Post-purchase is one of the most important stages in the customer journey. 40% of consumers say that it makes their brand experience more memorable. It's an incredibly important piece to the puzzle that doesn't get the spotlight it deserves. According to the Adobe Digital Index, online retailers dedicate nearly 80% of their digital marketing budgets to customer acquisition efforts. This leaves, at best, a fifth of their budget for the post-purchase experience.
How can retailers fill that gap between customer expectations and reality? How can they bring together all of the intricacies that go into a seamless post-purchase experience so all of it is right at the customer's fingertips, giving them what they need before they even have to ask?
But before you can build out the perfect post-purchase experience, you need to turn your website visitors into customers—which is why we're partnering with post-purchase platform WeSupplyLabs to bring you seven strategies to convert more of your traffic into customers and provide them with a personalized post-purchase experience.
TOFU Onsite & In-Person Strategies
For those with brick-and-mortar locations, uniting your e-commerce operation with in-person experiences is critical. Start personalizing onsite messaging based on visitor location to show relevant information to different segments.
If you're running events in-store, doing pop-up events, etc., you can use WeSupplyLab's store locator feature combined with Justuno's advanced geo-targeting rules to let nearby visitors know. Target all the way down to zip code to ensure relevance to browsing visitors and drive more foot traffic.
Alternatively, if you're planning to open up storefronts or get onto store shelves, you can use Justuno lead captures to collect additional zero-party data points like zip codes alongside emails or phone numbers to create location-based segments in your CRM. You'll have high-intent segments ready and waiting for you to activate when your grand opening arrives for a special VIP invite. 
Justuno customer Snow Monkey used this strategy to announce their placement in local grocery stores to their email database and experienced record email open rates of 42%, all without compromising list growth (it went up 500%).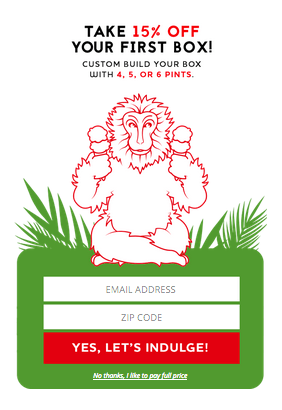 MOFU Strategies
If you want to focus more on cart abandoner or exit prevention, then you're in luck. Apply the same strategy to keep more exiting traffic on your site and drive purchases using store locator exit offers.
When a visitor goes to exit the site with items in their cart or from the cart page, fire a promotion that says, "Can't wait for shipping? Find a store here". For those who need their items fast, this can be the difference between an abandoned cart and a purchase they pick up in the store.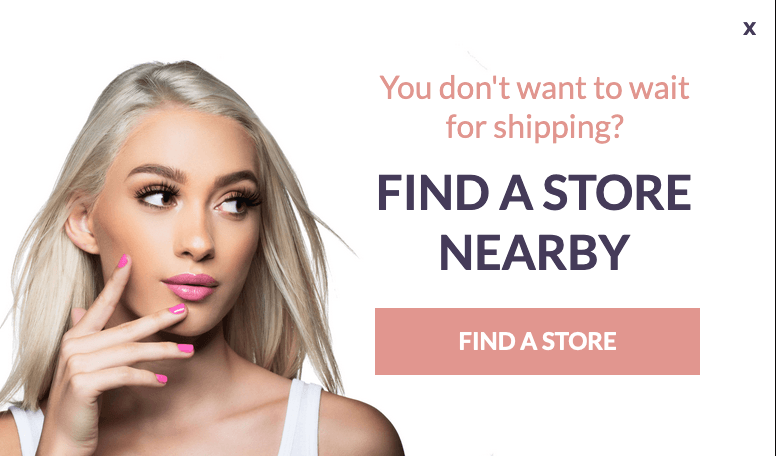 Combine this strategy with estimated delivery times to convert more of your visitors and set expectations early! In our BigCommerce Master Class series, we learned that 92% of online shoppers say knowing when something will arrive is a key factor in their purchasing decision, and 45% would pay more to know them.
Not only are you reducing barriers to purchase, like delivery dates, but also hesitant first-time buyers who may need to see an item in person before committing. Either let them order online and pick-up in-store, or give them the location of their nearest location to come to visit. 
   Pro Tip: Double points for this strategy if you combine it with messaging like "Save on shipping" or "Why wait, get it today"
Alternatively, for those who may be less concerned about the shipping timelines and more about the product itself—use an exit offer to promote transparency in your returns/exchanges policy.
Let them know it's easy to return to the store near them (bonus points for telling them how close it is) or exchange for a different color/the right size/ etc. if it's not what they expected.
This satisfaction guarantee will help save more sales without impacting profit margins and help build trust with first-time customers.
BOFU Post-Purchase Strategies
Once you've converted the shopper into a customer, your work is just beginning—starting with your order tracking page. On average, customers will check that page 5 times between purchase and unboxing, making it one of the most engaged points of a customer's journey.
Don't miss out on the opportunity to leverage this by sending customers to a shipping couriers page via a generic tracking number. Rather, create a premium, branded experience that adds to their experience based on their interests and behavior.
Promote recommended products on this page that complement their order's contents; use Justuno to easily add these to a new cart with just one click for a seamless repeat buying process.
Plus, the additional exposure to new product releases or collections means these products will be top of mind the next time they're shopping on your site, even if they don't lead to immediate secondary conversions!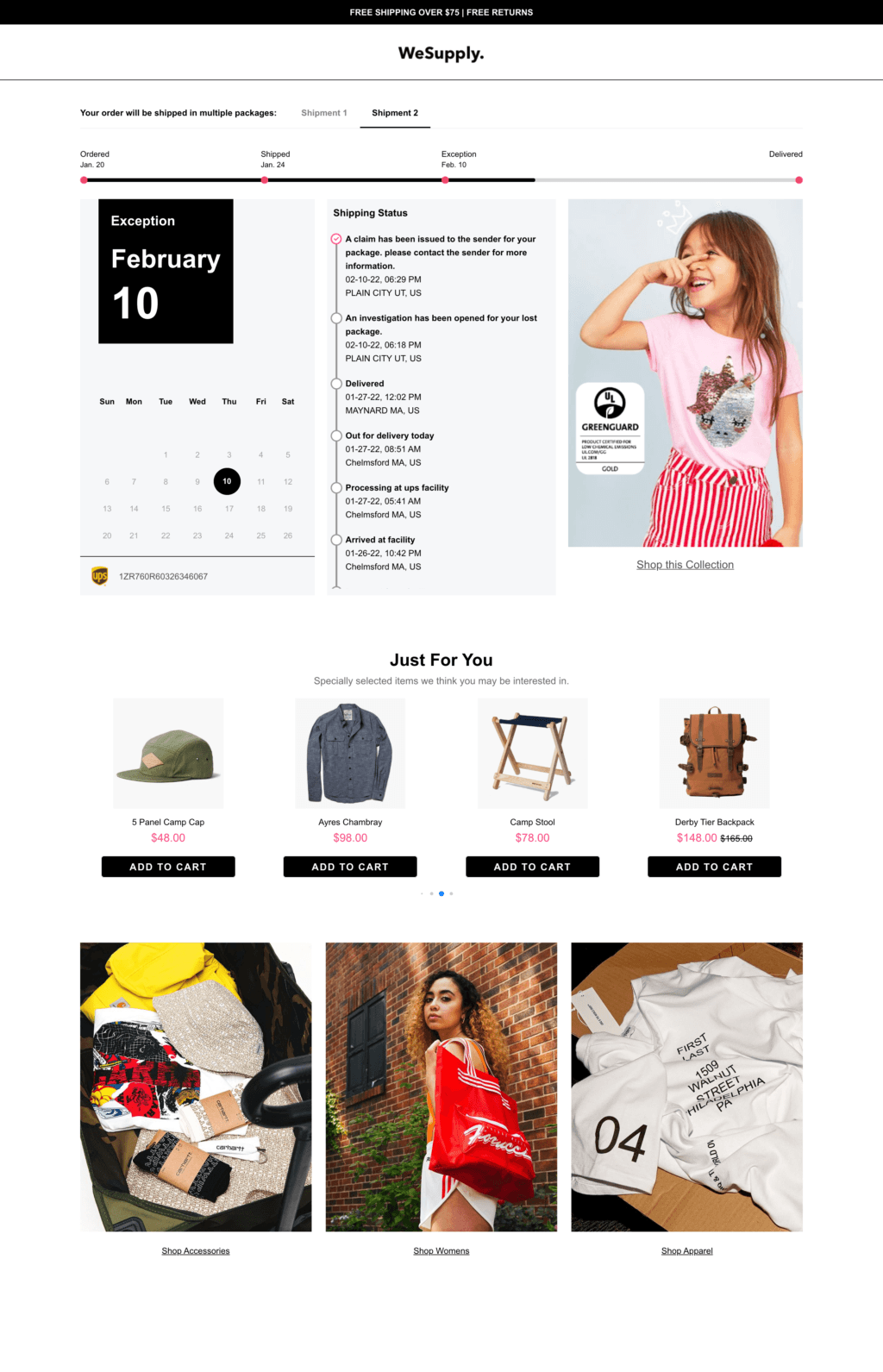 Collect additional owned channel opt-ins for opportunities to connect and engage your eager customers!
Use targeting rules to set up an SMS lead capture to show to those who have only opted into emails, for example. This is a great way to get high-intent subscribers onto SMS, where you can continue nurturing the relationship on a 1:1 channel.
98% of texts are read within three minutes of receipt, making them an ideal channel for order delivery notifications, special messaging, and more.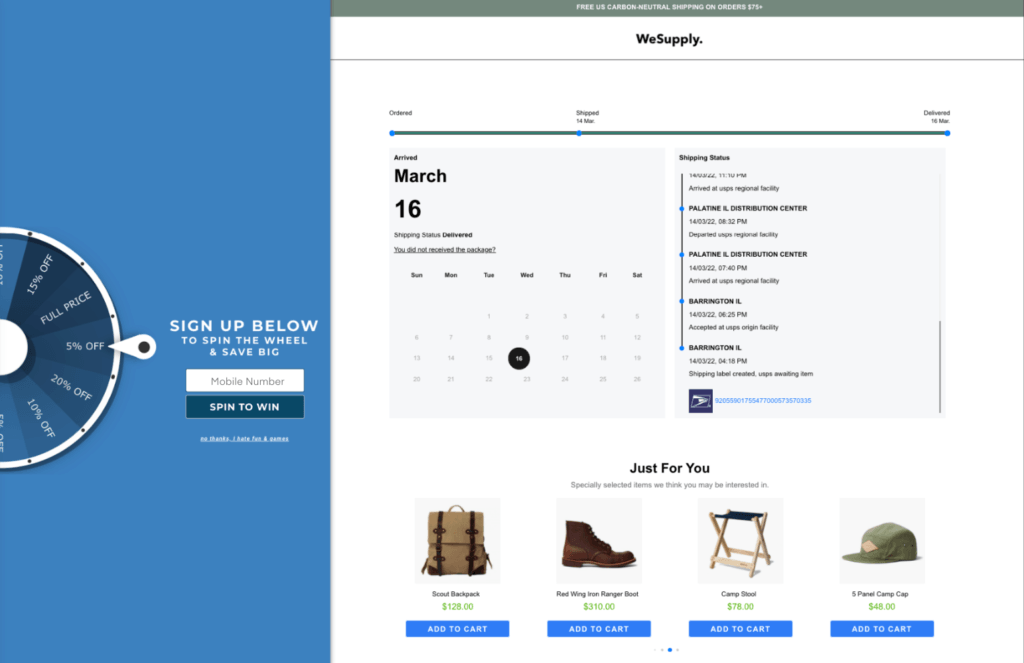 For those looking to grow their micro-influencer/ambassador programs, you can collect Instagram and TikTok handles from customers on these tracking pages for a game-changing list growth strategy.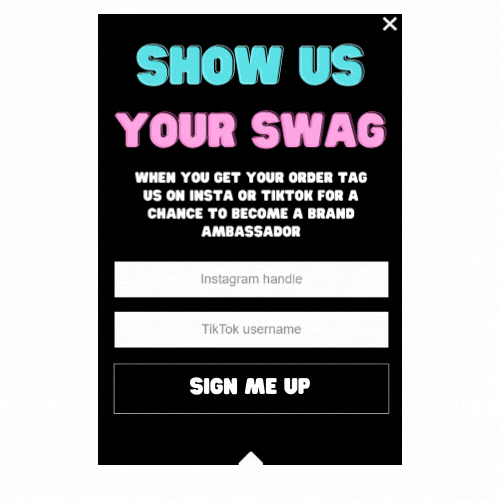 Whether you're encouraging them to post their own UGC of the unboxing experience or feeding them into an Influencer marketing platform to identify those with a large social media presence for strategic partnerships—having this contact information for social media will be great for driving owned media campaigns.
TikTok and Instagram are two of the driving forces behind e-commerce growth and are crucial for connecting with younger consumers in a meaningful way. 
Justuno + WeSupplyLabs
To fill that gap in customer expectation vs. reality, there's a need for software to manage all the touchpoints that customers have to interact with between the time they checkout and receive their order. From order tracking and estimated delivery dates to delivery notifications, curbside/in-store pick-up, and even returns/post-purchase analytics.
That's why Justuno is partnering with WeSupplyLabs so merchants can leverage a full-funnel optimization strategy from onsite messaging to data-driven post-purchase experiences. 
These are just a few ways to use Justuno and WeSupplyLabs together to create more effective customer experiences from start to finish!