Success Stories
Snow Monkey
5X List Growth with Paid Media and Onsite Optimization
PAID MEDIA + GEO-TARGETING
Learn how Snow Monkey, a vegan ice cream retailer, used a geo-targeted email campaign to maximize revenue from paid ads with UTM parameters.
Contact Us
Results
Snow Monkey, a vegan ice cream retailer, utilized zip codes to create a fully-integrated, geo-targeted email and promotion campaign in a scalable way.

With help from their marketing agency, Hawke Media, Snow Monkey seamlessly pulled together a performance-focused campaign using a variety of e-commerce apps.
"Not only is Justuno's product extremely relevant but it's constantly evolving and their customer support is unmatched. They don't just solve problems, they also listen to our feedback to improve the product."
Marissa Jimenez, Director of Email Marketing, Hawke Media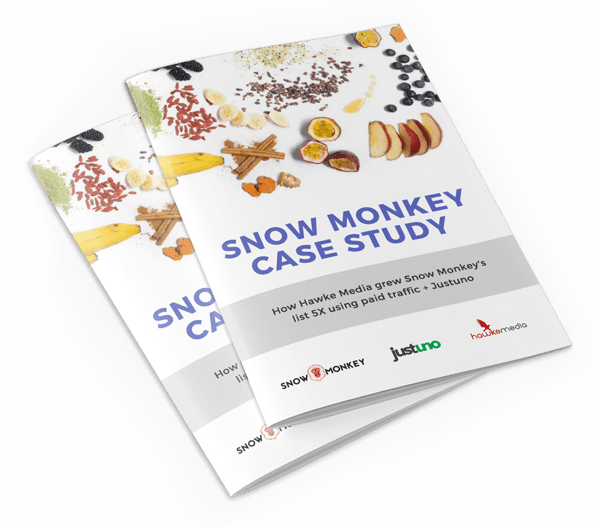 About Snow Monkey
Rounding out their marketing stack, Snow Monkey uses Bold Commerce for subscriptions, Klaviyo for powerfully segmented emails, Justuno for personalized on-site messaging and Shopify as their e-commerce platform supporting it all.


In this case study, you'll find how this marketing dream team came together to create:


Facebook + Instagram Paid Ads
Email Capture Promotions
Geo-Targeted Emails
Store Launch Campaign Templates
Download The Case Study Today!
Learn how this marketing dream team worked in harmony to increase online sales for a traditional brick-and-mortar business.

BONUS: Don't want to read the case study? Watch the webinar for a step-by-step guide through the entire campaign strategy.
[hubspot type="form" portal="289858" id="41017f8b-c2b8-4b70-804f-e8c8a8b5d54c"]