Regardless of how successful Shopify stores are, there will always be times when you need to quickly generate some revenue. And that's when it is time to run a sales promotion.
A sales promotion is a marketing strategy that a company uses temporarily to increase demand or interest in its products or services. In addition to boosting sales, promotions are among the most efficient ways to enhance customer satisfaction and increase brand exposure.
In this article, we'll cover
Running promotions on Shopify
The benefits of coupon promotions
How to use sales promotions to boost your sales
How to create coupons in Shopify
Let's get started!
What Are Promotions: Shopify Edition
Promotions or the use of promotional marketing on your Shopify is the strategy of running a sale or discount for your customers. They are designed to boost sales, foster customer loyalty, or raise brand awareness for your Shopify store. They are typically just one component of a wider marketing plan for your Shopify store—but an important one to get right. Too many discounts will cheapen your brand, reducing long-term spend, and altering shopping behaviors, while too few or none at all can reduce conversion rates unnecessarily.
Key Benefits of Using Promotions on Shopify
The primary benefit of using promotions and discounting strategies within your Shopify store is the volume of sales you can generate for your company. Everyone loves a good deal, so if one of your goals is to sell out a certain line of products, using a promotion might be an effective method to achieve that.
In addition, in the cutthroat world of e-commerce, you must continually compete with your competitors not only on pricing but also on capturing your customers' attention. Using promotions that delight your customers is a great way to set yourself apart from the crowd.
Here is a list of the most important benefits of using sales promotions:
Sales promotions help attract new customers. Many people are willing to try something new without taking risks, so coupons, discounts, and other special offers influence purchasing decisions and boost customer acquisition. And if shoppers enjoy your products, they're likely to become repeat purchasers.
Sales promotions help you retain existing customers. Acquiring a new customer is just the beginning. It is much more challenging to nurture customers over time and persuade them to continue doing business with you. Sales promotions are a great way to reward your shoppers and keep them engaged with your brand.
Sales promotions increase brand awareness. Promotions can take your brand from obscure to trendy very quickly. They are a powerful tool for raising brand awareness among potential customers, which has a beneficial impact on sales.
Sales promotions boost sales. Sales promotions are designed to increase your sales quickly. If done properly, they boost immediate sales and encourage repeat purchases. This is where positioning and value props come into play so you can have a positive impact on both ends of the customer journey.
Types of Shopify Promotion Strategies
There are three main strategies for running Shopify sales promotions: pull strategy, push strategy, and hybrid strategy.
Pull Strategies involve taking steps to make shoppers want to buy your products. They entail creating online marketing campaigns, giving away freebies, and providing seasonal discounts to increase the visibility of your brand. Once shoppers are certain that your product is the right one for them, they'll pick your product over those of your competition.
A Push Promotion Strategy entails 'pushing' your product toward the buyers. To this end, the product will be placed in a noticeable spot that attracts the consumers' attention, like at a point of sale. Your target audience is more likely to buy your product if it is readily available when they are in need. Push strategies often appeal to impulse buyers.
A Hybrid Strategy combines pull and push sales promotion tactics to help you reach customers at every stage of the marketing funnel.
Common Types of Discount Promotions to Run on Your Shopify Store
Sales promotions come in a variety of shapes and sizes, including discounts, free shipping, freebies, and trial offers. Here are some potent sales marketing concepts to use in your Shopify pop up:
Percentage Discounts
Percentage discounts are the most common type of sales promotion. Offering percentage discounts tells customers they can save money, which is a great way to immediately attract customers' attention. Discounts benefit your customers as well as your business, as they can have a positive impact on your revenue and brand reputation.
Loyalty Programs
Loyalty programs are a fantastic way to re-engage existing customers and incentivize them to keep doing business with you. About 80% of all sales come from loyal clients, who spend about 70% more than new ones. Therefore, it makes sense that you would want to keep people content over the long term.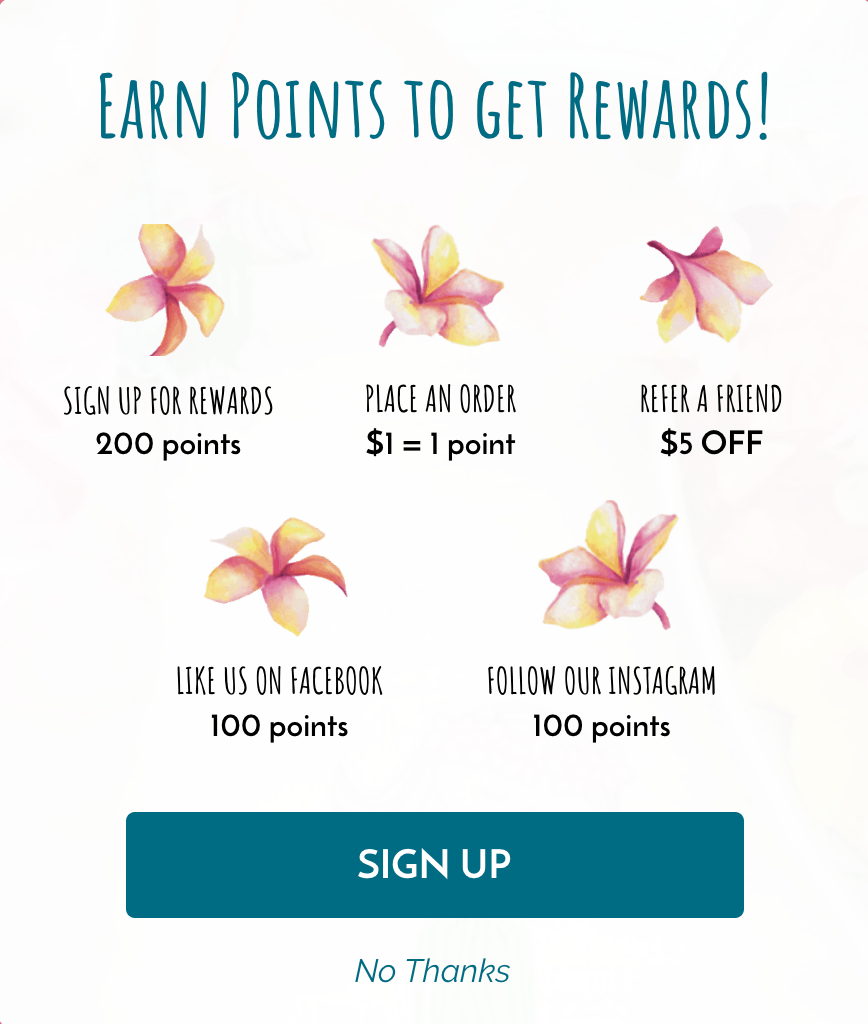 Bear in mind that the rewards you offer must be valuable to your loyalty program members. In addition to freebies and discounts, consider providing perks like member gatherings, special events, exclusive discounts, samples, or early access to new products.
Free Shipping
Free shipping is a successful marketing strategy, especially for e-commerce companies. Considering the fact that almost 70% of online shoppers remove items from their carts once they hear the cost of delivery, free shipping is a worthwhile investment that can reduce your cart abandonment rate.
Customers are significantly more likely to shop with and remain loyal to businesses that offer free delivery. 75% of consumers surveyed said they would choose free shipping over speedy shipping. Furthermore, 62% of shoppers claim that if free delivery is not provided, they won't make a purchase from an online merchant in 2023.

Dollar-Off Coupons
Customers can purchase goods and services at a specified dollar-off amount using coupons and vouchers. They can be offered as a reward for a customer's first purchase, a token of appreciation for customer loyalty, or a special treat for the customer's birthday. This type of sales promotion increases customer engagement and encourages them to buy more. A/B test to see if the dollar vs. percentage route appeals to your target audience more, and then personalize your onsite messaging with the winner to increase the chances of conversion.
Referral Programs
A referral program is a marketing strategy that rewards customers when they spread the word about your business to people they know. According to referral marketing statistics, customers are four times more likely to make a purchase on a recommendation from a friend. In addition, referral customers also have a 37% higher retention rate.
When creating your referral program, be sure to offer appealing incentives to your existing customers whenever they refer others to your business. For instance, you can offer a $15 credit when a customer refers a friend or a $20 credit once the referred customer makes their first order.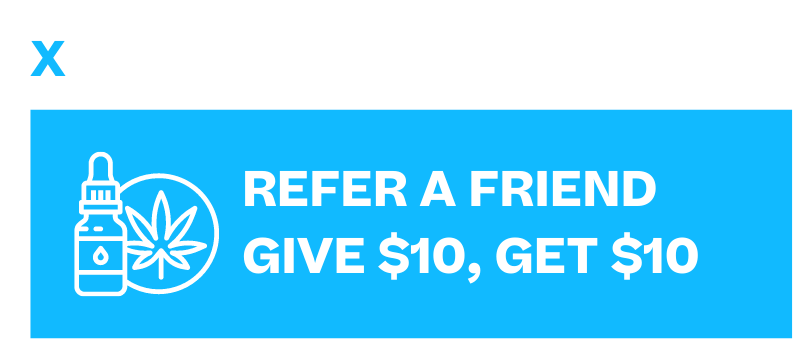 Gifts
You can also offer gifts to attract more leads and grow your consumer base. Giving customers a gift with their purchase makes them feel like they are getting more for their money, which improves the likelihood that they will convert. A well-run free gift campaign can generate a lot of interest in your company and is probably going to lead to favorable reviews, which will result in even more customers.
One great strategy to increase the chances of conversion while expanding your audience is to do a collab with another brand whose audience & product complement your own. Below is a great example of two beauty companies teaming up to offer a free GWP: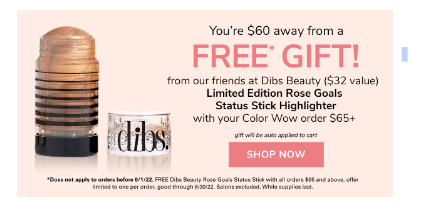 BOGO (Buy One Get One)
Another popular type of sales promotion that influences customers' purchasing decisions is BOGO (buy one, get one). This type of sales promotion presumes that the consumer will receive a free or discounted item with their purchase. You can employ several BOGO iterations, including;
Buy one, get one free.
Buy two, get one free.
Buy one, get the second item with a discount.
BOGO sales promotions are especially effective for businesses that have a lot of inventory that needs to be sold quickly.
Contests and giveaways
Whatever the size of your company, contests, and giveaways are great ways to promote your brand. Consumers enjoy getting free things, and if the reward is worthwhile, they will be more inclined to put in the work to win it. Make sure your content is designed to appeal to your target market and is simple to enter in order to have the chance to draw in new customers.
Organizing competitions and giveaways are a fantastic method to grow your visibility, increase the number of followers, and boost engagement. Depending on the prize, it may entice participants to spread the word about you to others and, ultimately, result in improved sales.
This can be the perfect middle ground for those with higher-ticket items, with profit margins that don't accommodate discounts or just a break from routine. The excitement of a larger potential prize can entice visitors who were reluctant to sign-up before or current subscribers to add another channel to their profile.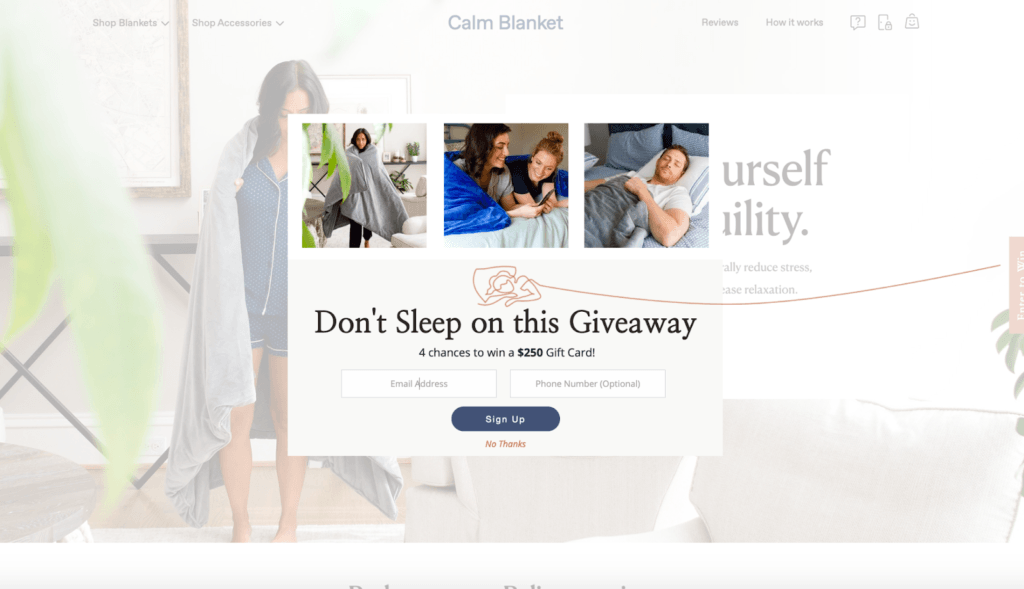 Free Trials and Products
For those of you with a service instead of a product, like us, a free trial can be a better choice. Interested potential customers can try the product out for themselves, and have a risk-free period to see if it's the right fit for their needs. Trial customers will be more likely to make further purchases after they recognize the value of your products. This can help you stand out from competitors that don't provide free trials.
While giving away free products can quickly add up costs, free trials can generate more money in the long run. Giving your existing customers free trials of new products is a good approach to introducing them to other products, which will ultimately increase the average purchase value.
For those who sell products, another version of this could be something like Casper, where they say you have a 100-night risk-free trial. They'll come to collect the mattress if you're not satisfied. That may not be a great business model for smaller ticket items, but for a large purchase like a mattress—it's the perfect middle ground between traditional retail and true DTC. Removing barriers to purchase for shoppers and making them confident enough to checkout.
Charitable Donations
In addition to being a great opportunity to help others, donating to local charities can help you grow your business's reputation, brand, and sales. People love to support companies that give back to the community. This instills a feeling that their money is well spent and, as a result, fosters a sense of loyalty.
This could come in the form of:
Every order = one tree planted
Loyalty program perks to redeem for specific actions/donations
Checkout page options to round up an order
Proceeds from a specific item or collection are donated to a specific cause
Gated Content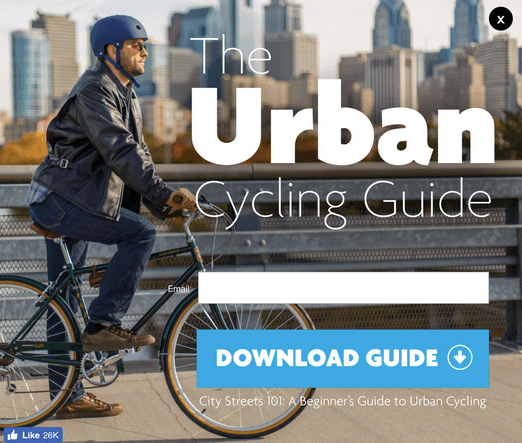 Value doesn't always have to be provided through discounts or high-value items. Content marketing is an excellent way to interact with shoppers and you can use it to your benefit. A gated content promotion allows you to incentivize shoppers to enter their email to gain access to an attractive piece of helpful blog content. This could be a style guide, recipe book, photo journal, and so on. It's a great opportunity to get creative and leverage your branding. Here are more ideas and details on gated content.
How to Create Coupon Codes on Shopify
To create coupon codes on Shopify, go to Discounts in the Shopify admin for your store. There are four main kinds of discount codes available on Shopify: percentage discount, fixed amount discount, free shipping, and buy one, get one free.
You can utilize one of the 20 million unique codes available for your Shopify store. There is an option to limit the number of times a specific discount can be utilized. You can allow an individual shopper to use a discount code once or an unlimited number of times. In addition, you can limit the number of times consumers can apply a coupon code per order.
There is also an option to create a name for your coupon code or have Shopify generate a code for you. Naturally, coming up with original names for your discount codes is a good way to build your brand. If you have slogans or hashtags for advertisements that you are employing for a certain sale, be sure to use them for your coupon code.
If you want to check how your discount code is performing, go to the Analytics > Reports section of your Shopify admin. You'll be able to see here how frequently and how much money each of your discount codes has brought in.
Lead Capture With Shop
All of the ideas above are perfect for implementing a promotional strategy on Shopify, but what if we told you that you could make it even easier for shoppers to redeem one of these?
For our Shopify customers, the all-new Lead Capture with Shop layer is here to make lead capture + coupon redemption a breeze. This layer streamlines the Shop Pay experience for customers with automatically saved and applied discounts, all from a single opt-in.
This new lead capture with Shop feature simply allows visitors to sign into their Shop accounts on a lead capture, and once authenticated, their discount/coupon is saved to their profile, so when they go to complete a purchase, the code is automatically applied even across sessions! With it you'll be able to:
Meet your best customers
Boost conversions
Grow your email list
If you're a Justuno customer & on Shopify, log in now to get started adding this layer to your promotions!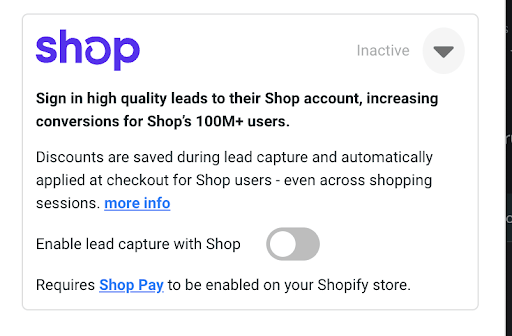 Bottom Line
Running promotions on Shopify is a tried-and-tested strategy to improve your e-commerce store's performance. By using the right tactics, you can appeal to customers at various phases of the purchasing process and increase the return on your investment.
The Justuno app for Shopify provides every conversion marketing feature that you'll ever need to run effective discount promotions. Use email pop-ups, banners, slide-ins, and exit pop-ups to distribute Shopify coupon codes.
Ready to see the Justuno difference? Download the Justuno app on Shopify's marketplace today!