More than half of US internet users have already purchased from a DTC personal care or beauty brand, with the entire industry projected to surpass $716 billion in revenue by 2025. The emergence of DTC beauty brands has been fueled by social media with influencer marketing, strong branding, and effective digital marketing strategies. This success has led to a crowded landscape, forcing brands to be savvy and stand out from the crowd.
The core of the DTC brand experience is the website and its messaging to visitors. It's more important than ever for beauty & cosmetics brands to have dialed-in on-site messaging and promotion strategies. DTC brands that use Justuno see an average increase in time on site of five minutes with visitors that engage with on-site messaging. This is up from the two-minute average without any messaging – imagine how much better your store would convert if visitors were on there for an additional five minutes!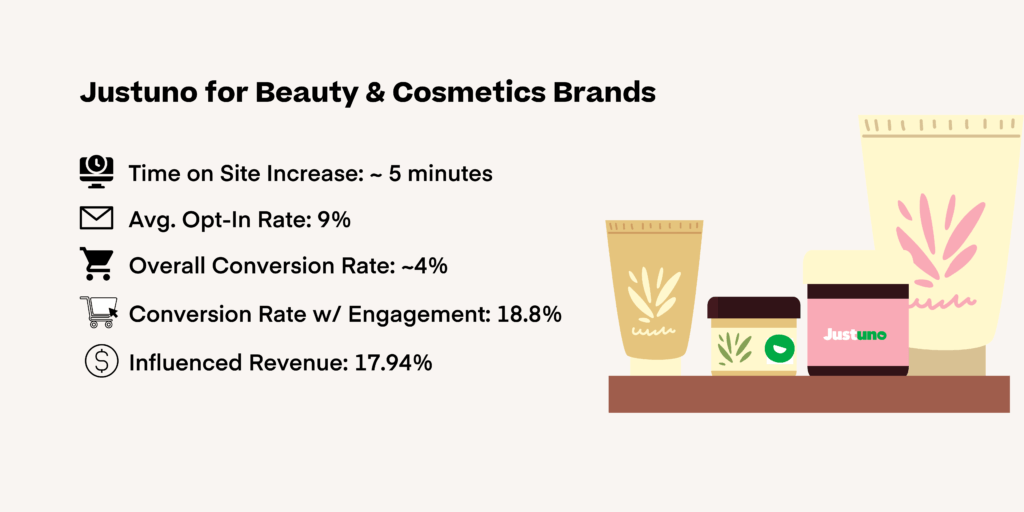 Meanwhile, the average opt-in rate is 9%, with an overall conversion rate around 4%. However, opt-ins jump up to nearly 19% with visitors who engage with a promotion. These leaps are the result of strategic messaging used to elevate the customer experience and, in turn, improve all of your other marketing efforts.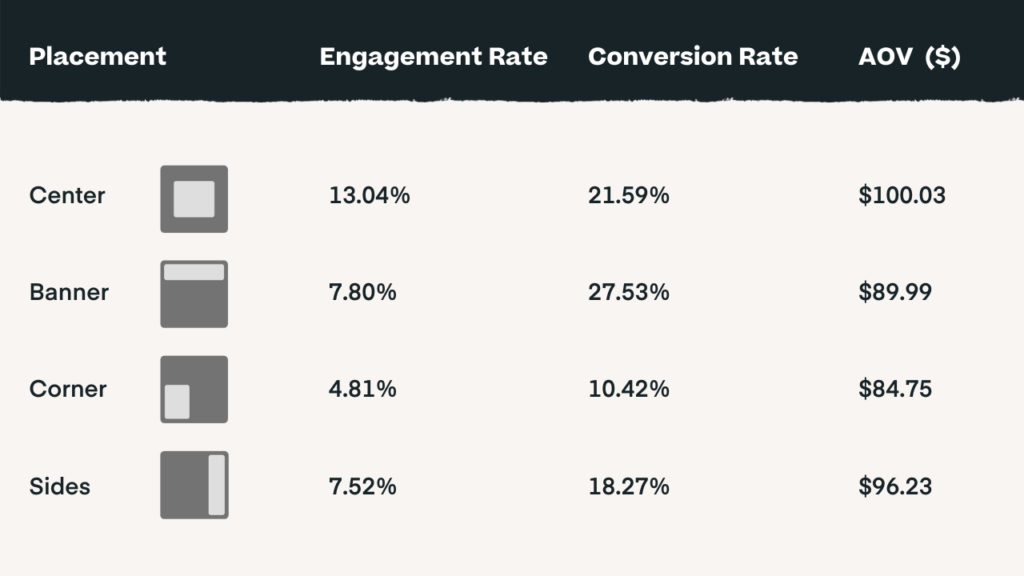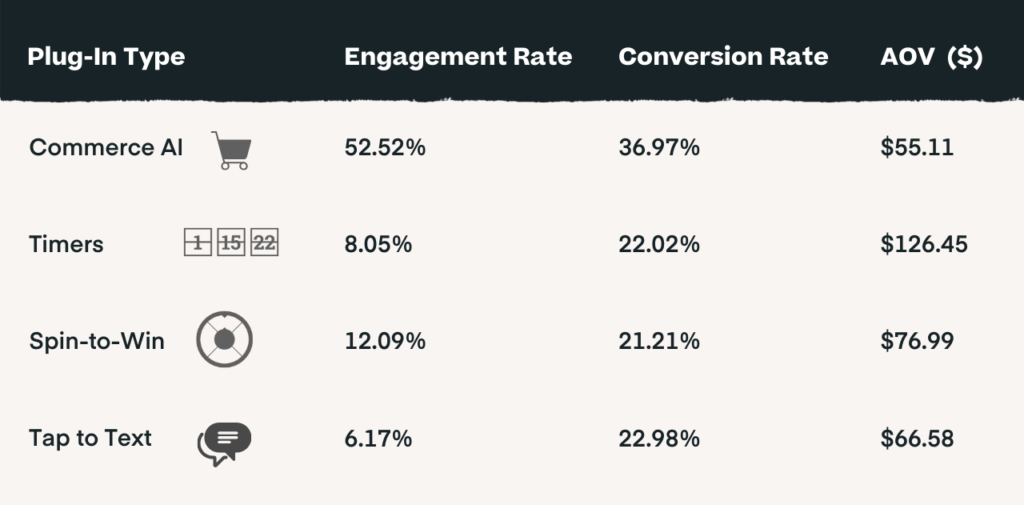 Let's dive into some real-life examples and suggested use cases for beauty & cosmetics brands looking to convert more website visitors into customers.
1. Social & Paid Media Optimization
With the rapid expansion through social/digital channels and the rise of social media's influence over buying decisions, which have reached 71+%, —beauty brands need to optimize their social and paid media campaigns now more than ever by creating a personalized experience that feels exclusive to each visitor and maximizing the resulting traffic you've driven. For this, we have two strategies:
#1 UTM-Based Targeting
For every social media, influencer, or ad campaign that you run, create a corresponding online experience to greet and mirror the content that drove the visitor to click through to the site. This could include keywords used in the post, the offer itself (coupon code, gift, etc.), the product imagery used, or even the influencer's name!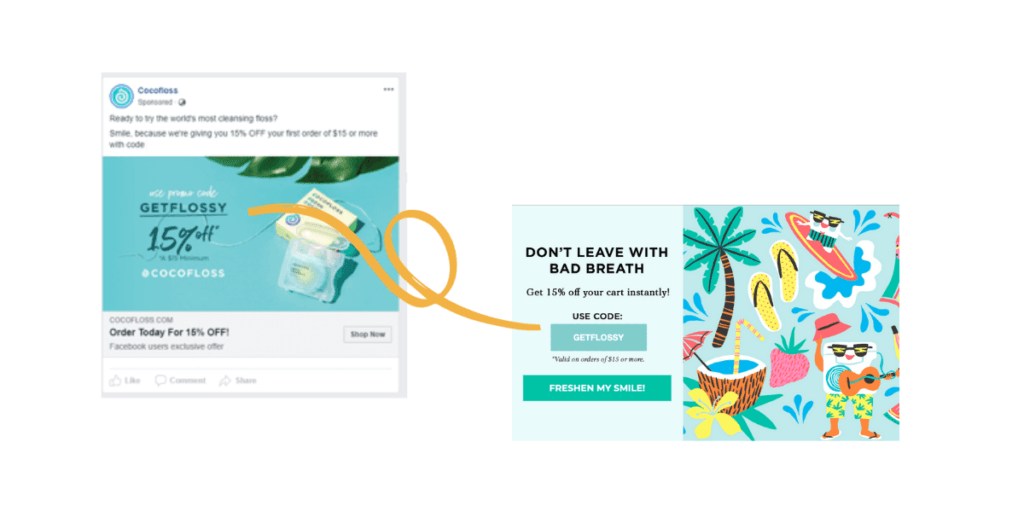 Use swipe-up links in stories to drive traffic to specific landing pages (these could also be full-page takeovers) that feature the referring influencer's name, picture, offer, etc., to personalize their experience and deepen the visitor's connection to the brand.
#2 Tab—Click to Open Opt-Ins
If you want to take a less interruptive approach as traffic comes from Instagram to your site, use a tab for mobile traffic opt-ins. That way, the bubble is there for them to click on when they're ready at any time rather than taking their focus away from exploring your products. Clicking the tab will open up a normal lead capture making it easy to opt-in while reducing distractions.
#3 Limited Time/ Exclusive Collaborations
Many beauty brands are releasing mini-capsules based on their top influencers. This is a great strategy for a limited edition product while aligning their audience with your brand and capitalizing on their status. You could take this approach with product releases or simply achieve a similar effect using intelligent product recommendations—creating a collection of products they use and recommend to their followers. Tag which products 'belong' to each influencer, and then use these curated collections anywhere on your site! We'll dive more into other strategies for recommendations below too.
#4 Audience Sync for Retargeting
Set up Audience Sync for your lead capture promotions. This allows you to automatically send subscriber info to Google and Facebook audience managers for retargeting segments, prospecting lookalike audiences, and improving overall campaign performance. Show additional creative like social proof based on products browsed to move shoppers down the funnel more efficiently.
2. Personalized Recommendations
Beauty & cosmetics products are hugely dependent on word of mouth, recommendations of friends or influencers, and more, which makes it critical to use product recommendations throughout your site to nurture different segments through their journey. Let's break down the where & what at different points in the buyer's journey for a recommendation that delivers relevant messaging to every stage:
For New Visitors: Homepage Bestsellers
Put your best foot forward to maximize the possibility of turning a first-time visitor into a customer—showcase your best sellers on the home page to strategically direct traffic & reduce the likelihood they bounce altogether.
For Returning Customers: Items Related To Past Purchases Or Abandoned Cart Contents
Show returning customers other items from brands they've purchased in the past or if they left products in their cart, show them what they left behind to encourage a quick conversion.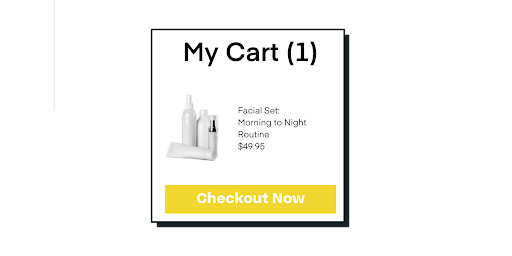 For Returning Visitors: Staff Favorites
A great example of using unique messaging to relate to a segment is a "Staff Favorites"– use this when trying to convert perpetual window shoppers. This 'expert' social proof may be what they are looking for to make a purchase decision.
For VIP: Early access to New/Seasonal Products
For VIP shoppers, send them email or text flows announcing early access to new products or seasonal scents. Then, create recommendations based on back-end tags to automatically update which scent is recommended at different points in the year.
Upon Add to Cart: Sample Options
Use this to drive more same-session conversions, triggering a pop-up with a carousel of free gifts or samples to choose from based on what the shopper just added to their cart. Instead of leaving the selection solely in the checkout stages, make it clear they're getting a free gift, and if they don't convert, they'll be missing out!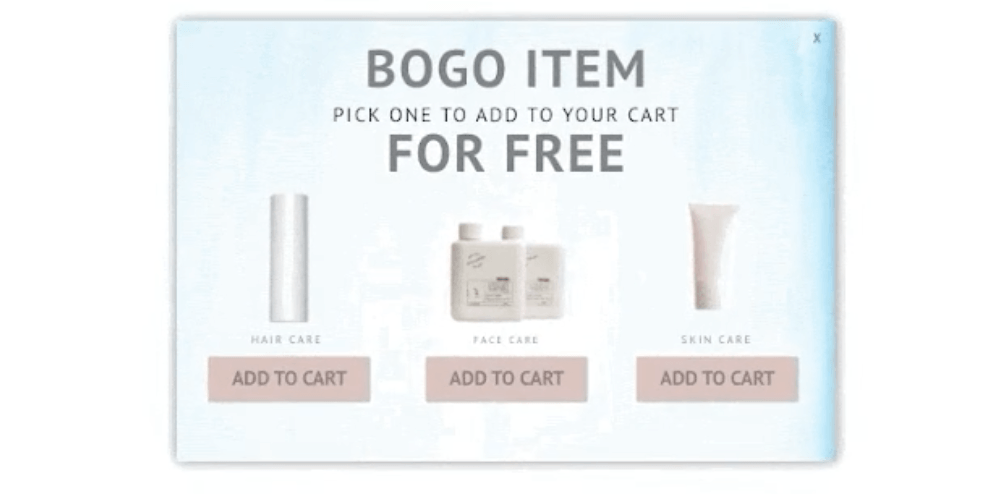 3. Encouraging Repeat Purchases
Loyalty programs and subscription programs are a great way to build strong customer relationships turning a buyer into a loyal customer who comes back again and again.
Beauty & cosmetics has a natural alignment with subscription programs since it's a consumable product that will need to be replaced once it's run out (or exceeded its shelf life). Subscriptions are a reliable source of recurring sales, making this a key strategy for continued long-term growth. But, it's unlikely a customer will sign up for a subscription when they first purchase a product. So, target returning visitors when they return to the website with a pop-up offering them a nice discount on today's re-purchase when they sign up for the program.
For a standard loyalty program, though, it's not as much about focusing on the subscription aspect as the rewards and brand experience. Perks like discounts, early access, seasonal savings, points, and birthday gifts aid long-term customer retention. We know you're probably thinking of gamification in terms of acquisition, such as a spin-to-win lead capture, but it is anything that introduces game elements that make points, referral, and VIP programs natural ways to gamify customer loyalty and retention.
Use points to encourage customers and motivate desired behaviors to reach a certain tier, like 100 points for following your company on Instagram, 500 points for every friend referral, etc. This can be a great way to turn your VIP segment into micro-influencers themselves since beauty is so reliant on word of mouth; reward your biggest fans for sharing their love and watch your sales skyrocket.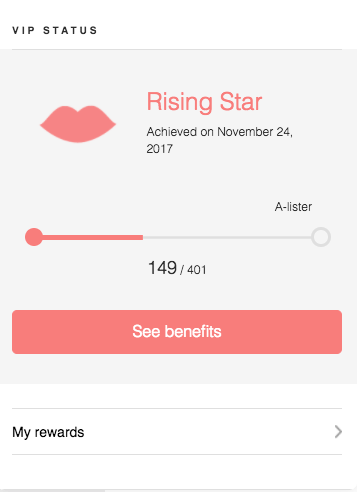 You can also create a competitive leaderboard with your loyalty program with tier membership based on lifetime spending. As a customer spends more, they're rewarded with increasingly better benefits, more access, and a feeling of exclusivity. Unlocking the tangible benefits of free shipping, early access to sales, etc., can be just as powerful as the intangible impact of being a VIP. If a shopper is close to moving up a tier, show them a threshold banner that lets them know exactly how much they need to spend to unlock the next level!
Finally, implement a sample strategy—this is nothing new in the world of beauty & cosmetics, but often, people are hesitant to commit to a full-size bottle or commit at all to a brand they know little about. Including samples (even larger minis) can be incredibly helpful for encouraging product discovery, order diversification, and reducing barriers to purchase inherent to online shopping. Gamify this by using loyalty points to "purchase" luxury brands' exclusive minis, unlock access to seasonal gifts before everyone else, etc. There are endless options for beauty brands to use gamification here; it's all about understanding what is important to your customers and then creating an exciting experience they can't resist.
4. Social Proof & UGC
Social proof is one of the most effective ways for any e-commerce brand to convert consumers; 64% of shoppers actively seek out UGC before making a purchase choice. But for beauty & cosmetics brands, it's even more important since people need more information to make a purchase decision and want to hear about other customers experiences with that product. 
Using a UGC/reviews app like Okendo gives beauty brands access to product attributes in reviews along with customer attributes. Customize product attributes to be rated in the review to highlight key selling points without relying on the reviewer to mention them in their copy. Use customer attributes to increase conversions by capturing additional information about the reviewer like skin type, concern, age, etc. This helps new shoppers align their purchase decision with people who have similar characteristics, making it more likely to end in conversion since I found someone like myself using it.
From here, leverage the ratings, reviews, customer photos, etc., on social media, in carousels on your site, and even in Google Shopping results for maximum cross-channel impact and increased buyer confidence.
Reviews are a great example of the magic of show versus tell in marketing, giving your brand the opportunity to showcase how customers experience your products. They can talk about how their skin changed, fixed their problems, etc., and highlight answers to concerns you may not have addressed in the PDP itself, like "Where in my skincare routine should I use this? Or can I use this with retinol?" Give your customer all the information they need to make an informed decision, convert more traffic, reduce returns, and enhance your brand's overall CX.
5. SMS & Email Collection
Every brand needs to focus on building out their owned databases, but for beauty & cosmetics brands, there are a few strategies to use for maximum list growth.
First, you could do a standard two-step lead capture, email on the first screen and SMS on the second. This is easy enough, and many brands do this, including our client BK Beauty. They had great success using a two-step lead capture offering staggered discounts (10% for email and 15% for SMS) with a tab that dynamically pulled in the amount they earned. This was intended to drive same-session conversions by reminding them of what they had just earned, and on average, 63% of new subscribers converted during that same session! Learn more about this and BK Beauty's welcome email strategy in the full case study.
But if you want to stagger this opt-in process by, let's say, collecting email opt-ins on the first visit and then SMS later on, you may see better results. Give yourself time to prove value to the visitor and sweeten the pot for SMS opt-ins with exclusive perks like early access to products or sales, additional loyalty points, etc.
Play on exclusivity and FOMO by using a full-page takeover to "lock" your site or product page, collecting opt-ins to be notified when a product is released. 
Our client, Florence by Mills, used a pre-launch full-page takeover to build anticipation and collect subscribers. Their opt-in had the option of email or SMS so customers could pick their preferred channel, and featured a timer so they knew exactly how long until the brand would drop. This a great example of building hype using an upcoming launch to collect high-intent subscribers, almost guaranteed to make a purchase. Obviously, most have already launched their brand and website, but this same strategy could be applied to new collections, seasonal products, etc. This is a huge opportunity in the beauty & cosmetics space, where product drops and FOMO are huge drivers of consumer behavior.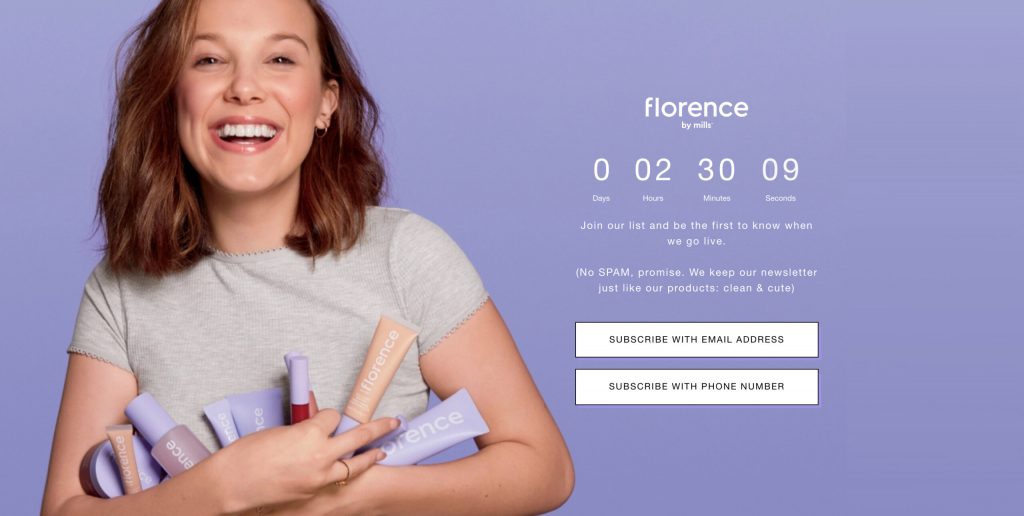 Similarly, if a product is experiencing a stock out due to supply chain issues or it went viral, you can collect sign-ups to be notified when it comes back into stock. We recommend using a faster channel like SMS or push notifications since this is a time-sensitive message, and people will want to get theirs before it's gone again!
Finally, keep in mind the aesthetics of your onsite experience. You'll want to match your branding, creating custom designs that elevate and augment your website. Justuno's design canvas allows you to create completely custom designs in various shapes with a variety of additional features (like games). You can display products, packaging, brand stories, and more to make a memorable impression on visitors. Design is critical to catching a visitor's eye, making a memorable impression, and creating a seamless experience!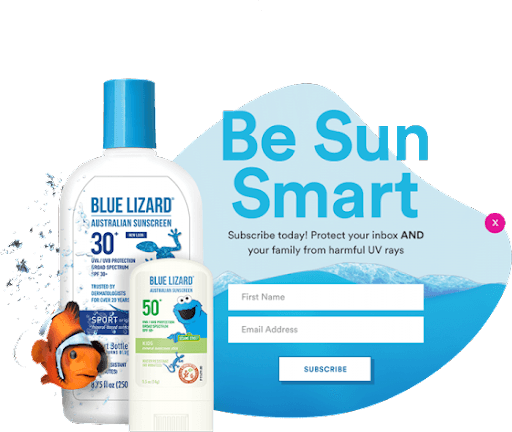 6. Quizzes
If you want to create more personalized recommendations and collect zero-party data from visitors simultaneously, run a quiz. As we said earlier, the beauty industry is incredibly competitive, meaning that consumers have a nearly endless sea of brands to choose from, which makes it difficult to choose one at all! In this vein, quizzes are a great strategy for beauty brands as they not only provide visitors with clear value (helping them find the right products) but also increase the likelihood of conversion by sending them directly to the products they are looking for. Plus, quizzes ensure that you'll get their email – even if they don't end up converting, it allows you to continue the relationship after they leave the site. 
Basic questions like skin type, product type, ingredient or allergen concerns, or helping them find the correct foundation shade can make a significant impact on your bottom line over time.
You can use these as a lead capture or exit offer–A/B test to see which timing works better for your beauty brand!
If you go the lead capture route, we suggest asking only a handful of questions, possibly even just one main one like "What is your skin type?" and then ending it with the email capture field to "Get your personalized recommendations in your inbox." You'll not only be able to personalize their welcome flow with the right products but be able to provide additional information like reviews, UGC, etc. as well.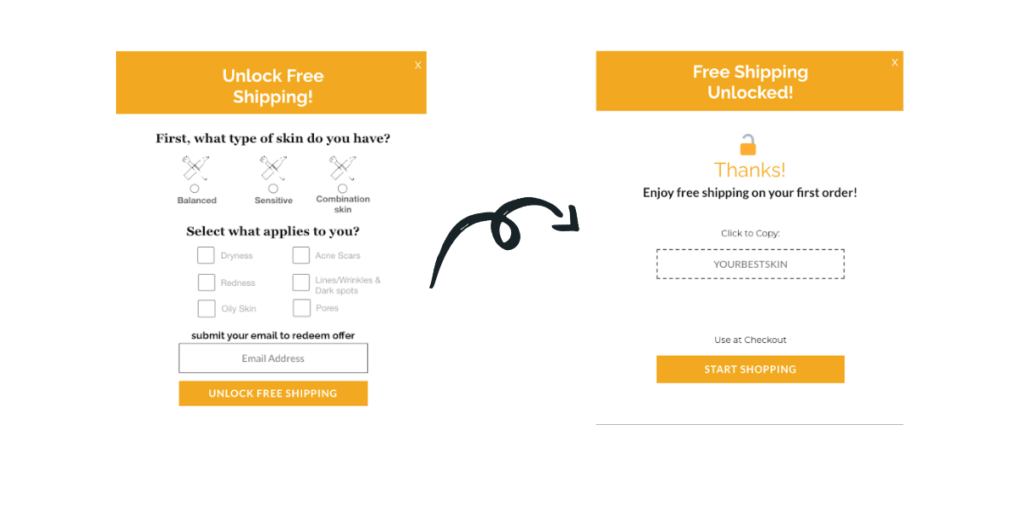 If you go the exit offer route, then we suggest framing this as a "Don't go; we can help you find the right match for you." Then ask the question(s) you need to make a proper recommendation. This will increase the percentage of exiting traffic that you can keep on your website, possibly even driving same-session conversions and more. Combine this with a satisfaction guarantee, favorable returns policy, or social proof for maximum impact.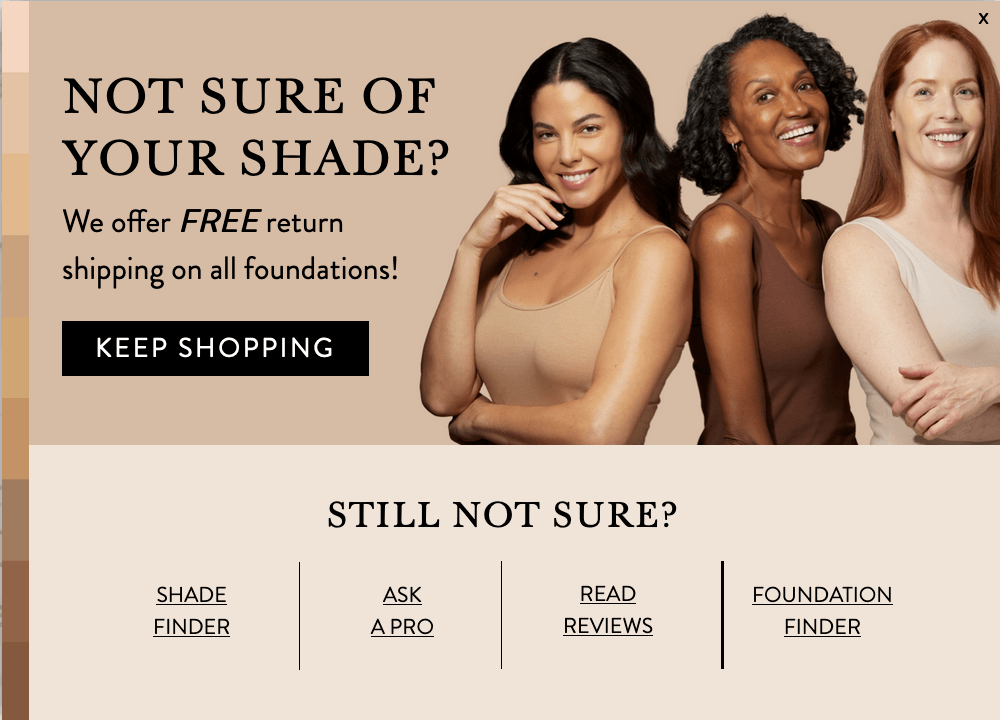 7. Online to Brick-And-Mortar Connection
Many digitally native DTC beauty brands are making their way into physical stores like Sephora, Ulta, Target, etc. If you're one of these or looking to branch out like this, you should connect the online experience with the one shoppers have in-store. Using geo-targeting to push visitors intending to exit to the nearest store that stocks you. This strategy is based on the idea that if the shipping time is a barrier, then many potential customers would still go get their products the same day–and as more beauty brands find their way onto shelves in large retailers, this is a great strategy to use online marketing to drive in-store results. Check out Justuno client, ella+mila, who implemented this and other targeted onsite messaging to add nearly $1M+ in sales.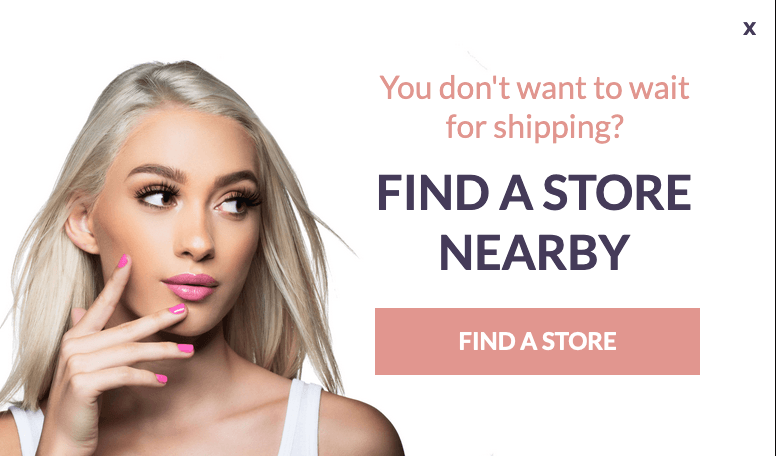 Beauty & cosmetics is one of the most personal types of products you can buy; make sure you're creating an onsite experience that reflects that. Try out Justuno for a free 14-day trial to see how you can grow your beauty & cosmetics brand through strategic onsite messaging and personalization!