Staying on brand means being true to your brand's identity. It's consistency in marketing messages across channels, consistency in your products and practices, and most importantly, it's controlling how you're perceived in the mind of your customers.
We hear it all the time…" I don't want to use pop-ups and discounts, it's not on brand for me."
Brand leaders who say this often perceive pop-ups as annoying or tacky on first glance. They've heard the common opinion that pop-ups aren't something a high-end site uses, and believe if they put them on their site, it will cheapen their brand.
These concerns are not unfounded, but couldn't be further from the truth when it comes to Justuno! Don't get me wrong, if you don't traditionally offer discounts on your products, I'm not saying you should start. But try thinking beyond the stereotypical discount pop-up, and consider the enhanced on-site messaging experience you can provide visitors with a little out-of-the-box thinking.
We'll cover three examples of how you can leverage Justuno's on-site messaging while staying on brand, and provide a next-level customer experience that drives increased conversions.
Displaying in-page promotions that seem native
The important thing to know about in-page promotions is that while they are technically promotions, they don't appear as traditional pop-ups. Justuno's in-page promotions can be configured to appear as if they are a completely native part of your website. These are a great option for brands who are highly concerned about the interruptive aspect of a pop-ups firing during a shopper's visit, but would still like to deliver highly targeted messaging to these shoppers.
Your options are limited only by imagination: whether it's a countdown timer embedded in a product collection page, an email newsletter signup that's a part of your site's header, a banner showcasing popular products, 5-star customer reviews, custom HTML, and more are all possible. If you get really granular with these rules, you can even create dynamic on-site experiences based on traffic source, specific pages visited, actions taken on-site, and previous cart behaviors. The sky is truly the limit for targeting.
Turbocharging promotions with AI
Another common application for our in-page promotions is enhancing them with product recommendations powered by our proprietary AI technology. By combining historical customer data with your site's analytics, our AI can form intelligent product recommendations that appear natively on a page. The targeted recommendations will increasingly resonate with your visitors as the AI learns, and can quickly help drive increased order values (AOV) for your site.
AI makes it easy to customize entire sections on your pages, and governs which view a visitor will experience. This can completely change the way your site is perceived by different audience segments, and provides an advanced level of personalization requiring minimal future effort from your team.
Exclusive access and geo-targeted offers
Justuno makes it simple to display exclusive access to a membership club, or deliver any other highly targeted offers. This can be a great way to maintain an elevated status with on-site promotions, while still offering something tangible to select visitors.
Lululemon is a premiere workout brand that notoriously doesn't offer discounts to customers. Despite this, they recently launched a new loyalty program where $128 a year gives users access to exclusive experiences, free shipping, and a 20% birthday discount. If you'd like to start offering something similar, but only to certain audience segments, you can use dynamic targeting rules to hone in on a small but loyal subset of your customer base.
Thanks to Justuno's advanced geo-IP technology, you can even geo-target the promotions to only display for visitors within a certain area. This could be a great way for those with brick-and-mortar retail locations to unite their on-site experience with the in-store one for a seamless and immersive buyer's journey.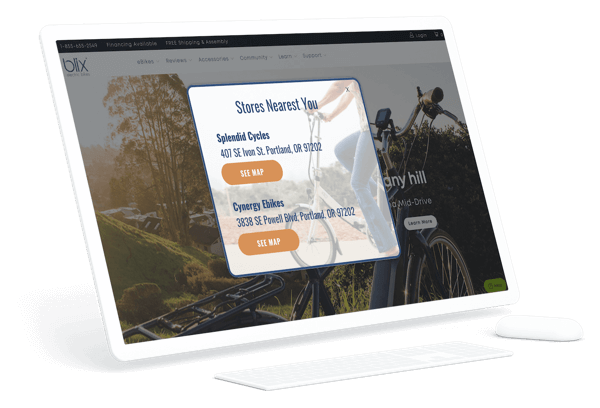 Dynamic banners that are driven to inform
Sticky banners that follow a visitor's screen are a great way to display information about cart incentives and upsell/cross-sell offers without intruding on browsing. You can dynamically update the banner to reflect how much customers need to spend to reach a certain threshold based on their cart value. These threshold dependent offers are a perfect strategy to encourage higher order values and deeply personalize a shopper's site experience.
We also suggest using sticky banners as a form of on-site messaging that's not about lead capture but being informative. These are a great resource for campaign reinforcement on-site, and reflecting messaging they saw off-site in emails or ads. You can even start displaying related products that are frequently bought together whenever anyone adds a product to their cart.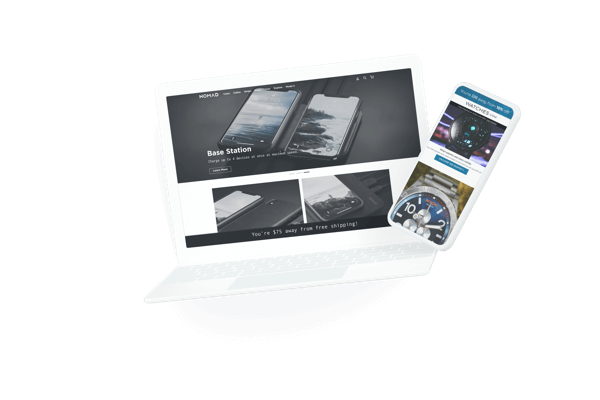 On-site experiences that complete your brand identity
Discounts don't work for everyone and offering an incentive isn't a requirement for effective use of Justuno. While we strongly advocate a sort of quid-pro-quo, if you're asking to shopper to take an action or provide something, it's only one strategy. Justuno's on-site messaging can simply be a vehicle to display helpful information, drive urgency with countdowns, or be another way to provide personalized in-page experiences.
A brand's identity is going to be most clearly embodied on their site, which is why any promotional messaging you create is so important to get right. You'll be on-brand as long all your efforts work towards your common goals and present a unified front.
In the end, pop-ups are pop-ups–it's how you use them and target them that matters. A well designed, highly targeted pop-up that provides real value to a shopper will never be off brand.