Don't have time to build promotions from scratch? So focused on Black Friday and Cyber Monday you forgot there were other holidays during the year? Don't worry. We've got you covered with our holiday-themed templates.
As a Justuno customer, you receive access to a library of high-quality, professionally designed pre-built templates to use on major sales holidays. Use them as is or customize them for your brand using our design canvas so you can pick and choose where you allocate your design resources. The image below shows where you can add the template.
Halloween is the unofficial beginning to the holiday season.
It may not seem important when you still have a month until the Thanksgiving/BFCM madness, but don't forget that more than half of shoppers begin researching in October or earlier.
This time is a great opportunity to run a smaller promotion and leverage it to grow your email list as you head into the busiest part of the year.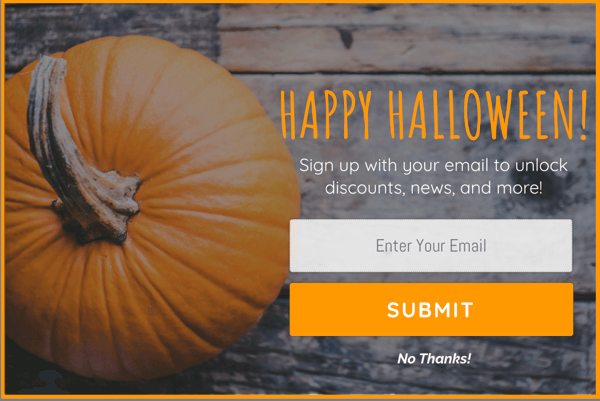 November 22- Thanksgiving
It's the day before the big reveal, but in the past few years, BFCM deals have slowly made their way into Thanksgiving day. In 2017, consumers spent $2.87B online on Thanksgiving day, proving that if the deals are there, consumers will shop them. (After all, what else is there to do once dinner is over?)
This is also a great way to thematically design your messaging in the month leading up to the holiday.
Use an email opt-in like the one shown below to tease your Black Friday sales and collect email addresses in the months or weeks leading up to Black Friday. This way you already have a large audience to market your BFCM sales too before the big weekend.
You can also offer a small promotional credit for the visitor to use during the Black Friday sales now. This helps to ensure the shopper will return to the sale and give you a reason to send a more engaging email right before the sale starts (Ex. "Don't forget your $5!).
November 23 & 26- Black Friday & Cyber Monday
This is it. The weekend we've all been talking about, planning for, and stressing over.
Use your on-site promotions strategically during BFCM and make sure you are providing value to users and encouraging them through the sales funnel. A great way to do this is to use a banner that displays what your sale is and the code if there is one.
Showing this on every page of your site is a great way to keep important information in front of shoppers as they are making their decisions.
That being said, the more actions you ask a visitor to take, the more likely they are to leave your site. Don't bombard your visitors with promotions so they feel like they're constantly clicking the X. Add value and make it as easy as possible to complete the purchase.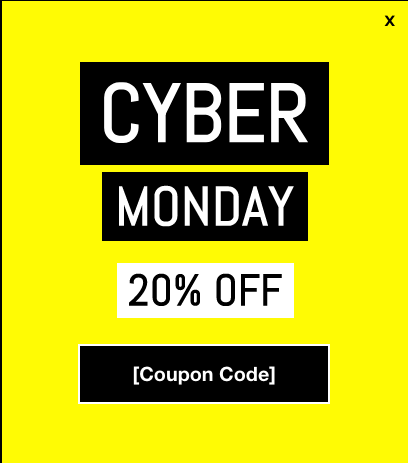 'Tis the season to spend.
With Hanukkah, Christmas, and Kwanzaa all falling in December, the sales goal possibilities are limitless. We recommend using general templates for the holidays so as to appeal to all shoppers instead of ignoring segments of your audiences shopping for a certain day.
Stay real, relevant, and neutral in your messaging so you can appeal to the widest audience possible.
January 1- New Year's Day
Out with the old and in with the new!
As an e-commerce retailer, your New Year's resolution should be to upsell and clear out as much inventory as possible while you process all of the unwanted gift returns.
Now that the gift-giving season is over, it's time for consumers to focus on improving themselves — which means more purchases, especially with the gift cards they received during the holidays.
Be ready with new years themed sales or on-site messaging to take advantage of this end-of-the-holidays shopping behavior.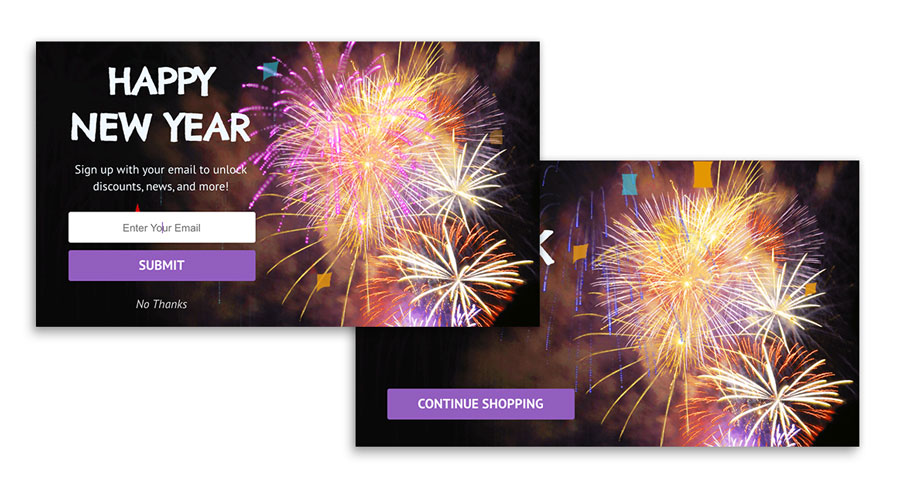 Using a pre-built template from our library can be a great way to run a high-quality promotion without spending a lot of time to build it.
Don't leave a single sales opportunity on the table because we've already thought about it so you don't have to. We're here to help you win over visitors and optimize your conversion rate with professionally designed on-site messaging. Don't let the holidays just pop up and get ready with Justuno!