The number of channels for brands to communicate with shoppers has grown enormously over the years: direct mail, phone, email, Facebook Messenger, and more. However, one of the newest and most underutilized channels is SMS marketing.
According to Google, 34% of online retail purchases now happen on mobile devices. Combine this with the following statistics from Retention Rocket and it's baffling why more retailers aren't capitalizing on this channel.
Abandoned Cart Text Messages see an average 18-35% conversion rate
Retailers see $500-$1,000/day in added revenue on average from SMS
It's clear that the demand is there, but many marketers still feel intimidated by how exactly to wield this powerful channel.
For that, we've got you covered. The strategy possibilities are endless when it comes to what SMS marketing enables you to do. For holiday-specific SMS strategies check out the blog post featuring three new marketing channels to use during the winter holiday season.
Here are a few recommendations we suggest to our clients when they ask about strategic SMS marketing:
Gathering Phone Numbers
As mobile-based traffic continues to increase, text-based marketing is even more important to add to your marketing stack.
Much like email marketing, the first step is gathering phone numbers to segment into various audience groups. While some may doubt visitors' willingness to supply their phone number, (after all, your phone number has nearly become the new social security number — when's the last time yours changed?) our team has seen several retail clients reach opt-in rates upwards of 70%!
To start, design a lead capture pop-up to encourage your site's visitors to subscribe to your text alerts.
Below is an SMS pop up example that could be used to collect phone numbers along with emails for multi-channel strategies.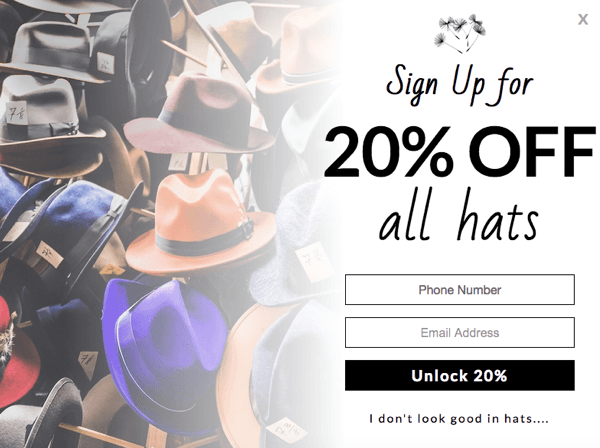 Download the json file to upload this promotion template below.
Once your promotion is live on your site, check in regularly to monitor its performance. If you aren't happy with the initial results, create an A/B test to make small tweaks toward a better conversion rate.
After building a subscriber base, the next step is to create automated responses and flows that encourage recipients to take the desired action. A few examples:
Abandoned Cart Messages
Flash Sale Alerts
Shipping and Delivery Notifications
We recommend segmenting your SMS subscribers in a similar way to your email lists. Below are a few examples of how to utilize those segments.
Weather-Based Geo Targeting
Take a step beyond traditional geo-targeted messages by personalizing your marketing texts based on local weather.
For example, send texts to subscribers in Florida who left sunglasses in their cart encouraging them to revisit and purchase when the forecast is sunny. When yet another snow storm is about to hit, send texts to Vermont residents about a flash sale on beanies and scarves.
Using location-based marketing is one way to ensure your messages are personally relevant and designed to convert. Because text messages are read more immediately than other channels, it's easy to double check the accuracy of your weather predictions before your scheduled messages go out.
The more granular your messaging, the higher your conversion rates.
Geo-Targeted Time Incentive Offers
If you would rather drive traffic to your brick-and-mortar location, send texts to subscribers within a 10-mile radius of your store for 15% off for the next hour only.
The limited timing creates urgency to purchase and brings in people who may not have had your brand at the top of their mind.
In your messaging, remind people how close by you are, give them a discount for good measure, and watch the foot traffic (and sales) roll in.
Pro Tip: Make sure the radius of your geo-targeted area gives users enough time to actually reach your location without having to drop everything just to make it in time.
Additional Customer Support
With high average opt-in rates, SMS retention marketing is a great way for you to cut through the clutter and re-engage with shoppers. But using text messages doesn't just have to be for sales; it's a great channel for chat-based customer service, as well.
This can be a great tool to increase your brand's accessibility for customers who need help (and especially for younger generations who tend to dislike phone calls).
According to Loyalty Lion, 79% of American shoppers consider customer support a test of how much a company values their business. Show your shoppers how much their business means to you by making help and support as easy and accessible as possible.
The examples above are just a few of the many ways that SMS messages can be worked into your marketing strategy. It's important to consider all the avenues available for sending marketing messages to various customer segments. Some will be better for bringing traffic in but not for resolving support issues, while other are great for building loyalty and customer retention.
This consideration makes your diverse marketing technology stack work together to provide the right message, to the right customers, at the right time.
If SMS marketing is the next step in your marketing strategy, make sure to keep the following best practices in mind for your promotions:
Consent is key! Make sure that customers know they're going to receive promotional texts from your company.
Give them an out. Make sure to include a way to unsubscribe to the texts each time you send a message.
There may be costs. The Wireless Association requires that each advertisement in an SMS campaign includes: "Msg & Data rates may apply." This lets customers know that their mobile carrier can charge them for receiving these texts just like they would any other text.
Get Started Building Your Phone List
Justuno is the premier visitor conversion suite and integrates seamlessly into any marketing stack. From Facebook Messenger chatbots to SMS platforms and loyalty programs, we've got you covered. Check out the newest SMS providers to integrate with Justuno here.