The DTC food & beverage (F&B) industry is growing at an incredible rate, with monthly sales reaching up to $7.2 billion last year. The pandemic accelerated an already growing e-commerce vertical with more consumers turning to online shopping and in turn becoming even more comfortable buying perishable goods online.
With this growth comes increased competition, making it crucial for F&B brands to create a personalized onsite experience that helps them stand out and delight their customers.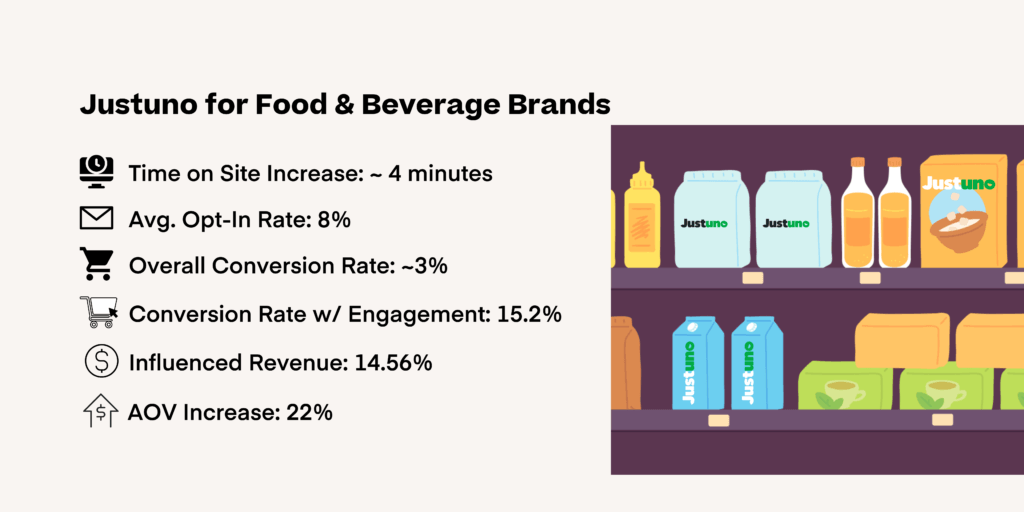 Onsite messaging and promotions can make a significant impact on your website's performance. Food and beverage brands that use Justuno find an average 4-minute increase to time on site when visitors are engaged with promotion. When a visitor engages with a promotion, their time onsite goes from around 2 minutes to over 6. Additionally, the average opt-in and engagement rate with promotions is nearly 8% with the overall conversion rate hovering around 3%. However, this number skyrockets to 15.2% after a visitor engages with a promotion. These results stem from strategically using promotions to elevate the customer experience and optimize all other marketing efforts, on or off-site.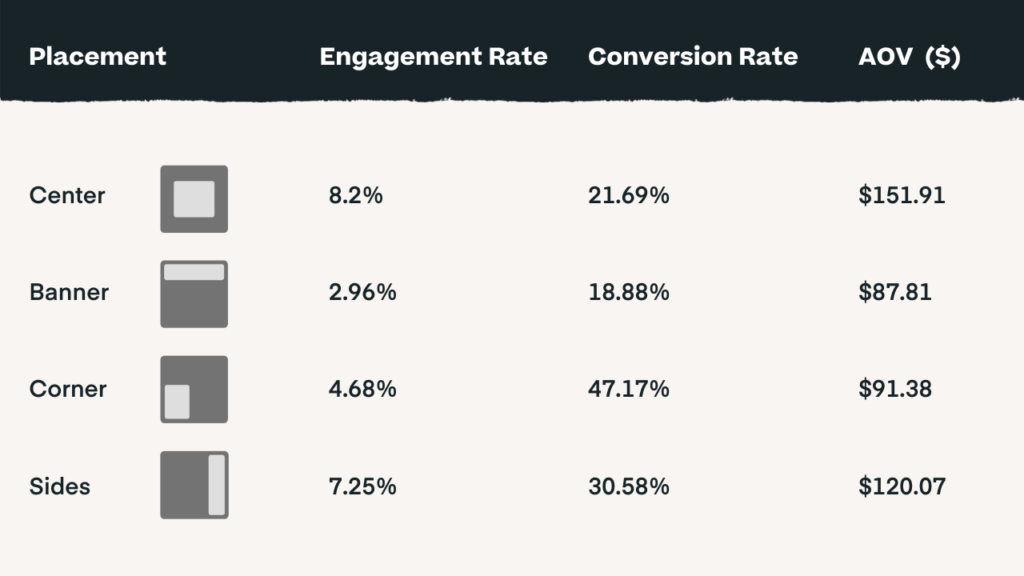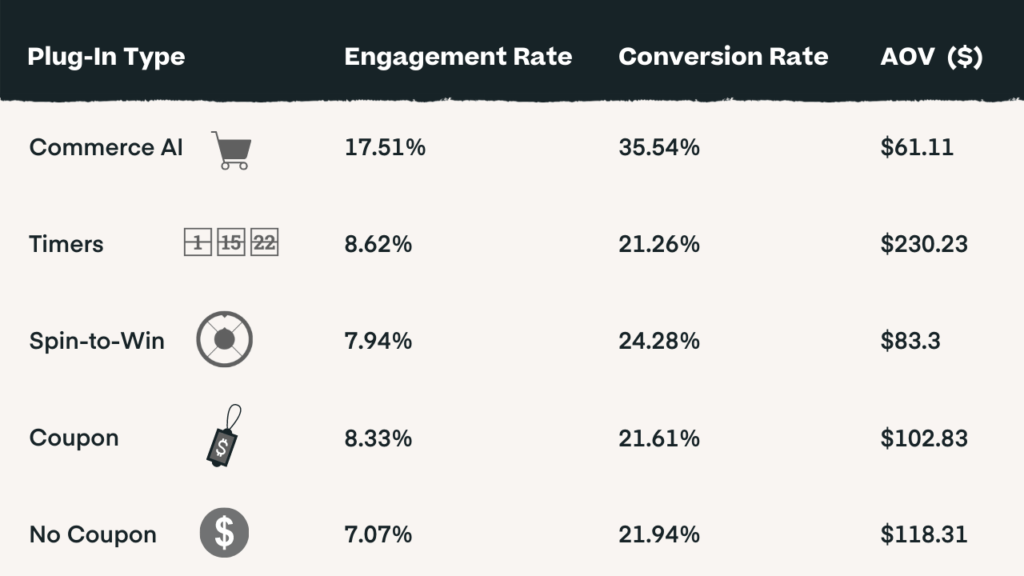 Let's dive into some of the onsite strategies that F&B brands are using with Justuno to take their customer experience to the next level and reach those numbers!
1. Enhanced Lead Capture
Email pop-ups are a fundamental part of your onsite conversion strategy, but they can provide a wealth of data and information beyond simply a consumer's email or phone number. You can use them to let visitors indicate preferences, provide additional information, and more, with multiple fields to collect zero-party data for added personalization.
E-commerce food brands are in a unique position by being e able to market to specialty/niche shoppers who may have trouble finding specific products for their dietary needs. If you have different lines for diets or ingredients, you can know what visitors are looking for by adding radio buttons to your lead capture. Have them select their preferred diet, like gluten-free, vegan, keto, etc.
Self-segmentation via product preferences immediately allows your welcome series to take a step up in terms of personalization and customer experience. Plus, this prevents you from emailing them about products they won't care about (don't send gluten-free customers emails about products they can't have..that's the bad kind of FOMO!).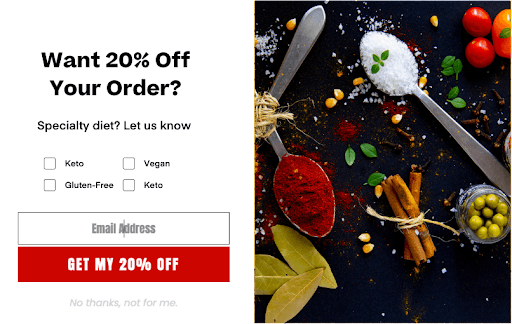 If you don't want to add this to your lead capture directly, you can do something similar using hidden fields. You can see what URL they were on at the time they opted into emails which can also be an indication of interest—for example, if they sign up on the beef collection page vs. chicken. 
If you're working on getting grocery stores or are already in them, it's crucial to tie the e-commerce and in-person experience together. Our client Snow Monkey wanted to create a more branded online shopping experience that united their e-commerce operation with their expanding grocery store presence. They used a combination of paid media to drive traffic to their site, where visitors were greeted with a branded, memorable lead capture. It asked for an email address & zip code so they could subsequently send geo-targeted email campaigns notifying subscribers when their products were stocked in local stores. Adding a single field to their lead capture allowed Snow Monkey to personalize email campaigns with highly relevant information that drove up open rates to 42% and ensured foot traffic to local stores for sales. If you're wondering if adding another field to the lead capture impacted sign-ups, it didn't…in fact, their email list grew 500%.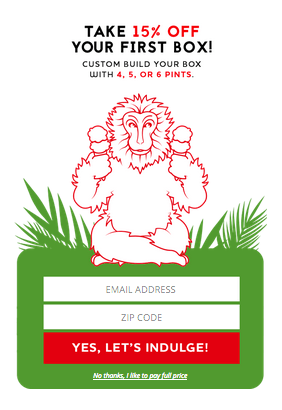 For those who are experiencing stock issues (either supply chain issues or because a certain flavor went viral), create a sign-up for restock alerts. While you can use email, we suggest using a faster channel like SMS or push notifications for stock issues. It's a faster medium (98% of text messages are read within three minutes) and makes it more likely this high-intent segment will be able to purchase the product they want before it sells out again.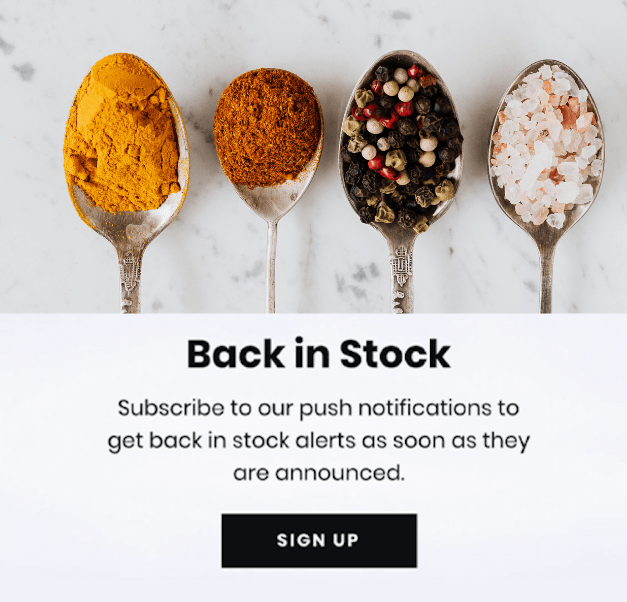 Finally, when it comes to incentives on your lead capture, we've seen food & beverage customers have the same average performance rates with coupons as they do without (always A/B test to find the right strategy for your own brand/audience). Using non-discount incentives can help protect profit margins and add to the customer's experience. Free samples can be a great way to experience other flavors or products customers may not have typically tried. Giveaways for a year's worth of products or a related big-ticket item can get lots of organic shares and high-quality leads.
But the most powerful motivator we've seen for F&B brands is branded swag or product accessories. We've seen water companies give out koozies, a BBQ brand give out branded tools, and nutrition companies with quality water bottles. If you've built a loyal, dedicated community—branded swag can be a powerful motivator for customers and helps reinforce their awareness of your brand well after they've purchased a product.
Plus, it's free marketing once out in the world and can easily be automatically added to a shopper's cart with just a CTA click on the pop-up!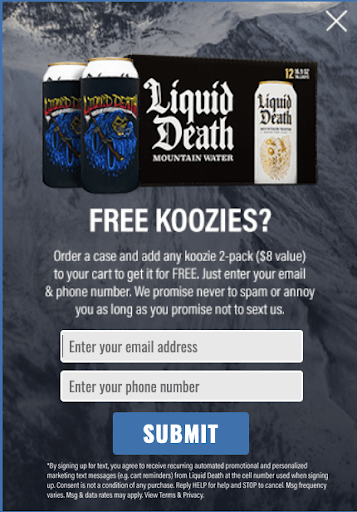 2. Product Recommendations
Food & beverage is hugely dependent on word of mouth and recommendations; while many of us hear about brands from our friends, it's hard to replicate that same suggestibility when shopping online. This is why personalized product recommendations can be great for strategically directing traffic based on their segment or behavior to help consumers find what they're looking for, even when they don't know what that is.
Justuno's intelligent product recommendations can be used anywhere on your website; here are just a few of the placements your F&B brand might use:
Add to Cart: Once a visitor has added something to their cart, you can fire a center pop-up with a recommendation carousel of other items that can be added directly to their cart with a click. This could be a cross-sell of complementary products to boost order values or a free gift to drive conversions! 
Recipes: If you have a recipe section on your website, you can have an in-page carousel of the items needed to make the dish for easy access. No need to go searching for what they need to buy; it's all right there on the page.
Product Description Page (PDP): Recommend other flavors or similar products based on the current URL
In-Cart: Show complementary products to what the consumer has added to their cart, like pasta sauce when they add spaghetti.
Location-Based: Personalized containers, bundles, flavors, etc., based on geography for gifting or special occasions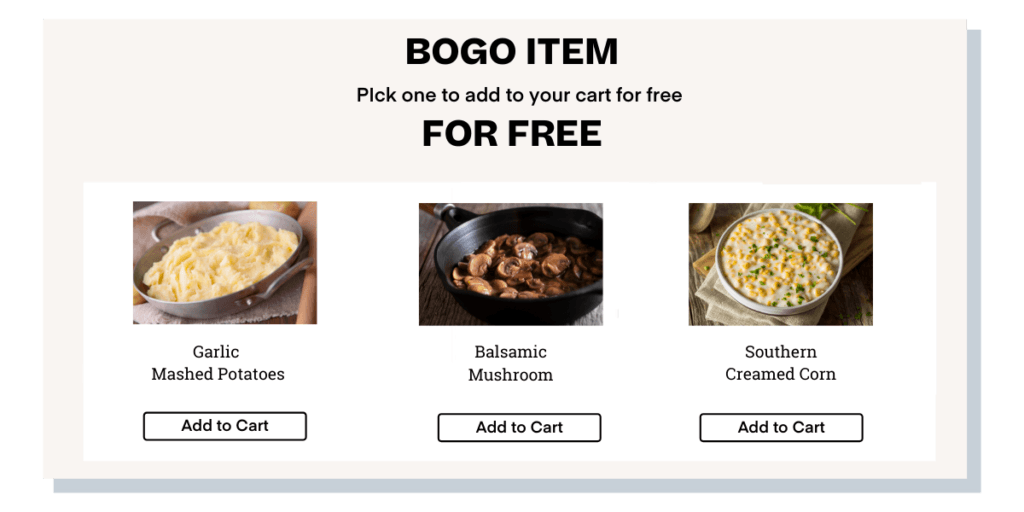 3. Advanced Targeting Scenarios
Use advanced targeting rules to create more effective messaging and relevant content for everyone from first-time visitors to returning customers.
For those using influencer marketing, make sure you're making the most of these campaigns using targeted on-site pop-ups to mirror the creative & messaging of your influencer campaigns. If you know what they're using in their content, you can show the same flavor or product in the pop-up, use their name, etc., to make the transition seamless and personalized.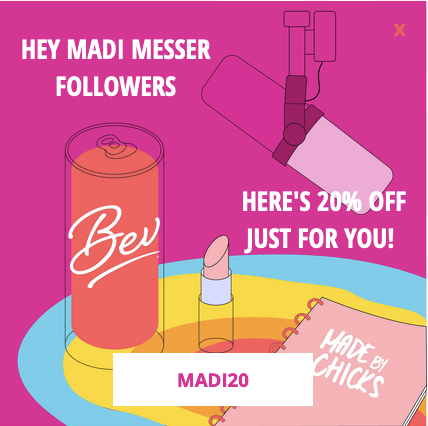 Another opportunity for targeted messaging comes when someone has placed an order with you before and returns to the site. Food & beverage brands have a huge advantage in transforming customers into repeat buyers since consumable products force customers to make repeat purchases faster. Getting someone to sign up for a subscription on their first order is a much bigger ask than on their second when they've had a chance to try and like your products. Target these returning customers with a pop-up offering them a discount when they sign up for a subscription with today's order to boost retention and lifetime value!
Finally, you can show targeted messaging or disclaimers to customers based on the products they're browsing or their current location for shipping considerations. If you're a candy store and a visitor in Florida is on a chocolate product page, you can show them a dynamic banner encouraging them to upgrade to 2-day shipping to prevent potential melting. This transparency helps build trust and enhances the customer experience.
4. Abandoned Cart & Exit Strategy
Unlike other e-commerce verticals, food & beverage brands can have a higher barrier to the initial purchase, which leads to high rates of cart abandonment. Let's take a look at some strategies for rescuing more carts and using promotions to keep traffic on-site for an average of four more minutes!
If you're experiencing shipping delays and find that people are abandoning their cart at that stage in the checkout process you can create geo-targeted offers for those living in an area where your products are in stores. They can pick up their products today without having to wait, and you're able to drive foot traffic to key placements.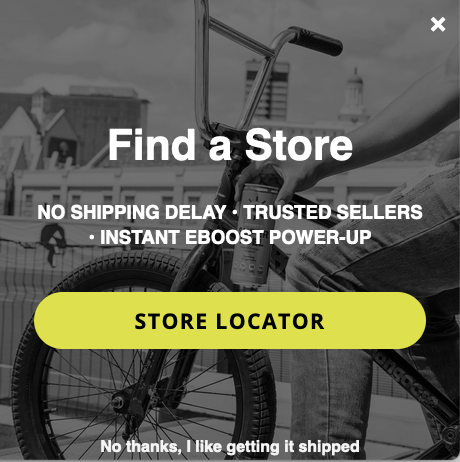 Offering a special sampler box, exiting visitors may not know what they want to try or be ready to commit to a full-size product on their initial visit. Sampler boxes can alleviate both issues giving you the chance to hook them with great products and the visitor a smaller commitment/price point to try out. This can be even more effective if you don't list the sampler box as a product on your site, making this an exclusive opportunity for certain shoppers.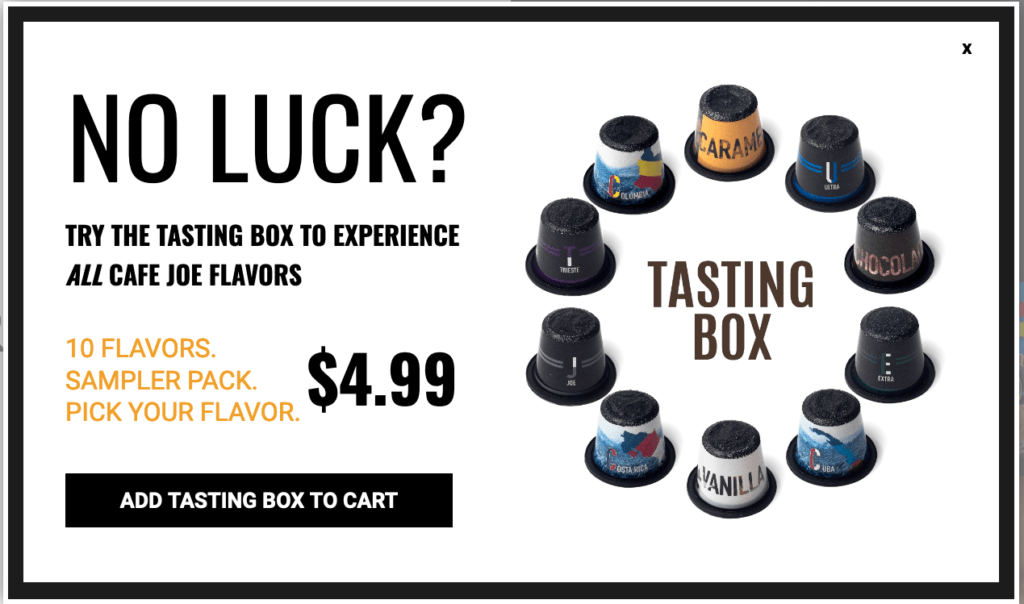 Finally, shipping is a huge part of the experience for online food & beverage purchases. Concerns about freshness, spoilage, etc., can be driving some shoppers to abandon their carts. Plus, in the age of Amazon, we've all become accustomed to direct, practically instant delivery. Overcome these objections by offering special delivery options like same-day, next-day, or 2-day delivery. Did you know that 24% of consumers say that would pay more to receive packages with a 1-2 hour scheduled window? Especially if they're ordering something extremely perishable, offering options like these can make the difference between losing the sale and closing one. Partner with a reliable delivery company for expedient options and make sure your customers are aware of them!
5. Have Fun
Lean into the fun part of marketing; you can make a campaign out of almost anything because food is such an integral part of everyone's life. From using outside-the-box "holidays" like ational Tortilla Chip Day or National Ice Cream for Breakfast Day (FYI, it's the first Saturday in February).  Find what works for your brand and run with it! 

Using organically created content from your customers, or user-generated content (UGC), is not only easier on your team resource-wise but also proven to be more effective than the marketing your company puts out. With food and beverage brands growing so quickly, there are unique opportunities for F&B brands to source and use content.
Finally, leverage current events and pop-culture moments for high-impact, one-off campaigns. Events like the Super Bowl, March Madness, etc., can be turned into highly effective messaging opportunities or create limited-time collections around. Another aspect of that could be hopping on a viral TikTok trend; even if you're not as lucky as Ocean Spray was, you can still tap into the power of social media platforms to build deeper connections and engagement. 61% of TikTokers like brands better when they create or participate in a trend on TikTok; just make sure it's a good fit first!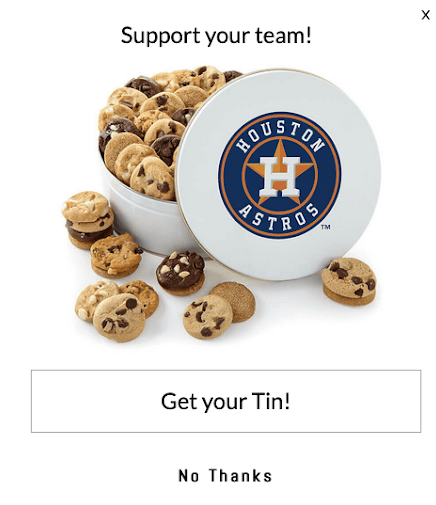 Food & beverage is a booming vertical in the e-commerce space; these are just a few of the potential strategies to implement when looking to optimize your onsite experience. Justuno is the leading conversion optimization platform for brands when it comes to personalized, scalable onsite messaging.
Try us out with a free 14-day trial, or schedule a demo to see how Justuno can take your F&B brand to the next level.