Excess inventory is always a tricky thing to handle as an online retailer. There's always that urge to wait and see if items will sell to justify the initial investment. But chances are that's not going to happen. Each day that old inventory sits on the shelves, you are losing money. Whether you're selling these items for a profit, at cost, or at a loss, its time to clear that inventory and start fresh. Here are the top three promotions to run in order to clear excess inventory.
Bundling
A product on its own may not be selling, but pairing it with a big seller can be all that it takes to get that item out of your inventory. Take products that aren't selling and bundle them with other related products that tend to sell pretty well. Bundles are attractive to shoppers because they usually get a good deal and tend to sell pretty well as long as they are reasonably priced. Here's a great example of bundling on Bacon Freak. This particular bundle can be found in their sizzlin' hot deals section.
Clearance Sales
Sales and discounts are tactics that all retailers use but it's not as simple as it may seem. You need to think strategically about it. First, start your sale with a smaller discount amount from 10% – 25%. This way, you may be able to salvage some profit off of the products. If these items are still stagnant, it's time to slap a hefty discount of 35% – 50% on these items. Second, feature similar items on a single landing page. For example, if you're selling sporting goods, the beginning of spring is an excellent time to put all basketball and football apparel on sale. Create football specific and basketball-specific sale pages. Now you can run promotional campaigns (email, Adwords, etc.) that drive traffic to these pages.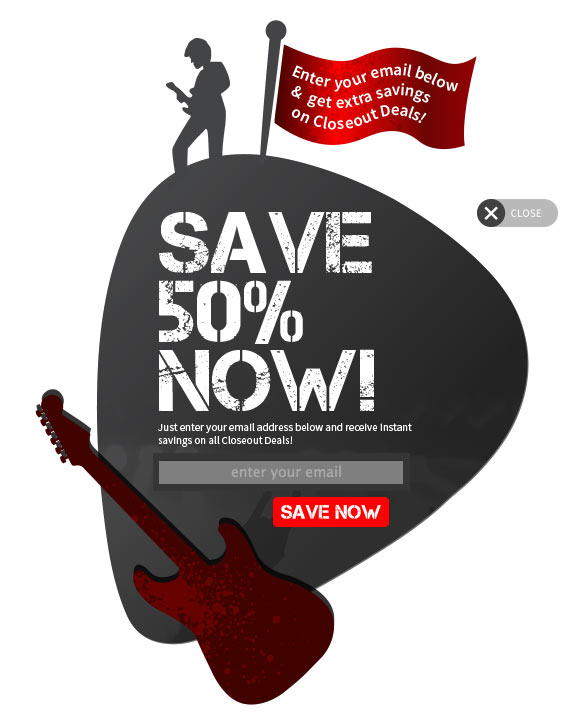 Rock.com's epic deals are a must see!
Free Shipping
The effect that free shipping has on the purchasing decision is pretty incredible. Shoppers spend 30% more when free shipping is available so adding free shipping on certain items can not only influence an individual to buy but also spend more than they normally would. Run a free shipping promotion on a specific group of products that you're trying to get rid of. Build out a landing page and include all of these items. Notify shoppers on your site with a pop-up offer or a tab! Pet Joy offers free shipping in the cutest way possible!
How to Present your Promotions
Display your promotion in an effective and understandable way. I'd recommend running a pop-up offer in which visitors can receive their promo code by entering an email address. The pop-up relays the promotion information clearly while also converting that driven traffic into email subscribers. The incentive of a promo code also drives more sales conversions making this the most effective way to run your promotions
Problems with excess inventory can drastically affect your bottom line. Be very aware of what's selling and what isn't, then apply these findings to the next time you order inventory.
With that being said, you're most likely going to experience it every year and every season. These three promotions will help you form an effective strategy to eliminate that old inventory from your stock shelves. Please feel free to share any of your own inventory clearing techniques that may be helpful for other retailers.