Today is Cyber Monday, and while it came late this year, that doesn't mean your Q4 sales are over. There's still plenty of holidays that you can use to market to your customers, both widely recognized and those that are less official. The key to making the most of these holidays now (and throughout) the year is authenticity and a little bit of fun. Let's check out a few of the dates left in December to close out 2019 and set yourself up for 2020 success.
December 3: Giving Tuesday
Giving Tuesday is traditionally the day following Cyber Monday and is a day dedicated to giving back during the holiday season. If your company has established philanthropic efforts, such as Patagonia with environmental conservation, this is a great chance to share those efforts with your customers and highlight their involvement in making them possible. 
Corporate values are an important consideration for many consumers, and in an increasingly socially conscious culture, this presents brands with the opportunity to align their values with those of their target audience. One consideration to make is that if this effort wasn't a part of your brand before, don't force it now just because of the special day. Customers see through empty gestures, often rejecting brands with marketing efforts they perceive as inauthentic.
Green Monday is a holiday created by eBay in 2007 that falls on the second Monday of December. It's traditionally a high volume shopping day for December, and as the e-commerce lore goes, is the result of panic that holiday gift shopping isn't done yet. 
Use this almost as a second Cyber Monday by running deep discounts. Don't forget to capitalize on urgency by emphasizing the time left for shoppers to get their orders in before shipping deadlines. 
December 18: Free Shipping Day
In the age of Amazon Prime, free shipping is a powerful motivator, and shoppers are increasingly coming to expect it when browsing. If you already offer free shipping on your orders, don't fret. You can still use this day to run a promotion for free accelerated shipping, same-day delivery if possible, or free gift wrapping.
If you don't typically offer free shipping, there are ways to recover these costs using some strategic offer structuring. Instead of dismissing free shipping entirely, try running threshold promotions offering free shipping only on orders over a certain amount, ideally when the order value increase overtakes your shipping costs.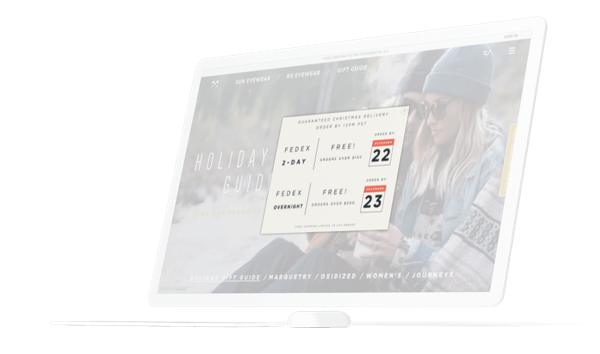 December 20: Ugly Christmas Sweater Day
This is another one of the less "official" days in December, but still, a great holiday to have fun with and show a little brand personality. If you sell Christmas sweaters…or any holiday-themed products, this is the perfect day to take advantage of when competition for attention will be light.
PS: If ugly sweaters won't resonate with your customers, don't forget to check the National Day of Calendar to find a day that works for your niche. There are 'National Days' for everything from 'National Pie Day' (December 1), to 'National Bacon Day' (December 30). The options are endless, and who doesn't love a special offer just because?
December 22: Hanukkah Starts
Hanukkah is an eight-day festival of lights centered on family and tradition. With multiple days available for marketing, this allows for some creativity when structuring your promotions. If you have the time, you could even consider putting together an interactive calendar with a special offer or treat for each day. For inspiration, check out this blog post detailing our 24 day Interactive Holiday Calendar we recently put together.
Don't forget, as with any religious holiday or festival, it's important to be considerate in your messaging. Brands are more compelling and marketing more powerful when it's real and relevant. Keep that in mind during the holiday season to avoid any marketing gaffes.
A day for the rest of us! Festivus is a day for those who don't celebrate any of the holidays that fall in December but still want to participate in the season! Festivus involves food, friends, and a traditional airing of grievances. 
This is a great day to use for engaging with your brand's audience beyond selling to them. Seinfeld references and social media go hand in hand for a bit of marketing fun on this day.
December 24/25: Christmas Eve & Day
Christmas Eve is the ultimate day for last-minute gift shopping. If you have a brick-and-mortar store, there's no better opportunity for promoting buy online, pick up in-store orders using geo-targeting rules. While this won't be a huge sales day for retailers by any means, there are a few last-minute sales to be made for some. Do you offer gift cards or digital delivery products? Let shoppers know it's not too late! Consider creating a "buy X get one free" deal for those less-prepared shoppers to cross off the last of their gifting vacancies.
Christmas Day isn't a busy shopping day, especially in countries where it's a public holiday, but that doesn't mean you shouldn't be prepared for some stragglers. Consumers are often hunting for post-Christmas bargains, information on the gifts they've received, or products they'd like to keep an eye on in the coming days. Whether it's a last-minute holiday gifts, something for themselves, or just a good old-fashioned deal–someone's looking!
December 26: Kwanzaa Starts
Kwanzaa is a seven day holiday that celebrates African heritage and family. Again, as a holiday deeply rooted in a community, it's important to be observant with regards to your messaging. The week culminates in a feast with gift giving, so countdown banners and order deadlines are great promotions to urge shoppers to convert.
December 26: Boxing Day/ "Second Christmas Day"
Boxing Day is a UK holiday that's become The Commonwealth's version of Black Friday in a sense. For many retailers, this day represents the largest shopping days of the year, so it's important to pull out all the stops in your promotion strategy. Some other countries in Eastern and Northern Europe have adopted a similar holiday known as "Second Christmas Day" that has equally substantial shopping traffic.
Since these are regionally celebrated holidays, make sure to use geo-targeting rules to show promotions only to visitors they will resonate with.
December 31: New Year's Eve
The last day of the year (coincidentally it's also National Champagne Day) is a day for celebrating new beginnings with friends and family. Sales to clear out inventory and prepare for 2020 are a great way to appeal to shoppers using gift cards or buying what they really wanted.
New Year's brings with it resolutions so self-improvement, organization, and fitness are all popular purchases to make around this time of year. If you're a retailer in these industries, make sure to use this time to convert and retain the numerous first-time purchasers you'll get.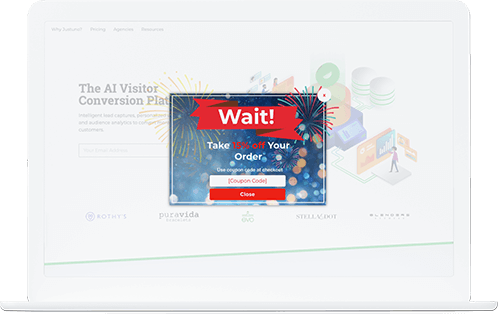 2019 was an interesting year with Black Friday and Cyber Monday falling so late in the year, but never fear. There are still all of these great December holidays you can use as an opportunity for promotion. 2019 is almost over and 2020 is just around the corner, so make sure to finish out this year strong, and set yourself up for marketing success through next year.