We all know that e-commerce is booming, but ticket items and especially furniture/home goods are seeing a huge spike as well ballooning to $115.2 billion in 2020 and growing 4.4% more in 2021. From the increased time at home during the pandemic to home-buying being at a record speed, more consumers than ever are "nesting" and turning to e-commerce to help them do so.
For larger ticket items, e-commerce strategies run a tricky line between a longer sales cycle, lower repeat purchase rate (more on that later), and the need to create trust in the consumer to feel comfortable purchasing something so large and expensive online. This high-stakes shopping journey can be made more comfortable with strategic touchpoints from acquisition to purchase and beyond!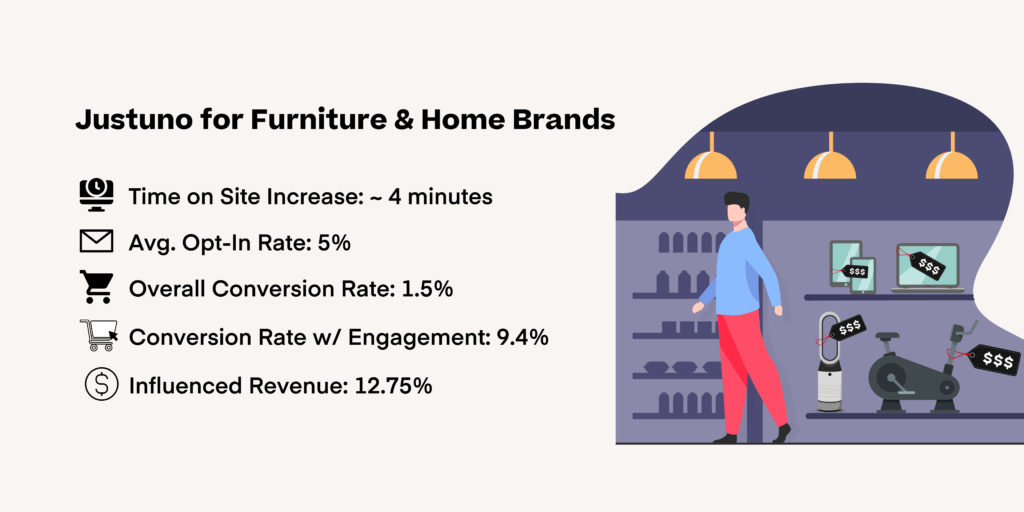 Onsite messaging and promotion can make a huge difference in your furniture site's performance and help cultivate the customer experience your audience is looking for. Home & Garden brands on Justuno increase time onsite with promotions by 4 minutes from just under 3 minutes to over 7. Their average opt-in rate is on the lower end of customer industries at ~5% (the average Justuno customer across industries is 6.5%) but taking a deeper dive into some specific strategies boosts engagement dramatically. The general conversion rate hovers at 1.55% but skyrockets to 9.4% with promotional engagement making up around 12.75% of their revenue.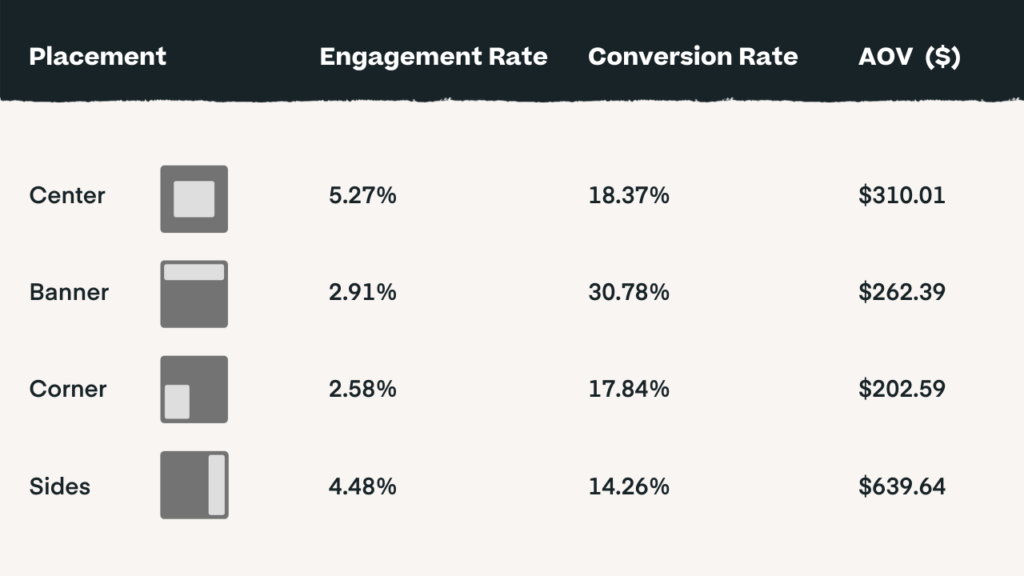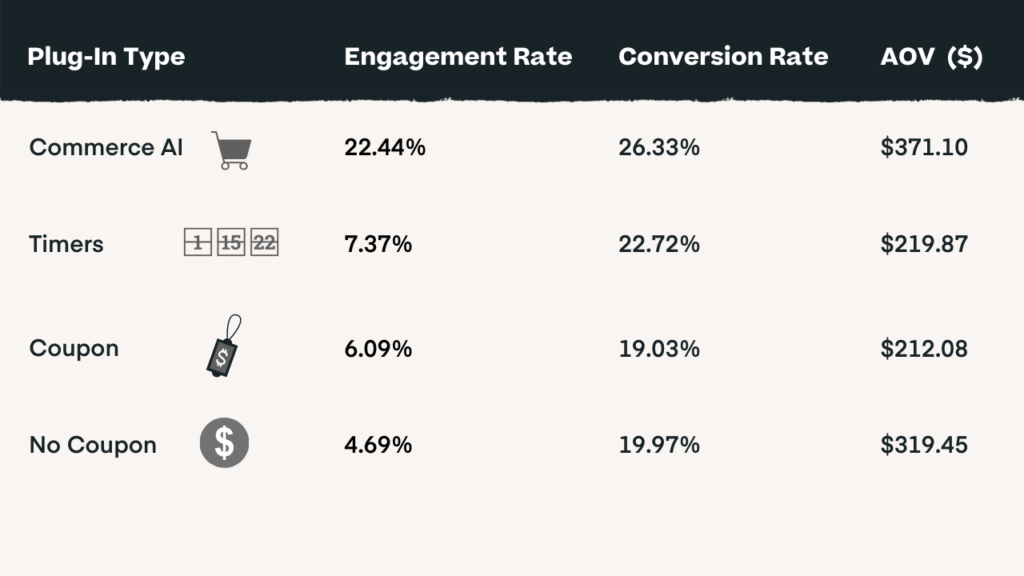 Let's dive into some of the most effective strategies for furniture/home brands to implement onsite for an elevated customer experience and ultimately more sales!
1. Non-Traditional Lead Capture Strategies
When it comes to incentives for lead captures the first thing that comes to mind is probably a discount, either $-off or a percentage. But Justuno's home & garden clients have about the same conversion rate with coupons as without (always A/B test to find the right strategy for your brand) and the difference in engagement was only around 2%. Using non-traditional lead capture incentives can be a great way to protect profit margins and add to the customer's experience.
A great option is including a complimentary item/free gift with their purchase—an example might be those selling bed frames or mattresses offering sheets or maybe a mattress protector. These can be your own products or strategic brand partnerships to maximize market penetration between you and another strategic complementary company.
Another option is something like a giveaway ("Win a free dining room set"), which depending on your margins can be more cost-effective than discounting every purchase and will lead to more high-intent sign-ups.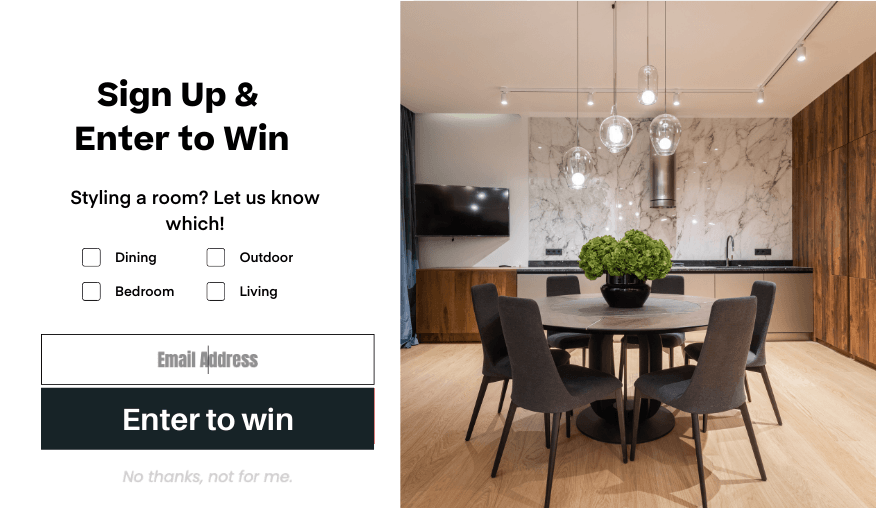 If you do choose to go the discount/coupon route, you can use a gamification strategy like tiered discounts. Letting the visitor "choose their own adventure" with the more they spend the more they save, is great for the furniture/home industry.
If you run an annual or semi-annual sale, that is always your "best" deal—let shoppers sign up for that a month in advance, giving them early access to special pricing in return. They get the best deal you're transparent about it, and ultimately everyone comes away happy.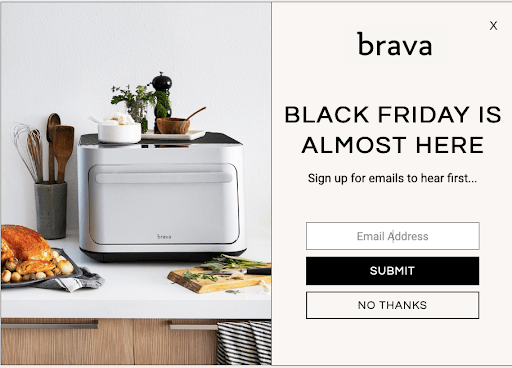 Finally, you can also leverage out-of-stock or pre-order products to collect more contacts. Slow supply chains and delays in shipping are a huge issue for the home/furniture industry—let customers sign up to be on the list when particular pieces are available again. This builds trust with the shopper and helps you create a high-intent segment to slowly nurture in the meantime.
2. Paid Media Optimization
The longer sales cycle we spoke about earlier means you'll naturally have more time between the first visit/lead capture to re-target them with ads—use Justuno's Audience Sync to create a good omnichannel marketing strategy that includes social/paid media.
For example, if a user was browsing for new kitchen tables on your site, signed up for emails, and then left without making a purchase—you could remind them of it on social media and offer similar recommendations. Use the products/colors they looked at in the creative, remind them of any incentive they left behind, etc. This is done by syncing your subscribers to Facebook and Google automatically through Justuno to retarget subscribers with ads automatically once a customer abandons their browsing session or cart.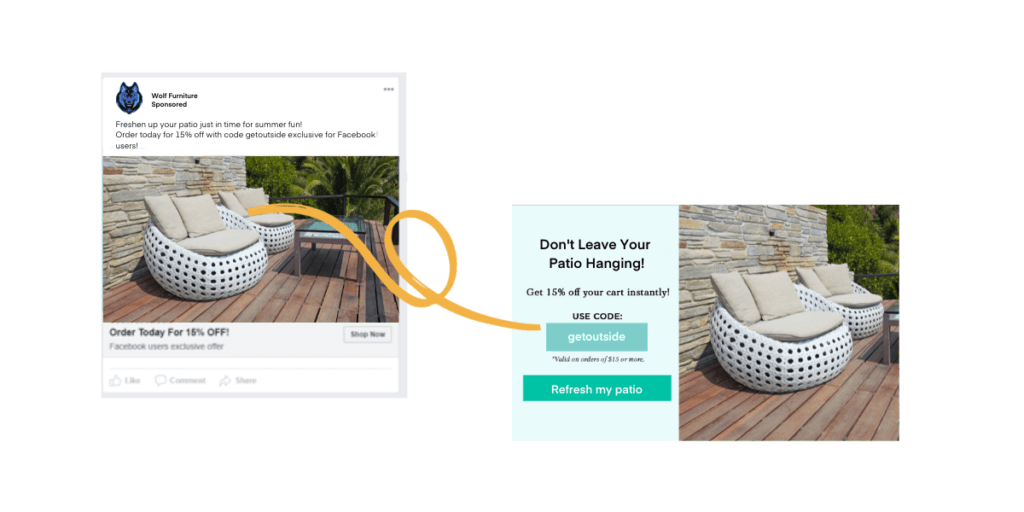 You can also use Audience Sync to prospect similar/lookalike audiences based on the profitable traits of your subscribers so you can not only better nurture your existing segments but find new ones. 
3. Site-Wide Messaging on Fulfillment
Uncertain delivery timelines or special delivery requirements (like in-home installation) take time—make sure customers are aware of that for a better experience from the start. This is even more effective when used with a geo-targeting rule for increased accuracy based on the shopper's location and your warehouses/fulfillment to that area.

For some furniture retailers, you may have shipping restrictions to certain areas like Canada, Australia, etc. You'll want to make sure any shoppers from those locations are aware of any lack of availability or customization options. You can turn this into one of two things: a sign-up to be informed when it becomes available in their area or a product recommendation to something similar that is available.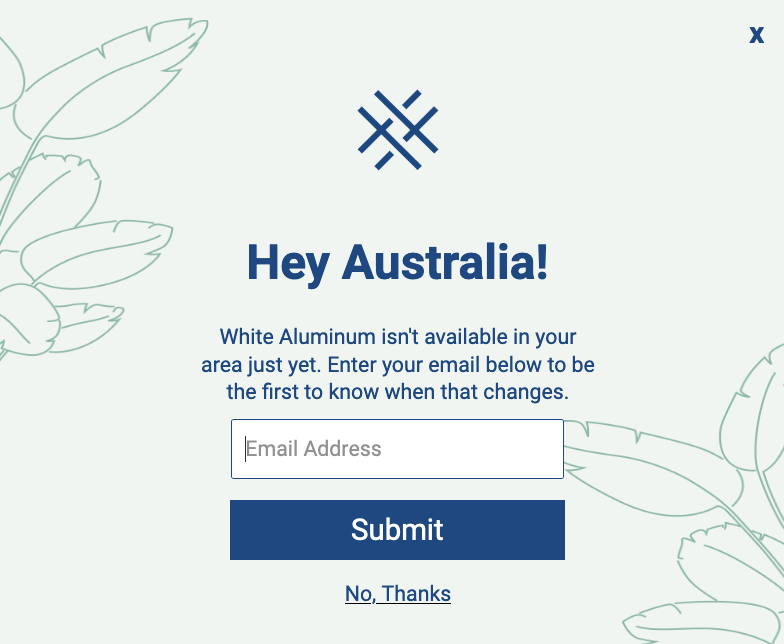 4. Geo-Targeted Cart Abandoner/Exit Offers
If you have some in-person placements in retailers, an upcoming pop-up shop, etc. you can create location-based pop-ups targeting those leaving your site. These can push them to check out your products in-person to calm doubts about purchasing something expensive for their home online + if you can fulfill from these storefronts you'll also squash shipping concerns at the same time!
Lots of DTC brands are using pop-up shops in their hottest markets, if you're doing this make sure to publicize on your website in addition to via email/SMS channels.
A great use case of this is the Live Outer furniture brand who created a "Neighborhood Showroom" program where customers sign up to be hosts for you to see their patio set-ups in person in a yard just like yours. This is a genius way to leverage social proof from happy customers, the ability to see the furniture in person, all while creating a strong community behind their brand. 10/10 strategy!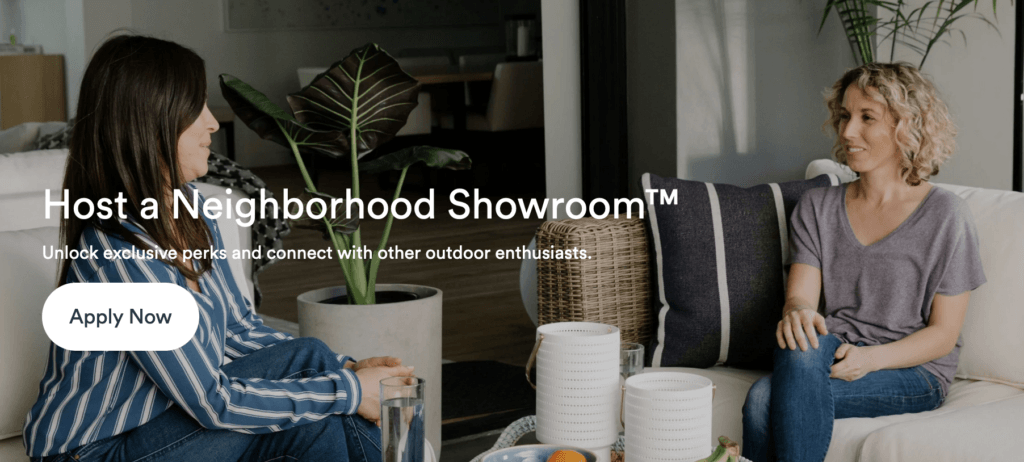 5. Use Timers for FOMO
Timers are one of the most effective types of promotions that Justuno's Home & Garden brands have to use. For this industry, they boast a 7.37% engagement rate and convert 22.7% of those shoppers with an average order value of $219.87.
You'll want to balance not being too fast because of the longer sales cycle & research that is common in the furniture/home shopping process but just fast enough to create FOMO and drive a sense of urgency to make a decision.
This can be great for abandoned carts, since they're further down the buyer journey or for added "incentives"–check out now to get a free matching chair, etc.
6. Personalized Experiences Through Product Recommendations
91% of consumers say they are more likely to shop with brands that provide offers and recommendations that are relevant to them. The more personal approach of e-commerce, where a brand can form an emotional connection through shared principles and real value, is what makes DTC such an attractive way to shop.
The key to effective personalization is the use of customer data, which beings as soon as they visit your site. Once they've signed up for emails or SMS you can start to accumulate zero and first-party data to create personalized marketing messaging both on and off-site.
Before the first purchase, use intelligent product recommendations onsite to position larger items with complementary accessory cross-sells, i.e., mattress+ mattress protector or pillows. These are great to use on the product description page and boost AOV with products that actually enhance the customer's experience with the product.
Have a carousel of your best sellers on the home page to strategically drive new traffic to your highest converting page(s) or alternatively, if you're more of a seasonal furniture retailer you can highlight the latest designs. Coastal inspiration in Spring, sustainability sourced during earth month (April), or mountain cabin in Winter, for example. 

As they head into making a purchase, you have an opportunity to upsell with warranties or repair protection in the furniture/home industry. Place these on the product page itself or in-cart/checkout as a last-minute add-on to their order. These can be an upgrade to your existing baseline warranty/guarantees or a separate product SKU altogether. Check out Clyde's episode in the Shopify Master Class on how to use product warranties to increase customer retention.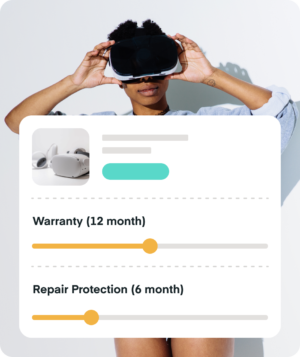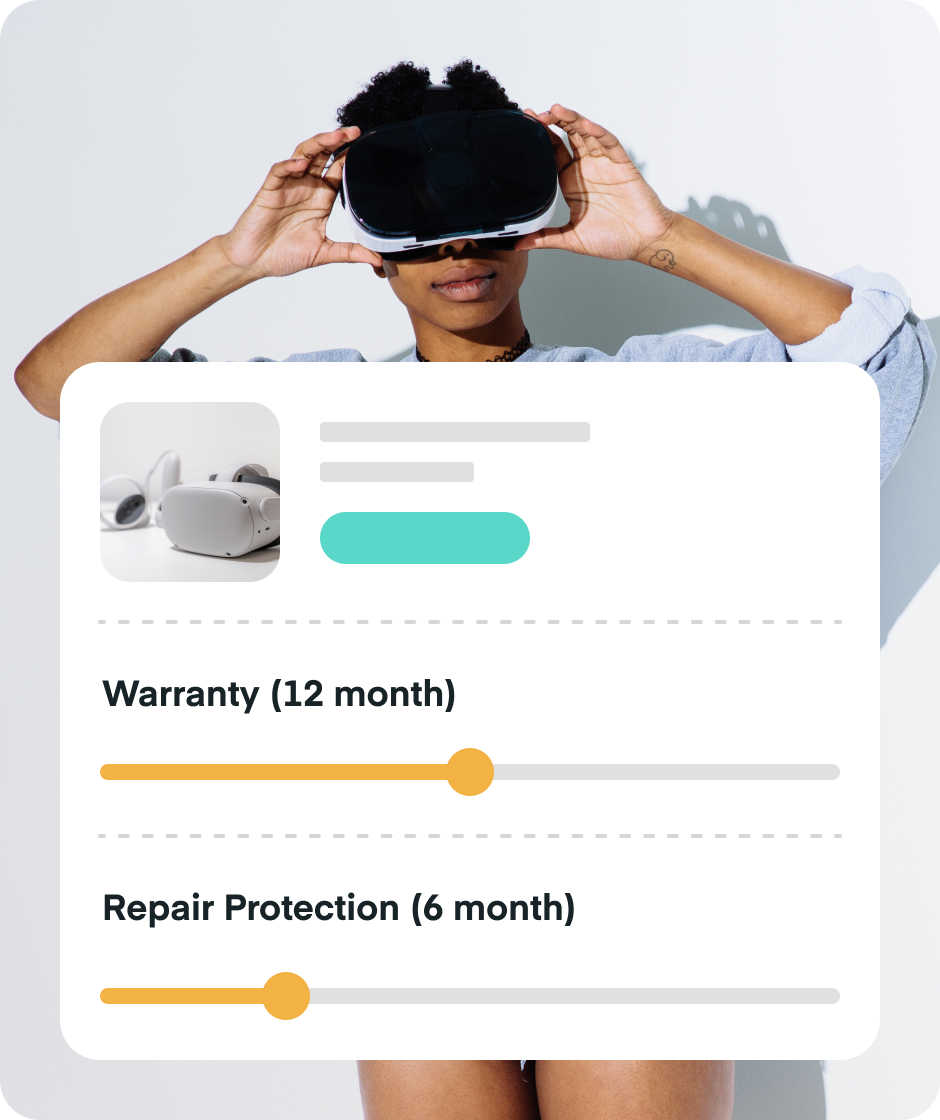 Post-purchase though you can create even more effective onsite product recommendations (in addition to email/SMS flows you may have created). You can create carousels based on their previous order history, for example, if they bought a grill you can recommend the right accessories or if they bought grey dining chairs you can recommend the matching benches, etc. Set these up using customer profile attributes or trigger based on UTMs for offsite campaigns to mirror creative/messaging from email, social, etc.
Make sure you're respecting the price tag though and cultivate a relationship through helpful/thoughtful additions rather than trying to shorten a sales cycle. Most people aren't going to need two mattresses in two years, but you can, however…remind them when to flip their mattress for example so maybe when they move from their apartment to a house you're their go-to mattress retailer. 
7. Reinforce Buy Now, Pay Later Options
If you have BNPL options, make sure that you're actively promoting them so visitors are aware of them from the beginning. 48% of consumers let BNPL availability influence their purchase decisions and 31% of BNPL pay users would abandon their cart entirely if it wasn't an option.
Don't leave it to chance for them to know, make it clear right off the bat with a site-wide banner boasting your finance terms. Use a text-ticker banner to add animation to your site and draw shoppers' attention as they browse. As shoppers get further down the funnel, you'll want to make sure that a promotion is triggered for those exiting from the cart or checkout pages reinforcing BNPL as an option. Especially for home/furniture purchases where cart totals can get high very quickly, this can be the difference for some shoppers in what/when they buy.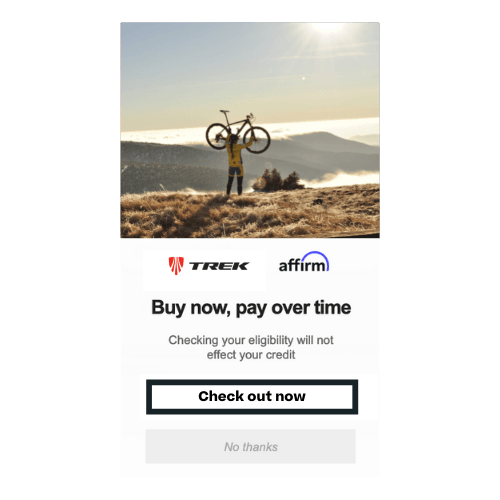 Price is one of the top reasons for abandoned carts so providing installment options can reduce sticker shock significantly, and can even increase average cart size by 20-30%.
8. Leveraging Influencers & Sponsorships On Social Media
60% of shoppers learn about new products from Instagram, making the impact of social media undeniable on how we discover, interact with, and share businesses/products with our friends. The best way to leverage this for furniture/home brands (beyond posting UGC from your customers/reviews) is to use influencer marketing.
Influencers help generate trust behind pricey products, and social platforms can decrease the friction to complete purchases via the rise of social commerce. Partnering with influencers to show off their styling of a room, highlight their decoration process, etc. can give their followers a behind-the-scenes look at your products that engages and inspires them more than other marketing channels.
You'll want to target traffic from these campaigns (social posts, blogs, other sites, etc.) with specific messaging to maximize results. Using the influencer's name in the pop-up, product imagery that they created, and reflecting any special offer are great ways to streamline their experience. Set this up using the individual campaign UTMs so each influencer's audience receives the right message or alternatively you can create "generic" social media platform promotions targeting traffic from Instagram, Facebook, etc. depending on your influencer strategy.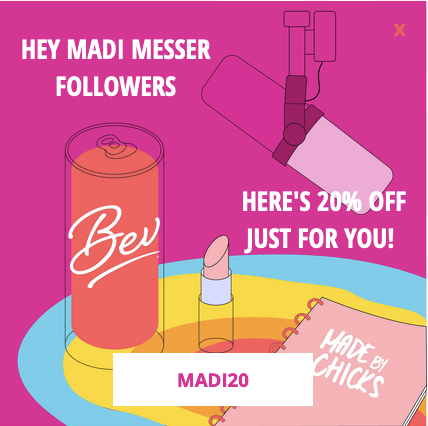 The furniture/home industry is big and only getting bigger as buyer trends continue to shift their purchasing journey online. The big brands like IKEA and Amazon may control the market share, but DTC brands can compete by offering a better customer experience that connects 1:1 with shoppers. These strategies are just a few of the potential ways you can use Justuno to build a deeper connection with your customers.
Justuno is the leading conversion optimization platform for brands when it comes to personalized, scalable onsite messaging. Try us out with a free 14-day trial or schedule a demo to see how Justuno can take your furniture/home brand to the next level.