There are few givens in life besides death, taxes, and the fact that people love their pets. While no industry is "immune" from an economic downturn, it's about as close as you can get. More than 23 million households adopted a pet during the pandemic, that's nearly 1 in 5 in the US alone. This explosion in new potential customers has fueled the growth of the e-commerce pet care market at a compound annual growth rate (CAGR) of 11.3% from 2020 to 2027 and is projected to reach $350 billion by then. That's a growth rate that outpaces most other e-commerce verticals, presenting both a huge opportunity for DTC brands and the promise of fierce competition.
Online sales represent just 13% of this booming market but are projected to grow by 10+% to nearly a quarter of total American pet supply sales. Making it clear that in order to stand out from the competition, e-commerce animal and pet care brands will need to provide dialed-in onsite messaging and promotion strategies to delight their customers.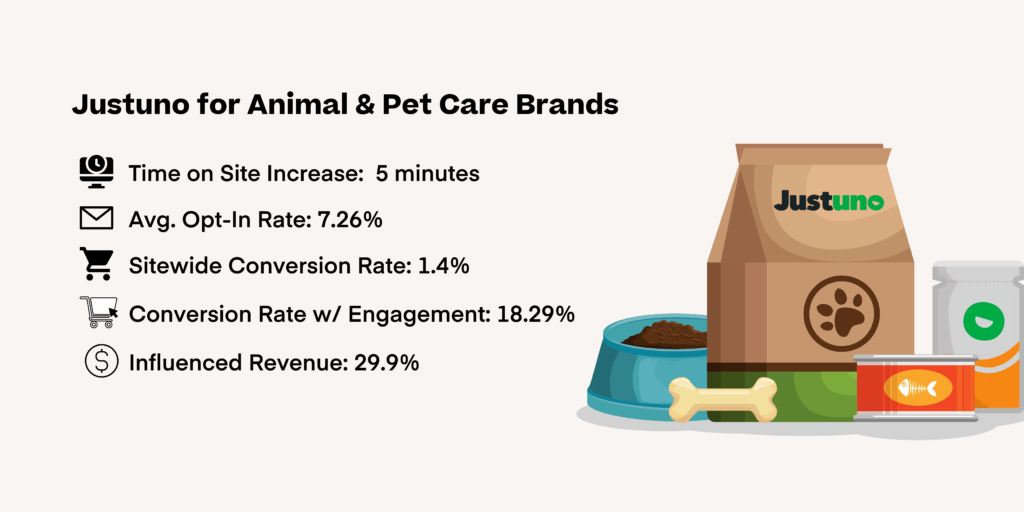 Personalization and long-term loyalty are keys to success here, with average pet lifespans between 12-15 years, making it likely that a loyal customer will be with your brand for nearly as long (depending of course on retention and loyalty). Start with a solid foundation of lead capture and data collection, from there build out in-depth customer profiles to create the kind of onsite experiences that bring customers back again and again.
Animal and pet care brands using Justuno see an average 5-minute increase in time on site when a visitor is engaged with a promotion, going from around 2.5 minutes to 7.41, and the average opt-in rate is 7.26%. The overall conversion rate hovers at 1.4% – however, this skyrockets to 18.29% after a shopper engages with a promotion. These results stem from the strategic use of promotions to improve the customer experience and create personalized, relevant touchpoints.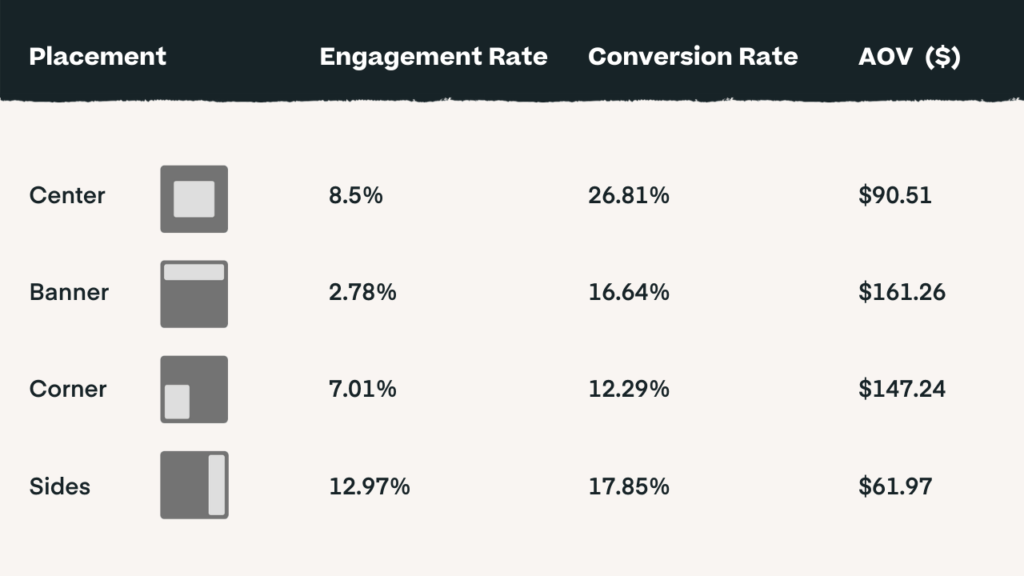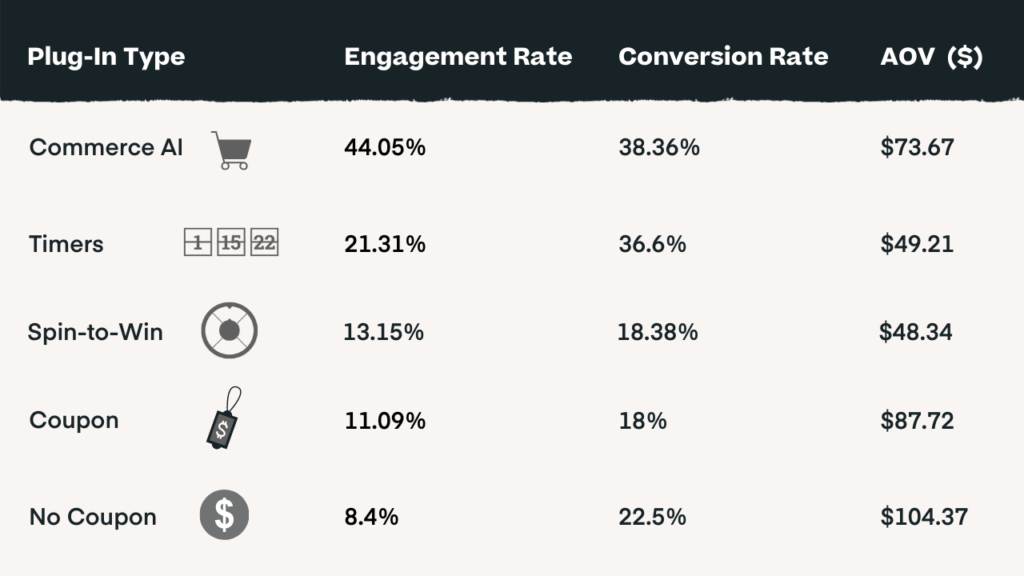 Let's dive into some real-life examples, alongside suggested use cases for animal and pet care brands looking to convert more website visitors into customers.
1. Enhanced Lead Capture: Additional Info
One of the most fundamental parts of your onsite experience to set up is the lead capture. Lead captures represent an opportunity to be so much more than a simple email or SMS opt-in, especially for animal and pet care e-commerce brands.
You can use lead captures to let visitors indicate what kind of pet they have (dog, cat, bird, etc.), which can improve relevance in subsequent emails (AKA the welcome series!). Additionally, if you're already sure of what kind of pet they have (i.e you only sell dog supplies)–you could use lead captures to get an idea of what they're looking for/what their pet's needs are.
A great example of this in action is on Dinovite's website. Their (Justuno) lead capture is used to collect both the type of pet as well as what issues they may have. This is great information to use for directing traffic to product pages, segmenting subscribers in your ESP and SMS campaigns, and personalizing subsequent website experiences.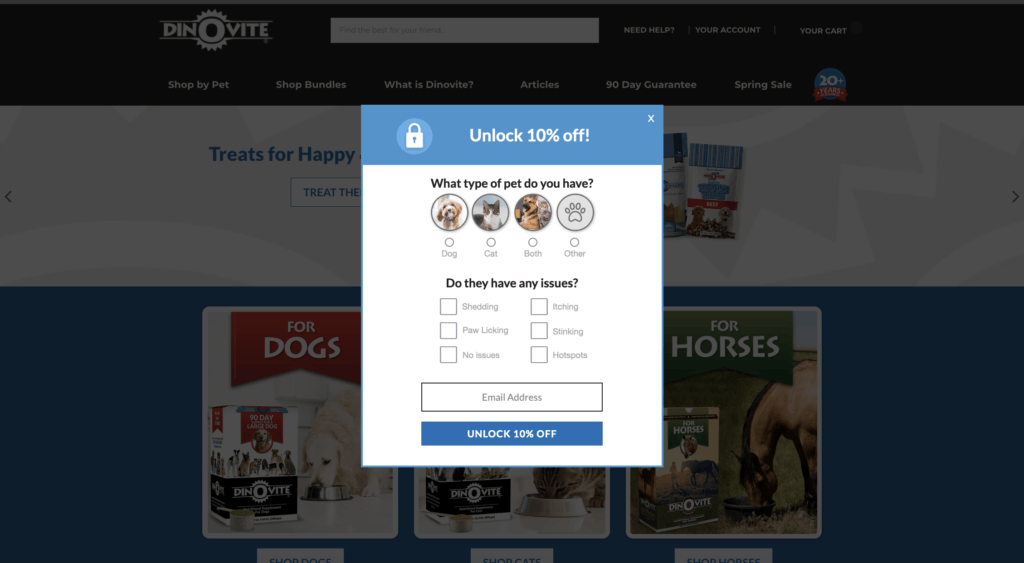 Fuel Made client, Tomlinsons, also has a strong zero-party data strategy powering their welcome flow that begins with their lead capture. This multi-step experience starts by asking if they have a cat, dog, or neither. Then based on their answer, a second screen appears where they can submit their email (different versions for each)–with their response being pushed into the ESP & it sends them an email that features dogs vs. cats vs. a more generalized "pet" welcome email. 
Not only is this a great way to kick off the relationship with new subscribers, but it performs well too. Tomlinsons had very successful average capture rates on their mobile and desktop pop-ups of 11.74% and 7.54%, respectively.
And the welcome flow that follows up from those pop-ups boasts an exceptional conversion rate of 23%.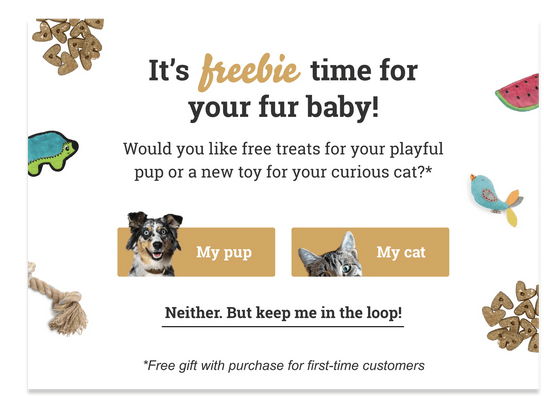 Another great addition to lead captures is a zip code field. For those of you who are trying to get into pet stores or are already in-store, it's crucial to tie the e-commerce and in-person experience together. Use a branded, memorable lead capture for email + zip codes to subsequently send geo-targeted email campaigns to subscribers when your products are stocked in local stores. This will help drive foot traffic to your new installations while making your presence known to your subscribers—win-win! Justuno can also target by IP address location down to the zip code or province. The really important thing to note is IP addresses are based on a provider's data and can vary drastically, sometimes up to 200 miles. Depending on how important it is for you to know their exact zip code, the added field can be a key value-add!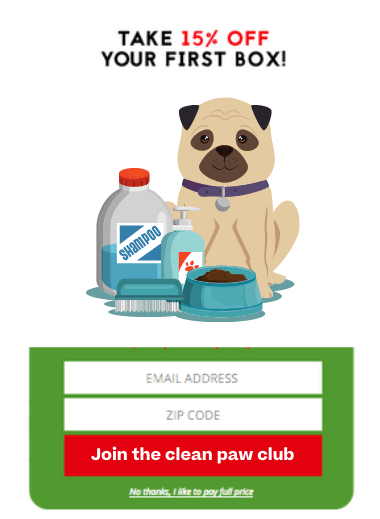 If you're hesitant to add additional fields to your lead capture, you can still collect additional information on your subscribers using hidden fields! Let's say you have a lead capture and use a hidden field for the URL opted in on. If it's on a pets-specific page, i.e. dog toys, then you can logically assume they're a dog owner and personalize their emails accordingly!
2. Gamification
Gamification is a great option for pet care e-commerce brands because it's fun, gives an opportunity to showcase some personality, and makes a lasting impression. To start, you can go the traditional route with a spin to win – a great example of this in action is Justuno customer Rover's below. They have a clean design, six possible prizes, and fun language on their post-engagement screen.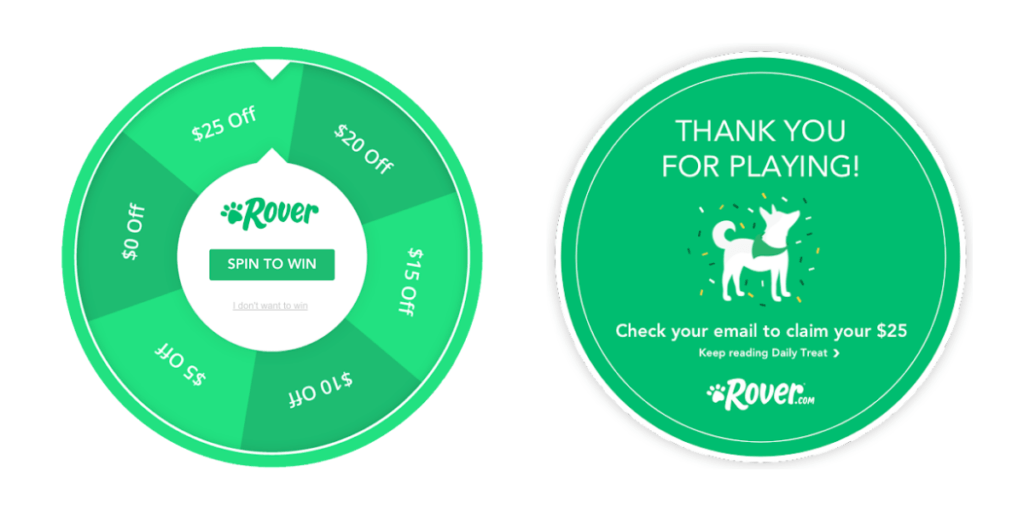 Spin to wins average a 13.1% engagement rate for animal and pet care brands, converting 18.38% of those engaged visitors into customers. This makes them a great way to build your email list quickly with a high conversion rate, all while giving your visitors a fun experience.
Another option is to use one of our more custom games, a slot machine. This is fun for brands with a flair and can be designed pretty creatively. The example below was built to run during the holiday season with a snowy dog house as the base. The great thing about the animal and pet industry is that cute fun designs are typically expected and can make the difference between just another website and a brand visitors remember. If you want to get started with gamification quickly, check out some of our pre-built designs in the template library!
3. Social & Paid Media Optimization
Social media, paid media, and influencer marketing are all huge parts of any e-commerce brand's marketing toolbox, but are especially important for animal and pet brands. 73% of millennials own a pet and represent the largest segment of pet owners. Millennials' use of social media is much higher than that of older generations like Boomers or Gen X, making this a key channel where your target audience spends their time….not to mention the cuteness factor of your end-users!
You'll need to optimize social and paid media campaigns to improve ROAS, plus create personalized experiences that feel exclusive to maximize the traffic you're driving. There are a few options here:
#1 Keyword/Offer Mirroring
For your Facebook, Instagram, Google Shopping, etc. ads you'll want to create a campaign-specific promotion to correspond with its message. Greet these visitors with mirrored content (keyword, offer, etc.) that drove them to click in the first place. This easy access to their code/coupon, seeing the word(s) they searched, similar visuals, etc. will drive instant recognition and personalization.
Pro Tip: Did you know? Justuno's Audience Sync seamlessly connects with your Google and Facebook ads. Learn More.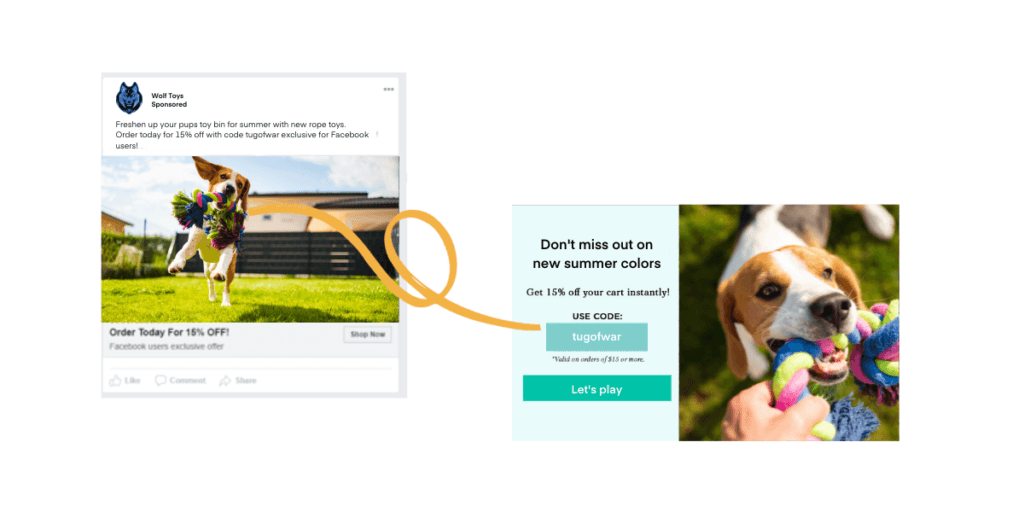 #2 Influencer Specific Targeting
If you're using influencers who represent a huge opportunity for DTC animal and pet brands you're likely giving them codes to share with their followers. Create promotions for each influencer you work with to greet their audience.
Use their name, remind them of the code/offer, and direct them to the products they were referencing. If you really want to take this to the next level, use the influencer's content in the promotion for instant recognition! There's a booming industry of insta-famous pets whose owners have built significant followings. Find those who are already your customers for a partnership or reach out to those whose audience aligns with yours!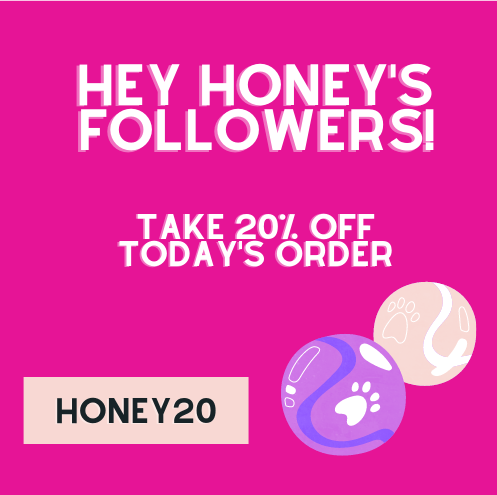 #3 Reshare User Generated Content
Did you know that 65% of pet parents post their pets on social media an average of 2x per week and 50% say their pets get more social attention than they do? That means you have a treasure trove of user-generated content to use and can build a community out of your customers on social media. Encourage them to tag your profile, use a certain hashtag, etc. and then routinely share these posts. You'll deepen relationships and broaden your organic reach (their followers are definitely liking those puppy pics). When new shoppers stumble upon your profile and click through to your website—greet them with a platform-specific promotion, use the branded hashtag, etc. This seamless and personalized approach will turn more social traffic into subscribers and customers!
4. Alternative Incentives
We recommend A/B testing this suggestion to see what your target audience responds to most, but on average the animal and pet care brands using Justuno see some interesting performance stats when it comes to coupon/discount use. While using coupons increases engagement to 11% (up from 8.4% without), those with coupons converted at a lower rate of 18% versus the 22.5% conversion rate for non-coupon incentives—and unsurprisingly, at a lower order value of $87.72 vs. $104.37 for non-coupons.
That leads us to believe that like some other industries, price isn't everything and alternative incentives can be just as – if not more – compelling than a coupon to visitors. Animal and pet brands have a variety of options to use when it comes to incentives like free gifts, giveaways, exclusive products, branded swag, etc.
Using these non-traditional incentives can help protect profit margins and add to the customer experience. Free gifts can be a great way to introduce additional flavors or products they may not have typically tried. Giveaways for a year's worth of products can get a lot of organic shares and high-quality leads…all that kibble can add up quickly!
But one of the most interesting options is branded swag or accessories. You can create your own custom line of toys, bandanas, collapsible dog bowls, etc. That you use as incentives to subscribe, exclusive gifts for new customers, etc. If you've built a loyal, dedicated community—branded swag can be a powerful motivator for customers and helps reinforce awareness of your brand well after they've purchased a product. Plus, once it's out in the world, it's free marketing around the proverbial water bowl. Add swag to your shopper's carts with just a CTA click on any kind of pop-up you build with Justuno!
5. Out of Stock Sign-Ups
No industry is immune to the supply chain and shipping delays we've been experiencing over the last few years. Whether you're having trouble getting inventory from suppliers, a product went unexpectedly viral, etc.–it's not the end of the world!
Use this as an opportunity to collect sign-ups from visitors who'd like to be notified when it comes back in stock. We recommend using faster channels like SMS or push notifications for this since it's a time-sensitive message and people will want to get theirs before it's gone again!
6. Shipping Threshold Banners
With fuel price increases and inflation, the cost to ship any item has gone up, but if you're shipping particularly heavy items—kibble, canned food, crates, etc. it can be a huge factor in your profit margins. If you can offer free shipping but only at a certain order value, let visitors know by using a banner that shows how much more they need to spend to unlock free shipping.
You'll reduce abandoned carts by letting them know ahead of time that shipping isn't always free plus, as they shop the banner automatically updates creating a more personalized, dynamic experience.

7. Exit Offer: Product Finder
Sometimes the sheer number of choices can be overwhelming to a customer or if they're unsure of what is the best solution for their four-legged friend's need—it can be easy to simply leave your site.
A great tool here for product education (and a chance to collect zero-party data)–is to use a product finder quiz on an exit offer. Usually, this works best for those with a varied target audience, specialty products, or large product catalog.
Using a quiz as an exit offer can provide more value than a discount code since these shoppers are looking for education and information!
8. Cart Abandoner: Non-Discount Strategies
If your shoppers have added an item to their cart and go to abandon it, you need to have some kind of cart abandonment promotion set up to try and save the sale. A/B test to see what incentive and messaging works best for you—but we've seen animal and pet care customers have great success with these two styles that don't rely on a discount:
#1 Testimonial + Imagery
Use a testimonial for social proof giving them confidence that this product is right for their pet. Find reviews that specifically mention different types (dog, cat, etc.) and combine that with some great UGC from your reviews section. Then create a version of this cart abandoner for every animal your products are for. Use Justuno's advanced targeting rules to set this up to trigger based on certain products (Dog Treats vs. Cat Treats)–so that those with animal-specific products will get their own experience.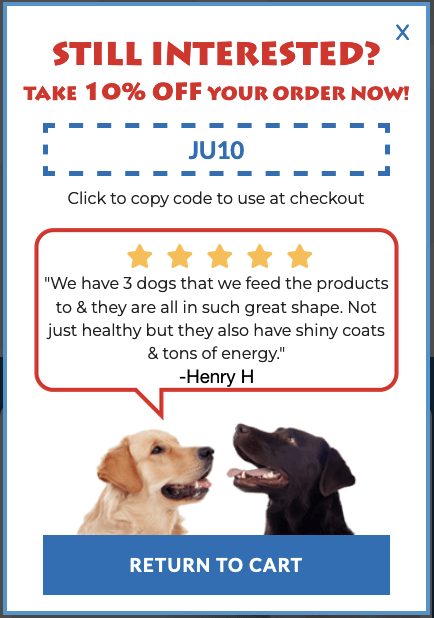 #2 Satisfaction Guaranteed
If you offer a satisfaction guarantee, make sure to promote it! This is the ideal point to showcase it—they're interested enough to add items to their cart but weren't quite sold yet. The guarantee is perfect for this segment, reiterating the no-risk aspect of their purchase removes barriers or hesitation to drive same-session conversions without reducing profit margins. Combine with a timer for maximum FOMO and to drive immediate action.
9. Returning Cart Abandoner
If a shopper abandoned their cart but ends up returning—use a side promotion to remind them of Fido's treats they left behind! Dynamically pull in the product image, name, and price to the promotion with a button that takes them directly to checkout. This personalization makes it easy for them to convert without having to go back and re-add items or look at their cart. Just one click and they're already at the point of conversion!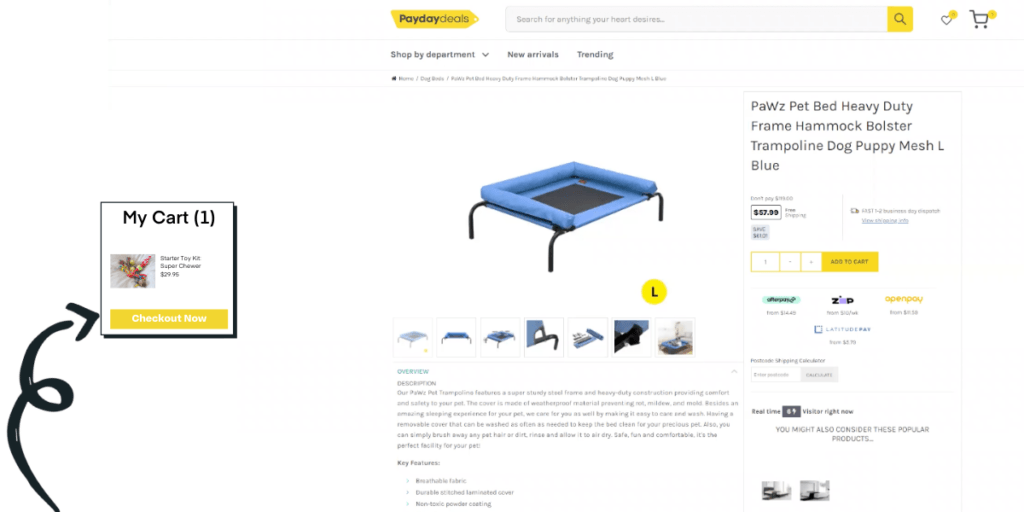 10. In-Page Product Carousel
Justuno's intelligent product recommendations are great for personalizing onsite experiences and can be placed anywhere on your website, including in-page, for a native/seamless look. Animal and pet brands need to have a strong emphasis on content marketing for education and customer experience to build trust and authority. Optimize these pages through in-page carousels featuring the products mentioned in the content. Talking about the best products to use for anxious dogs? Place a carousel natively on the blog so readers can add treats, toys, etc. to their cart without having to search for them. You'll increase engagement and conversions by eliminating the opportunity for browser abandonment.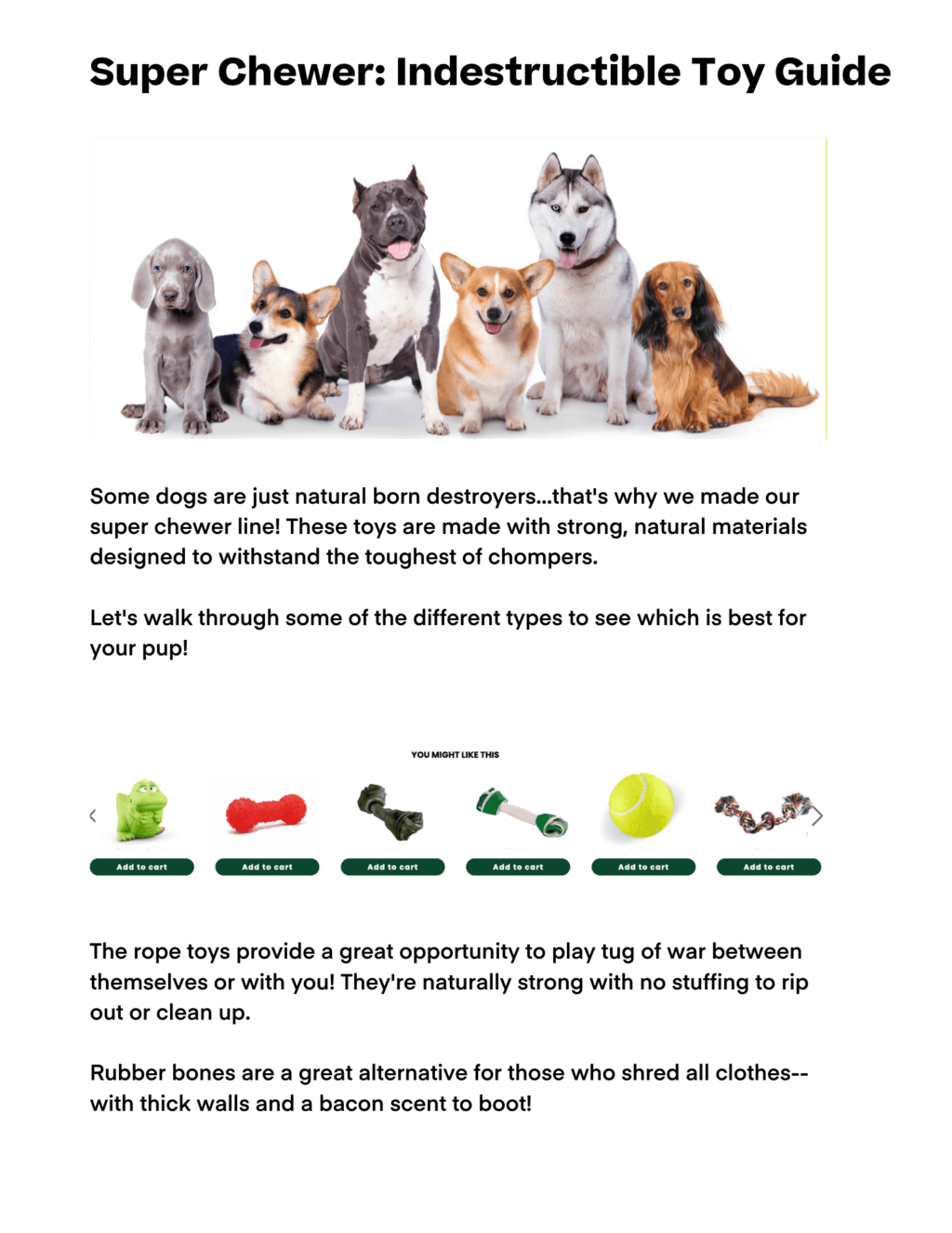 Set yourself apart with authoritative content on issues and topics important to your target audience; you'll build a deeper connection with shoppers by being an educational source as much as a product one! This will also help drive more organic traffic to your site, from both those who have pets now, are researching for the future, and those with pet-owning friends looking for a helpful article to send.
11. Add to Cart Cross-Sell
Once a shopper has added something to their cart, you can trigger a Justuno product recommendation to appear in a pop-up immediately. Use this for a free-gift option or simply to cross-sell related/complimentary items. If they've just added heartworm medicine to their cart, maybe they need pill pockets or another monthly preventative item.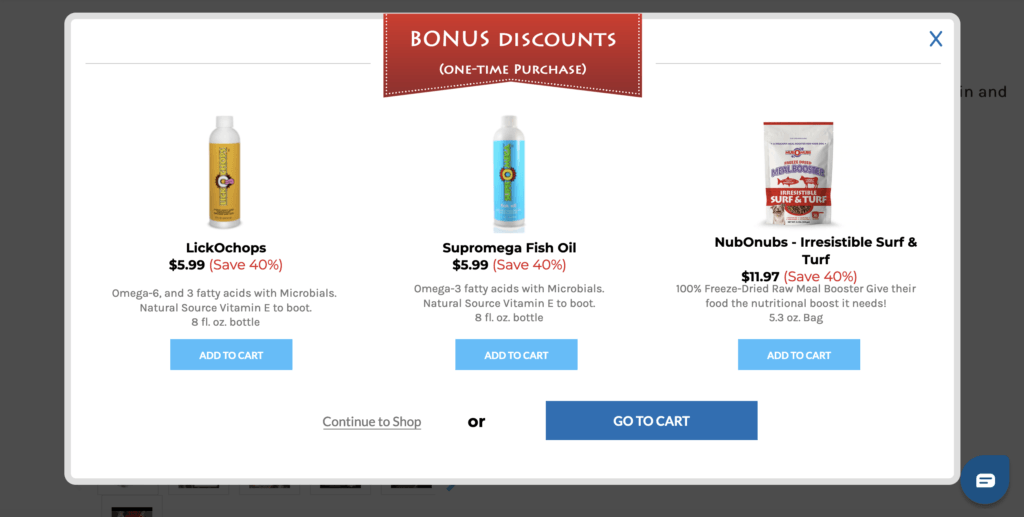 Make these seamless for your shoppers by directly adding to their cart any item upon CTA click, plus the option to continue to shop or head over to their cart.
12. In-Cart Add-Ons
If you'd prefer to go the in-cart route with product recommendations, that works just as well! Use the cart page or slide-out cart to place low-profile recommendations based on shopper behavior, cart content, best sellers, etc.
This is great for last-minute add-ons and impulse purchases, but can be effective as well for larger items! A/B test to see what your audience is most interested in when they're at the bottom of their buyer's journey.
13. Geo-Targeting
If you are in local pet stores (or have brick-and-mortar locations) create geo-targeted onsite messaging that shows only to visitors within a specific area. Justuno can narrow all the way down to zip code so you can be as granular as you'd like with these. Some options include:
Cart abandoner to find local stores (great if shipping timeline is a concern)
Buy online, pick up store for faster fulfillment
Finding out of stock flavors in stores instead
Shipping delays for different areas

This is crucial for transparency with shoppers, as delays in orders for pet products can be frustrating or even dangerous. Communicate to visitors in areas where you're experiencing delays, with a banner informing them of this, to build trust and transparency.
14. Order Subscription Sign-Up
Animal and pet brands have a great opportunity to transform customers into repeat buyers quickly since the consumable nature of most products means they're forced to purchase again relatively soon.
Pets can be picky eaters just like little kids—making it unlikely that a shopper will sign up for a recurring subscription on their first purchase. Target returning customers who have purchased once before with a special offer to sign up for a subscription today and receive an exclusive offer.
By putting the customer first before the recurring revenue and waiting to make the bigger ask, you'll boost retention and lifetime value!
15. Loyalty Program Opt-Ins
If a shopper has checked out but wasn't logged into your loyalty program—show them a promotion encouraging them to sign-up to earn something from today's order.
This can be something like double points or adding a free gift to their box. The high lifetime value that repeat customers would have in the animal and pet care industry makes loyalty programs a no-brainer for strengthening relationships and providing a value-add for customers in terms of both convenience and perks.
16. Have Fun
Lean into the fun part of marketing and make your end-users the star of one-off campaigns. There are outside-the-box holidays like:
National Pet Day, April 11
National Puppy Day, March 23
National Dog Mom Day, May 14
National Golden Retriever Day, February 3

There's even a national dog for most breeds
The list goes on and on…find a few that work for your brand and would appeal most to your customers. Then build email and/or SMS campaigns to drive different segments to your site, greet them with special offers or personalized messages, and tie it all together with some fun on-brand social posts. Extra points if they feature your customers' or team's pets as the stars!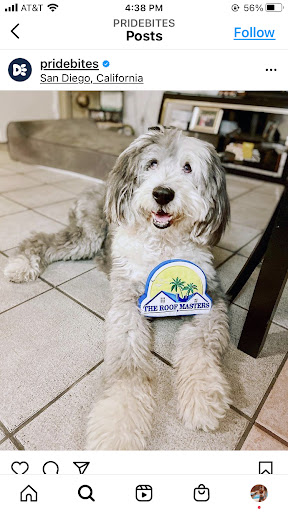 Animal and pet care is a booming e-commerce vertical and these are just some of the potential strategies to implement when looking to optimize your onsite experience. Justuno is the leading conversion optimization platform for brands when it comes to personalized, scalable onsite messaging like you've seen above. Try us out with a free 14-day trial or schedule a demo to see how Justuno can take your animal and pet care brand to the next level.