What's a behavioral marketing campaign?
Behavioral targeting is a marketing strategy that bases the next action in a campaign sequence on each visitor's previous actions. Essentially it's the shopping version of a choose your own adventure book. Using activity based triggers to segment visitors and determine the next experience they will be served is the ultimate way to tailor your campaigns to move visitors towards a desired action.
Behavioral marketing campaigns help you reach your marketing goals without overwhelming visitors in one visit. They also enable you to play the long game with consumers, marketing to them at their pace while keeping your desired action in mind.
What's your goal?
Since this marketing strategy is all about creating a series of goal-based promotions, the first step is determining what action you're nudging consumers into taking. Two of the most common goals we hear from customers are driving lead capture and increasing conversions, so we'll go over a few example strategies for achieving these.
Driving lead capture
The key to using behavioral marketing campaigns for lead capture is making sure you're presenting promotions in a sequence that leads to the desired action of signing up. Keep in mind, this isn't about hounding them in one visit. Instead, let them experience your site at their pace, and allow their journey to unfold with your goal strategically placed at the end.
Let's lay out an example campaign: First and foremost, you always want to have a lead capture pop-up for new visitors. We suggest gamification if it fits with your brand identity. Spin-to-wins are a highly engaging pop-up format, and often convert at the highest percentages of all Justuno promotions.
If a new visitor chooses not to engage with that gamified pop-up on their initial visit they then move down a non-engagement path. When returning to your site for a subsequent visit, we recommend deploying a less-obtrusive static email capture promotion.
If they still haven't signed up after ~3 visits, your best bet for getting their email is to get them to make a purchase. The final step in this branch is where we recommend a pop-up that doesn't require anything from them to earn the discount. We call this an unlocked offer, and this type of promotion is immensely helpful for getting repeat window shoppers to make that final decision to purchase. Check out the sample diagram below. It outlines three potential segments for website visitors and suggested trigger points that lead down different paths. You can show promotions at each touchpoint for any number of visits, and extend the unengaged branches with more variation. The possibilities are nearly endless, it just depends on how complex of a rule set you want to create and how many promotions you have the resources to design.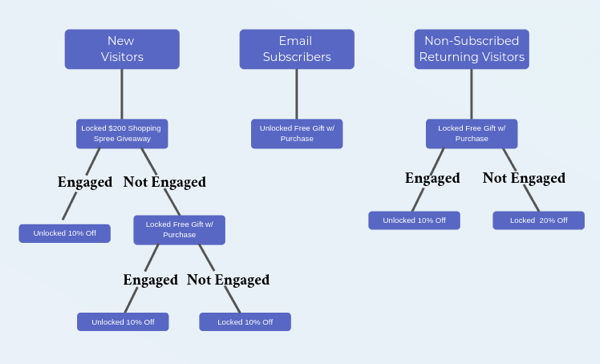 Making engagements paths that break down your audience segments like the chart above will help you stay organized. You can utilize the handy folders in your Justuno promotions dashboard to keep each segment or path separate.
Increasing conversions
Let's see what a strategy would look like if your goal is conversions: Here we'd recommend running a tiered discount system. Let's say your visitor adds $20 to their cart. Offer 10% off and let them know if they add another $20 dollars they can unlock an even larger discount. Tiered discount systems are incredibly effective because everyone who adds an item to their cart starts with a small incentive, which on its own, is sometimes enough for consumers to take the plunge.
This tiered discount can also have the added effect of increasing your AOV. Curious customers will continue browsing for something else they can add to their cart to secure that additional discount. Consider bumping this second tier discount to 15%. You're only giving away an extra 5%, but meanwhile, the AOV has nearly doubled.
Tier 1: Spend $20 – 10% discount ($2) = $18 order value
Tier 2: Spend $40 – 15% discount ($6) = $34 order value
Not only does this encourage visitors to explore your site and convert, but also increases average order value. Double win!
Coordinating your behavioral marketing campaigns
We tell all of our customers that it's important to not think of pop-ups as standing on their own, but instead as a part of their entire buyer journey ecosystem. Your promotions should work in tandem to move visitors along this path, and that's probably the most important thing to keep in mind when building your on-site messaging strategy.
Behavioral marketing campaigns are certainly a time-intensive marketing strategy, and increasingly complex segmentation means each path requires separate promotions—each with their own rule set and incentives. Fortunately, the payoff in future time-savings and increased conversions can make it all worth the initial effort.
Final thoughts
Visitor engagement skyrockets with the increased relevancy of these touchpoints, but waiting for specific actions to be taken can be frustrating. Understand that your behavioral marketing campaigns aren't going to magically work overnight, and by design, they're meant to slowly funnel visitors down to a desired action.
If at first you don't succeed…try try again. It's probably not the first time you've heard that phrase, but persistence is key in the conversion game, and it's worth restating. Meeting customers where they are in their journey, and serving them messaging that's personally relevant, can truly make the difference between a closed sale and a failed conversion. Behavioral marketing campaigns are just one form of increasing your marketing content's relevance through personalization. As increasingly tailored online experiences become the norm, behavioral data points are becoming even more critical. Compiling and leveraging these in-depth visitor profiles is just one of the many ways Justuno is driving marketing tactics forward and optimizing the future of e-commerce.