2.90M Engagements
36.0 M impressions
522k emails
15.3k promotions
172k Justuno Conversions
1.13M total conversions
Batch and blast e-commerce advice is not only sometimes inaccurate, it's repetitive. Every business is different, so the more granular that data reporting can become, the more relevant and useful it is for you, the merchant. We aim to provide just that. After examining over 36 million impressions and 1 million sales, the data speaks volumes on how promotional marketing worked in 2017, and how to leverage this incredible tool for 2018.
This data range covers the days from 11/23 to 11/27, otherwise known as 'Cyber 5' the biggest days for holiday shopping throughout the year.
Important Note on Data: 
When we refer to 'engaged' this means that a visitor has interacted (email sign up, CTA click, etc.) with a Justuno promotion. For example, 'Engaged CVR' refers to the conversion rate of the population of visitors who have engaged with a Justuno promotion. Normal CVR refers to the visitors who have never interacted with a Justuno promotion and their respected conversion rate.
Cart abandonment statistics
Statistics on Cart Abandonment can give huge insight into the general nature of cart abandonment rates in e-commerce. By segmenting the data to focus on digital marketing strategy in very specific verticals, we are not only able to measure the efficacy of promotional marketing but explain the best ways to leverage it by referencing clear numbers.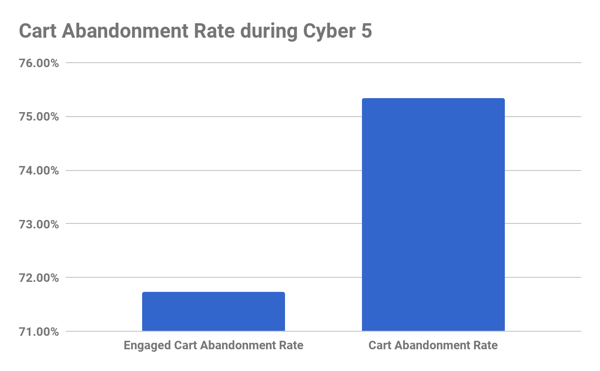 This data explains how Cart Abandonment rate was affected by not only an increased amount of traffic but also how Justuno performs on key holiday dates in relation to reducing lost sales.
Cart Abandonment Percentage during Cyber 5 (75.33%)
Cart Abandonment Percentage after engaging with a promotion (71.74%)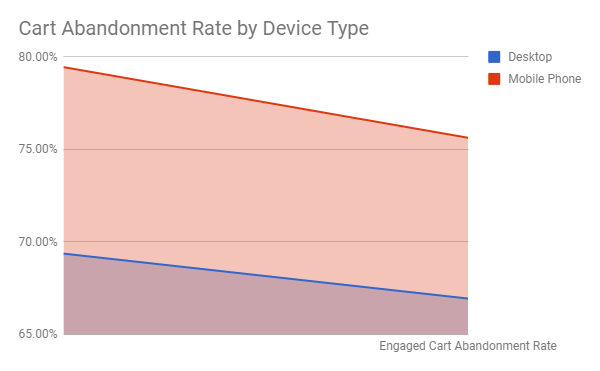 Segmenting cart abandonment data by device type gives insight into the habits of online shoppers before and after interacting with promotions created in Justuno. Mobile is highly regarded in the eyes of online store owners as the new frontier, so tracking the effect of promotional marketing on that traffic is critical.
Platform-wide during Cyber 5, the cart abandonment percentage was actually higher (6.29% industry average)
Reasoning: More people shopping and adding products to cart (see Section 2) will lead to a higher amount of abandoned carts, regardless

conversion percentages

were higher across the board.

Cart Abandonment Rate is

6.29% higher

than the industry average on Cyber 5 Weekend,

but

after interacting with a Justuno promotion it's only

0.49% higher

than the industry average.

Interacting with a promotion

significantly

reduces Cart Abandonment, even during an abnormal surge of more visitors abandoning their carts.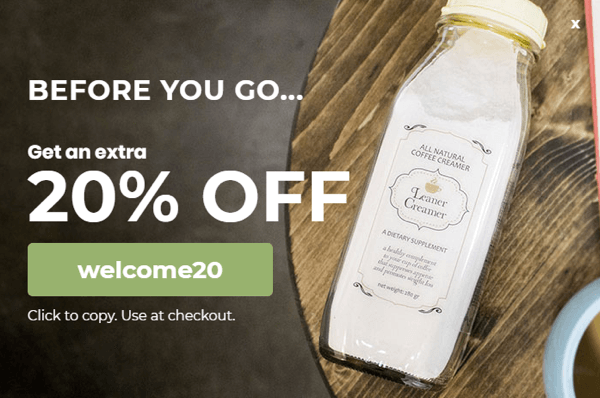 Cart Abandoner promotions decreased abandonment rate for both mobile and desktop. This means that even during a season of greatly increased traffic, utilizing a cart abandonment promotion on your store saves potentially lost sales and encourages visitors to complete their purchase.
Desktop shoppers are more likely to complete the checkout AND are more likely to check out after interacting with a Justuno promotion
Mobile shoppers are more likely to abandon their cart (3.20% higher than avg) but still decrease by (1.77%) after engaging with a Justuno promotion.

Desktop shoppers are less likely to abandon carts
Mobile shoppers are significantly less likely to abandon their carts after they interact with a Justuno promotion
Visitors who added products to their cart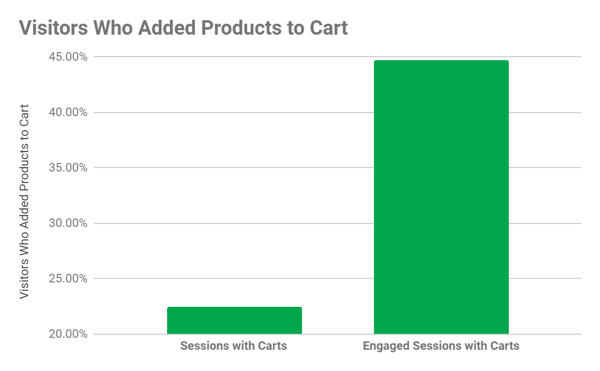 Tracking visitors who add products to their cart provides insight into how engaged your visitors are before and after they interact with a promotion created in Justuno. When a shopper adds a product to a cart, they are just one step away from completing their purchase!
The percentage that Added Products to Cart – 20.80%
The percentage that Added Products to Cart after engaging with a promotion – 44.76%
20.80% of online shoppers added an item to their cart (¼ visitors) on average during Cyber 5.
Engaging with a Justuno promotion boosts the likelihood of a visitor adding a product to their cart by more than double! (115% increase)
Visitors that added products to their cart by device type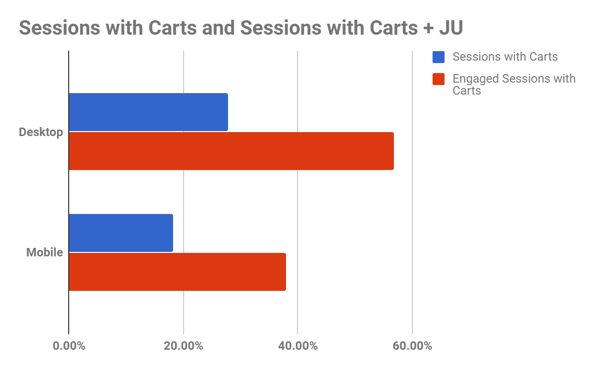 Segmenting the previous group of data by device type shows the difference in between engagement of online shoppers when they are on a certain device (desktop or mobile). Creating certain promotions to target devices can increase conversions as well as engagements.
109% Increase in visitors who added products to a cart if they engage with a Justuno promotion.

Although visitors are more likely to add a product to their cart if they are on Desktop, interacting with a Justuno promotion on mobile increases the likelihood of adding a product to a cart by a slightly higher margin compared to desktop.
More visitors adding a product to cart gives increased chance for tactics such as upselling and cross-selling.
Upselling & cross-selling promotions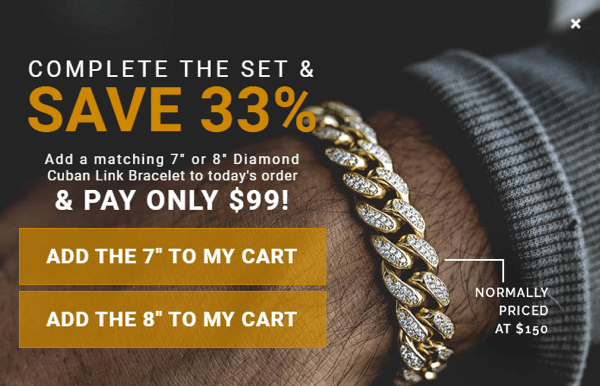 Using product upsell/cross-sell promotions to encourage visitors to add specific paired products to their cart can lead to increased AOV (Average Order Value) beyond a single product purchase. Due to the fact that visitors are 109% more likely to add a product to their cart after interacting with a Justuno promotion, pairing specific products through promotions and driving them to purchase can cement AOV increases.
Traffic conversion rates by source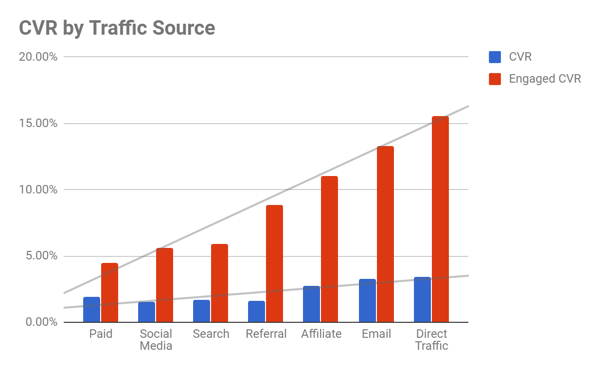 Conversion Rates by Traffic Source gives you as the online store owner the chance to see where promotional marketing can increase certain traffic types! If your average paid traffic converts at an average of 1.88% like the non-Justuno average above, try promotional marketing on your store to increase it to a staggering 4.50%!
Email

Conversion increased one of the highest (2nd highest,

352.91%

) with Justuno. Second only to Direct.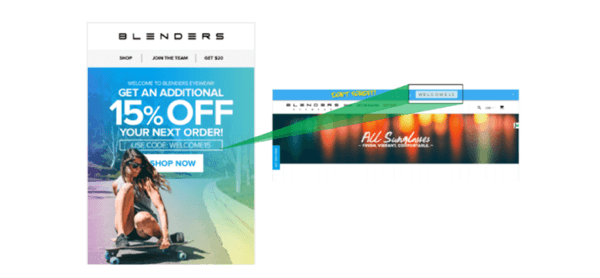 Mirroring Email Marketing on-site can help guide consumers down the conversion funnel after interacting with one of the highest ROI form of marketing recorded (Email). Supplementing your other digital marketing strategies with Justuno helps lower barrier to purchase and drive the consumer to take action.
Social Media did well in combination with Justuno (270.86%) – historically one of the lowest ROI forms of marketing.
Paid had the lowest conversion rate increase, however, Justuno had a significant impact on increasing ROI out of ad spend.
Without using Justuno, the top three types of converting traffic we can see are Direct, Email and Affiliate in that order.

Using Justuno, the highest CVR increase by referral type are Referral, Email, and Direct.
Thanksgiving (23rd) – 82,936 Emails
Black Friday (24th) – 122,327 Emails
Saturday (25th) – 99,739 Emails
Sunday (26th) – 90.426 Emails
Cyber Monday (27th) – 126,124 Emails
Black Friday and Cyber Monday collected the most emails. 250k combined.
Compared to non-promotional weeks, you are 35.33% more likely to capture an email on BFCM week.

If your goal is capturing as many leads as possible, adjust which promotions fire on these critical days to capture as many leads as possible. Check out the top performing lead capture promotions from this data set here.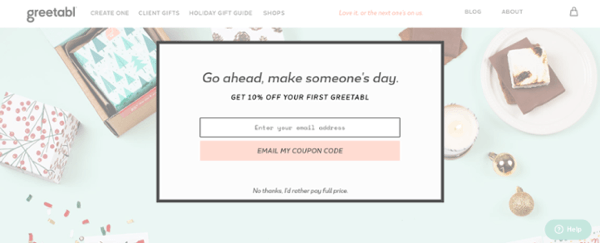 Emails collected by traffic source
Search – 162,404 Emails
Paid – 22,607% Emails
Referral – 13,638 Emails
Social – 127,312 Emails
Affiliate – 1,844 Emails
Email – 38,998 Emails
Direct  – 154,749 Emails
Similar to the CVR by Traffic Source section, segmenting emails collected by Traffic Source helps those interested in collecting emails laser target traffic types to get the most amount of leads collected as possible.
Search traffic garnered the most emails during Cyber 5, which aligns with the statistic that through organic search traffic, merchants encounter the most 'new' visitors.
Social traffic takes spot #3 in terms of the most leads captured, retailers who have a large social following or large amounts of social traffic should leverage this for list building.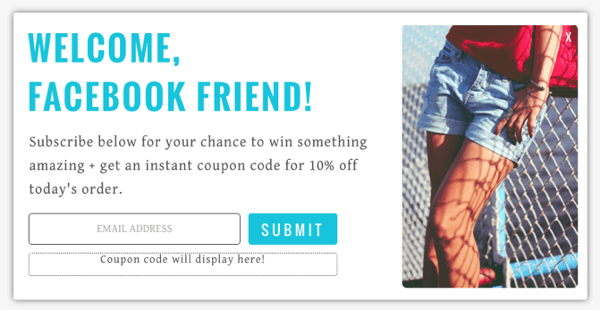 Targeting Facebook Traffic adds a huge boost in personalization to your on-site visitor experience and makes the customer feel valued. This also helps brands who have a large social footprint leverage their existing customer base and drive them to purchase.
Justuno conversion rate by industry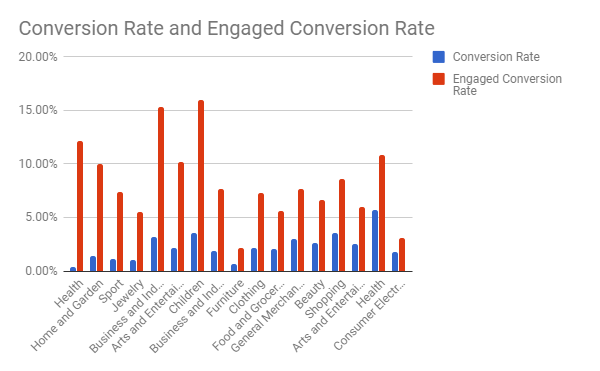 What does separating CVR (Conversion Rate) by Industry do for the data? It helps your business with more personalized, pertinent data. (Spoiler alert: all Industries performed better by large margins) Those with very large increases in CVR should make more use out of promotional marketing whilst those who still experience increases, but not as drastic, should look to promotional marketing as a way to supplement and supercharge other forms of marketing.
Top five industries for this data set were Health, Home and Garden, Sport, Jewelry, and Business and Industry.

These industries should focus on conversions out of their promotions since they are seeing incredible success.
Drive visitors to purchase with cart abandoners, product upsells/cross-sells, and email marketing.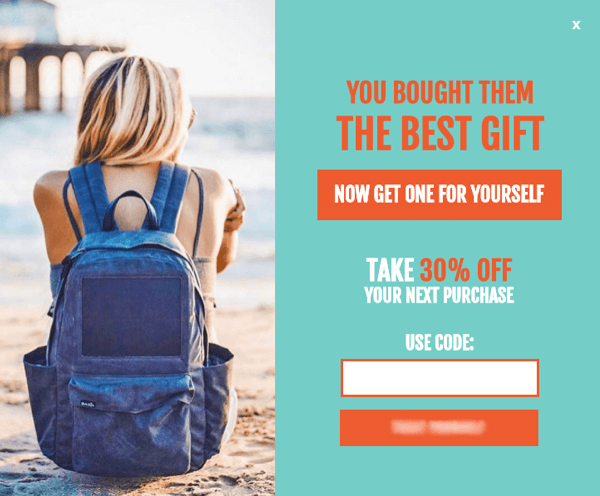 Returning Visitors can be targeted to a repeat purchase by promotional marketing. Each industry experiences a significant increase in sales after interacting with promotions, therefore, using promotional marketing to drive customers to be repeat purchasers can help turn one-time buyers into lifelong advocates.
Increase conversions with promotional marketing campaigns
After running through all of the data from 'Cyber 5', it's very clear that promotions can significantly increase sales conversions and should be used to support other marketing campaigns. We've provided several key things to takeaway from the report and get started on today!
Hop on a free trial of Justuno and get every tool you need to launch high converting promotional campaigns. Get started today!