Looking for this year's calendar? Click here to see the Justuno 2019 Marketing calendar.
Planning out your 2018 marketing initiatives is one of the simplest ways to set yourself up for success this year. To help you identify key sales dates and holidays, the Justuno team has put together a helpful marketing calendar specifically for e-commerce retailers!
This promotional calendar will help you plan for the biggest sales days of the year so you can implement effective marketing campaigns, e-commerce promotions, and sales. Scroll down past the calendar for helpful insight on seasonal trends and buying patterns.
2018 marketing calendar for e-commerce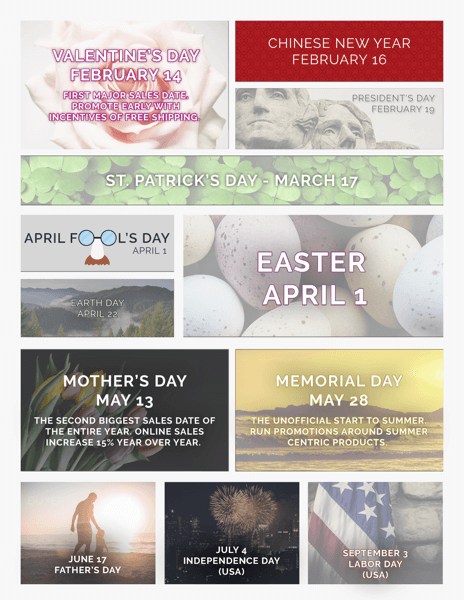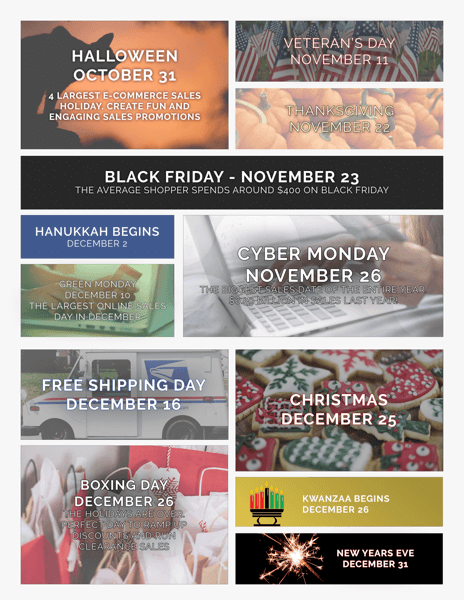 Seasonal sales opportunities & buyer trends
Gain a better understanding of shoppers buying patterns and seasonal trends. Insights on what to expect throughout the year will help you plan for the slower times of the year, and more importantly, the busiest and most lucrative times of the year.
The beginning of the year
The beginning of the year can be a slow time for certain retailers and specific industries but there ARE sales to be made. One of the most overlooked opportunities is the problem of excess and slow-moving inventory. Use clearance sales, bundling, and other tactics to move old and slow moving products.
Sales Opportunities
Clearance sales
Cross-selling, up-selling, and bundling to move excess inventory
Promote new products and seasonal specific items
Market to the list of new leads and customers gathered through the holiday season
Capitalize on new year trends like health, productivity, and improvement
Valentine's Day is in February, start your marketing campaigns early
Buyer Trends
Popular industries include health and fitness, subscription services and apparel
Savvy shoppers are looking for deals
January shoppers tend to buy for themselves
Key Takeaways
Don't wait to get started in 2018. Give your shoppers a reason to buy today
Meet shopper needs with new year deals and sales
Clear out old and excess inventory to start the year fresh!
Wedding season
This shopping period usually falls between May and July but is certainly not limited to that time frame. Shoppers are actively looking for wedding gifts, clothing, accessories and travel accommodations.
Sales Opportunities
Create buying guides for wedding gifts and wedding styles
Offer free shipping on orders and be clear about delivery times
Promote high-value and prestigious products
Buyer Trends
Shoppers are looking for ideas
Shoppers are more comfortable purchasing a wedding-related product online than they were in the past
Key Takeaways
Guide shoppers through their buying process with helpful content
Start early to capitalize on proactive shoppers and to boost early summer sales
Offer added benefits like gift wrapping, customization, etc.
Avoid the summer sales slump
July is the slowest month for e-commerce with sales dipping by 30% compared to big sales months like December. You want your summer shoppers completing purchases in April, May, and June. This is when your items hold the most value and demand is highest.
Sales Opportunities
Start summer sales promotions early and capitalize on early shoppers
Know your key summer sales dates and plan your strategy around them
Buyer Trends
Summer consumers start shopping early
Weddings, graduations, festivals, and vacations are common events that consumers are shopping for
Key Takeaways
Market summer products as early as February and March to create demand and anticipation (think Spring Break!)
Incorporate important summer dates and seasonal buying trends in your promotional planning
Collect emails to prepare for the lucrative holiday shopping season
Back to school sales
Back to school shoppers start as early as April. Yes, 40% of B2S sales occur in August but over 50% of B2S sales occur before August. In the early summer months, it's beneficial to craft a marketing strategy that specifically focuses on reaching B2S shoppers. Many retailers benefit from these sales dates, even popular marketplaces like Amazon run frequent discount promotions. Did you know, Dads spend 37% more money when they're in charge of back-to-school shopping?
Back to School Product Categories
Apparel and accessories
Computers and consumer electronics
Shoes
School supplies
Books, music, and video
Toys and hobby related goods
Sporting goods
Dorm and home goods
Sales Opportunities
Know who your shoppers are. Parents, children, college students, teachers, and others are looking to shop during this period
Create content around back-to-school shopping to provide ideas and recommendations
Buyer Trends
Back to school shoppers are both planners and procrastinators. Cater to early birds and last-minute shoppers
Cart abandonment and competition is high
Holiday sales
Much of the focus during the holiday season goes to Black Friday and Cyber Monday. This makes total sense. However, the competition is fierce so look for other sales opportunities as well. Green Monday is the biggest day for sales in December. Free Shipping Day is perfect for driving last-minute holiday sales. Q4 is going to be your biggest sales period so get strategic and seek out less obvious sales opportunities in addition to Black Friday and Cyber Monday. Don't have time to create holiday specific promotions? We've got your back, check out the 2018 pre-built templates here.
Sales Opportunities
Focus on Cyber weekend but don't forget about other important sales dates
Use free shipping as an incentive to purchase. It's the #1 shoppers are looking for
Cart abandonment is high so utilize cart abandonment promotions and emails
Buyer Trends
Mobile shopping has drastically increased during the holiday season (around 50% now)
Shoppers are looking for deals so consider using free shipping thresholds, up-sells and cross-sells to increase order size
Halloween is the unofficial start to the holiday season, so start early!
Key Takeaways
Create a holiday schedule with key dates that makes sense for your business
Implement mobile promotions and messaging to ensure mobile shoppers are taken care of
Offer free shipping when you can. Use free shipping thresholds to set a minimum order value and to incentivize shoppers to increase spending