What comes to mind when you read "Sporting & Outdoor goods"? Hunting, Fishing, Camping…the list goes on and on. But while these retailers' niches are very different, they have the same key strategies in common when it comes to effective onsite messaging and optimizing conversions. Let's check out some industry-wide benchmarks for context: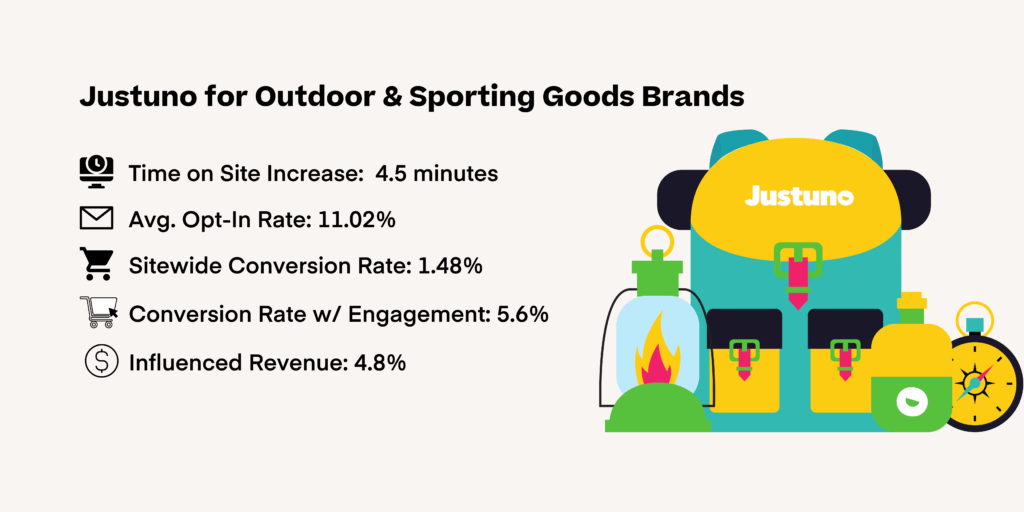 These stats are a high-level overview, showing a huge increase in both time on site and conversion rate for visitors engaged by a Justuno promotion. But let's break it down further. What's the best performing strategy for e-commerce outdoor & sporting goods retailers?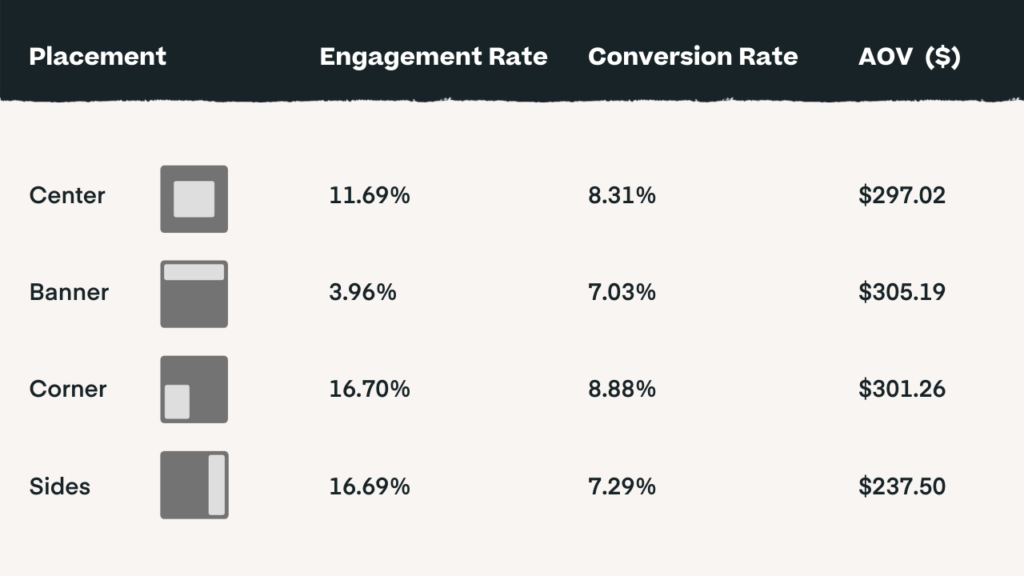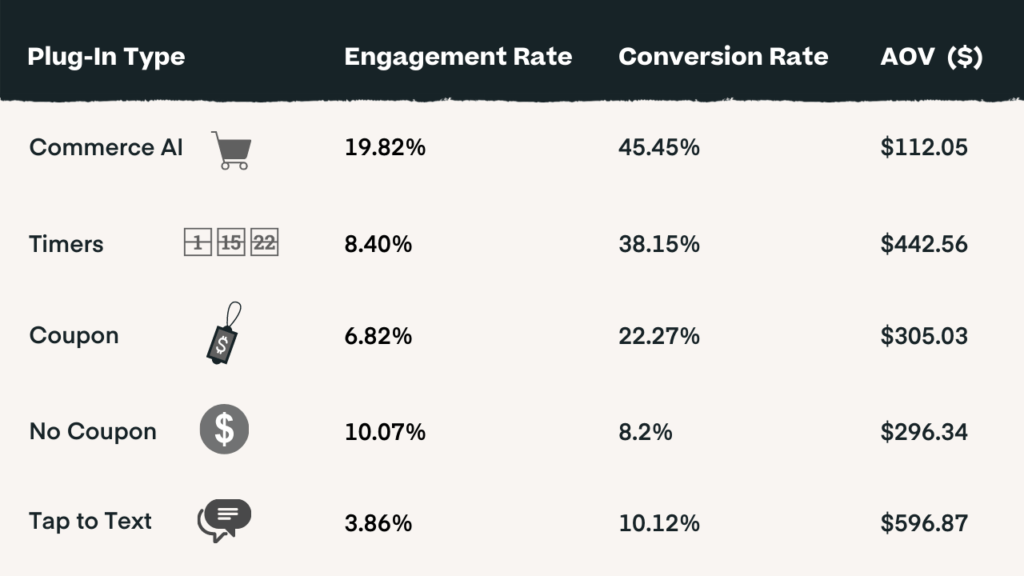 For a lot of these brands, COVID was a catalyst that drove strong sales as people wanted to get out into nature and took up new hobbies. This has made it crucial for S&O brands to build upon that momentum as the world has started to open up. How? Through thoughtful, personalized touchpoints.
DTC is an easy-to-see win for sporting goods brands, as it's a perfect fit for the focused mindset of an outdoors enthusiast. Let's dive into some ways to make it even easier through strategic promotional strategies and personalized messaging:
Lead Capture
1. Two-Step Lead Capture
Two-step lead capture is all the rage, and for good reason. It instantly doubles the number of channels you can connect with a subscriber on, providing the ability to pick which one is best for each touchpoint. Traditionally, two-step lead captures start with email on the first screen followed by the SMS opt-in on the second. Make sure to stay compliant by making the SMS field optional, keeping these fields on different screens, and containing the proper opt-in language. Check out this example by sporting goods retailer and Justuno customer, Poler: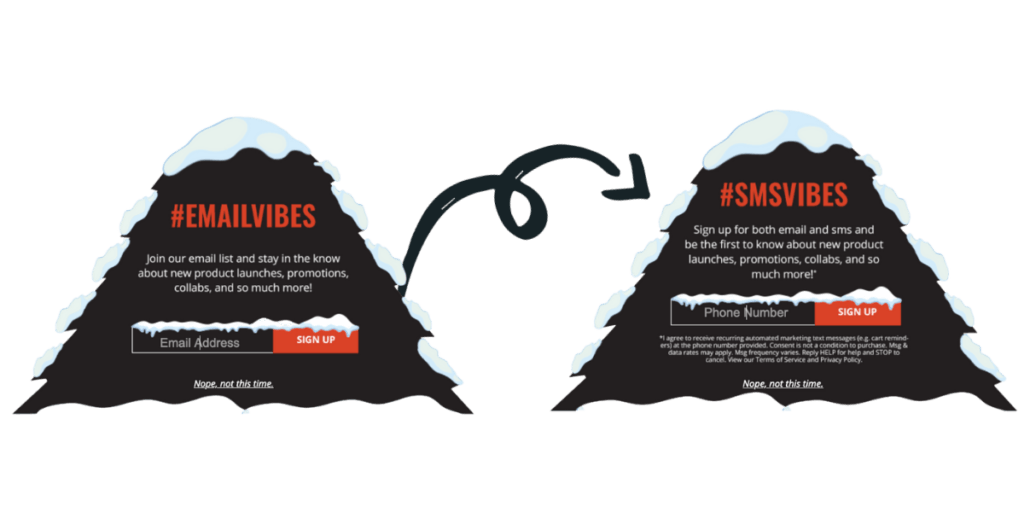 This on-brand shape stands out to visitors, and when they opt-in, it pushes email into their ESP Klaviyo and phone numbers into SMS platform, Postscript.
Justuno's two-step lead captures are a great way to start building synergy between your text and email marketing campaigns; as a standalone channel, SMS is a powerful tool but when used in conjunction with other channels unlocks a wide variety of benefits.
2. Lead Capture + Preferences Fields
Collect more data from your lead captures than just contact information by adding multiple fields to indicate preferences. This zero-party data can enable personalization from the start of their journey, creating more relevant campaigns and more robust recommendations based on their interests. Sporting goods retailers can carry products used for a wide range of outdoor activities like hiking, camping, fishing, etc. Let your visitors tell you which they're into so you can more effectively position products, weaving a powerful story.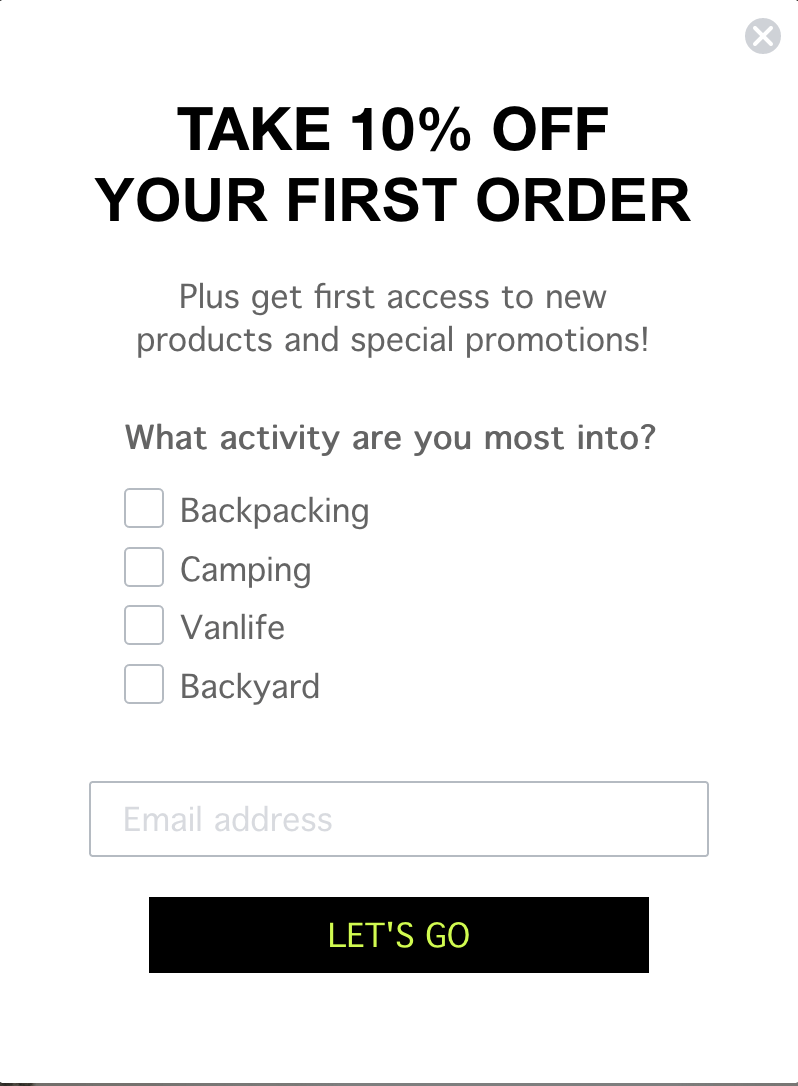 These additional data points will be fed into your email service provider's platform as well to create segments based on their activities to trigger different campaigns, measure lifetime value, etc.
3. Lead Capture + Giveaway
If your profit margins don't allow you to provide a discount in exchange for joining your newsletter list, then a giveaway might be an effective alternative. Many outdoors & sporting goods sites carry big-ticket items like paddleboards, canoes, tents, outdoor grills, etc., making it difficult to run discounts.
Giveaways can get a ton of organic shares and high-quality leads for rapid list growth. Not to mention, it's a great way to maintain profit margins, provide genuine value to subscribers, and show off your top products. Justuno customer, evo, knew their site traffic was made up predominantly of new visitors (65%), making initial traffic conversion integral to success. They implemented a monthly giveaway, matching prizes to the season (ski vs. surf), and skyrocketed their email collection. Their highest-grossing month had nearly 15,000 email sign-ups and averaged out to 6500 per month for the year.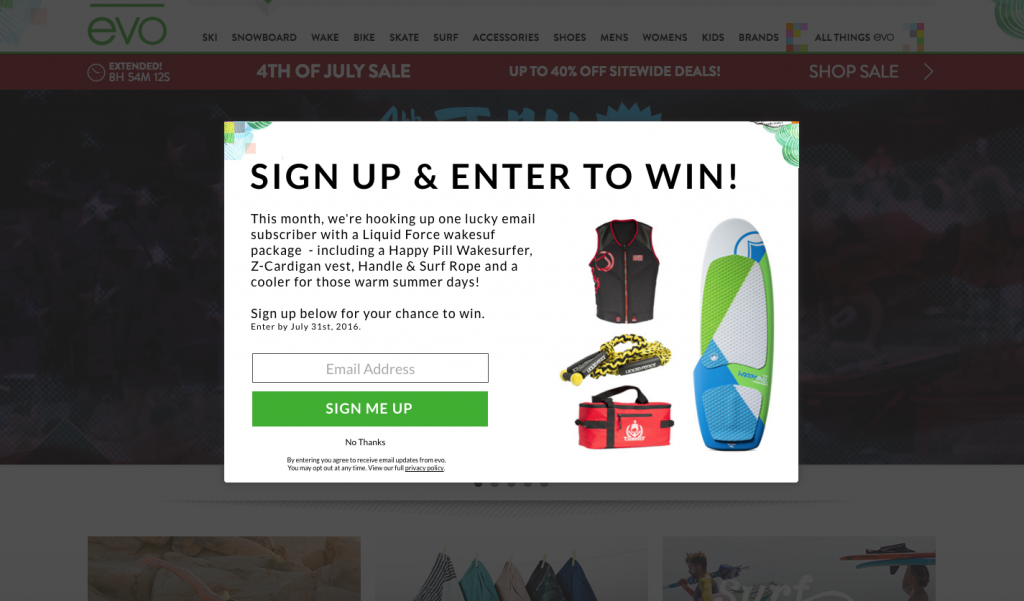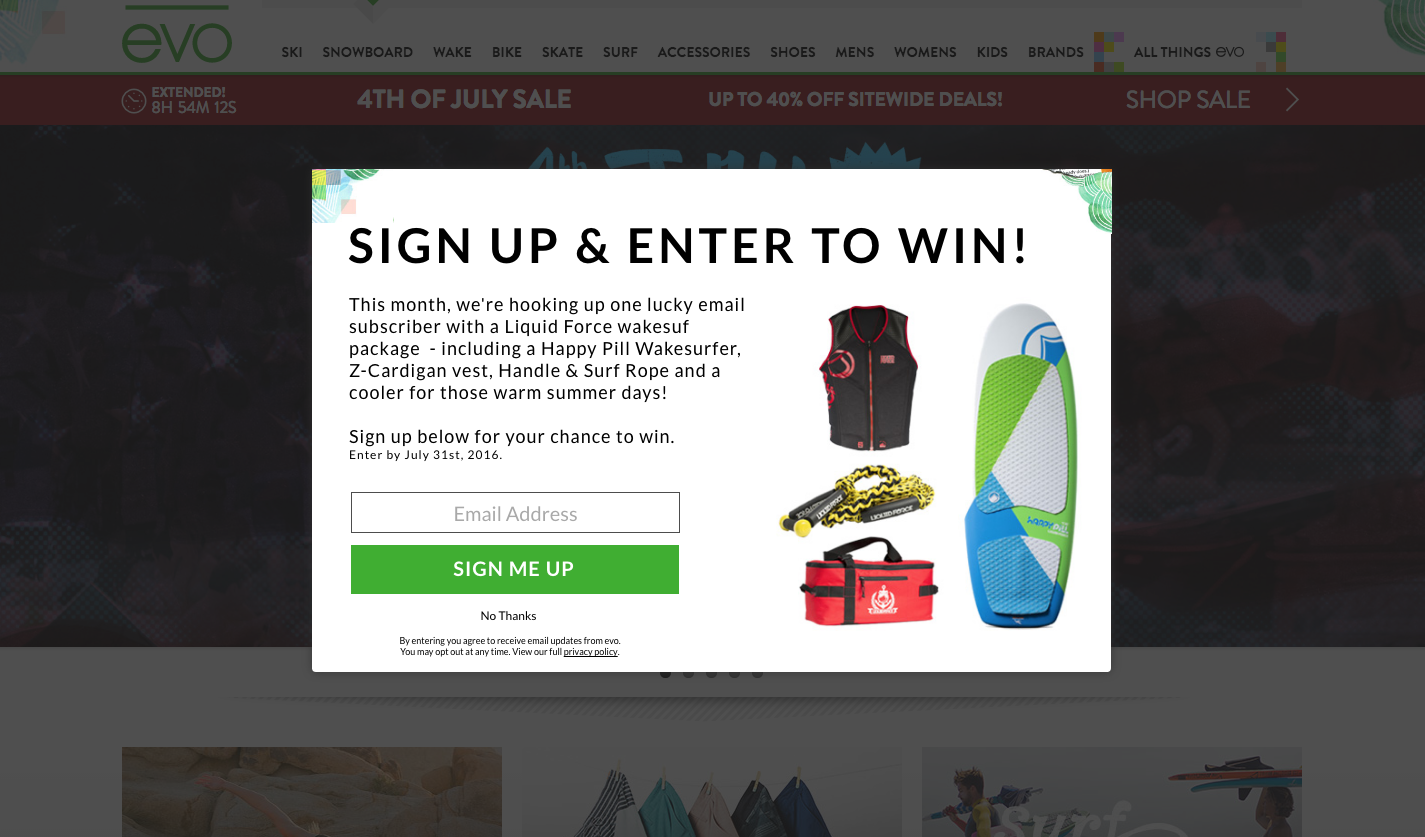 4. Tap to Text for Mobile
If you're more focused on growing your SMS list, then mobile opt-ins using tap to text are the way to go! For outdoor & sporting goods retailers, this feature averaged a 3.86% engagement rate and a 10.12% conversion rate for those engaged shoppers whose order value was a whopping $596.87.
Tap to text empowers you to reduce barriers to subscription; all a visitor needs to do is tap the CTA to open up a pre-populated message and then click send. That's it! They're opted in and ready to go on a channel that boasts a 98% open rate within three minutes of reception.
5. Free Gift/Branded Swag
A powerful motivator for consumers can be branded swag or accessories, especially if you've built a loyal, dedicated community around your brand. Not only does it reinforce their awareness and connection to the brand, but it's free marketing out in the world and can easily be added to a shoppers cart with just a CTA click on your pop-ups.
Swag that would be most likely to appeal to outdoor enthusiasts could be: reusable water bottles, coolers, gear bags, pet accessories, hiking socks, and so much more. The stronger your branding, the stronger impact this type of incentive will have on your conversion rate and order values!
Pro Tip: Find another e-commerce retailer whose target audience is similar to yours and do a collaboration—for example, if you're a fishing company, you could collaborate with a cooler brand for a special line of branded cups/coolers in aquatic colors!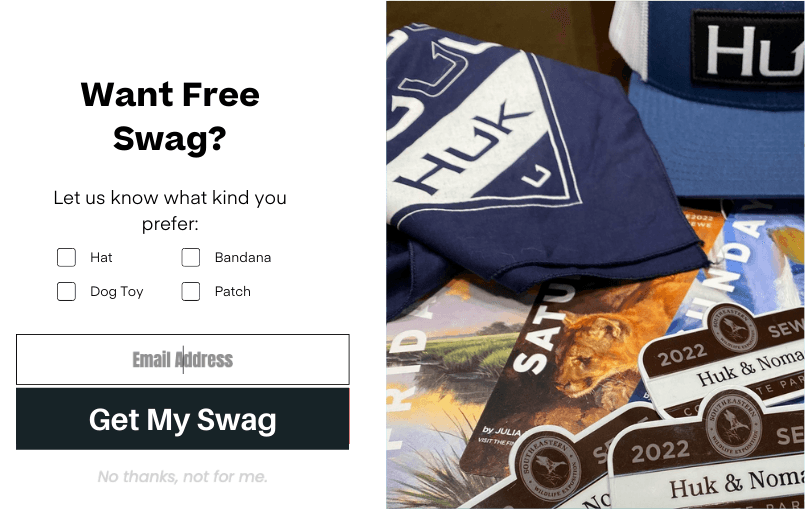 6. Pre-Orders or Out of Stock Sign Ups
If you're wanting to build buzz before a big product drop, you can collect subscribers with a "pre-orders" type lead capture to have them get early access to your latest product. Alternatively, if you've been experiencing supply chain issues like so many other DTC brands, you can collect out-of-stock sign-ups for them to be alerted once it's available again. . We suggest using faster channels like SMS or push notifications here since this high-intent segment will want to purchase quickly before you sell out again.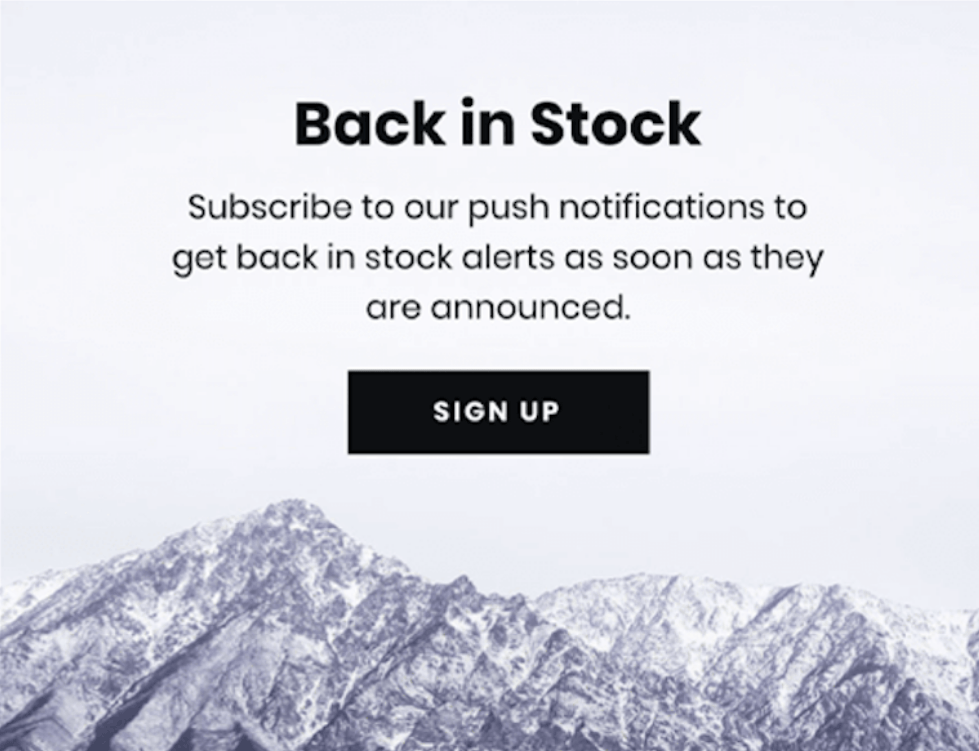 Personalization & Targeting
7. Geo-Targeting
If you're holding an in-person event or pop-up shop, leverage geo-targeted messaging on your website to let visitors in the area know.
You'll drive foot traffic to your event and have a chance to engage with more customers on a whole different level. Not to mention that level of personalization will resonate with a visitor even if they don't attend; they'll feel seen and welcome.
8. QR Code Targeting
If you have signage at an event, sponsor something, or even have QR codes on your packaging—create an onsite experience that is personalized for that traffic. Using advanced rule sets to target its UTMs, you can create promotions triggered only when someone lands on your site from that QR code. Greet event attendees, provide exclusive offers, or simply say hi—the sky's the limit when it comes to what you can build!
9. Influencer Campaigns
Your best customers may be undercover brand ambassadors—empower them to become advocates! Use Justuno to collect Instagram and TikTok handles to identify micro-influencers amongst your customers. Then make the most of these influencer campaigns through targeted onsite pop-ups that mirror their creative & messaging. Use their name, special offer, the same product imagery, etc., to show visitors when they click through for instant relevance and personalization.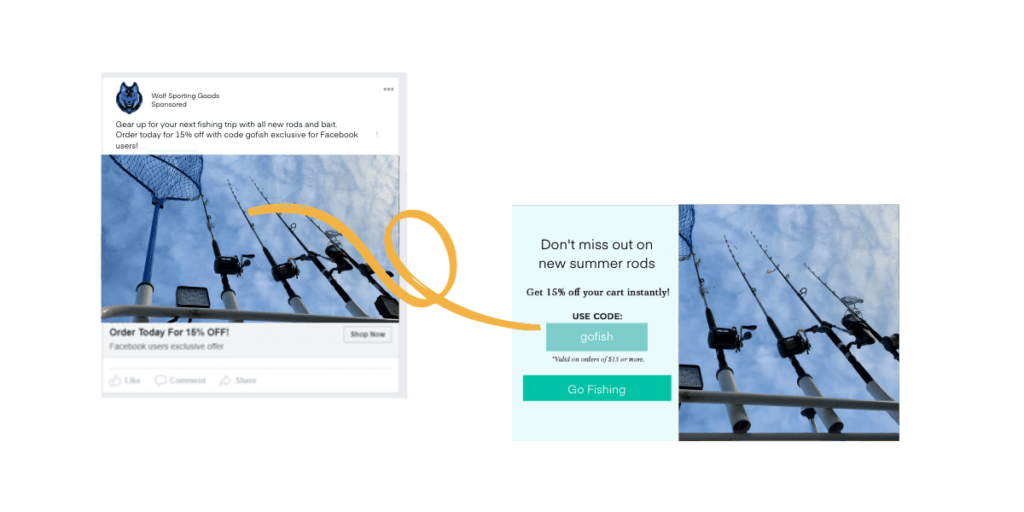 10. Loyalty Programs
If a shopper checks out but wasn't signed into your loyalty program—show them a promotion encouraging them to sign-up to earn something on today's order. This could be double points, free gifts, etc., and promote more brand loyalty through the possibility of earning rewards. Double down on turning customers into advocates by rewarding referrals (and making them easy), content creation, etc. The more you can build out convenience and perks for customers, the more value your brand has for them, and makes your site a no-brainer for their outdoor journey.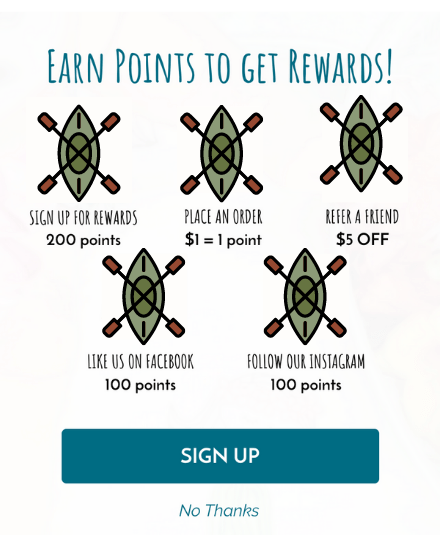 Product Recommendations
Outdoor & sporting goods is a vast vertical spanning many different niches and, within each, a variety of specialized equipment. This can make it hard for visitors to find what they're looking for, decide between different options, and ultimately lead to people abandoning their search altogether. Enter personalized product recommendations, a great way to strategically direct traffic based on their segment, behavior, indicated interests, etc., to help them find exactly what they're looking for even when they may not know what that is.
Justuno's intelligent product recommendations can be used anywhere on your website; here are just a few of the placements your sporting goods brand might use:
11. Home Page
Place your best sellers on your homepage to drive your new visitors to your highest converting product pages. This maximizes the likelihood of a same-session sale and drives faster product adoption.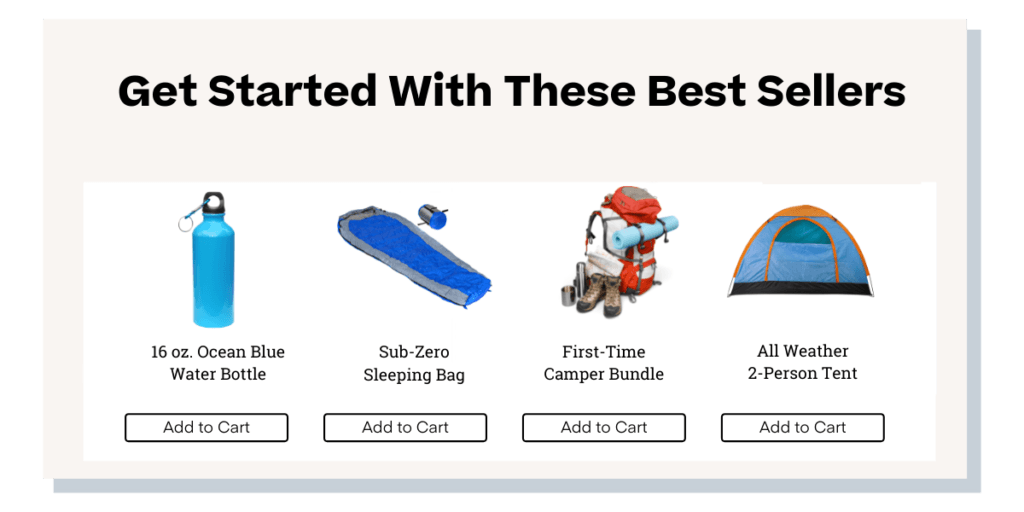 12. Product Description Page
Place recommendations in-page to show them related complementary items like sleeping bags on the same page as a tent, for example, to complete their order. Alternatively, you could upsell substitute items, like the more premium tent options, more waterproof sleeping bags, etc., based on the product they're currently browsing.
13. In-Cart
Either on the cart page or in the cart slide-out, you can place a product recommendation for bottom of the funnel activation. Upsell in-cart for warranties on big-ticket items like paddle boards or camping stoves. You'll make shoppers feel more confident in their purchase, boosting conversion rates and order values. Or cross-sell complementary items to what they've added to their cart, like socks when they added hiking boots.
14. Add to Cart
Once a visitor has added something to their cart, you can fire a center pop-up with a recommendation carousel of items to add directly to their cart with a click. This can be a cross-sell of complementary products to raise order values or a free gift to drive conversions. For example, if they added a cooler to their cart, your free gift carousel could feature an ice block, monogram, or bottle opener, versus when they add a tent, the carousel shows the options of stakes carrying case or a tent light to choose from.
15. Blog
Content marketing is a key component of any outdoor & sporting goods brand strategy; you'll want to build a compelling story behind your why that creates a community/lifestyle around your brand. Not to mention an integral part that many of these hobbies and activities have in consumers' lives makes it all the more powerful when your brand becomes a part of that. Hunting, fishing, camping, etc., are all social activities—whether with friends or family, making the products they use while doing them become a part of that. Leverage your blog into more than simply a storytelling component using an in-page carousel of products featured in your article. This makes it easy for the reader to add them to their cart immediately, no need to go looking for them, and eliminates the possibility of browse abandonment altogether!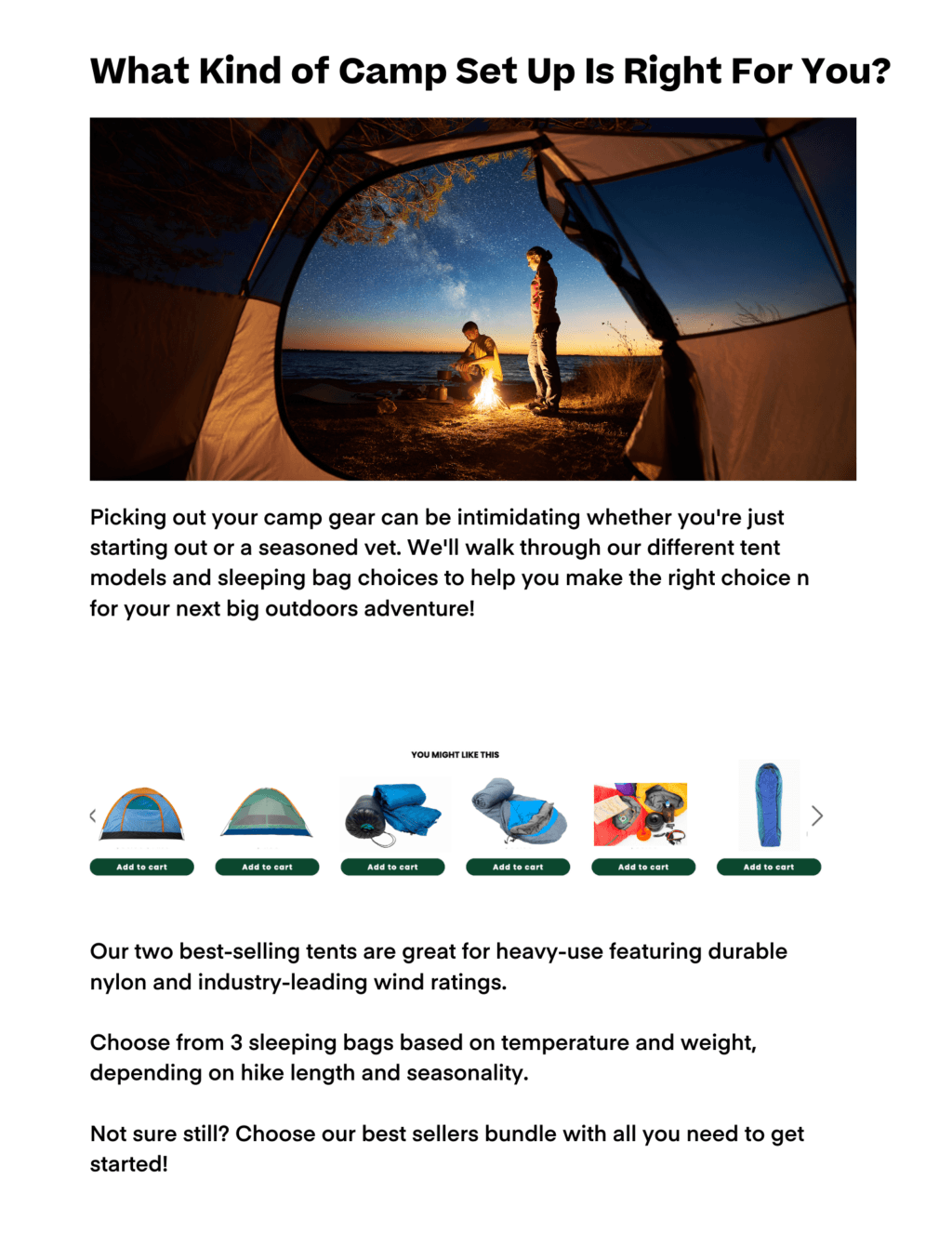 Cart Abandonment/Exit Offer
16. Product Finder Quiz on Exit Offer
An exit offer is triggered when a visitor goes to leave your website but has nothing in their cart. This is a great opportunity to present them with a product finder quiz as opposed to a discount or other incentive. Like we said above, the wide variety of equipment and products to choose from in the outdoor & sporting goods space can make it hard to know exactly what it is you should get. That's why a product finder quiz that guides visitors to the product best suited for their needs creating a personalized brand experience and decreasing the likelihood of returns.
Product finder quizzes work better here than a discount since it's education these shoppers are looking for rather than an offer. Justuno customer, Midland, implemented this approach to help exiting visitors find the right radio for their needs (first-responder, camping, construction, etc.)–this product finder quiz kept 20% more traffic on-site than before!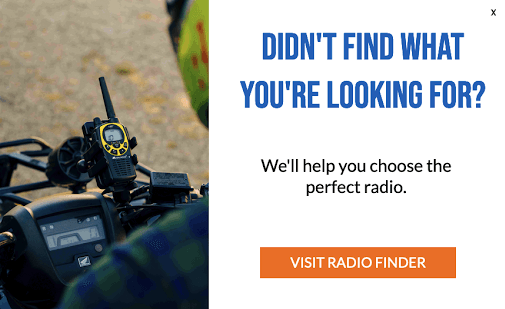 17. Satisfaction Guaranteed on Cart Abandonment
If you're selling bigger ticket items, there will likely be some hesitation for shoppers before they pull the trigger. If you offer a satisfaction guarantee, this is the ideal time to promote it—these visitors were interested enough to add products to their cart but weren't quite ready to convert yet. The guarantee is perfect for this audience; reinforcing the no-risk aspect of their purchase removes barriers to driving same-session purchases without reducing profit margins. Match up with a timer for maximum FOMO—outdoor & sporting goods retailers using timers in their Justuno pop-ups averaged an 8.4% engagement rate and converted 38.15% of those shoppers!
18. Geo-Targeted Cart Abandoner
If your products are carried in local sporting goods stores, or you have your own brick-and-mortar locations—use a geo-targeted cart abandoner to drive customers to find a location near them rather than abandon their cart. If they're worried about long shipping times or simply want to see something in person first, this cart abandoner solves both barriers. Save the sale, tie the in-person experience to the online, all while providing personalization to shoppers—win-win!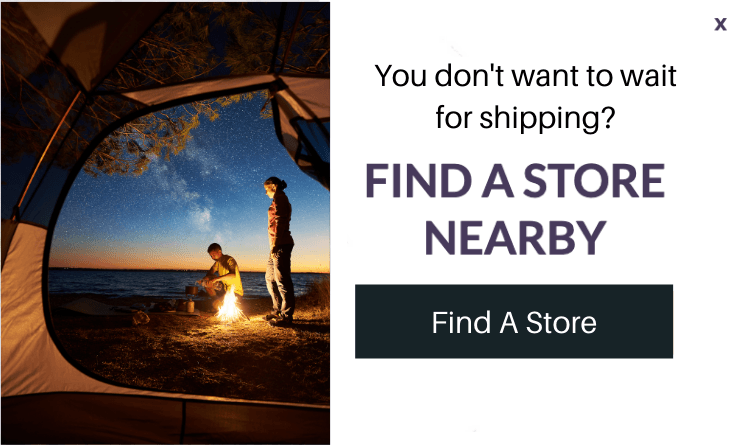 Branding
19. Outside The Box Holidays/One-Off Campaigns
Take advantage of some outside-the-box holidays to run one-off campaigns that appeal to your target audience. There's national hunting & fishing day on September 24, National camp day on 11/19, boating day on 7/1, and countless more. Find the ones that fit your brand and appeal most to your customers—create email, SMS, and social campaigns to drive traffic to your site with mirrored messaging to seamlessly transition them from off-site to on.
20. Fun Designs
If your brand personality allows it, lean into some fun creative to stand out from the crowd. Poler's two-step lead capture from earlier is a great example of using custom shapes to build off, other options include custom games, seasonal designs, and more.
21. Use UGC in Designs
Outdoor & sporting goods brands are extremely lucky in that their products (for the most part) are used in extremely beautiful settings making it easy for user-generated content (UGC) to be leveraged in your campaigns. You'll reduce resources being used internally by your team, but also, this content is proven to be more compelling and effective than anything your brand puts out. Encourage customers to post their adventures on social media, tagging your company profile or using a specific hashtag, then routinely reshare these posts or use their imagery in your marketing campaigns. Lifestyle imagery is incredibly compelling (always A/B test)–and in this vertical, it's practically a must.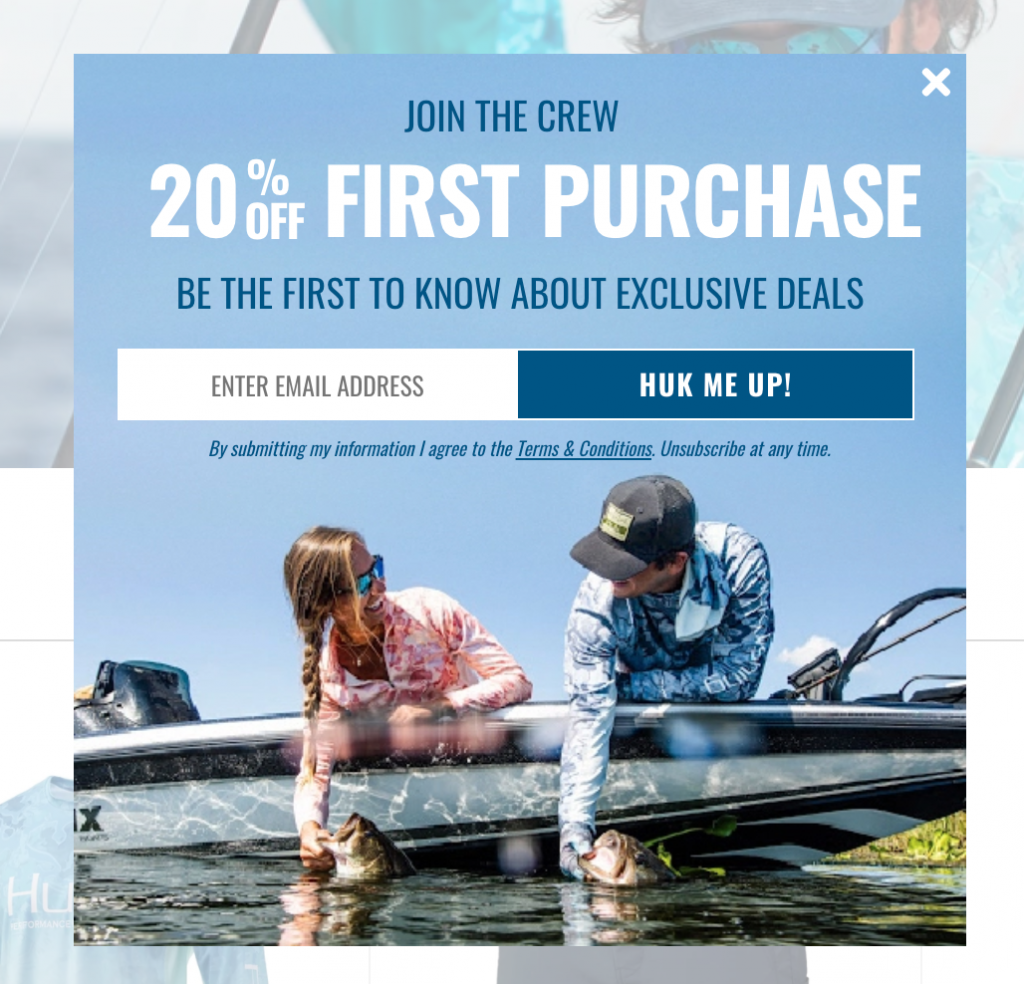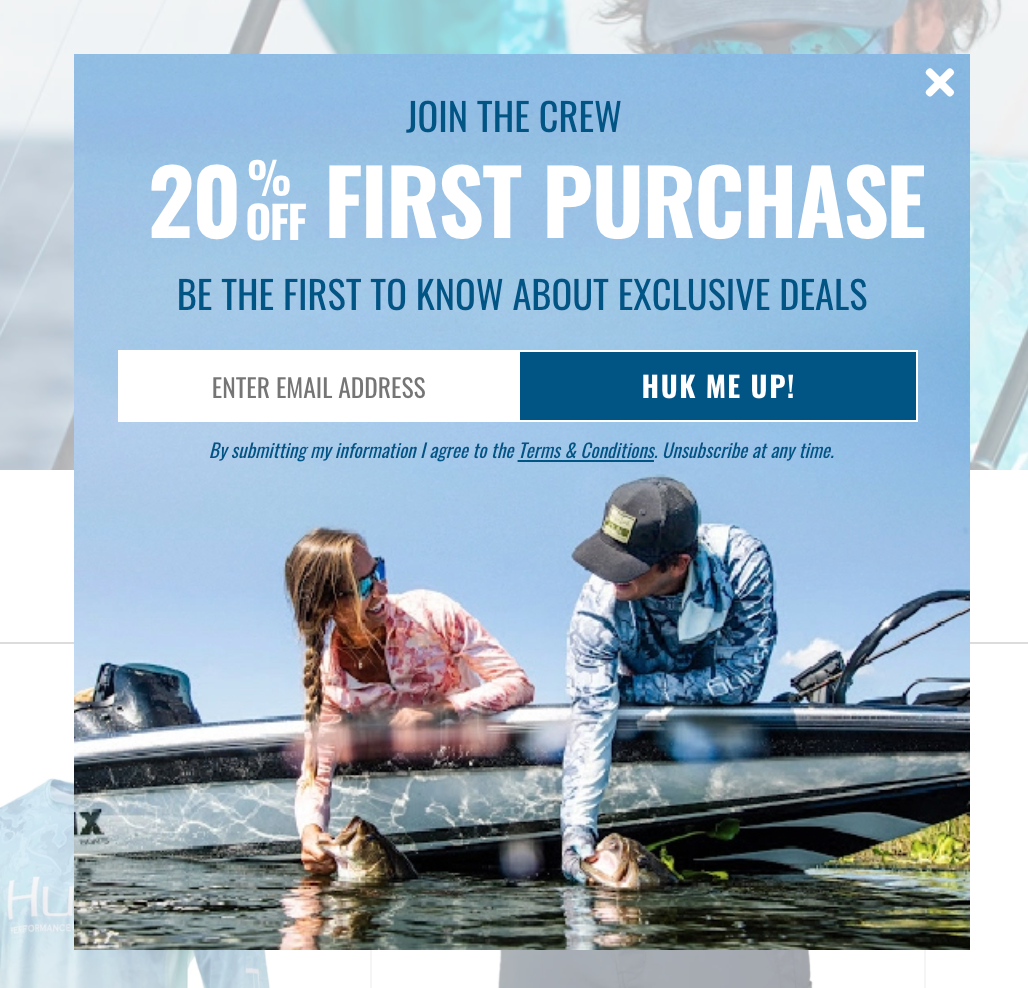 22. Sustainaability & Social Impact
This vertical is filled with companies created by nature lovers for nature lovers. This makes it key to highlight your brand's values and sustainability initiatives as this reveals the people behind the products, making it easier for shoppers to align themselves with your mission. Use onsite messaging to inform, educate, and inspire consumers on this note with banners telling them of your values or initiatives, drive traffic to dedicated landing pages featuring more information, or a chance to get involved. Ultimately, you can help inspire them to become a part of the community.
This is one of the best differentiators, especially in this e-commerce vertical; use an app like ShoppingGives, to make it easy for your customers to get involved and give back as they navigate your site. Swap traditional incentives like discounts or coupons with loyalty program rewards like a tree-planting campaign, for example. If you have several initiatives running, you can use radio buttons on post-purchase promotions or lead captures to let shoppers indicate which they're most interested in.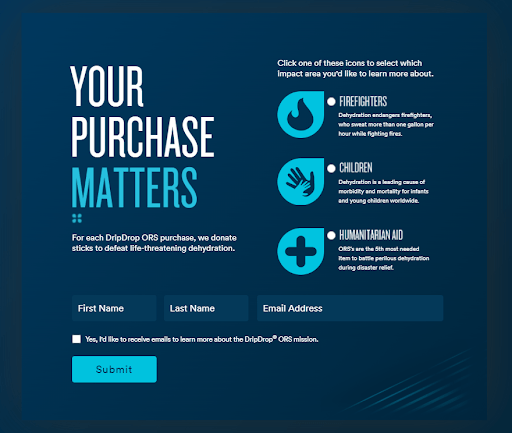 The outdoor & sporting goods industry is big and only getting bigger as consumers have shifted their shopping behaviors and picked up new hobbies.
The big stores like Academy and REI may control the market share, but DTC brands can compete by offering a better customer experience that connects 1:1 with shoppers. These strategies are just a few of the potential ways you can use Justuno to build a deeper connection with your customers.
Justuno is the leading conversion optimization platform for brands when it comes to personalized, scalable onsite messaging. Try us out with a free 14-day trial or schedule a demo to see how Justuno can take your outdoor & sporting goods store the next level.