We introduced some exciting products, features, and updates in 2019 and we learned a lot along the way. This year our focus was on collecting as much feedback from our users to influence the updates we made and shape the exciting new products we have planned for 2020.
The two biggest game-changers were our AI-powered product recommendation engine, Commerce AI and our new personalized service plan, Justuno Plus. Let's take a look at all of the exciting changes we made in 2019!
Commerce AI
Commerce AI is our powerful product recommendation engine that intelligently suggests products based on one of five algorithms to choose fromorithm you select. The strategies include upselling, cross-selling, most viewed, most purchased, and previously viewed products as the base algorithm for promotions.
These product recommendations are the result of syncing your inventory with billions of data points based on customers' behavior to create the optimal suggestion for each shopper.
Want to refine product suggestions even further? Choose from a variety of filters that narrow the parameters for which products are eligible to be included. These can be used to further customize the shopping experience putting only the most relevant products in front of shoppers.
Commerce AI is currently available on the following platforms:
Shopify
BigCommerce
WooCommerce
Magento 1 and 2
Justuno Plus
Justuno Plus was launched with mid-to-enterprise level businesses in mind and designed for the professional marketer. With this plan, you get exclusive access to Commerce AI and a dedicated Plus Strategist. Your Plus Strategist will create a personalized onboarding process for your site to get your account up and running. They will work with you to create a strategic roadmap for how to achieve your marketing goals and continually check-in to ensure your metrics and strategy are on track. With Justuno Plus you can be sure that your marketing strategies are our top priority.
Push notifications
Push Notifications are now out of private BETA and available for everyone to use! Send messages instantly to your customers even when they are offsite.
Use a Justuno promotion to set up a compelling and well designed opt-in for Push Notification subscriptions. After opting in, customers can start to receive notifications on their desktop. Organize subscribers with lists to better target your messaging, since this is such a high-touch channel this is a key part of a successful push notification strategy. Send alerts, announcements, reminders, and more without fearing your message will get lost in an inbox!
Rule updates
We've made some powerful updates to our ruleset triggers to help you better target your promotions and make it easier to create/save rules. We added these rules to better isolate the types of engagements a promotion has had. Below are a few new ways to target based on if a user has or has not:
Had an overall engagement
Engaged with a form or CTA
Engaged with a plugin
Engage with a Push Notification or Facebook Messenger opt-in
Engaged with various social media follows
Engaged with an Intro Continue Click
Engaged with Videos Watched
We've also added the ability to import and export your rulesets. This is especially helpful when you need to apply the same or similar rules to multiple promotions or want to recreate a previous ruleset on a newly designed promotion.
Plus, you can recover past versions of your rules. When publishing promotions, you'll be asked if you want to save a version. Name the saved version and you're good to go. Should you need to recover an old version of your rules just select the desired version to recover.
Integrations
Our integrations modal underwent a facelift this past year. The UI was updated to help you better navigate amongst the tech partners to find the software you're looking for. Along with a new look, we also added a few new integrations to our suite of tech partners. Stay updated on who we integrate with in 2020 by checking out our integrations page.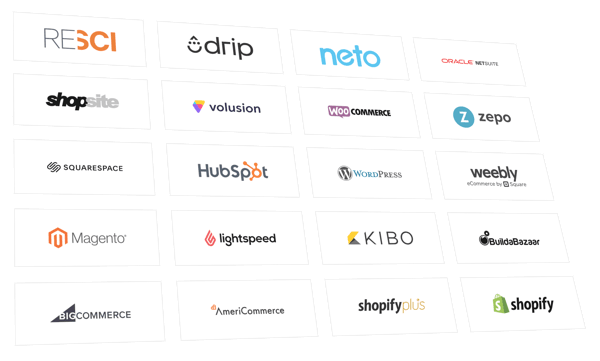 General improvements
Just as with your rulesets you can now recover previous versions of your promotions. Make sure to save a version when you publish and it will be there should you need it. Along with this you also have a history feed in the design canvas. Ctrl + z to undo changes or go to the drop-down history menu to revert to a previous version.
If your store is on Shopify, you'll be happy to know that auto-apply coupons can now be applied in all Shopify accounts regardless of if the Justuno embed code is installed on the checkout page. These coupons can be applied in additional areas like a user's mini-cart and during checkout.
For anyone with a Swell or Cordial account your collected emails will not be automatically sent to your accounts. If you use Adobe Analytics, impressions and engagements will be sent to your account and any captured emails will be identified to your Adobe Analytics.
We're just getting started!
Whew! What a list! We started with the release of the first of our AI-powered products. Created a highly personalized service offering. Introduced new ways to communicate with your users and improved many features to better service you based on user feedback. What could we possibly have in store for 2020?
Well, we might have a thing or two up our sleeve. To read more about our newest project go to the Project Phoenix page. It's going to be big!