We're excited to announce our newest feature, Push Notifications – BETA. With Push Notifications, you can reach your users instantly even if they aren't on your site! Notifications help encourage your customers to engage to help reach your conversion goals. While in BETA, Push Notifications are free for you to use and test. Once out of BETA, Push will be an add on product, please contact your account manager for access.
What are Push Notifications?
Push Notifications are messages that can be sent via a browser on desktop or mobile to customers who opted-in from a Justuno subscribe pop-up. Users don't have to be on your website to see them. They're a great way to speak directly to your customers without the fear that your message will be lost to a spam filter or go unread in an email.
Using a Justuno pop-up, you can create an aesthetically pleasing method for driving more opt-ins. Along with branded designs, you have full control of when and where you present the opt-in using Justuno's advanced segmentation. They work in a similar manner to your standard email opt-in pop-up, but allow a quicker route to communicating directly with your customers.
Ways to use
Push notifications are great for getting messages out quickly to your users. This can be great for when you want to inform users of critical information or run promotions that are time sensitive, creating a sense of urgency in your users. For example, you can send out notifications about:
New Store Announcements
Re-Stock Alerts
Cart Abandonment
Sports Scores
Emergencies
Flash Sales
New/Returning Products
Event Posting
Weather Delays
Make sure to not overwhelm your subscribers with messages, only sending out notifications that are personally relevant to them. A great way to ensure that you are providing value to your subscribers through push notifications is to organize your subscriber list into segments. This way they are receiving relevant messaging that they will find value in driving more conversions.. We've got a handy guide on how to segment your list here.
How to make a Push Notification
Here are the basics for setting up for Push Notifications. Start a new or edit an existing promotion and add a "Push Notification CTA" layer to it. You can style the button however you'd like. When your user clicks on it they will be able to opt in to Push Notifications.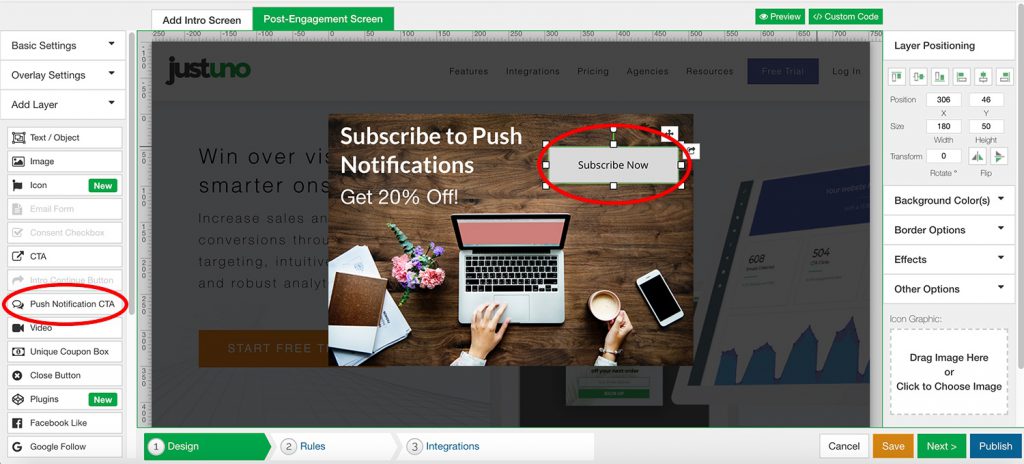 Now you can add your icon graphic and choose what lists you'd like to be associated with the promotion. Say you'd like to notify the subscribers who click through this promotion about upcoming sales, you can start a "sales" list just for that.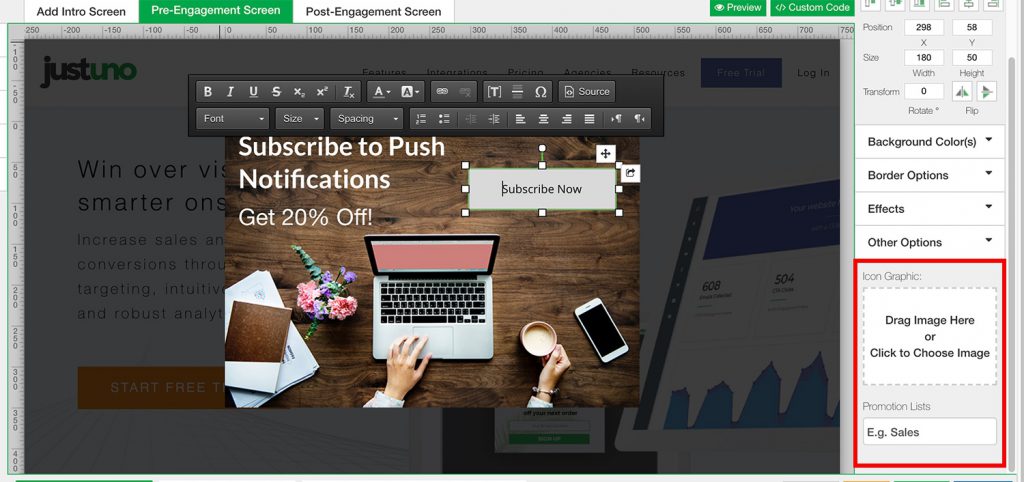 Once your promotion has been designed, save and publish it. When it is live you'll start to get subscribers.
Now you can create a notification. Click the "New Notification" button and fill in the form fields. Here you choose how you'd like to present your message, who it will be sent to, when, and how often. Under Automatic Notifications, you can edit your welcome push notification. In the future, you'll also have the option of Automatic Notifications such as Abandoned Cart and Out of Stock Notifications.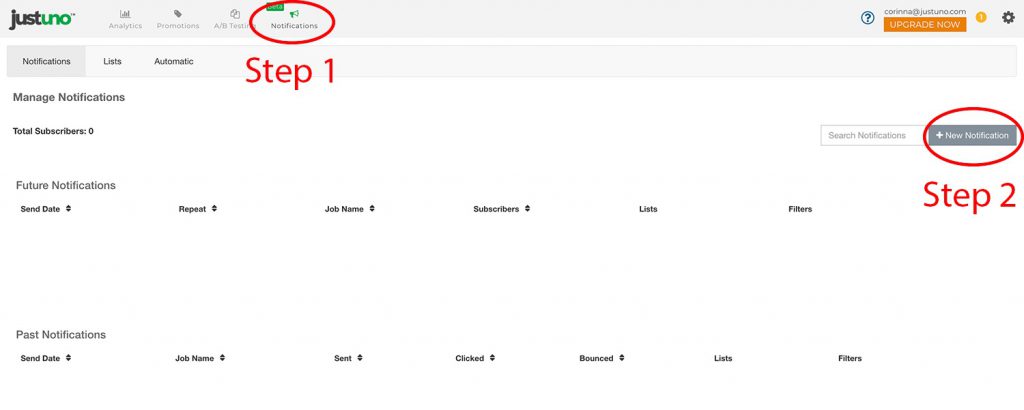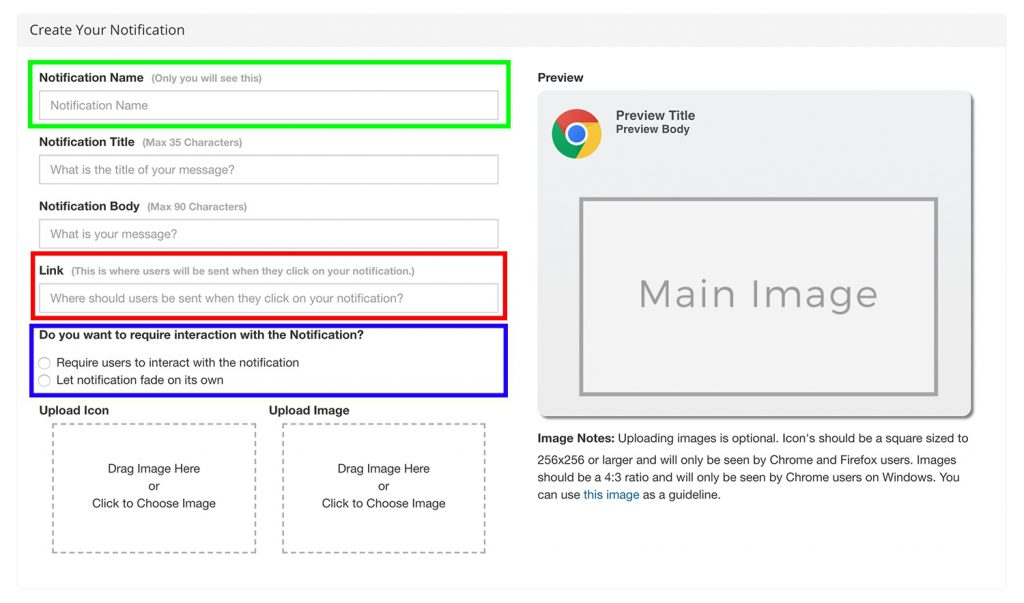 After a promotion has been pushed out you can look at the data to see how many notifications were sent successfully, how many users clicked on your notification, and how many bounced.
Push Notifications are a powerful way to reach a group of customers instantly and receive instant engagement. Contact your account manager to start testing.