It doesn't take a marketing expert to know that marketing is a complex endeavor. With so many moving pieces, it can be hard to decide what you should focus on. What mediums do you prioritize? How do you narrow down your target audience? How do you rank better on search engines? Should you have a social media campaign? And if so, which social media platform should drive that campaign? And where in the world do you even begin to dig into this stuff?
Unfortunately, I can't answer all of these questions for you. But I will offer up one solution, and that's the valuable question of where to begin. Segmenting out an audience is often one of the most important and daunting tasks for a marketer. But the work is worth it. Segmenting visitors into audiences is going to make conversion marketing campaigns more relevant and effective. An easier way to segment is by using something called geo-targeting.
Geo-targeting uses a customer's specific location to push forward marketing campaigns. Software with geo-targeting capabilities uses the users' IP address or ISPs to find what city the user is accessing your site from. Different areas support different incomes, ages and have a different gender make up than their neighbors.
By utilizing this information, you can transform your marketing campaign with significantly less effort based on their location. So how exactly can you use geo-targeting to better implement your marketing campaign? We're so glad you asked!
Direct ads to local venues
Once you know your target audience, you can easily aim your advertisements towards areas where your target audience would be. Bonobos, an online male clothing store, did a great job of this when they were launching their Guide Shops pop-ups. The "store" would serve purely as a try on and styling area. Once you ordered clothes, they'd be sent to your house directly.
When they started to open these "stores", it didn't make sense to advertise to everyone because not everyone would be near the pop-up stores. So instead, they only advertised within a small radius of their shop. By using geo-targeting to drive traffic to their shops, they were able to save money and resources while still achieving success in their pop-up shops.
Segment audience by area
Target audiences are often based on age, gender, and income. Knowing what cities fit these demographics best allows you to better target your ad campaigns. Let's say that you own an online purse store. You have a broad range of bags, and since you're an e-commerce site, your audience is global. But what products do you push where?
Using geo-targeting, you use smart marketing tactics. A great example of successfully using area segmenting is evo, an e-commerce sporting goods store. When they took the leap to open up three brick and mortar stores. Their first step was to send out an email blast for a $200 shopping trip to users in the area. Though the campaign had a 58% conversion on mobile users, the campaign wasn't as effective at driving traffic to their storefronts.
To more effectively drive traffic to their stores, they pushed out a 10% discount on any in-store purchase when customers provided their email. This not only drove traffic to their new shops, but it also helped them construct lists for each store that they could later use for store promotions. By targeting these specific users in areas near their stores and then promoting to in-store audiences, an e-commerce site successfully made the move to storefronts.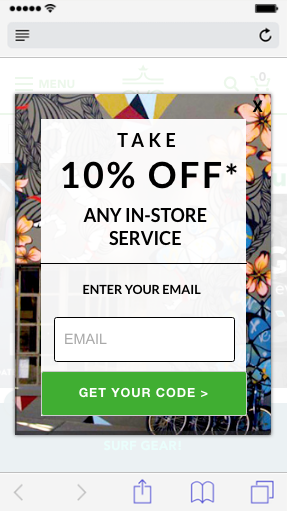 Use other local stores to push your sales
Inserting yourself as part of a community can be a great way to build brand loyalty with customers. But, as most small businesses know, making a name for yourself is easier said than done. Luckily, geo-targeting can make this task a little less daunting.
Say your e-commerce site focuses on college students. Target promotions to local coffee shops within a few miles of your storefront that students frequent. Students that bring in a receipt from the coffee shop to your brick and mortar store get a special discount. You can push this email campaign to users that are within a 10-mile radius of the coffee shop and your store.
Since this promotion also drives business to the coffee shop, you can reach out to them to advertise your promotion and mention it to people as they pay. Not only does this get your name out there, but it also helps position you as a part of the community by engaging with your audience throughout their daily routine.
Position campaigns around local events
This is another great way to position yourself as a "go to" for information within a community. Surround your campaigns or newsletters around what's going on in a specific area. If a town that you have a lot of subscribers from holds an antique fair once a year, use it in your marketing campaign. In your newsletter for that area, including tips and tricks on how to bargain prices, articles about the best booths from the year before and sales surrounding your own products that would speak to that target audience.
By doing this, you relate to the reader but you also position yourself as more than just a store. Now you're a source for entertainment and information for what's going on in their area. When you create a space for yourself in the day to day life of your customer, you're on the way to marketing stardom.
Custom landing pages
Marketing is all about connecting with people. The goal is to make someone want to buy from you, and part of that is making them feel like you know them. Landing pages are a great opportunity for this. Structure your landing pages around a person's location.
This can mean simply using pictures from the surrounding area or structuring the landing page around a theme that is relevant. A great example of this is Grubhub. If you access their site from Boston, you get completely different suggestions and images than if you access it from San Francisco. Not only does this engage the user on a personal level, but it also draws them in to the page, keeping them clicking for longer.
Target visitors with geo-location today!
Marketing is not an easy task, but geo-targeting can make it much easier. Armed with the information geo-targeting provides, and these tips for how to use geo-targeting effectively, you can run a better-informed marketing campaign.
This helps you build a relationship with your users and push forward sales. User-based marketing efforts are always going to be more effective than a one size fits all campaign. An easy solution to what can often feel like an insurmountable hurdle? That's something we can get behind.
Using Justuno's targeting rules, you can segment by country, state/region, the visitor's language settings, and even zip code in the U.S.! Check out the targeting rules support documentation for full details on these capabilities.