B2B has often been thought of as the less glam cousin to B2C. You're talking shop with professionals who are acting on behalf of an organization — so you need to keep things serious and talk big business, right?
We all know this is rubbish. When it comes to B2B marketing, it pays to think small. In other words, think about your target market as individuals, not a faceless entity.
Personalization is key to success in B2B — and it's something that more and more businesses are getting wise to.
It's what helps you connect with your target audience on a more individual level, and it's what can make the difference between a successful campaign and one that falls flat. Let's take a closer look at exactly how you can do that…
Why Is Personalization Important In B2B?
There are two main reasons.
First of all, it helps to build trust. When you address someone by name and talk about their specific needs and interests, it shows that you're paying attention. It also makes you seem more human — and we all know that people do business with people they like and know.
This is something that's particularly important in B2B, because the sales funnel is usually long and complex: showing you're there for your customers and understand their needs helps to build loyalty.
Personalization can also help to increase conversion rates.
When you target your marketing to specific individuals at each stage of their journey, you're more likely to hit the mark — and they'll respond to that. Personalized blog posts, offers, and other key touchpoints all help to do this. 
According to recent e-commerce conversion statistics, you can expect around 67% more leads every month if your brand has a blog, compared to those that don't.
But how do you go about personalizing your content in a way that does all of these things? Let us explain…
How To Make Your B2B Marketing More Personal
We've got some ideas for you…
1. Use Personalization Tokens In Your Email Marketing Campaigns
Email marketing is a great way to connect with your target audience on a more personal level. By using personalization tokens in your email campaigns, you can ensure that each message is tailored to the individual recipient. This helps to build trust and loyalty among customers.
There are a number of different personalization tokens that you can use, including first name, last name, company name, and job title. You can also use other tokens such as country of residence, age, and gender. E.g, instead of saying "Thanks for signing up to our seminar!", you could send a message that says: "Hi, John! Thanks for signing up for our seminar. We're excited to see you in Dallas!" It's a small thing that makes a big difference.
2. Personalize Your Website
Your website is another great opportunity to personalize your content. You can use customer data to create targeted pages on your site, as well as cookies to track the interests of individual customers.
For example, if you know that a certain segment of your target market is interested in a particular product or service, you could create a page about it on your website. Then create offers and messaging targeting that page's visitors that are relevant to their interests and stage of the customer journey.
Personalization also includes the actual design of your website. Drawing from customer data, you can work out your demographics and the things they respond to, and incorporate that into your site's look and feel. A/B test these changes to find exactly what your audience responds to and incrementally increase performance/conversions.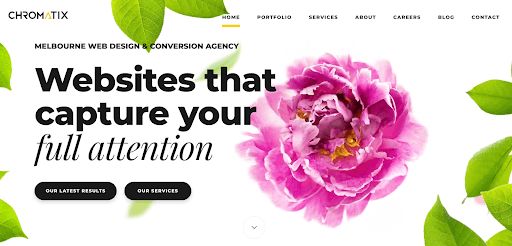 Web design agency Chromatix worked out that their customers responded to bright, fresh colors and playful designs. They incorporated that knowledge into their website design and saw an instant uptick in conversions as a result.
3. Use Customer Data To Create Targeted Content
One of the best ways to personalize your content is to use customer data to create targeted content.
For example, if you know that a certain segment of your target market is interested in a particular product or service, create a blog with educational content about it (how it works, why it's important, how to know it's right for your business, etc..) Then target visitors to that page with personalized messaging designed to convert.
B2B sales funnels are typically longer and more complex — so the more personal, timely, and relevant you can make your messaging, the better your chances of keeping your customers and their stakeholders engaged. This personalization also works in the long run, increasing lifetime value and loyalty as well. The example below is one on another blog post where those who are interested in learning more about CBD marketing can sign up to receive emails from Justuno related to the post they're on at the moment!

4. Use Social Media To Engage With Customers
Social media is a great way to connect with customers on a more personal level. You can use it to collect data about your target market, as well as to engage with customers on a more informal level.
When it comes to your social media messaging, be personable! B2B has a rep for being stuffy and overly transactional, so buck that trend with gifs, memes, and stories that show you're in the know about what's going on. This will help you create a little community of superfans who love your brand and will want to be a part of your journey. A peek behind the curtain so to speak, in the form of employee-generated content (EGC) is especially helpful for facilitating a community and helping followers to get to know the team that's behind the brand. Justuno's Instagram features a mix of marketing content + fun content on the team—National Pet Days are always a big hit .
5. Use Segmentation Software
If you want to take personalization to the next level, you may want to consider using an onsite messaging platform that has advanced segmentation features. This allows you to create personalized content for each customer, including targeted offers and messaging, without doing so much of the heavy lifting — because the platform does it all for you through rulesets and automation. This means all your reports, tracking, offers, and results are all managed from one central hub. While traditionally associated with B2C marketing, targeted offers can work for B2B audiences too. You also don't have to use discounts for every message and audience, you can run flash sales to close lingering deals at the end of the month; drive high-intent demo sign-ups with targeted pop-ups; even schedule in-person meetings during conferences using geo-targeted pop-ups showing only to those in the vicinity.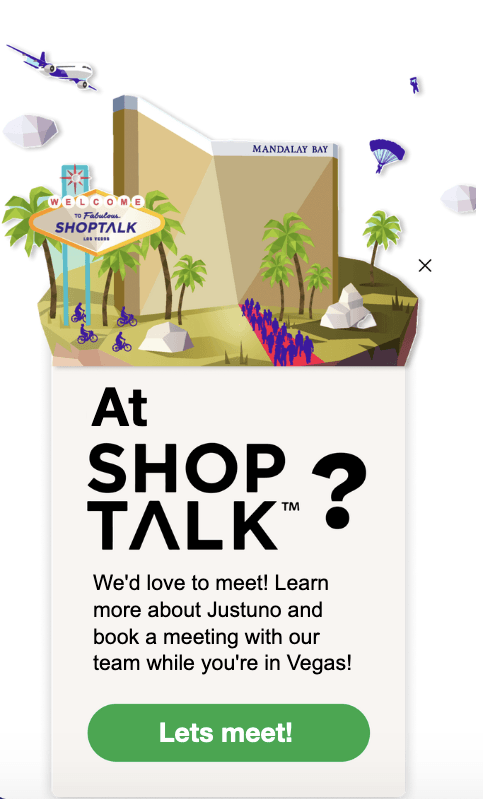 6. Use Customer Surveys To Collect Data
One of the best ways to collect data about your target market is to use customer surveys. This allows you to ask customers specific questions about their needs and wants. You can then use this data to create targeted content and offers that appeal to them. This can be in the form of product satisfaction surveys to inform development, the content they are interested in to help shape marketing, or even where they spend their time to optimize demand generation strategies. Going straight to the source is always the best source for zero and first-party data that will improve every part of your business. The first step to creating marketing that works (B2B or B2C) is a true understanding of your customers and that comes from asking them!
7. Test Different Personalization Strategies…& Track Your Results
Not all personalization strategies work well for every business. That's why it's important to test different strategies to see which ones work best for you. You can test different types of content, methods of engagement, and different ways of using customer data. And don't forget to track and measure your results…ideally via a CRO tool that specializes in personalization.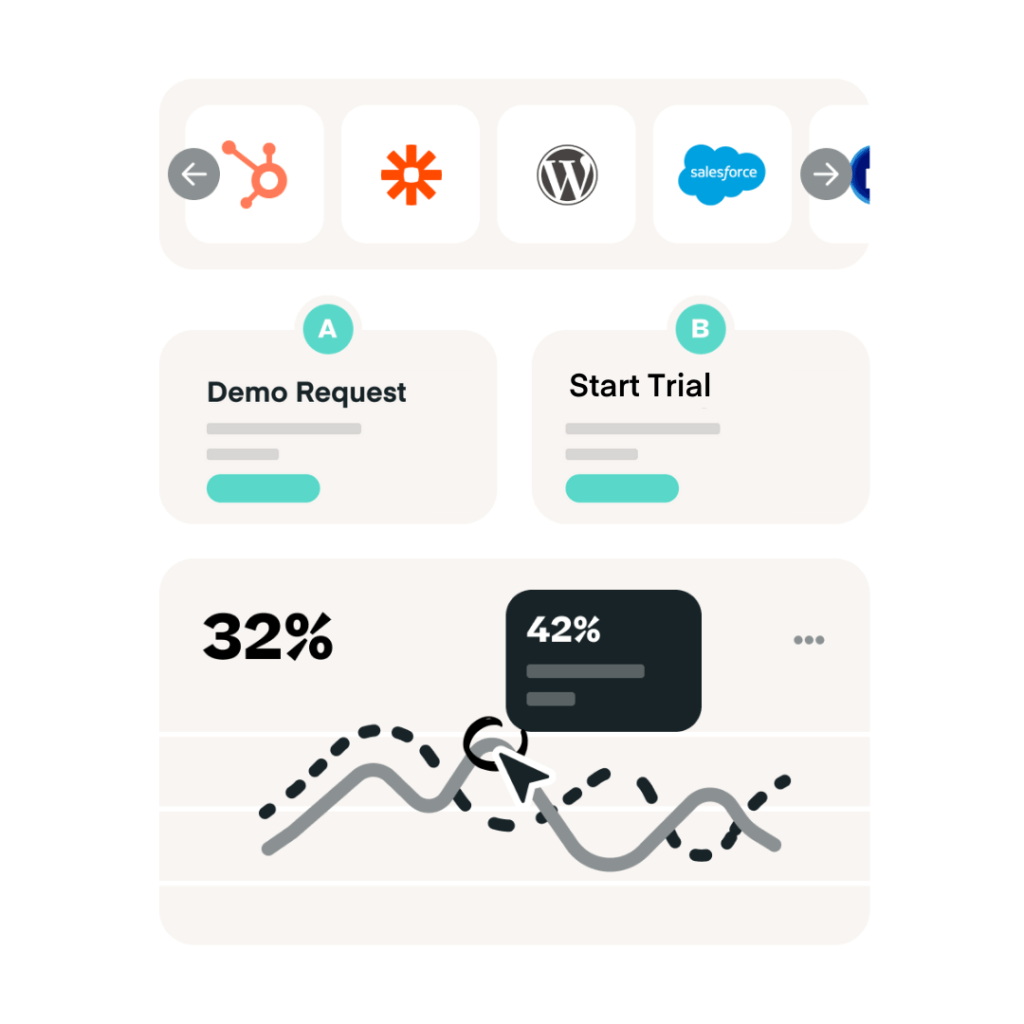 A/B test segmentation strategies until you find the most effective way to engage your audience. Compare rulesets, traits, offers, placement, and more so you test the who, what, when, and where of your onsite campaigns for maximum efficiency.
Keeping track of your results is an essential part of any marketing strategy. By tracking the results that you achieve, you can measure the effectiveness of your strategies and make necessary adjustments. This will help you to improve your marketing efforts and to achieve better results in the future.
Conclusion
If you want to connect with your customers on a deeper level and increase conversion rates, then you need to use personalization techniques.
While personalization is the best way to shorten the customer acquisition process, it's also imperative to continue earning that trust in every interaction. This means you should use it at every stage of the B2B customer journey, and personalize it to both the individual — and the stage they're at. Only then will you see the best results from your efforts.
As for the time you put in? Big personalization doesn't have to mean countless hours of digging through data to segment your audience and manually create offers. It can be as simple as using Justuno's product recommendations or one of the 70+ advanced targeting rules available on the platform. Want to take Justuno for a spin? Try it free for 14-days on your B2B website and see how to turn more prospects into customers!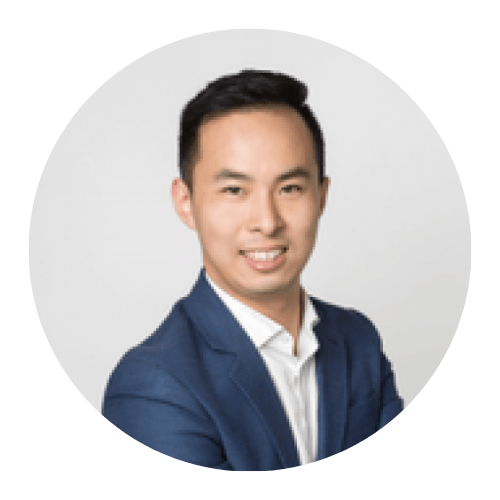 Irwin Hau
Irwin Hau is the founder of Chromatix, an award-winning web design and conversion design agency based in Melbourne, Australia. Since 2009, he has analyzed 60,000+ websites and gone on to amass over 780+ industry awards and mentions for his work.
Alongside running a busy digital agency, Irwin also manages Irwin Hau Business Consultancy, where he specializes purely in independent digital transformation strategy and operational efficiency utilizing custom web solutions.