In the dynamic world of e-commerce, capturing your website visitors' attention and converting them into loyal customers is the name of the game. And when it comes to engaging potential buyers and boosting conversions, nothing quite does the job like a well-crafted Shopify pop-up.
Whether you're a seasoned e-commerce pro or just starting your online retail journey, understanding the power of Shopify popups is a game-changer you won't want to miss out on.
This post will dive into what a high-converting pop-up is, the steps for creating one yourself, and walk through five of the best Shopify pop-up use cases to increase conversions!
So feel free to study, tear down, copy, tweak, and implement the following tactics to your Justuno + Shopify marketing strategy to increase conversions.
What Is A Shopify Pop-Up?
Most commonly, a Shopify pop-up is a promotional overlay being used on a Shopify storefront to engage visitors and prompt specific actions. These pop-ups can serve various purposes, such as collecting email addresses for newsletters, offering discounts or promotions, showcasing new products, or providing crucial information like shipping details.
Shopify pop ups are a valuable tool for enhancing user experience and increasing conversion rates, as they effectively capture visitors' attention and encourage them to interact with your online store. When strategically implemented, these pop-ups can significantly boost customer engagement, sales, and overall website performance.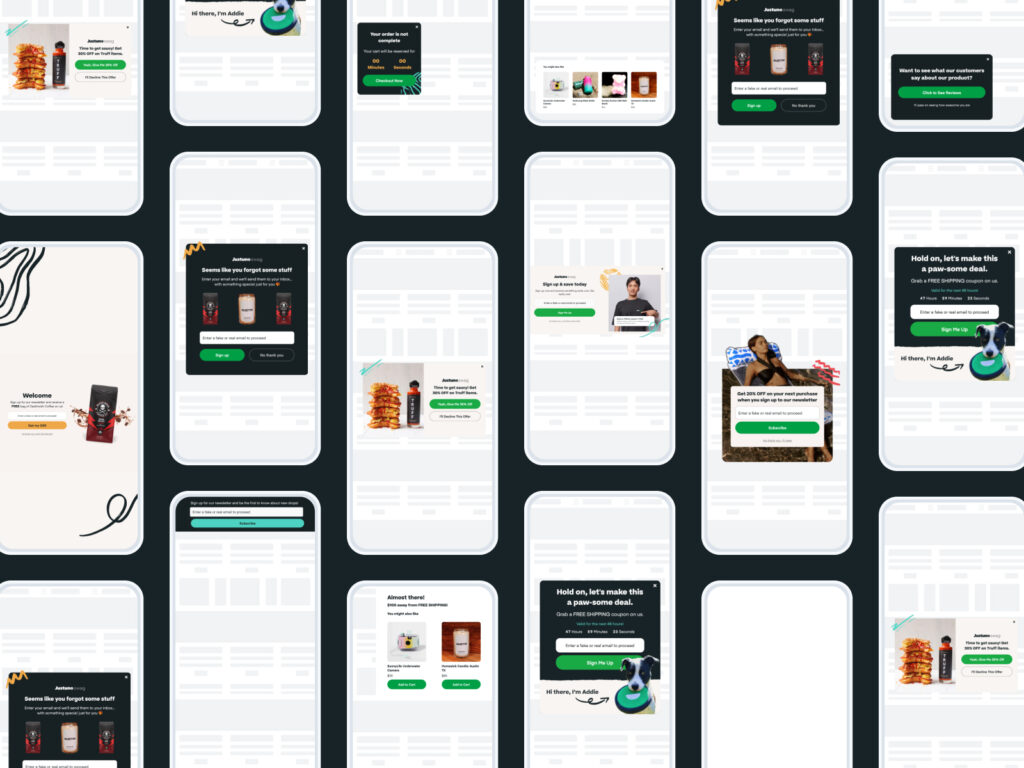 Why Pop-Ups Are Important For Shopify Owners
Shopify popups are important for store owners seeking to improve their website experience, personalize the messaging visitors see on their website, and, ultimately, improve their conversion rate. These dynamic overlays are a key tool in capturing and retaining visitors' attention, driving conversions, and ultimately boosting revenue.
Pop-ups enable Shopify store owners to build their email lists, a valuable asset for email marketing campaigns that nurture customer relationships and drive repeat business. Additionally, they offer a means to highlight special offers, discounts, and promotions, effectively increasing sales and average order values. Furthermore, Shopify pop-ups can convey essential information, such as shipping details or return policies, at critical moments during the customer journey, enhancing transparency and trust.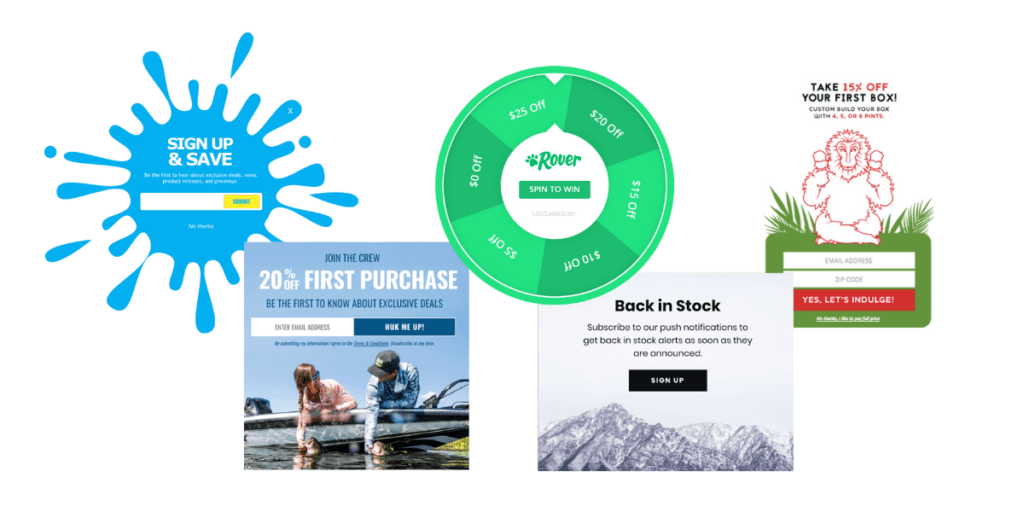 By strategically leveraging these pop-ups, store owners can create a more engaging, informative, and conversion-oriented shopping experience, thereby solidifying their brand presence and competitiveness in the highly competitive e-commerce landscape.
Pro Tip: Check out our latest resource for e-commerce merchants, with high-performing pop-up examples + live previews, and access to templates. Check it out to get inspired on what to create next on your Shopify store!
Real-Life Examples Of Shopify Pop-Ups From Shopify Stores
Check out these five examples of Shopify merchants and their pop-up strategies that drove big wins:
How Ridge Wallet Converted 4.9% With A Geo-Targeted Shopify Mobile Pop-Up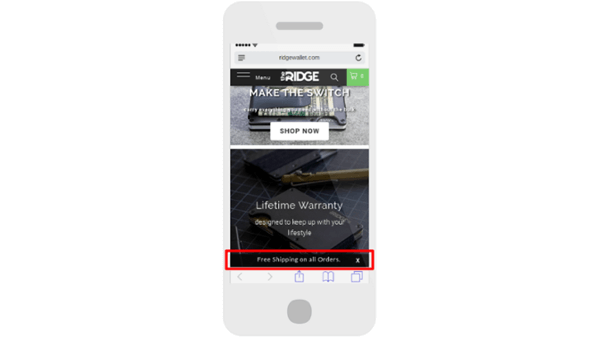 We're listing this Ridge Wallet pop-up one first because it's still amazing how many retailers aren't running mobile offers. Mobile visits account for half of total website traffic, which means if you don't have a mobile offer on your site, you're missing out on a huge conversion opportunity!
Pro Tip: Check out our Mobile UX Checklist with Omnisend outlining best practices for mobile pop-ups, email, & SMS for Shopify brands!
Ridge Wallet is on Shopify Plus and wanted to dial in their mobile traffic strategy. They decided to go with a free shipping offer as their core incentive. They combined this with geo-targeting to show it only to consumers from countries that have come to "expect" free shipping. Their shoppers, who were more sensitive to shipping costs and more at risk of abandoning their carts, would no longer have this barrier to conversion. These countries included the US, UK, and Australia, for example, so Ridge Wallet wasn't losing money on shipping to other countries where this wasn't a barrier to conversion.
Finally, Ridge Wallet implemented this mobile geo-targeted free shipping offer in a banner format to take up as little digital real estate as possible, preserving their mobile shopping experience. Their design is simple and blends into the page for a branded, seamless feeling.
At a glance, here are some stats on how Ridge Wallet's Shopify popup performed:
3,186 conversions
64,931 engagements
4.9% conversion rate
The A/B Test Design That Increased Conversions By 300% For The GLD Shop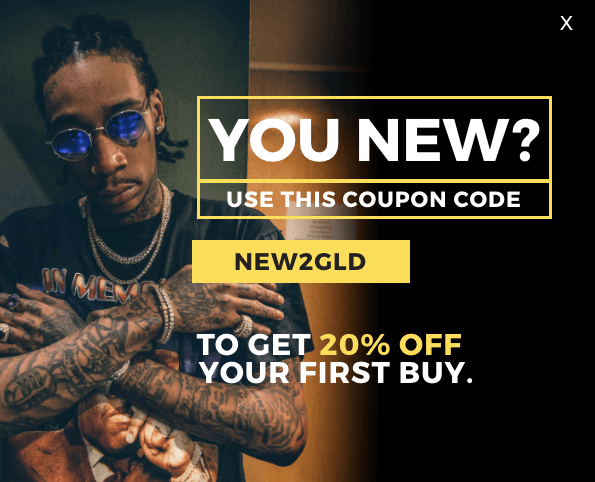 How important is design to your pop-ups?
When setting up your very first new visitor offer or exit offer (the two must-have pop-ups for every Shopify store), sometimes quick and dirty is the best approach. Better to start capturing traffic now than spend hours tweaking your design, potentially never launching anything because you're worried it's not perfect.
But, once you have an offer set up and it's been running for some time, you're going to have that key element I mentioned at the very beginning of this post: data.
Data enables you to make smart decisions, and in this case, we want to highlight one, specifically: optimization.
Our client and Shopify Plus user, The GLD Shop, had already been running a new visitor offer. But they wanted to do better – they wanted to optimize.
So, our Managed Services team hopped in and upgraded their popup design. We made these four super simple changes to their promotion:
Larger, clearer image
Larger pop-up (about 3X larger)
Make the offer stand out with contrasting colors
Remove generic, non-promotion-specific text (lifetime guarantee + Free shipping)
The result? A 300% increase in emails acquired from their welcome pop-up!
But it's important to note for the A/B test, there are a few things we didn't change from the original promotion:
Discount offered is the same (when A/B testing, you should only test the offer in isolation, not alongside design changes)
The image itself (same picture, just larger, higher quality)
Copy itself (we removed & shifted text but didn't re-write it)
Increase Your AOV With Cross-Selling
Again, The GLD Shop teaches us a conversion lesson with their Shopify pop-ups: how to cross-sell.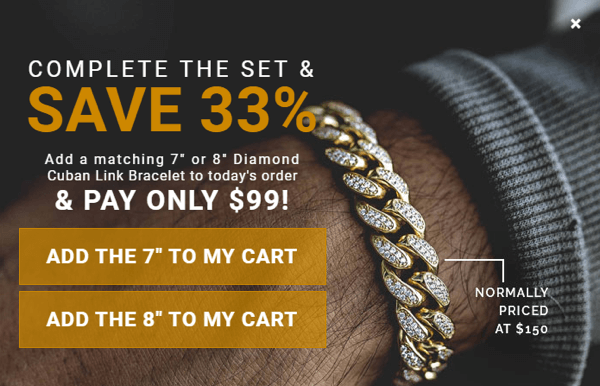 If your store has products that lend themselves to upgrading or bundling, as you can see in the example above, you can use a popup targeting specific items added to the cart to increase your AOV.
In this example, The GLD Shop targeted certain items added to the cart with this pop-up to help increase order value with complementary items. They suggested the matching bracelets to shoppers who added specific necklaces to their cart AND even gave them the option of picking different chain lengths for an even more compelling cross-sell!
This is perfect for Shopify stores since Justuno allows one-click add-to-cart CTAs, so rather than taking shoppers to a PDP to add the item to their cart—they add it directly via the pop-up. Zero extra steps required!
Move Customers Closer To A Purchase By Showing Cart Value Thresholds

Shopify Plus user and Justuno client Conscious Step used a threshold banner to display the amount left to spend to earn free shipping/a free gift. As the visitor added items to their cart, the banner dynamically updated based on the cart total, counting down until they reached the desired amount!
Free shipping bars are a great messaging "nudge" to move your user one step closer to adding another item and unlocking their exclusive offer.
We recommend making these banners a "sticky bar" so they stay in one place at the top or bottom of the page as visitors scroll. This way, it won't cover up important site content or make it hard to navigate to where they want to go.
Click here to watch a video tutorial for setting this up on your Shopify Plus or Shopify store.
KUTOA Increased Sales By 287% Running A Promotion On Their Shopify Checkout Pages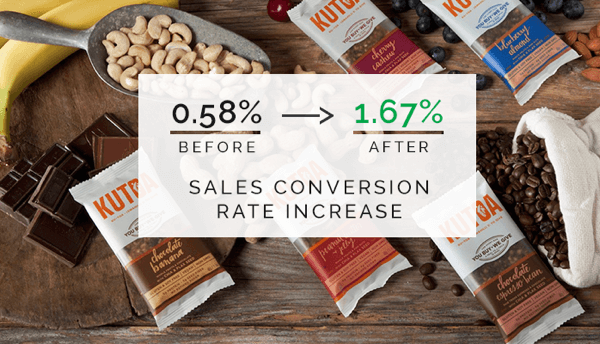 When the founder of KUTOA asked our CEO, Erik, "What's the thing I can do today to increase my sales conversions?" without hesitation, Erik replied: "run a shopping cart page promotion."
Click here to see how to add this to your own Shopify cart pages.
The checkout process is one of the most important areas to have control over for Shopify merchants. Buyer intent is highest during the checkout process and as the final step in the conversion process—-the most susceptible to abandonment.
One high-converting tactic during checkout is presenting an ungated discount popupu when a shopper appears to be exiting the page.
This tactic alone, when implemented on the cart page, helped Shopify retailer KUTOA increase sales conversion by 187%! If added to your Shopify checkout pages, even more sales could be recovered from cart abandonment.
Long-Term Strategies For Your Shopify Pop-Up
These are just a few of the popup strategies we suggest Shopify owners implement, but if you're ready to take your website to the next level, here are a few Shopify-specific pop-up strategies we can help you implement:
Lead Capture With Shop: This all-new feature helps brands grow their lists more effectively while removing roadblocks to check out for the end customer. Lead Capture with Shop allows Shopify stores to further streamline the Shop Pay experience for customers with automatically saved and applied discounts, all from a single opt-in. Increase new subscribers, sales, AOV, and customer satisfaction with the click of a button. And in case that wasn't enough, ShopPay is 4X faster than the average checkout, leading to a 91% higher conversion rate!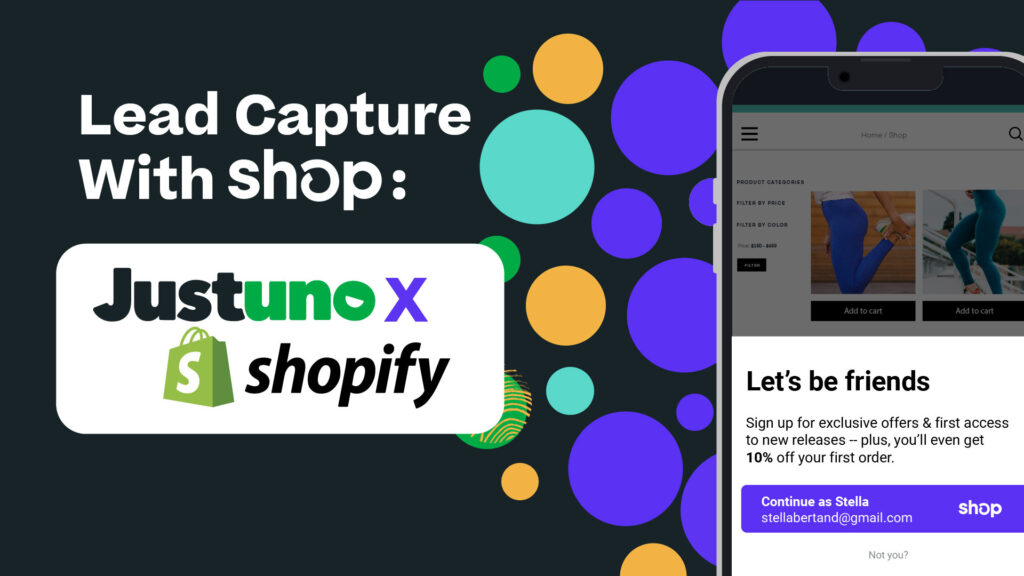 Auto-Apply Coupons: This can be applied to any type of Shopify pop-up; simply make the coupon/incentive you're offering auto-apply to their cart to reduce effort on the part of shoppers and personalize their shopping experience.
Repeat Shoppers: Use Justuno's advanced rulesets to target VIP segments like returning customers who are (or are not) logged in to loyalty or subscription programs for specialty messaging based on order history, etc. There are 80+ targeting rules in our suite to choose from, making even your most advanced target scenarios possible! Triggered pop-ups like these based on behavior and other first-party data points are incredibly powerful.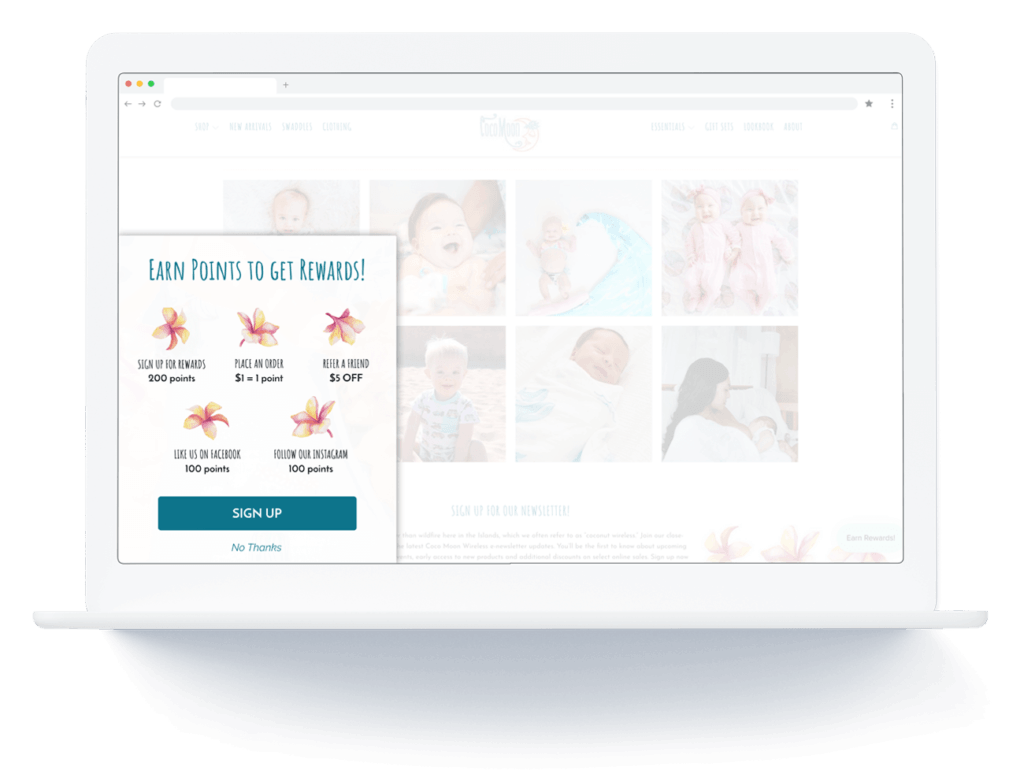 More Shopify Pop-Up Success Stories
Want to check out even more of our Shopify pop-up success stories? Our case study section has tons; here are a few of our favorites:
Moana
Moana wanted to build out an affiliate/influencer program using their already highly engaged customer community. They re-designed their lead capture to include a field for Instagram Handles + email for new visitors and added a secondary pop-up targeting existing customers. When they returned to Moana to shop again, they were prompted to enter their Instagram and, if qualified, were enrolled into an email campaign designed to activate them as a brand ambassador.
The results?
Moana achieved a 69% opt-in rate for Instagram handles while simultaneously boosting customer retention by providing their VIP customers a route for earning rewards for producing and sharing UGC. eir VIP customers for doing what they already were. Check out their case study here.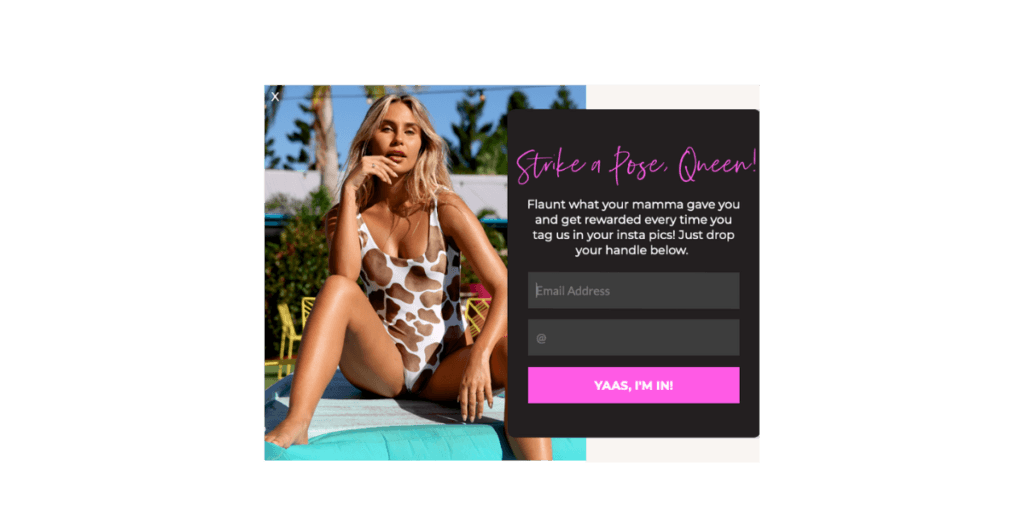 BK Beauty
BK Beauty and their marketing agency, Fuel Made, enhanced their lead capture and welcome email flow to drive faster first-time purchases. The lead capture form was split into two steps, asking for email addresses first and phone numbers second. Subscribers were segmented into two groups, email-only and email/SMS, to trigger a tailored welcome email flow. BK Beauty offered a 10% discount for email-only subscribers and a 15% discount for SMS subscribers to encourage multi-channel opt-ins.
The results?
Increased email and SMS opt-ins plus a 63% same-session conversion rate with redesigned lead captures. Check out their case study here.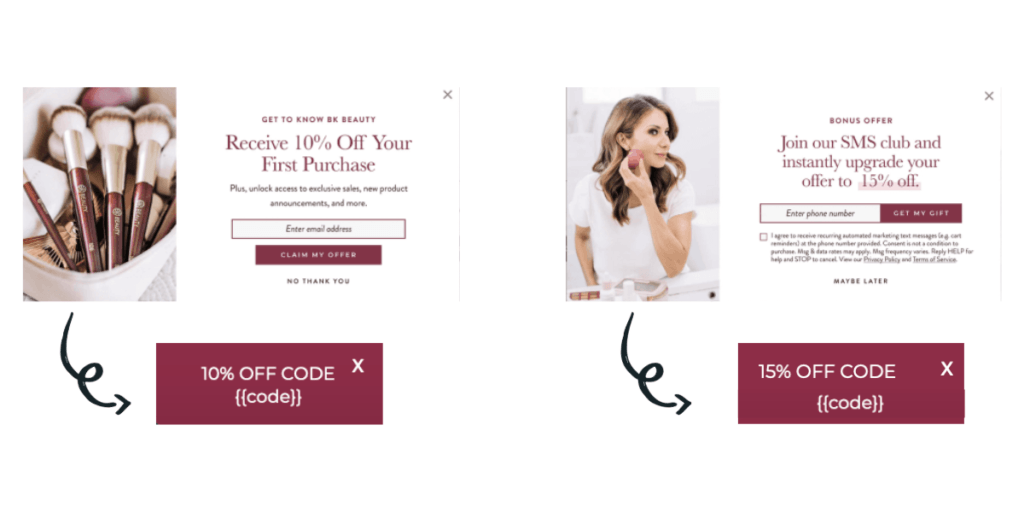 Tomlinson's
Tomlinson's and their marketing agency, Fuel Made, assembled an effective zero-party data and personalization strategy to bring the in-store experience online. Their lead capture form was re-designed to collect which type of pet the new subscriber had which would not only determine their free gift, but the contents of their subsequent email sends.
The results?
Tomlinson's grew their list 2X while also collecting crucial zero-party data to power more relevant email marketing from the welcome series and beyond. Check out their case study here.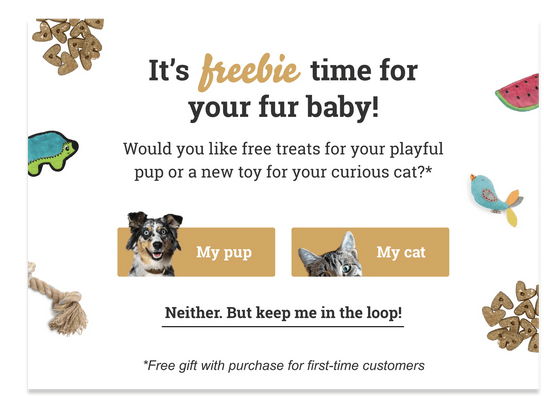 Ruti
Ruti was using a virtual fitting room experience to provide a higher level of customer service, like that experience in high-end retail shops. Personal shoppers helped customers find clothes that worked for them, but they needed a way to promote the service. Using Justuno, Ruti was able to embed a video in a pop-up, providing a dynamic and engaging touchpoint to drive new visitors to their personal shopping room.
The results?
More visitors using the live fitting room led to a 15X conversion increase, plus double-digit reductions in returns. Check out their case study here.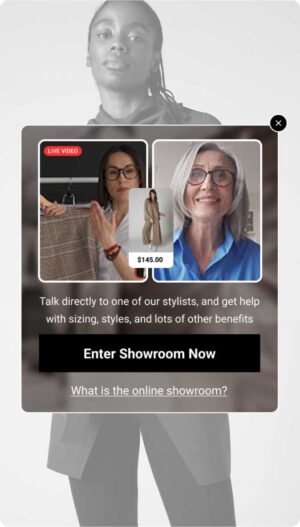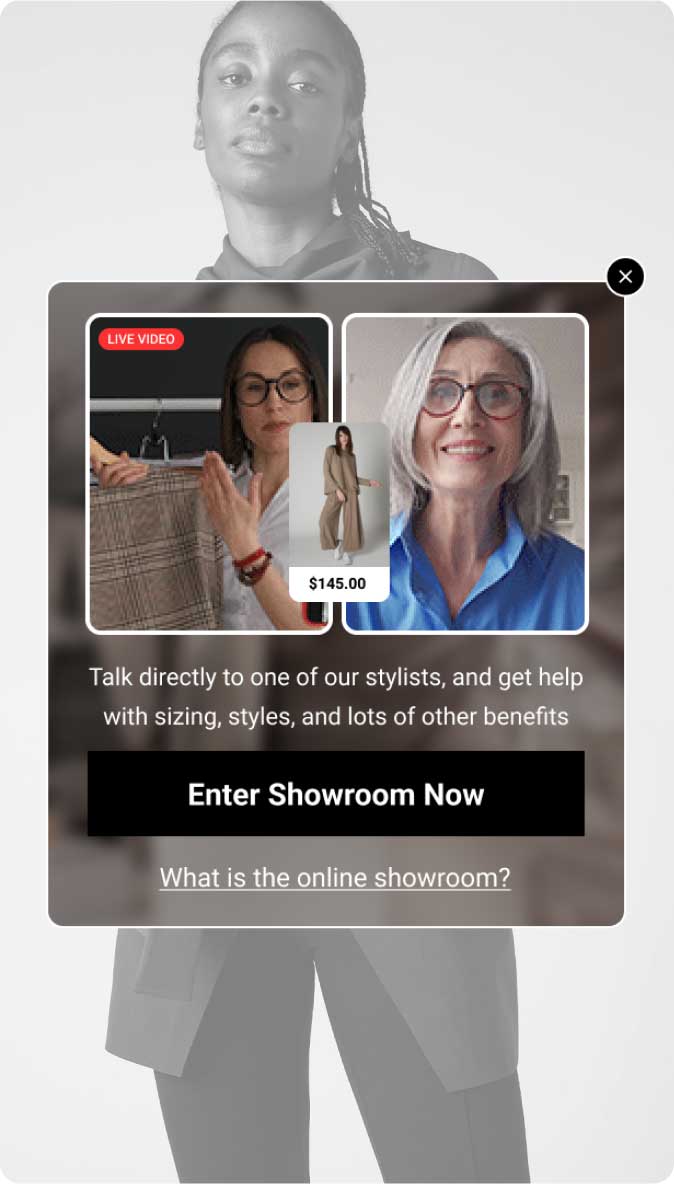 What To Avoid With Shopify Pop-Ups
When implementing a pop-up on your Shopify store, it's essential to be mindful of certain practices to ensure a positive user experience and maintain your SEO rankings.
First and foremost, avoid using overly intrusive pop-ups that obstruct the entire screen or immediately appear upon page load, as this can lead to high bounce rates and frustrated visitors. Secondly, steer clear of irrelevant or excessive pop-up content that doesn't align with the user's browsing context, as it may discourage engagement. Otherwise, you might find yourself with a website that looks a little like these bad boys: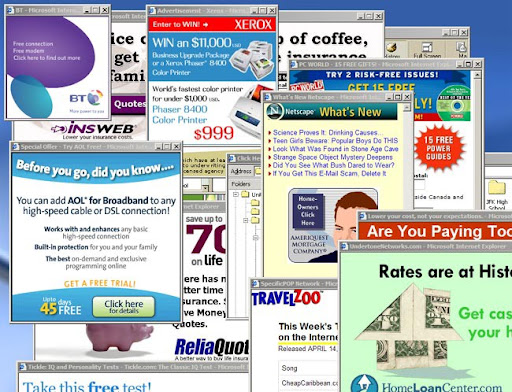 Here are a few more key practices to avoid when implementing Shopify popups to maintain both user satisfaction and SEO optimization:
Avoid Using Pop-Ups on Entry: Popups that immediately appear when a user lands on your site can be frustrating. Instead, consider triggering pop-ups based on user behavior, such as scrolling or time spent on the page, to ensure they are more relevant and less intrusive.
Steer Clear of Pop-Up Overload: Multiple popups on a single page can overwhelm and irritate visitors. Limit the number of pop-ups and prioritize their relevance to the page's content. This can be overwhelming and detrimental to your site's credibility. To maintain SEO optimization, prioritize mobile responsiveness and ensure pop-ups are easily dismissible on smaller screens.
Don't Hide Close Buttons: Make sure that users can easily dismiss or close the pop-up if they choose to. Hiding or making the close button hard to find can create a negative user experience. We recommend providing the common X in the upper right-hand corner and a text-based close button below your CTA.
Avoid Misleading Content: Do not use deceptive or misleading content in your pop-ups. Ensure that the information or offers you present are accurate and can be fulfilled.
Beware of Slow Loading Pop-Ups: Pop-ups that slow down your website's loading time can harm SEO and frustrate users. Optimize your pop-up content's size and loading process to maintain a fast-loading site. These pop up windows will make your website appear broken during the extended loading time and likely lead to high bounce rates!
Don't Neglect Mobile Responsiveness: With a growing number of users browsing on mobile devices, it's crucial to ensure that your pop-ups are responsive and don't disrupt the mobile experience.
Avoid Pop-Ups on Every Page: Not every page on your website may require a pop-up. Consider the context and purpose of each page before implementing pop-ups site-wide.
Don't Collect Excessive Information: While gathering user data is valuable, avoid requesting too much information through pop-up forms. Keep it concise, and only ask for essential details to respect user privacy and prevent abandonment. Choose your channel (email, SMS, Instagram/TikTok handle) and any additional data points carefully, and then be sure to use them! Don't ask for their preferences and then send them un-personalized campaigns; that's the fast road to an unsubscribe!
By avoiding these common pitfalls and following best practices, you can create pop ups that enhance user engagement, minimize disruption, and maintain SEO optimization for your Shopify store.
Final Thoughts On Shopify Pop-Ups
In conclusion, leveraging Shopify popups effectively can significantly enhance your e-commerce website's user experience and conversion rates. By adhering to best practices and avoiding common pitfalls, such as intrusive or misleading pop-up strategies, you can strike a balance between engaging your audience and maintaining strong SEO performance.
The key to success lies in offering relevant, well-timed, and user-friendly pop-up experiences that resonate with your target audience. When implemented thoughtfully, Shopify pop-ups can become a valuable tool in your online marketing arsenal, driving growth and enhancing your overall website presence.
Get Help Optimizing Your Shopify Pop-Ups
You don't need to be an expert to start optimizing your own Shopify popups.
Can you interpret your data and see where you need to improve? Do you want to start using the best Shopify popup app? If so, create a free account here!
Want more help than that? Book a free conversion audit with our team to see where you could optimize your Shopify store for improved performance.
Want to check out 15 top-rated Shopify apps to help you optimize your store even more? Find them here.