What's holding you back from doubling your revenue from your Shopify store?
Data insight.
The tools you're using to run your business should be returning information to you about your customers, sales and performance.
From that information, you can build an actionable plan to optimize your e-commerce site.
This post is going to roundup some of the best use cases of using your Shopify pop-ups to increase conversions!
So feel free to study, tear-down, copy, tweak and implement the following tactics to your Justuno + Shopify marketing strategy.
How Ridge Wallet converted 4.9% with a geo-targeted Shopify mobile pop-up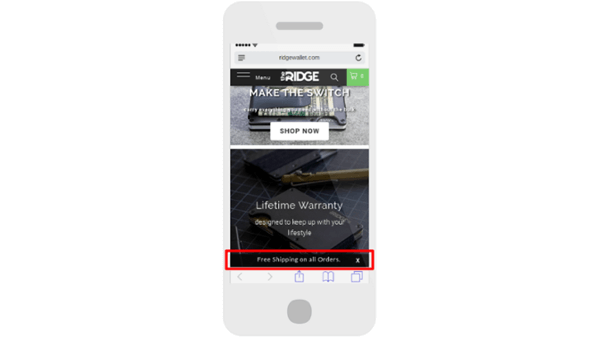 I listed this one first because it still amazes me how many online retailers aren't running mobile offers. Mobile visits account for half of total website traffic which means if you don't have a mobile offer on your site, you're missing out on a huge conversion opportunity! Click here to read how Shopify Plus client, Ridge Wallet, targeted shoppers in a specific location with a Free Shipping offer.
The A/B test design that increased conversions by 400% for the GLD Shop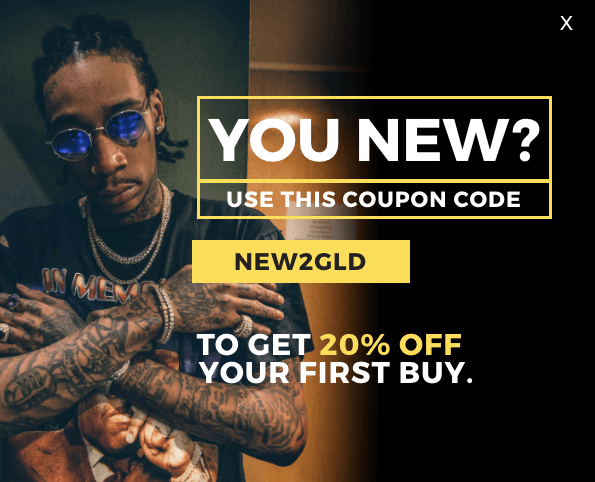 How important is design to your offers?
When setting up your very first New Visitor offer or Exit Intent (the 2 must-have offers for every business), sometimes quick and dirty is the best approach. Better to start capturing traffic now than spend hours tweaking your design, potentially never launching anything because you're worried it's not perfect.
But, once you have an offer set up and it's been running for some time, you're going to have that key element I mentioned at the very beginning of this post: data.
Data enables you to make smart decisions, and in this case, I want to focus on one, specifically: optimization.
Our client and Shopify Plus user, The GLD Shop, had already been running a New Visitor offer. But they wanted to do better – they wanted to optimize.
So our Professional Services team hopped in and upgraded their design.
The result? A 400% increase in emails acquired!
Click here to read the full Shopify Plus study and see the tips you can use to implement on your own site.
Set up free shipping threshold promotions
Analyzing our offers last year, we learned that Free Shipping was hands-down our best performing offer across all Justuno users.
If you are not offering this on your site, one effective strategy is to create a threshold where shoppers can see the dollar amount they lack before receiving Free Shipping.
Check out this video tutorial to learn how to put this in action on your Shopify site.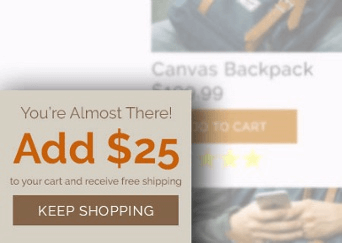 Increase your AOV with upselling or cross-selling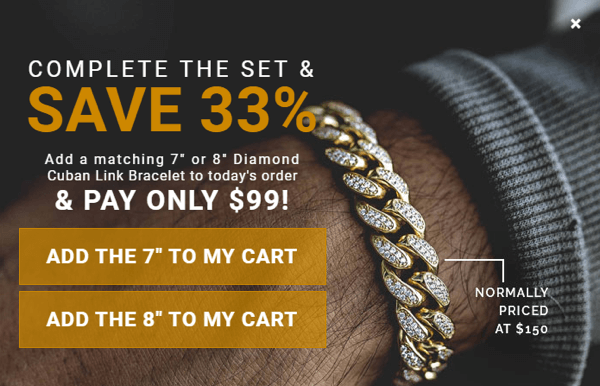 Again, The GLD Shop teaches us a conversion lesson: how to upsell and cross-sell.
If your store has products that lend themselves to upgrading or bundling, as you can see in the example above, you can use a popup targeting an item added to cart to increase your AOV.
Click here to read how The GLD Shop did it and how you can, too.
Move customers closer to a purchase by showing cart value thresholds

Shopify Plus client and Justuno user Conscious Step, used an unlocked banner to populate the user's cart total and display the amount they need to earn Free Shipping.
This is a great messaging "nudge" to move your user one step closer to adding another item.
Click here to watch a video tutorial for setting this up on your Shopify Plus or Shopify store.
KUTOA increased sales by 287% capturing sales on Shopify checkout pages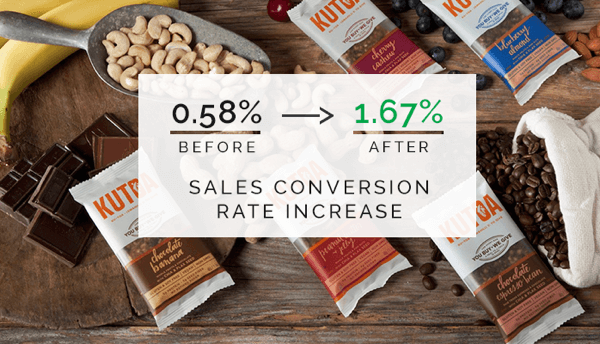 When the founder of KUTOA asked our CEO, Erik, "what's the thing I can do today to increase my sales conversions?", without hesitation, Erik replied: "run a shopping cart page promotion."
Click here to see how to add this to your own Shopify cart pages.
Get help optimizing your Shopify pop-ups
You don't need to be an expert to start optimizing your own offers. Can you interpret your data and see where you need to improve? If this is you, create a free account here.
Want to check out 15 top-rated Shopify apps to help your optimize your store even more, find them here.