With the mad rush for Black Friday and Cyber Monday sales past us, it's time to turn our focus to December.
Hopefully, BFCM kept you on track to hit your end-of-year revenue goals, but if not, you're in luck: the last month of the year is full of important shopping dates — both recognized and a few more "unofficial" holidays.
Whether you're a fashion brand, food & bev company, or sell home decor—there are plenty of days to choose from to run promotions and get a few final campaigns in.
Check out ten days in December to get an idea of where to begin and finish out the year strong!
December 12 – Green Monday
eBay created Green Monday in 2007 in reference to their biggest sales day in December. Green Monday falls on the second Monday of December and is the last one with at least 10 days until Christmas. Spending has reached over $1B dollars every year since 2011, so while it's not a real holiday, it's not a day to ignore. Run a fun campaign this day with a special offer or fun copy to get shoppers in the mood.
December 14 – Free Shipping Day
Celebrate free shipping day with obviously free shipping offers plus guaranteed delivery by the 24th, so they have just enough time to get it under the tree. If you don't normally offer free shipping and want to do something special for a limited time—this is a great option for you. Free shipping is a top consideration for most online shoppers, and having to pay for shipping is the most common reason for cart abandonment. For customers who are at the bottom of the funnel and on the fence about buying, this offer will likely get them over the finish line to complete their purchase.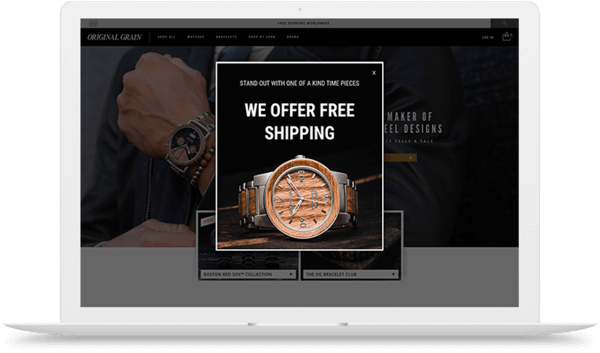 December 17 – Super/Panic Saturday
This is the last Saturday before Christmas and a day for procrastinators. If you have a brick-and-mortar presence, run banners offering in-store pick-up or advertise this as the last day possible to use two-day shipping if they are close enough. Both of these suggestions would require you to use geo-targeting rules to ensure your onsite messaging is being shown to the right audience. This is a great opportunity to do a last big push to get orders from consumers who waited to cross gifts off their to-do list. This year, it falls a little further from Christmas and with the only other Saturday left being Christmas Eve—it really is the last time a lot of shoppers will have the chance to come into stores before the holiday!
December 18 – Hanukkah Starts
Hanukkah is an eight-day celebration of the festival of lights. It's a time for community and family, so make sure to tie in your brand or product in a natural way that doesn't feel manufactured. That should be something you keep in mind with all messaging, but especially with regard to holidays that are rooted in communities. Being real and relevant is all a brand needs to do with its messaging to resonate with customers; remember that during the holidays!
December 21 – First Day of Winter/National Ugly Christmas Sweater Day
As we all know, ugly Christmas sweaters have had a bit of a comeback. Once relegated to the back of our closets, they are now a pop-culture staple. We host ugly sweater parties, they have a national day in their honor, and an entire e-commerce industry has popped up around them. Don't believe in the power of the ugly Christmas sweater? 2 Chainz sold $2.1 million worth of them in just 30 days from his Shopify store…
Find a fun national day that fits your niche and use it! It's a great way to have some fun with your marketing and infuse a bit of personality into your messaging. Also, competition is steep during the holidays, so using one of these smaller, less-known "holidays" will help you cut through the clutter and be heard.
December 23 – Festivus
Festivus is for the rest of us! This is a day for those who don't celebrate any of the holidays that fall during December but still want to participate in the season. There is a traditional meal and activities such as the airing of grievances. Have fun with this day by tweeting about Seinfeld or including your favorite gifs on social posts. This is a great chance to connect with your audience without trying to "sell" them something. (Yes, that is still a thing even in December 😊)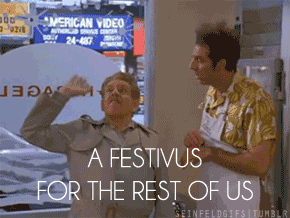 December 24 – Christmas Eve
If Super/Panic Saturday was for procrastinators, Christmas Eve is for the professional procrastinators. Again, those with brick-and-mortar stores can offer in-store pick-up with gift wrapping services (free or as an upsell) along with extended hours. Use geo-targeted promotions to make sure those local to your store know there's still a little time! Since this is on a Saturday this year, it definitely will be a busy day in stores!
If you're strictly e-commerce, offer the option to ship the gift directly to the recipient's house, wrapped and ready to go. While it may not get there in the time frame shoppers might have wanted, this could be a great value-add for those shoppers who waited a bit too long.
Even better? Gift cards. We suggest making sure they're prevalent all season long for those unsure of what to get or for the picky grandkids. But especially during these final days of the month. They'll definitely get to the recipient on time and are a go-to gift for a reason. Use an app like Govalo to customize them to match your branding, offer them for sold-out merchandise, and more!
December 25 – Christmas
Christmas Day, while one may not imagine this to be a heavy shopping day since it's the day many have been preparing for it, shouldn't be ignored. Many of these shoppers are starting to search for after-Christmas deals and sales already. Whether it's a late holiday gift, finally buying something for themselves, or using the gift cards they just received, people are browsing. Just like Black Friday deals began to creep into Thanksgiving Day, so too have post-holiday sales crept into Christmas Day.
December 26 – Boxing Day/Kwanzaa Starts
Boxing day has become a sort of Canadian Black Friday and is associated with landing great deals. Geo-target promotions so that you show only Boxing Day promotions to those in Canada or other countries like the UK or Australia that also celebrate it.
On this day, Kwanzaa also starts and lasts until January 1st, ending with a feast and gift-giving. Be sure to continue sales and have large enough inventory to fill orders that come in. Kwanzaa is the last holiday in December, so make sure to prepare appropriately.
December 31 – New Year's Eve
This is the last day of the year, so go out with a bang. Start advertising your clearance sales to help move inventory and start the new year fresh. While you may not have an active sale on this day, you can start advertising new year's specials that start on the first, enticing people to check back in to get those deals.
General December Strategies
Here are some tips for just general marketing strategies you can run during December if you want a more overall approach vs. specific dates:
Shipping Deadlines: Have shipping deadlines clearly displayed throughout your site, on a banner counting down, and in an exit offer to let customers know if they don't check out today, they may run out of time. Also, once those dates have passed, make sure to let customers know that as well, so they're not frustrated when their order doesn't arrive on time. Transparency like this builds trust, especially with first-time shoppers, and helps to set expectations right from the start.
Just In Case Gifts: We've all had it happen, someone gives us a gift that we didn't expect one from, and then there's that awkward moment when you don't have one in return. Run a campaign centered around avoiding this scenario—featuring smaller, low-cost items shoppers could buy a few "just in case" gifts to have on hand. Serve in a product recommendation carousel as a free-gift option to pick out or in-cart for those last-minute impulse purchases.
Nostalgia: Rather than focusing on one or several of the dates we listed above, just run a winter holidays campaign that tugs at the heartstrings and reminds everyone of the reason for the season. People can get so caught up in the hustle and bustle and pressure of the holidays that a well-thought-out marketing campaign with good content can stick with them for a while. I saw this Sainsbury ad eight years ago, and it's still one of my all-time favorites.
Charitable Giving: If your brand has a cause or charity that's a part of your mission—this is a great opportunity to make that a part of your holiday plans. Let customers know how their purchase supports your efforts, but like other cause-based marketing—it needs to be authentic and transparent.
Founder Greetings: This is especially effective for small brands that have a strong customer community and founder presence. Have your founder, CEO, or president send out a season's greetings email to your customers thanking them for their support and letting them know how much they mean to your company. Share some big wins from the year and make them feel like a part of the team.
Final Thoughts
There's no shortage of days to use as part of your promotional strategy in the last month of the holiday season. Don't just focus on the big holidays, as competition for consumers' attention will be steep; think outside the box and find what "off the beaten path" days would work for you.
Don't forget that while the holidays mean sales and profits for retailers, they often have a deeper meaning for many consumers. Be thoughtful in your messaging, and make sure to remember the purpose your products are serving in consumers' lives.