Jewelry is a universal human thing, from expressing our individuality to showcasing an integral part of our culture. Another universal human thing? Shopping online, which is why the e-commerce jewelry industry reached a little over $7.6 billion in 2021.
The pandemic has had a slight depressive effect on the industry, but it's bouncing back with more consumers leaning into a few different jewelry niches: the fine jewelry as a treat yo' self moment and the fun, on-trend fashion jewelry we see covering our Instagram pages.
Jewelry, like other fashion accessories, is incredibly personal, with individual tastes being the main driver behind consumer choices. That's why it has become crucial for jewelry brands to create a strong brand experience that zeroes in on personalization and cultivating loyalty.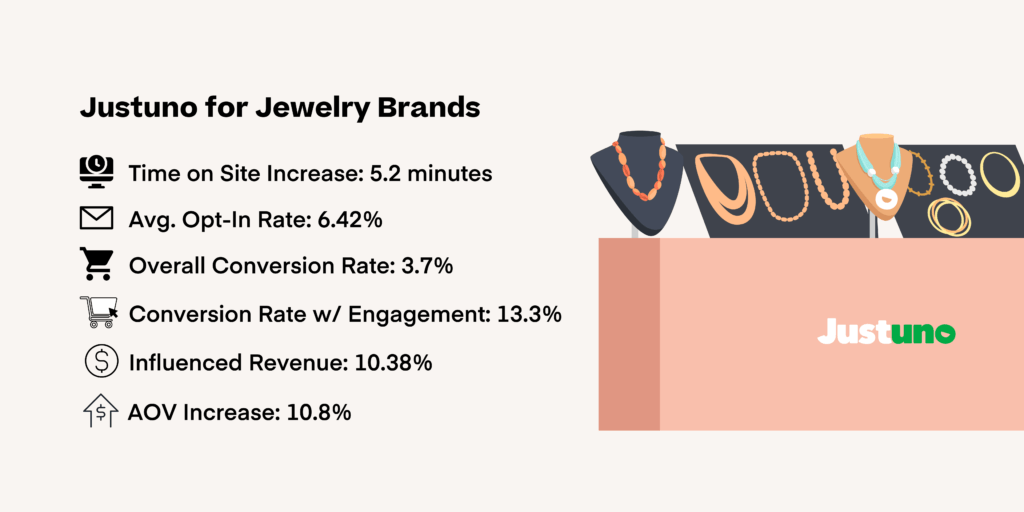 Onsite messaging and promotions make up a big part of that online experience and have a significant impact on your website's performance. Jewelry brands that use Justuno have a 5.2-minute increase in time on-site when visitors are engaged with a promotion. When they interact with a promotion, their time goes from 2.8 minutes up to 8.09—think about how much more time that is browsing your collections and virtually trying on your jewelry! 
Additionally, jewelry brands on Justuno have an average opt-in rate of 6.4% and an engagement rate of 7.87%, with an overall conversion rate hovering just under 4%. This conversion rate skyrockets to 13.3% after a visitor engages with a promotion, influencing 10.3% of revenue and increasing AOV by 10.8%. These results stem from strategically placed messaging and thoughtful campaigns that elevate the user experience and optimize all other marketing efforts, on or off-site.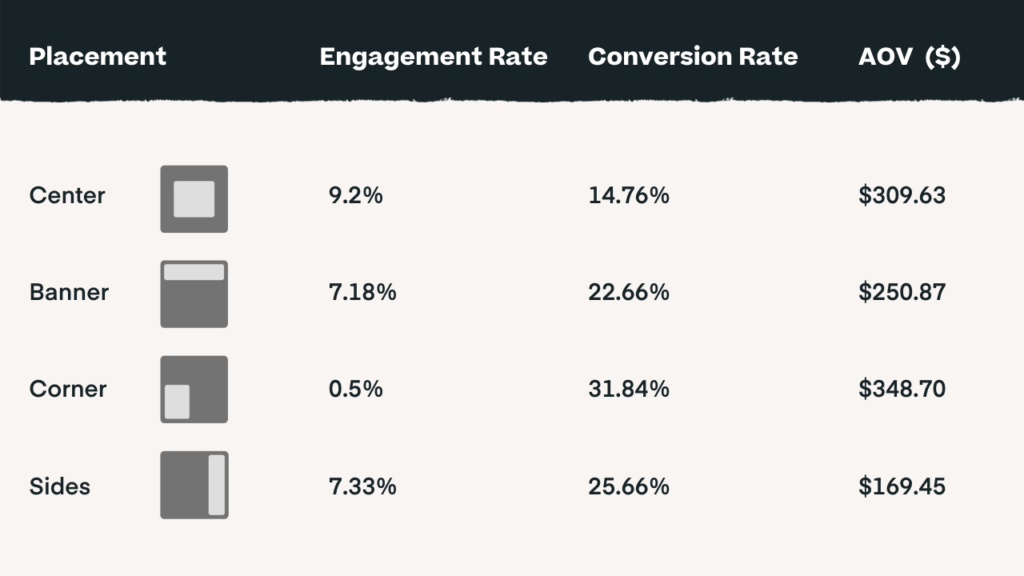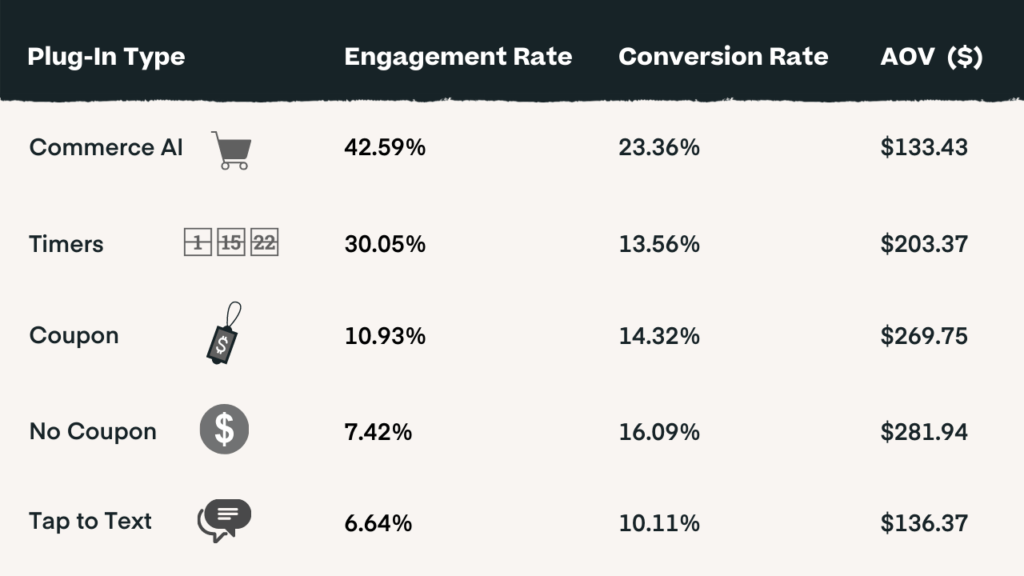 Let's dive into some of the onsite strategies that jewelry brands use with Justuno to take their customer experience to the next level and reach those numbers!
1. Lead Capture + Birthday
There's nothing quite like a birthday gift, and this is a no-brainer automation to set up. When customers opt-in to your email list, ask for their birthday with a killer incentive like a bigger-than-normal discount or free gift during that month. Then, set up email automation to send that out at the right time—you'll collect more information about customers & drive nearly guaranteed purchases during that time of year.
A great example of this is Kendra Scott, who gives subscribers 50% off one item during their birthday month. It's too good of an offer to pass up & encourages an annual shopping spree that will likely have a few other goodies fall into their cart, too.
2. Lead Capture + Preferences
This is a great way to collect zero-party data about the types of jewelry your new subscribers are interested in to immediately personalize the welcome flow regarding product imagery and messaging. An example would be, "Do you prefer gold or silver jewelry?" and then send new subscribers down different flows based on their response.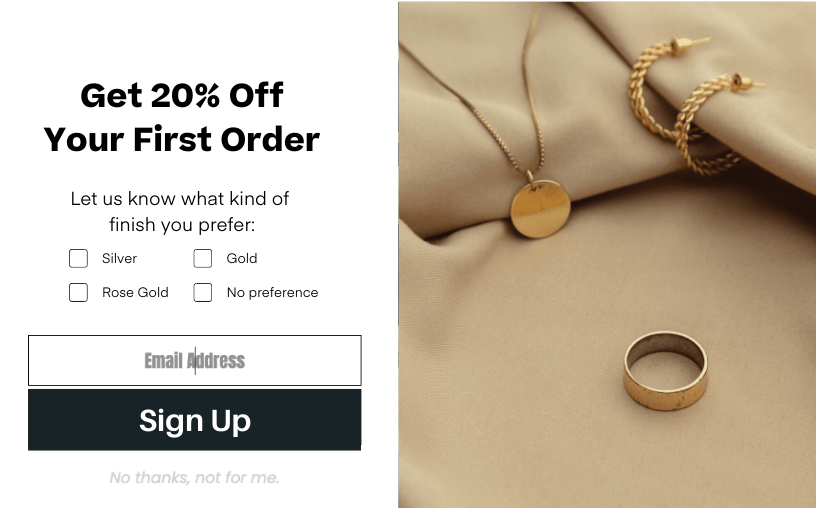 3. Lead Capture + Quiz
Quizzes are a great way to collect more zero-party data from your visitors, direct them to products they're most likely to like, and ultimately, improve your customer experience! For jewelry brands, you can leverage this in a few ways, from a gamified style like "Build Your Stack," where they pick from a series of necklace styles until they've narrowed it down to their favorite, ask them questions like ring size or types of jewelry they'd like to see you make (adding necklaces to your catalog, etc.)
4. Lead Capture + Giveaway
Giveaways are a great option for those whose profit margins don't allow for a discount or prefer not to provide discounts.,. Jewelry can be expensive, making it a great giveaway item. Consider giving away smaller pieces or, alternatively, bundle several pieces or include a complimentary item like a jewelry box.
Collaborations with other brands to create a unique campaign for you both will drive brand discovery and make for a fun campaign! Giveaways can get a lot of organic traction and provide high-quality leads for rapid list growth. Plus, it's fun & those who don't win are likely to engage/re-share the next one as well for an exponential impact on your reach!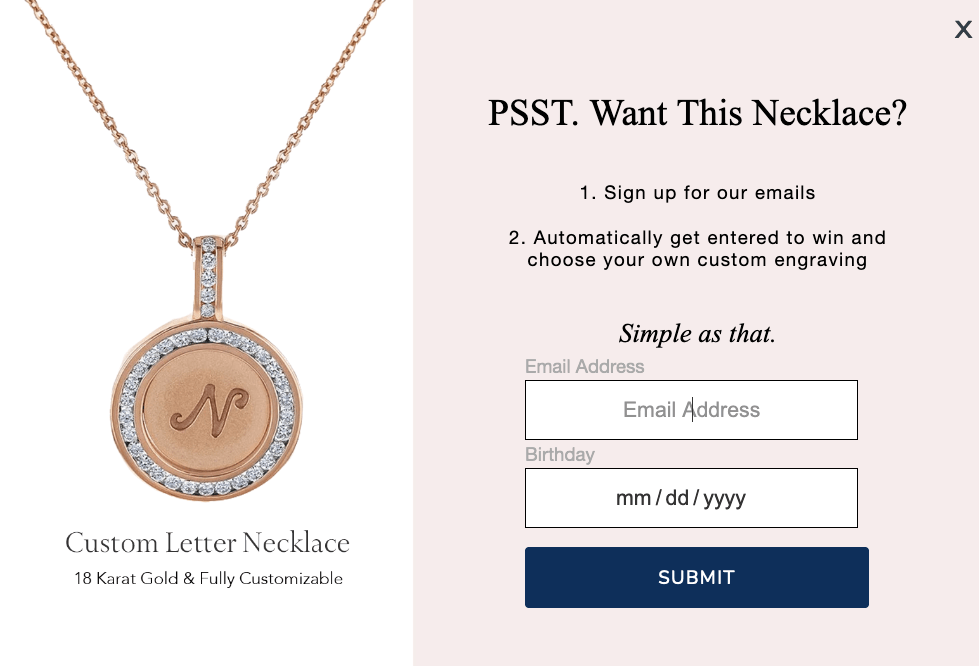 5. Lead Capture + Free Gift/Customization
Jewelry is definitely an industry that lends itself to customization and, specifically, monogramming! Rather than offer a discount as your incentive for signing up for your emails or texts, offer free engraving/monogramming on your pieces. This is a great way for customers to create a one-of-a-kind piece for themselves without impacting your profit margins!
6. Two-Step Lead Capture + Tiered Offers
Two-step lead captures are great for growing both your email and SMS list at the same time. Jewelry brands can use a tiered incentive strategy to encourage new visitors to sign up for both rather than just email by offering an additional or better incentive for SMS.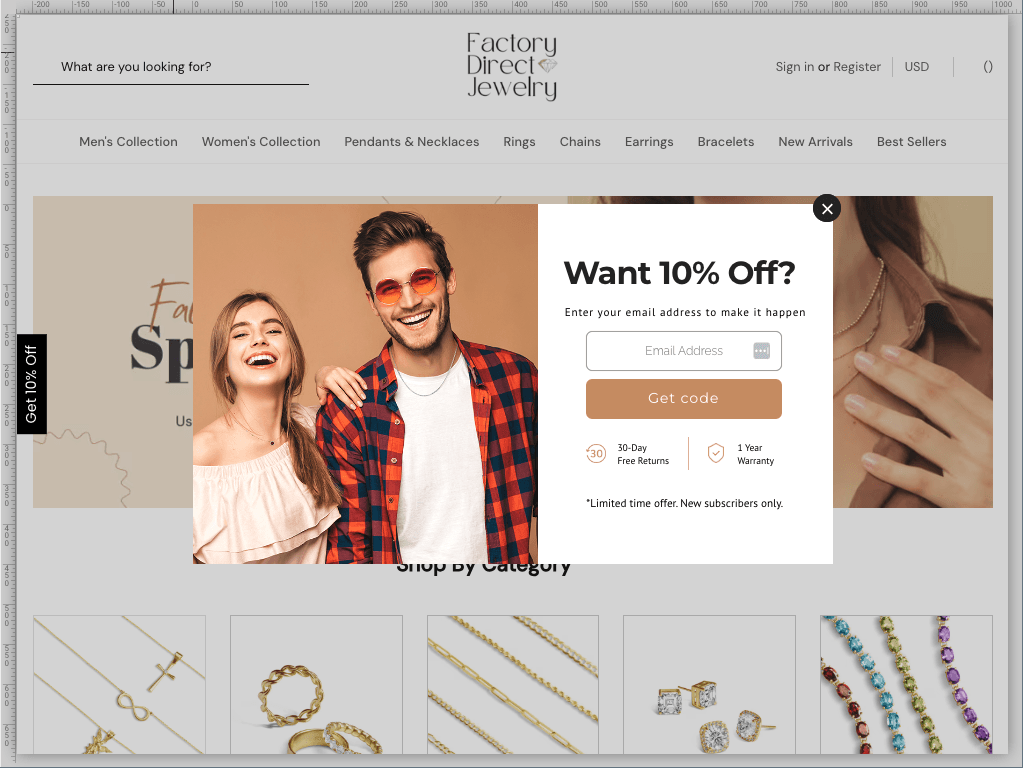 Make sure to have a tab set up so shoppers are never far from opting in when they're ready. Justuno's smart frames mean visitors never see an unnecessary screen; if they did the email opt-in but not SMS, they'll only see the SMS screen and vice versa.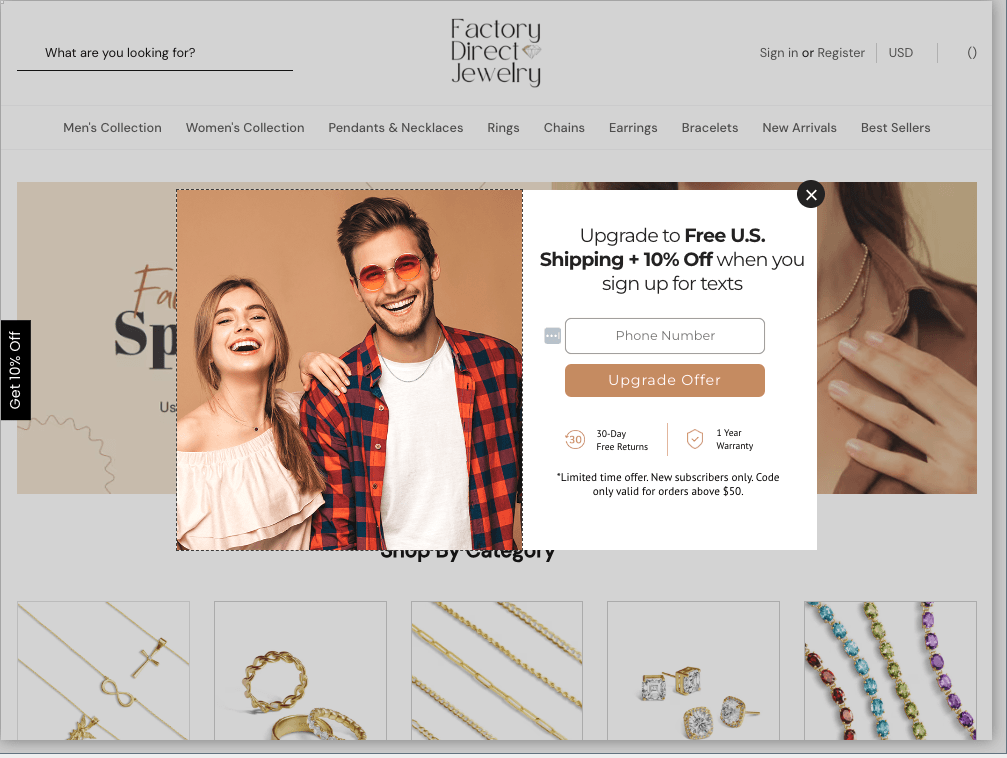 This pop up also features trust-building signals for new visitors by displaying their returns and warranty policy. Perfect for jewelry brands where quality plays a big role in the purchase process!
7. Audience Sync for Re-Targeting
For all of your lead captures, make sure you're setting up Audience Sync for your submissions. This allows you to automatically send your email lists to Google & Facebook audience managers for retargeting campaigns, prospecting lookalike audiences, and improving general campaign performance.
Use these campaigns to show additional creative like social proof via testimonials, ratings, UGC, etc., based on which products they browsed to push shoppers further down the funnel effectively.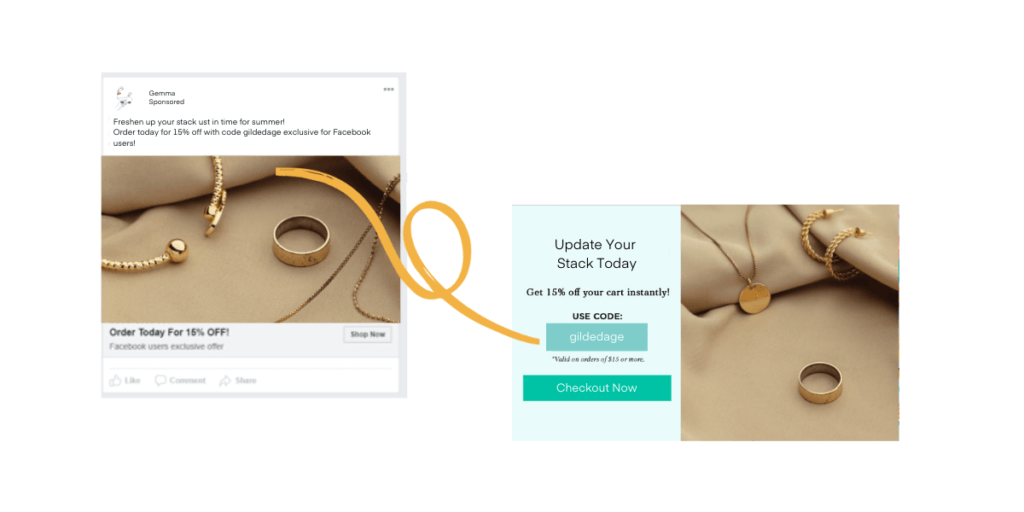 8. Influencer Traffic
If you work with influencers, then make sure to set up welcome promotions greeting their followers when they click through (or swipe up) to your website and remind them of any exclusive offer they could use. Use their name, creative, etc., to make this transition seamless and personalized!
Pro Tip: If someone from Instagram adds an item to their cart, fire a pop-up with a carousel of other related items and use messaging like "Get the rest of Lauren's Look" to cross-sell related items.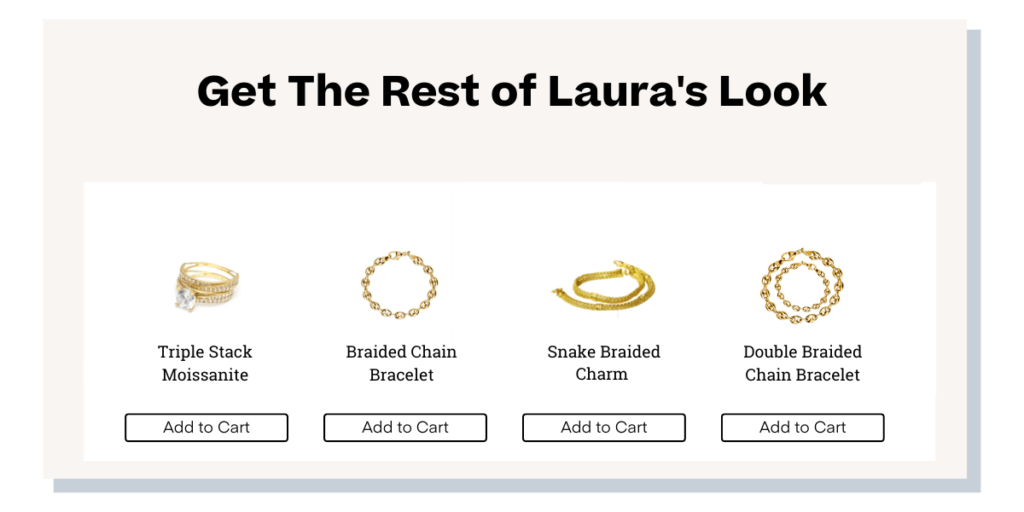 9. UTM-Targeting To Mirror Paid Ads
Use Justuno's advanced targeting rules to show visitors the most actionable version of a welcome offer based on the paid shopping or social ad they clicked there. Using UTMs you can mirror creative, messaging, offers, etc., on-site for a seamless transition from SERPs/Social to your website.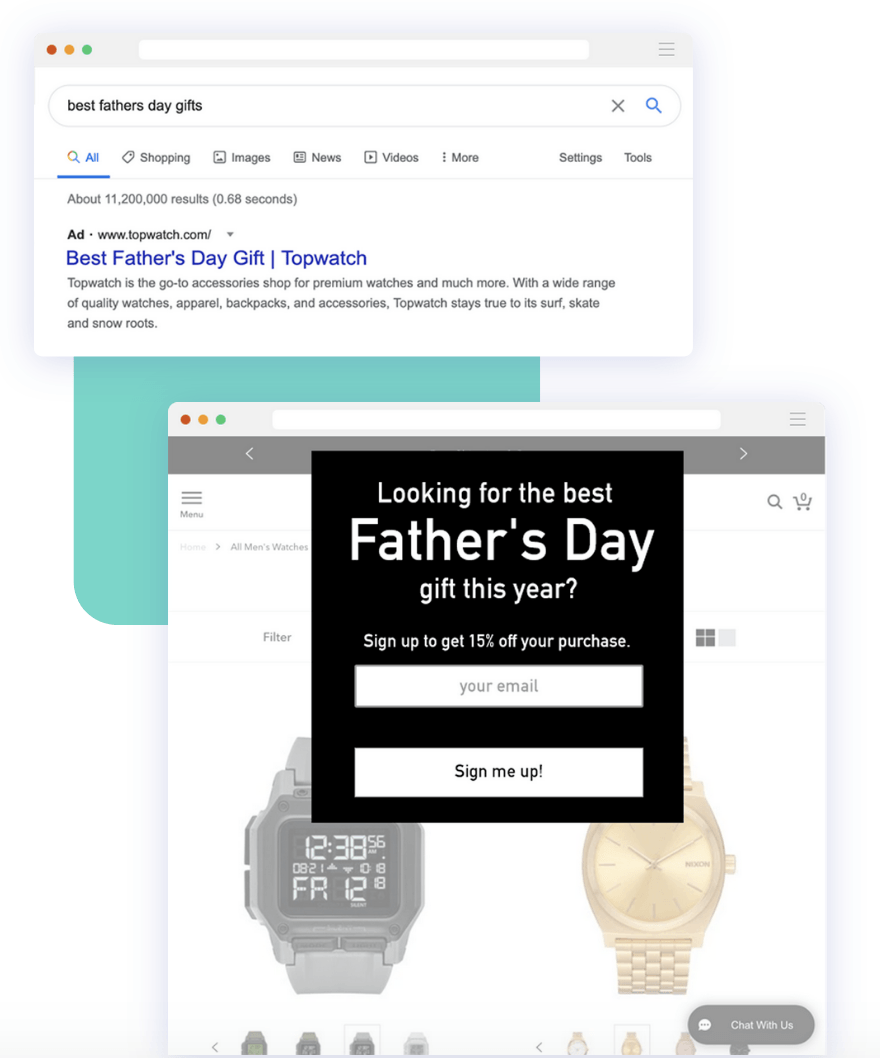 10. Limited Time/Exclusive Collaborations
Another great way to work with influencers is to create a limited-time collection with your top influencers. This strategy can work with a limited edition product that you create in tandem with the influencer or can be a capsule collection of their favorite items. This helps align their audience with your brand and capitalizes on their status.
You could take this approach with product releases or achieve a similar effect using intelligent product recommendations—creating a collection of products they use and recommend to their followers. Tag which products 'belong' to each influencer, and then use these curated collections anywhere on your site! Direct traffic to collection pages, place them in pop-ups, and more.
11. Refer a Friend
Use a bubble or corner promotion to follow visitors around, encouraging them to refer a friend. Corner promotions are out of the way so they don't interrupt their experience, and bubbles are even smaller, which, when clicked, opens up a larger promotion for those interested.
Jewelry is one of the many industries that heavily rely on social proof and word of mouth, and it's a great way to reward your customers for sending their friends your way. These referrals are very likely in your target audience, are high-intent, and if you offer an incentive on both ends—very motivated to purchase!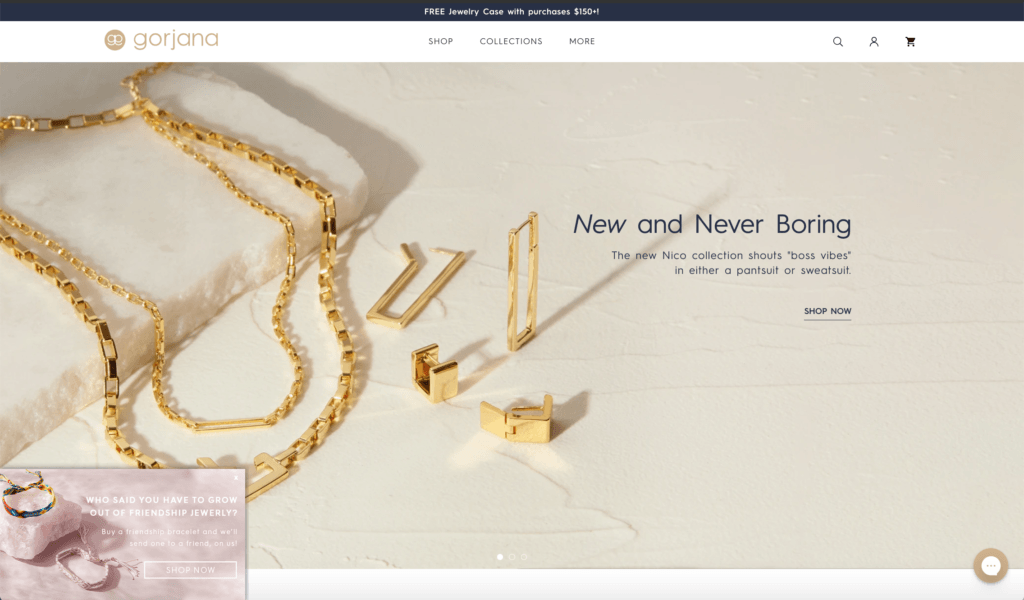 12. In-Page Carousels On Blog Posts
Content marketing is a huge opportunity for jewelry brands where they can write up articles to nurture their brand community. From topics like cleaning & care instructions to different brand collabs, gift guides for holidays, team interviews, and more—but let's make sure to make the most out of those pages. Place an intelligent product recommendation carousel in your blog post featuring the products discussed in it for easy access to add-to-cart and removing the opportunity for browse abandonment altogether.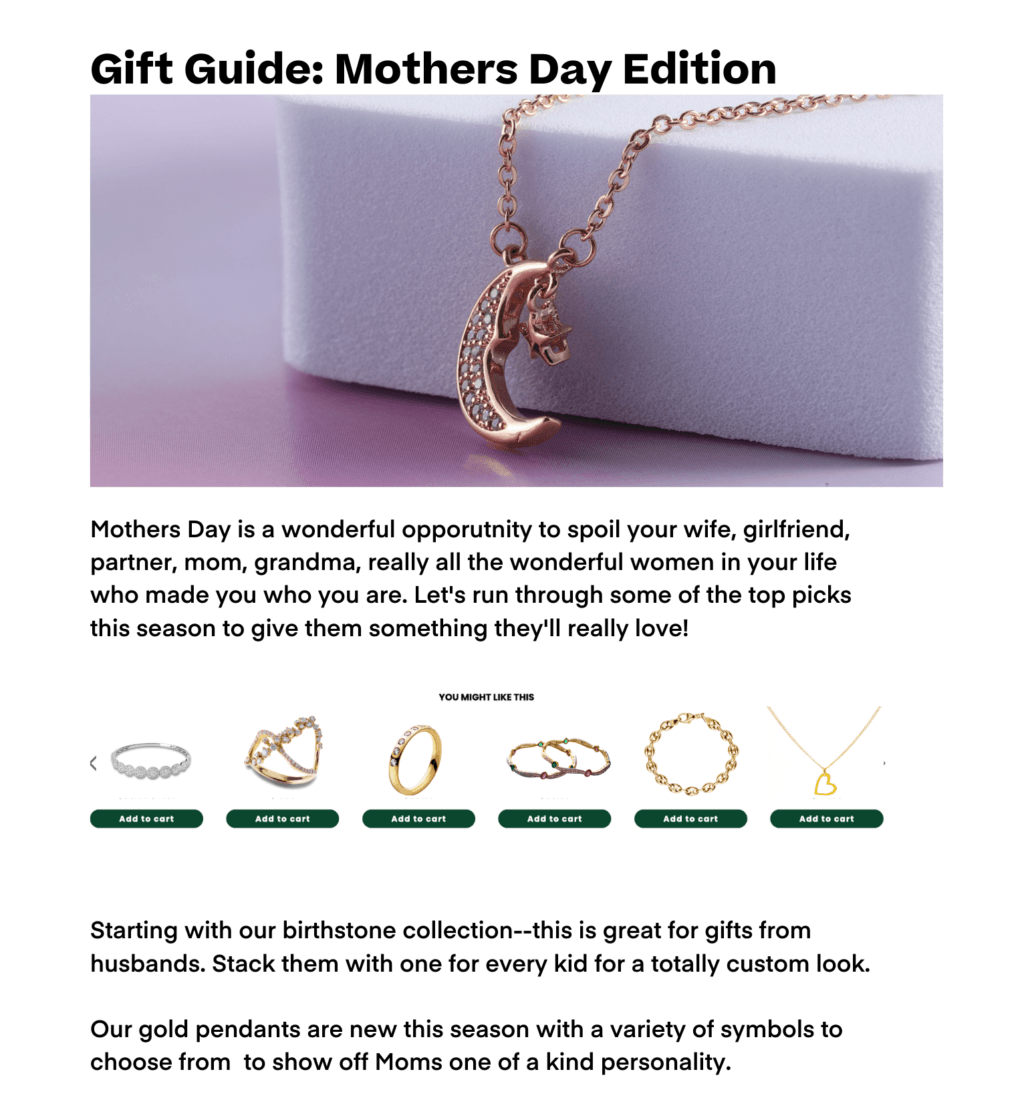 13. Satisfaction Guaranteed on Cart Abandonment
Since jewelry is often on the more expensive side (or someone is simply feeling indecisive), there can be hesitation for some shoppers before they pull the trigger. If you offer a satisfaction guarantee or extended return window, this is the ideal time to promote it—these visitors were interested enough to add items to their cart but not quite ready to commit yet.
A guarantee is perfect for this segment; reinforcing the no-risk aspect of their purchase removes barriers to purchase for a same-session conversion (without reducing profit margins). Double up with a timer for even more impact—jewelry brands using timers in their Justuno promotions averaged a 30.05% engagement rate and converted 13.56% of those shoppers.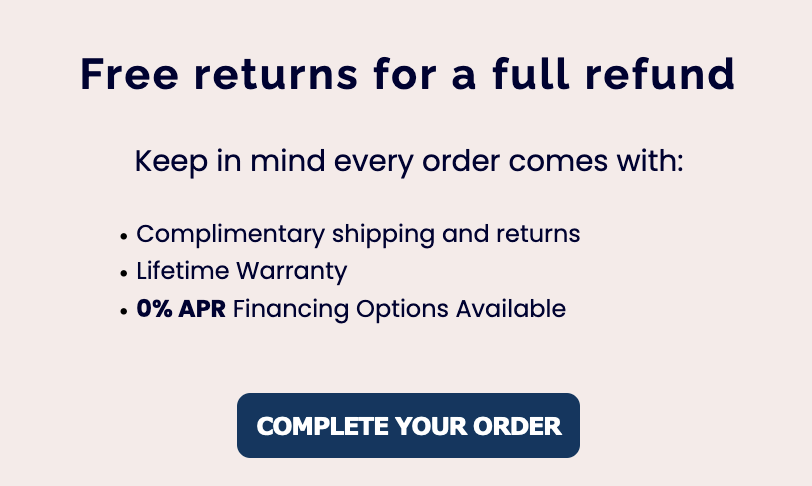 14. Warranty on Exit Offer or Banner
Another big concern of shoppers when it comes to buying jewelry is the quality of it—namely, can I trust it to last, the stone not to fall out, or the metal to tarnish. If you offer a warranty, be it for a few years or a lifetime, make sure you're informing shoppers! A great time to do this can be on an exit offer—it will get these visitors to reconsider, and even if they continue to leave, they may return later on after thinking about that value.
Another option is to display your warranty information in a banner, maybe triggered after they travel to a page that informs them of this quality guarantee without interrupting their shopping experience.
15. Returning Cart Abandoner
If someone abandons their cart and comes back to your site, show them a side promotion with exactly what they left behind with a CTA that takes them directly to checkout. By making it easier to checkout, you're more likely to get them to complete the purchase, plus the personalization is hard to beat.
If you're selling fine jewelry, like engagement rings, you may have a longer sales cycle where visitors visit your site several times before finally committing to a piece. This gives them a subtle reminder of what they left behind and focuses their attention on the desired action of checking out.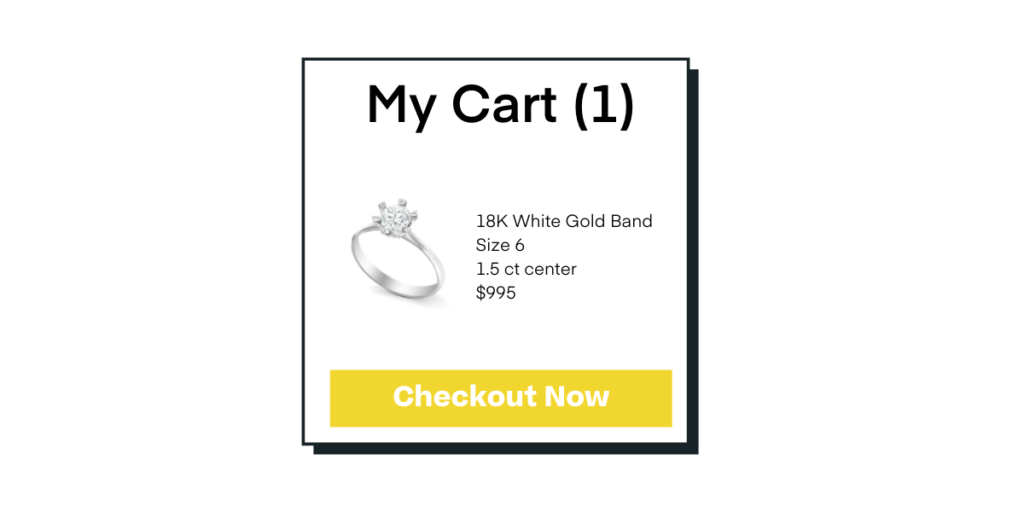 16. Reinforce Buy Now, Pay Later Options
Many retailers now have BNPL options, which can be especially effective for fine jewelry brands with a heftier price tag. Don't leave it to chance that shoppers will know; make it clear immediately for them with a site-wide banner showcasing your finance terms.
Text-ticker banners add subtle movement to your site to draw shoppers' attention as they browse. The further down the funnel they move, the more important it is to reinforce BNPL availability.
Trigger an exit offer for traffic leaving cart/checkout pages that remind them of this option—this can be the difference for some shoppers in what/if they buy when their cart values start to creep up. Price is one of the top reasons for abandoned carts, so providing installment options can reduce sticker shock significantly and can even increase average cart size by 20-30%.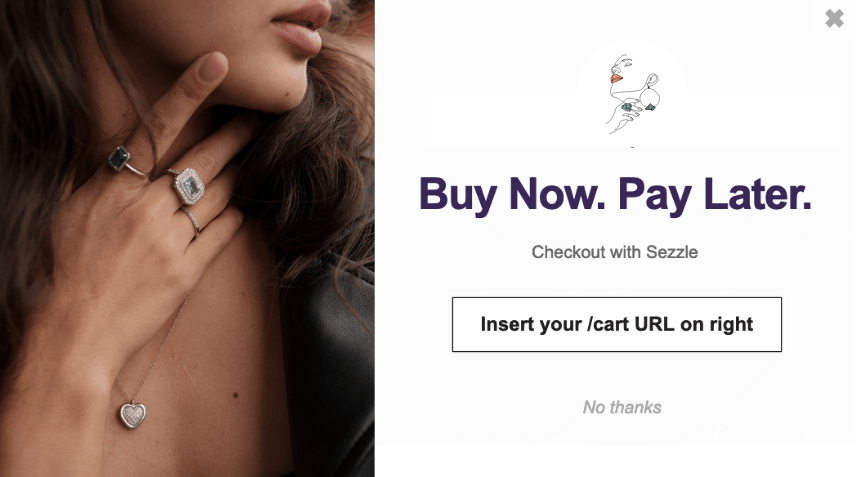 17. In-Cart Cross-Sell
This is a tried and true method for increasing AOV, placing complementary products in customer carts to encourage a last-minute add-on. Justuno customer Bryan Anthonys did this and experienced a 126% lift in engaged conversion rate over standard email opt-ins that added over $200K to their bottom line.
In tandem with an explosive customer acquisition/ retention campaign, they had a 79% increase in new customers + 30% repeat customer rate + $8 AOV increase that ultimately led to a 300% increase in overall growth.
18. Shipping Notice
Communication and transparency are key for customers, especially those making large purchases. If you require a signature with delivery for those orders, make sure to let customers know that when selecting shipping options on checkout pages. You can do this via a banner or corner promotion to not interrupt their checkout process but still provide timely information.
Don't forget to also include this information in subsequent transactional email/SMS. This can be a great time to ask for their phone number so they can receive a text when it's out for delivery, ensuring there is no delay!
19. Additional Channel Opt-Ins
If you leverage Instagram & TikTok heavily as an acquisition/discovery source—start connecting with customers on those platforms too. On the order thank you page, place an opt-in to collect these handles and use messaging like "Post a pic with your new bling" to encourage some UGC creation. Jewelry naturally lends itself to an elevated/aesthetically pleasing unboxing experience. There's no better time to build excitement for their upcoming order while collecting additional channels!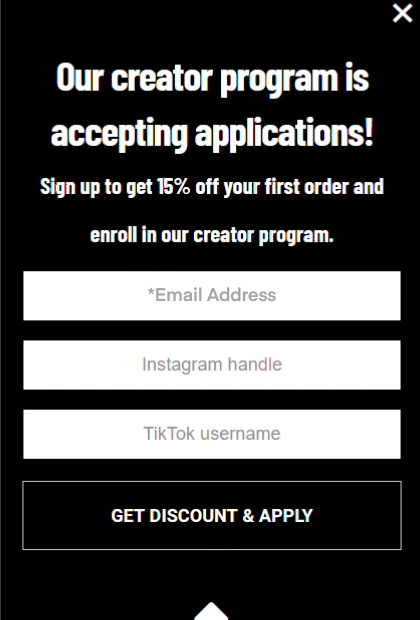 If you're building a micro-influencer program, feed these handles into a platform like Gatsby, which can identify customers with influence on Instagram/TikTok to then reach out and activate as ambassadors.
20. Seasonal Designs & Campaigns
Jewelry is a traditional gift for many people on many holidays like Valentine's Day, Christmas, Anniversaries, Birthdays, Mother's Day, and much more. That's why leveraging seasonally-themed promotions can be the easiest and most efficient way to improve conversions/revenue.
Present shoppers with Valentine's Day-themed banners offering free gift-wrapping; create Mother's Day gift guides to help them find the perfect necklace, or a promotion letting them know the order cut-off days for guaranteed Christmas delivery. The options are endless, but play into the big opportunities each season brings for gifting opportunities and make it easy to do!

21. UTM Targeting for Email Campaigns
Maximize every email campaign with corresponding onsite messaging to mirror codes, copy, imagery, etc., on-site to push more traffic toward a conversion. No need for shoppers to jump back to their inbox to grab a code and risk abandoning their cart—it's already onsite and ready for use. Double points if you auto-apply it to their cart for them, so they really don't have to do anything but shop!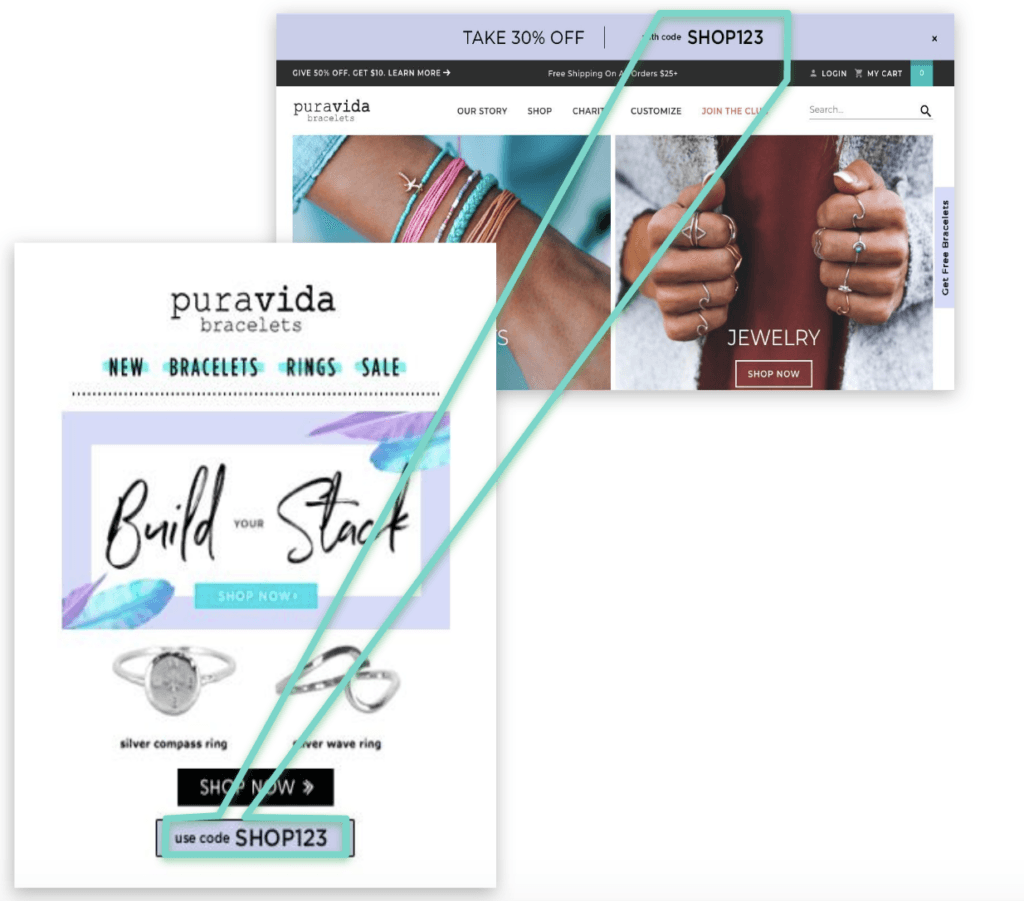 22. Brand Mission
If your brand was created with a certain mission or core value in mind, make sure to share it loudly and proudly! That is your differentiator and will help you find/align with your target audience in a deeper way. Whether your bracelets are made by artisans in Bali and support ocean clean-up or designed a certain collection/item whose proceeds support women's heart health—let shoppers know!
Whether in a banner on the product description page, side pop-ups featuring fun facts about your progress, or simply giving them the opportunity to add a donation to their order (check out ShoppingGives for a seamless charitable experience)–make this a big part of your onsite experience.
The jewelry industry is big and only getting bigger as consumers have shifted their shopping behaviors and more small brands continue to pop up.
Offer a great customer experience that connects 1:1 with shoppers to stand out from the competition. These strategies are just a few of the potential ways you can use Justuno to build a deeper connection with your customers.
Justuno is the leading conversion optimization platform for brands when it comes to personalized, scalable onsite messaging.
Try us out with a free 14-day trial, or schedule a demo to see how Justuno can take your jewelry brand to the next level.