We often hear from marketers evaluating their current onsite promotional strategy who tell us their current ESP (email service provider) already has pop-up capabilities. So why do you need Justuno?
The short answer is this: Justuno is much more than a simple 'pop-up application.' Rather, think of it as a complete CRO (conversion rate optimization) suite that goes far beyond basic promotion functionality available in these ESPs.
Let's take a deep dive into how Justuno and your ESP work in tandem to be better together. We'll discuss how using an onsite conversion platform can take your email marketing efforts to the next level with enhanced features and optimization capabilities.
Why onsite messaging matters for email marketing
Email capture is the keystone of a successful email marketing strategy because without effective lead capture…you won't have any emails to market to. Using Justuno to build your email database will not only grow your list quickly and efficiently, but do so with high quality, engaged leads.
Pop-ups and onsite messages play an immensely important role in the e-commerce experience. They can set your ESP up for success by targeting and segmenting opt-ins and visitor engagements. Before your ESP can come into play for typical email marketing activities, onsite optimization and personalization needs to be ready to convert all that incoming traffic.
Using a specialized onsite conversion platform like Justuno means you can create the kind of compelling pop-up designs and advanced targeting rules necessary to make pop-ups a welcome sight rather than an intrusive one whenever a prospect clicks through to your website.
How to strategize
Depending on what ESP you use and how advanced their user profiles are, you can use the information collected (such as which email they opened, clicks, etc) to segment and target visitors with relevant onsite efforts.
For example, you can use UTM parameters to mirror offsite offers/imagery onsite with promotions based on which email they came from or even items they clicked on. Using behavioral targeting elevates the visitor experience and is another example of how Justuno and your ESP work together to achieve your marketing goals.
For Justuno users on Plus or Professional Services plans, you have access to our newest Commerce AI features. These AI-driven product recommendation features can link up to your ESP to provide relevant recommendations for returning visitors. Suggest products they may be more likely to buy based on previous browsing sessions or orders; or encourage them to return to an abandoned cart with a win-back flow triggered in your ESP. Finally, you can unite email messaging with an onsite pop-up offering an incentive for them to convert. Our customers and agencies have found this is a winning combo.
One of the coolest types of promotions you can create on the Justuno platform is an in-page promotion. These are pop-ups that appear to be a part of your site, so they're ideal for companies worried about the "firing" aspect of a pop-up being too harsh or annoying. These seemingly native promotions enable you to change entire sections of your site to appear differently for various audience segments, targeting each with an optimized message. Use UTM parameters based on your email campaigns to change out these in-page promotions to reflect certain messaging aimed at certain segments, or for specific campaigns.
With Justuno, it's simple to set your ESP up for success by using a strategy that unites your offsite inbox efforts with your onsite conversion efforts.
Advanced design and targeting rules
Justuno's conversion platform features industry leading targeting rule sets that let you hyper-focus your onsite messaging. Create as many campaigns and promotions as you'd like for as many customer segments as you want. Our ability to get hyper focused with these advanced rulesets means you can craft the ultimate onsite marketing funnel optimized for conversions.
Depending on the aesthetic you're going for, you can use any number of our canvas' design elements or turnkey themes. Quickly build custom spin-to-wins, highly branded in-page promotions, or add flair with out-of-the-box animation and plug-ins from your favorite channels.
Short on bandwidth or need help crafting the ultimate conversion strategy? Justuno's in-house conversion experts offer guided assistance or complete white-glove managed services in addition to our self-service plans.
Check out some of the designs that are possible below: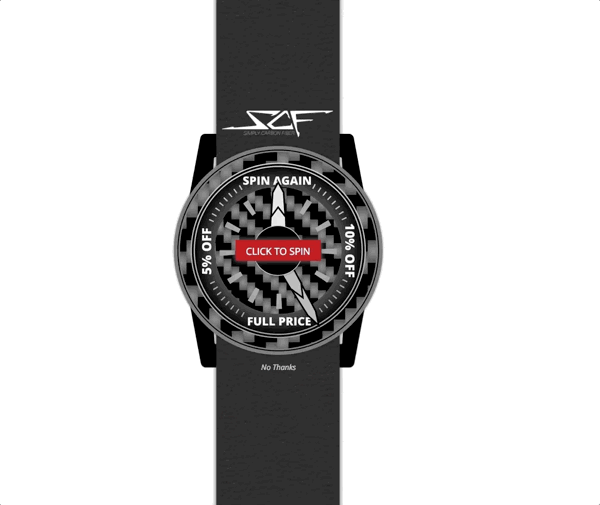 This is an example of custom gamification our Design team did for a Professional Services client. They used a best selling product as the focus and were able to drive double digit conversions with this spin-to-win welcome offer.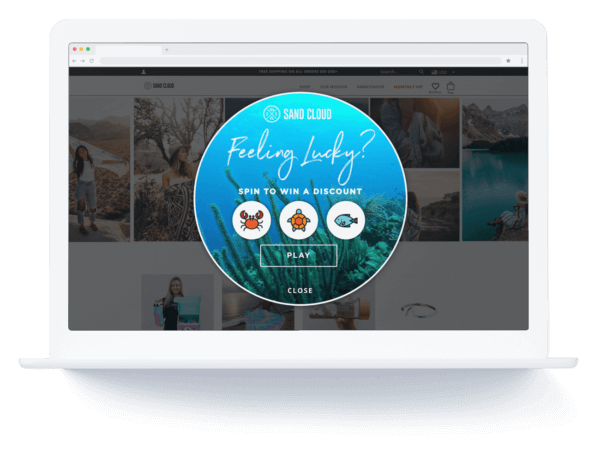 Another example of what you can do with gamification, this is an example of our slot machine game template. Use this as a fun welcome offer to encourage opt-ins and entice visitors into engaging.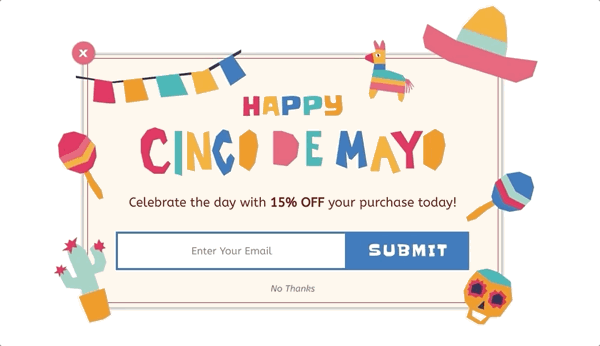 Animation is a great way to make a simple center promotion eye-catching. This Cinco de Mayo pop-up is festive and fun, encouraging opt-ins and immediately capturing attention. Justuno's design canvas supports custom HTML/CSS, and we're always adding new turnkey animations.
Final thoughts
While many ESPs offer simple pop-up builders, why should you settle when it comes to optimizing your onsite experience? Justuno and your ESP work hand in hand to be better together, and we've had numerous customers reach out to us after realizing their ESPs limited feature set just wasn't cutting it.
Using a premiere onsite visitor conversion platform like Justuno can elevate your site experience and reinforce email campaigns. This will bring in high-quality leads, nurture returning shoppers, and cultivate loyal relationships better than ever before.