As we take a look back at 2019, we like to reflect on some of the biggest highlights and wins that the year brought us. We introduced new plan types, AI-powered features, and helped countless clients grow their businesses. We hope your business experienced similar success in2019!
Here at Justuno, we put a huge emphasis on content and making sure our clients have the resources they need to craft successful marketing campaigns. This year, we rounded up the top ten blog posts published in 2019 guided by YOU, our audience favorites. Let's check out what caught your eyes the most in 2019:
The number one most trafficked blog post from 2019 was a guest post by one of our agency partners, MuteSix. Our mutual client, Cocofloss, was the subject of a case study on how their use of Justuno's onsite pop-ups alone was able to drive huge wins for them on metrics like cart abandonment (lowered by 20%), customer acquisition cost (lowered 25%), and their conversion rate (grew 28%).
Cocofloss is a great example of how to use hyper-personalization along with the power of branding to execute a full-funnel marketing strategy–powered by Justuno.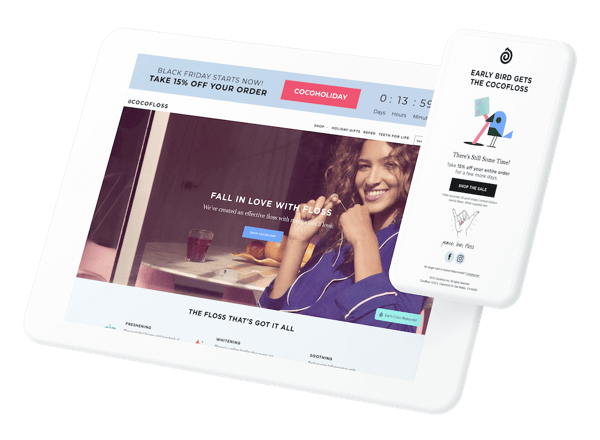 SMS marketing is one of the hottest channels to emerge for marketers to reach shoppers directly. Text messages are one of the most quickest ways to connect with consumers, and even better, it's right there on the device they have with them all the time.
SMS marketing is great for those with an engaged user base who wants to be in the know about a brand's latest news. According to one of our tech partners, Retention Rocket, SMS marketing contributes an average of $500-$1,000/day in added revenue, and these texts convert an average of 18-30% of abandoned carts.
With stats like those, it's hard to argue with the effectiveness of this new channel, and showcases just how important emerging channels can be for creating the ultimate shopping experience.
Facebook Messenger, like SMS is another marketing channel that's emerged recently as an alternative to email marketing. These automated chat bots allow you to set up conversion flows like welcome messages, quickly locking in subscribers and incentivizing purchases.
Our technology partner, ShopMessage, wrote this guest post specifically about the type of welcome messages that appeal to shoppers and make a solid first impression. Check out the real-life client examples for three strategies they recommend. Start finding Messenger success today!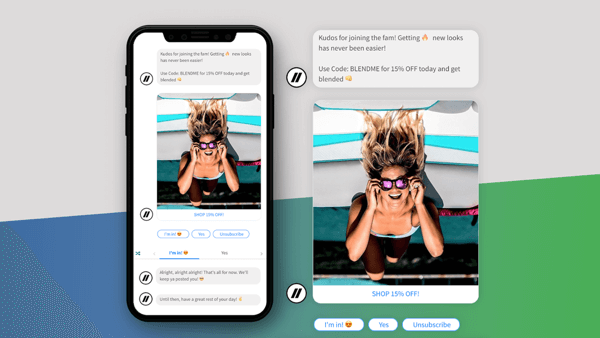 For more luxurious or upscale retailers, brand aesthetic is often related to exclusivity and expense. This means that offering discount-based promotions doesn't always align with a brand's vision or customer perception. In this article we explored how retailers such as these can stay on brand while increasing their conversions…even without offering a discount.
Justuno empowers retailers to create the on-site experience they want, whether that's a pop-up that fires based on behavioral triggers, an in-page promotion that appears native to your website, or any variation in between. Delivering the right online experience is all about knowing your target audience and personalizing your messaging around them. Staying on brand is easy when your marketing aligns across channels to deliver a seamless experience, so make sure your website is the same!
This is the second in a two-part series about Justuno's Professional Services department where we interviewed the Simply Carbon Fiber team about their experience with our white-glove service department. In just three months, over 31% of Simply Carbon Fiber's revenue was attributed to Justuno promotions with their store averaging a 10% opt-in rate (double that of the average Justuno user).
During their interview, the Simply Carbon Fiber team goes over why they came to Justuno, what their favorite part about Professional Services has been, and why they feel it's been the best way to scale their business.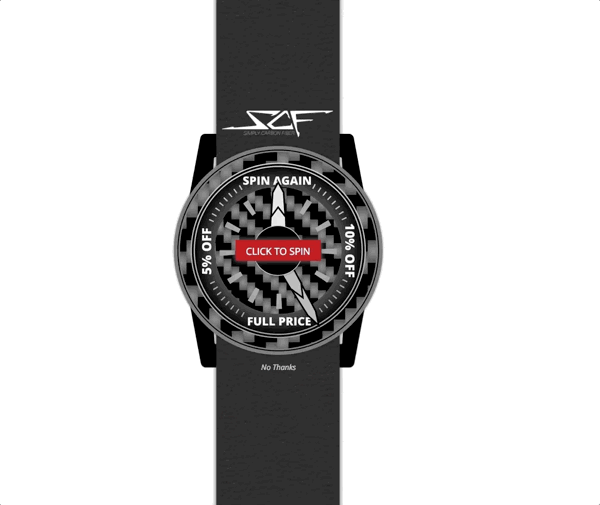 Did you know that Facebook has its own version of UTMs and they're called FBCLIDs? If not, make sure to check our blog post that covers how these two tracking parameters work when creating targeted marketing campaigns.
When you launch Facebook ads, every time a shopper clicks the ads and goes to your site, an FBCLID is automatically added to the outbound link. This makes your tracking and attribution a little more difficult since each visitor gets their own, rather than overall campaigns having their own like a UTM. Learn more about how these two targeting parameters work, how to fix your Google Analytics dashboard, and ways to use Justuno in conjunction for ultra-targeted, relevant onsite experiences.
Custom spin to wins and other gamified experiences are a great way to not only show off your branding and personality, but also make your onsite experience more fun for shoppers! In this post we highlighted three examples of custom gamification that Professional Services clients requested throughout the year.
Design options are endless for how custom you can make these pop-ups, whether it's incorporating your products into the build, putting a twist on the traditional spin-to-win, or creating an entirely new game. With an average opt-in rate of 15% for PS clients using custom gamification, it's a win-win!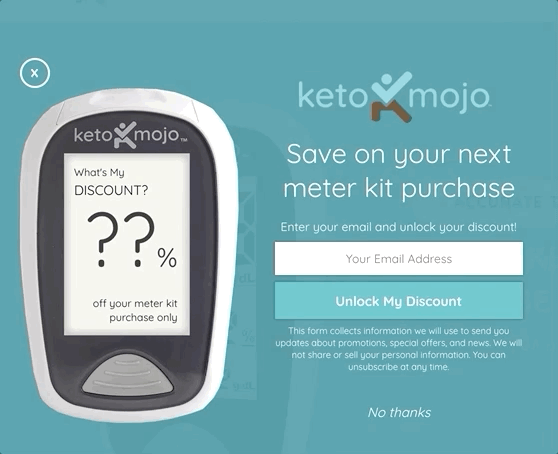 In 2019 Justuno introduced Commerce AI, a suite of AI-powered tools designed to help our users create the ultimate shopping experience with automatic product recommendation and personalization.
By syncing your store inventory with Justuno's intelligent visitor profiles, you can start building focused promotions designed to boost AOV and conversions. Automating these personalized recommendations helps you scale your business quickly, providing an efficient foundation for intelligently personalizing your site's product recommendation experience.
Justuno is so much more than a pop-up creation tool, but it's important to break it down to the very basics of lead capture and strategy for onsite promotions. One of our agency partners, Fuel Made, wrote this comprehensive guide to creating the ultimate pop-up. Starting from the top, they outline the questions you should be asking yourself before creating a pop-up, along with some compelling examples from their clients.
By focusing on optimizing the customer experience from the beginning, you can guarantee that your pop-ups will add value and be relevant for visitors, which is the key to onsite success.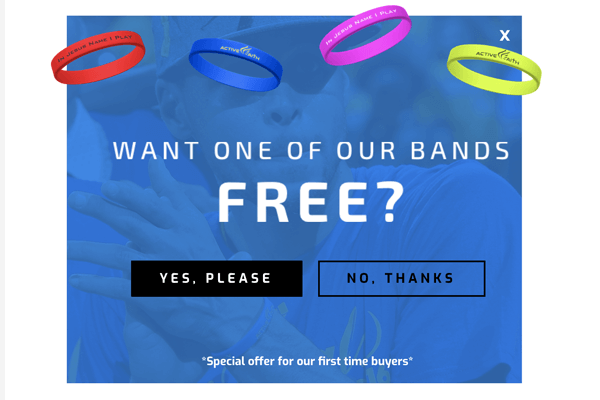 Mother's Day and Father's Day are two of the biggest shopping days during the summer, with billions of dollars being spent on each. While often overlooked, these are huge opportunities for retailers to combat the dreaded summer slump months and appeal directly to these shoppers.
This blog post covers best practices for messaging that will resonate for these holidays, and strategies for how to understand your audience. Use buyer behavior to hone in on audience segments, effectively target messaging, and curate the right site experience for each group.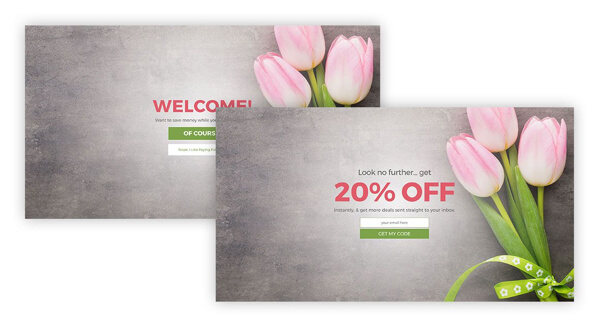 To help you prepare for 2020, check out this blog post on the California Consumer Privacy Act (CCPA) and what it means for retailers. This new data privacy law goes into effect on 1/1/2020 so make sure you know who it applies to, what it takes for you to be compliant, and what the consequences are for not implementing the necessary benchmarks.
Final Thoughts
2019 was a great year here at Justuno. We published over 40 blog posts, created the Justuno Academy and collaborated with more partners than we can count. We hope you read a few posts, learned some things along the way, and found inspiration for new marketing campaigns.
We're looking forward to creating and learning even more with y'all in 2020!