It's close. Promotions, order fulfillment, customer service, perfectly timed SMS campaigns – everything will need to be on point to create the well-oiled selling machine for e-commerce brands' most important days ahead: Black Friday & Cyber Monday (BFCM)
Below, we'll dive into the top 31 Shopify apps that are the oil to your conversion machines and maximize potential before, during, and after the BFCM weekend.
Alloy Automation
Alloy Automation is an automation/integration platform that helps Shopify brands connect their most-used apps, eliminate time-consuming busywork, and unlock new levels of growth.
Alloy enables brands to make processes more efficient —creating value for customers without adding too much to their plate.
They're the perfect solution for merchants who need to streamline their operations in time for the holidays. That hand-written thank you note for orders over $500? Set up Alloy to Slack you when one comes in so you don't have to manually review. Need to automate Google ads to turn off when inventory gets to only one left? Alloy has you!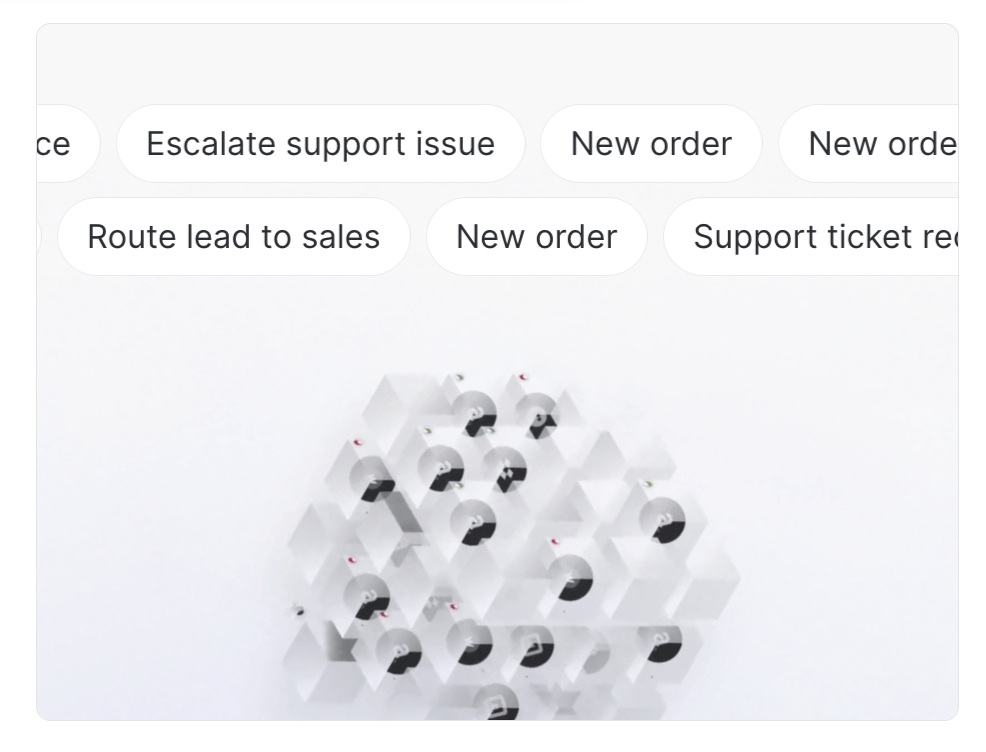 Clyde
Clyde is a product protection platform that goes way beyond traditional warranties, giving you the ultimate customer enrichment opportunity through a single dashboard. From warranty, registration, and issue resolution—Clyde unlocks a CLV you could only dream of before.
Not to mention, extended warranty options post-purchase earn more customer trust and give customers the peace of mind they want this holiday season. For those of you in industries like fitness, tech, or home goods, where it makes sense to offer customers warranty options—give the gift of protection this season.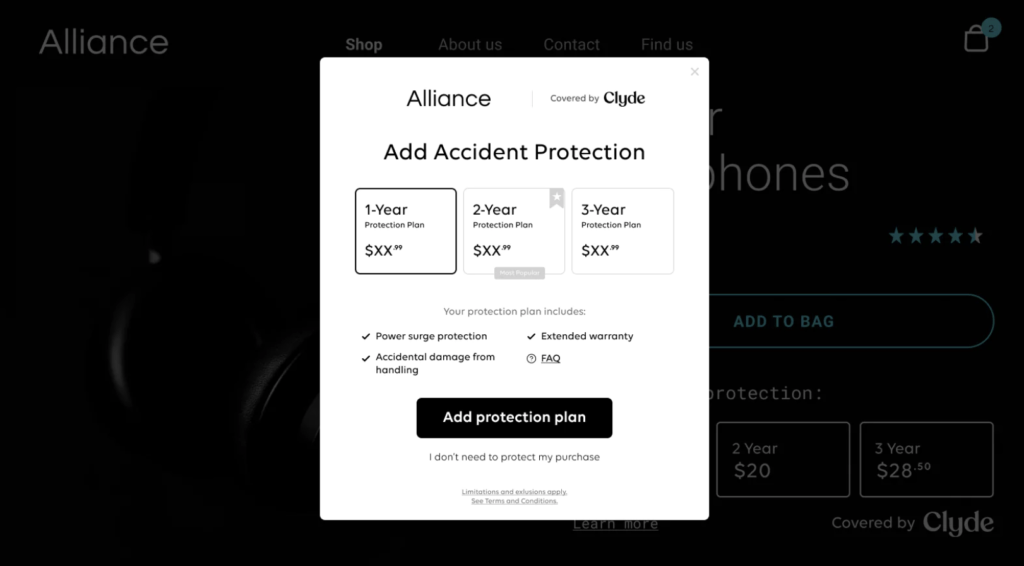 Daasity
Daasity pulls together data from all your marketing channels, campaigns, and apps to create a single comprehensive/cohesive data model.
This app shows all of this data in various easy-to-digest dashboards, giving marketers advanced insights into customer lifetime value, customer profiles, financials, operations, product affinity, traffic, conversions, and more.
Daasity is designed to clarify and streamline both the marketing and operations of an e-commerce business.
As BFCM approaches, having the ability to forecast inventory, evaluate offsite marketing campaigns from previous years, and leverage other filters you can put over your business, can give you a strong advantage in having a successful weekend.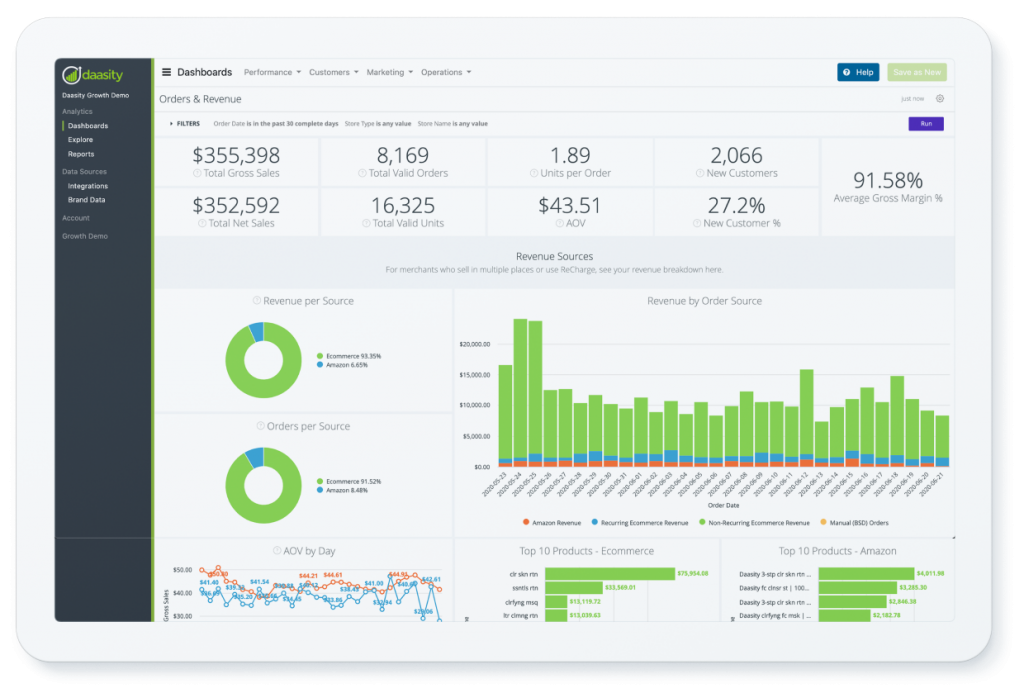 dotdigital
dotdigital is a Customer Experience Data Platform (CXDP) that redefines the space with omnichannel functionality for email, SMS, push notifications, social, and more. Their out-of-the-box integration with Shopify means you can sync your store/customer data, trigger omnichannel campaigns, and make complex campaigns easy using retail reporting and RFM-personas for advanced segmentation.
Their drag-and-drop automation builder is easy to use, plus they have automation templates to set up foundational programs quickly. Dynamic content, advanced decision logic, and personalization are all a breeze in dotdigital's platform, so you can create the messaging you need no matter what size your store is.
Feel
Feel is one of the most innovative technologies we've seen for Shopify merchants. Their virtual showroom and sales force empower e-commerce brands to spark human connection and truly bridge the onsite-to-reality gap for high-consideration purchases.
Help customers find what they're looking for, get compelling customer service, and increase sales.
It sounds too good to be true, right? Wrong!
It's all in a day's work for Feel, who helps retailers like Ruti drive results like a 78% increase in AOV and 35% conversion rates when they joined forces with Justuno.
During the holiday season, a true 1:1 connection with shoppers is invaluable. Those who need help fighting indecision, finding the right gift, and getting their questions answered will be astonished at receiving the same level of assistance through your Shopify storefront as they might in person.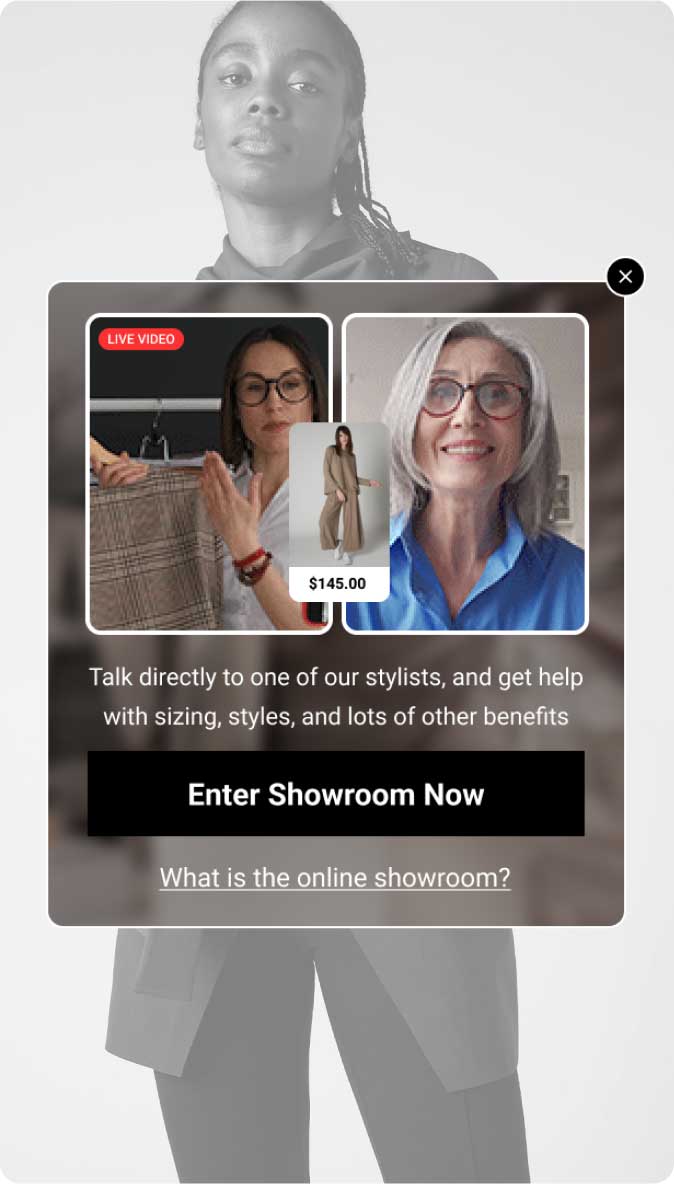 Fondue x Postscript
Fondue is a cash-back app for Shopify merchants that was recently acquired by Postscript! They help brands reduce dependency on discounts in favor of a more bottom-line-friendly cash-back strategy.
Shoppers may redeem their cash back post-purchase either as cash via a Visa card or a gift card back to the brand's store. Since not every shopper claims their cash back, brands reinvest that money into larger offers to increase conversion and revenue, all while encouraging repeat purchases from your hard-won customers during the holidays.
Friendbuy
Friendbuy is a referral marketing platform built to support high-growth brands and reward their loyal customers. What is your best acquisition channel this holiday season? Referrals from current customers. Not only is it cheaper than ads, but averages a 25X return on spend and 2-4X higher LTV. Let's see Facebook ads get near that!
Friendbuy helps you get live ASAP with pre-built referral templates that can be customized for a seamless experience. Automate rewarding loyal customers who refer friends, gamify the entire program for even more engagement, and return this holiday season. Leverage this to drive more effective BFCM sales—early access for referrals or an extra gift with their order are great places to start.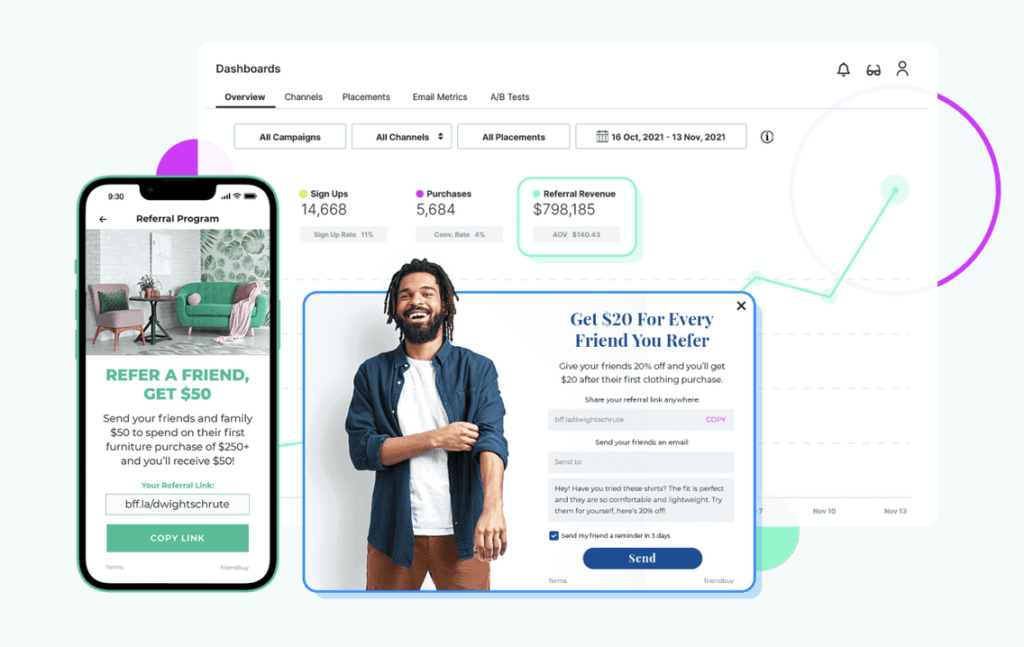 Gatsby
Gatsby is a fully automated influencer CRM designed to help Shopify brands scale their influencer and ambassador programs. Turn your most loyal customers into brand advocates this holiday season using Gatsby.
First, collect Instagram & TikTok handles using Justuno (our pre-built templates let you do this in two minutes). Next, feed those contacts into Gatsby to identify who is a good fit for your brand. Then, send them exclusive codes, links, and rewards.
We all know that UGC and social commerce are major drivers of consumer behavior, so make sure you maximize your impact this holiday season through it for maximum results.
Pro Tip: Check out our case study on how Gatsby + Justuno client Moana, was able to reach 69% opt-in rates for Instagram handle collection.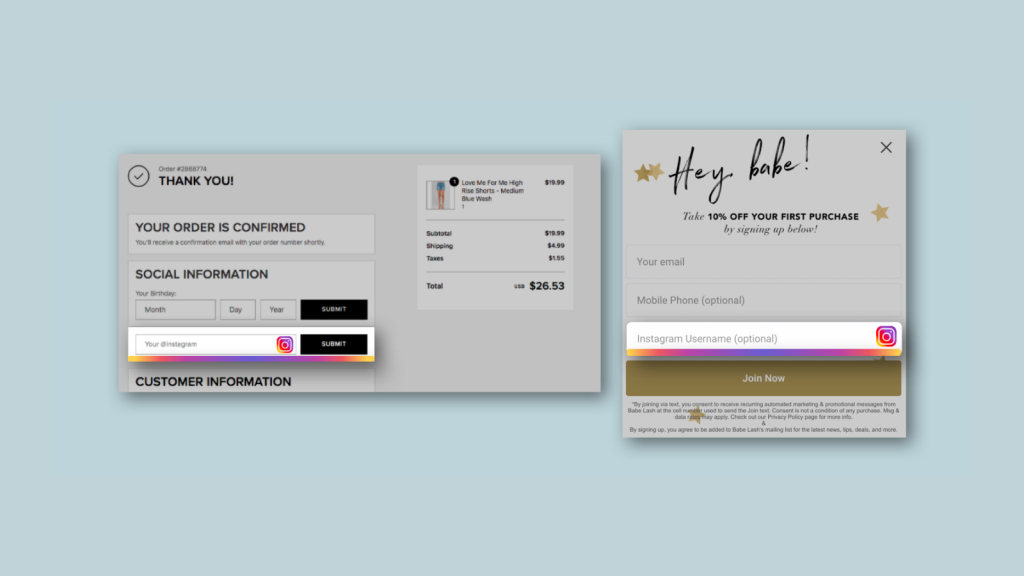 Gorgias
Gorgias is a customer service platform that empowers support teams to centralize tickets, automate responses, and get a holistic view of the customer journey to handle issues and tickets more efficiently. On average, Gorgias customers cut their response time by 35% and deliver real answers to their customers in minutes instead of days.
The one thing as guaranteed as people shopping on Black Friday? The onslaught of customer service questions. From FAQ to order tracking and service issues—Gorgias helps you handle it all with ease combining automation and the human touch.
When dealing with the time-sensitive nature of BFCM and the holiday season, having a system to resolve these issues as fast and as accurately as possible is paramount.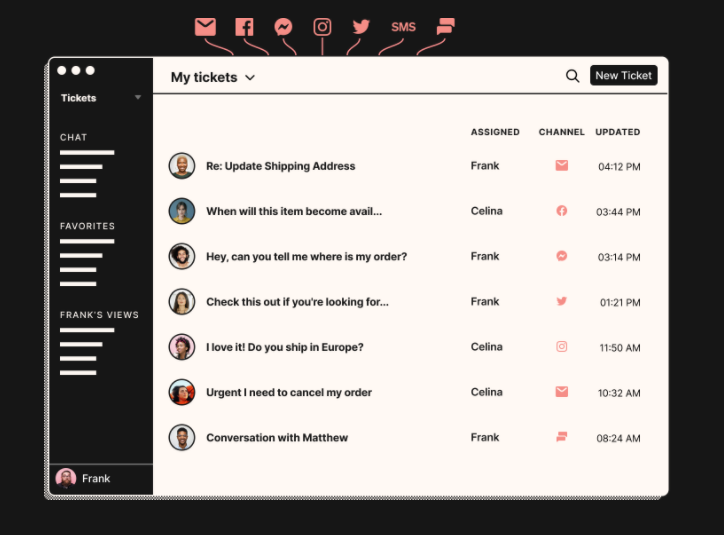 Iterable
Iterable is a marketing automation platform that helps you activate customer data to help deliver joy. Shopify merchants can go beyond simple cohort segmentation and provide the highest level of personalization with real-time data powering their campaigns.
Fun fact—we just integrated our platforms! If you're an Iterable or Justuno customer looking to learn more about how to use this new integration, email us at sales@justuno.com!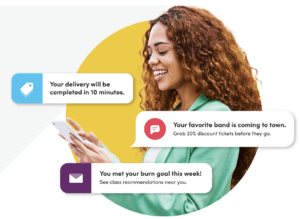 Justuno
Justuno (that's us!) is a conversion rate optimization platform that empowers Shopify merchants to turn more visitors into customers. Our tool provides next-level personalization and targeting potential so you can give every holiday visitor the ultimate shopping experience.
By creating and deploying high-converting website messaging and Shopify pop-ups, our users average an increase in online revenue of 135% in their first year and an average 8% increase in average order value (AOV).
During Cyber Week 2022, Justuno customers had an average engaged order value of $227.98, up 61.9% from $140.82 in 2021. They converted visitors 190% more, with engaged conversion rates averaging 16.83% throughout the entire weekend compared to a 5.8% overall conversion rate.
Not to mention, we have exclusive features for our Shopify customers that unlock increased revenue during the holiday season and beyond, like:
Auto-apply coupons
One-click add to cart for free gifts + cross-sells
Custom checkout experiences + dynamic personalization
Native use of Shop + Shop Pay features in pop-ups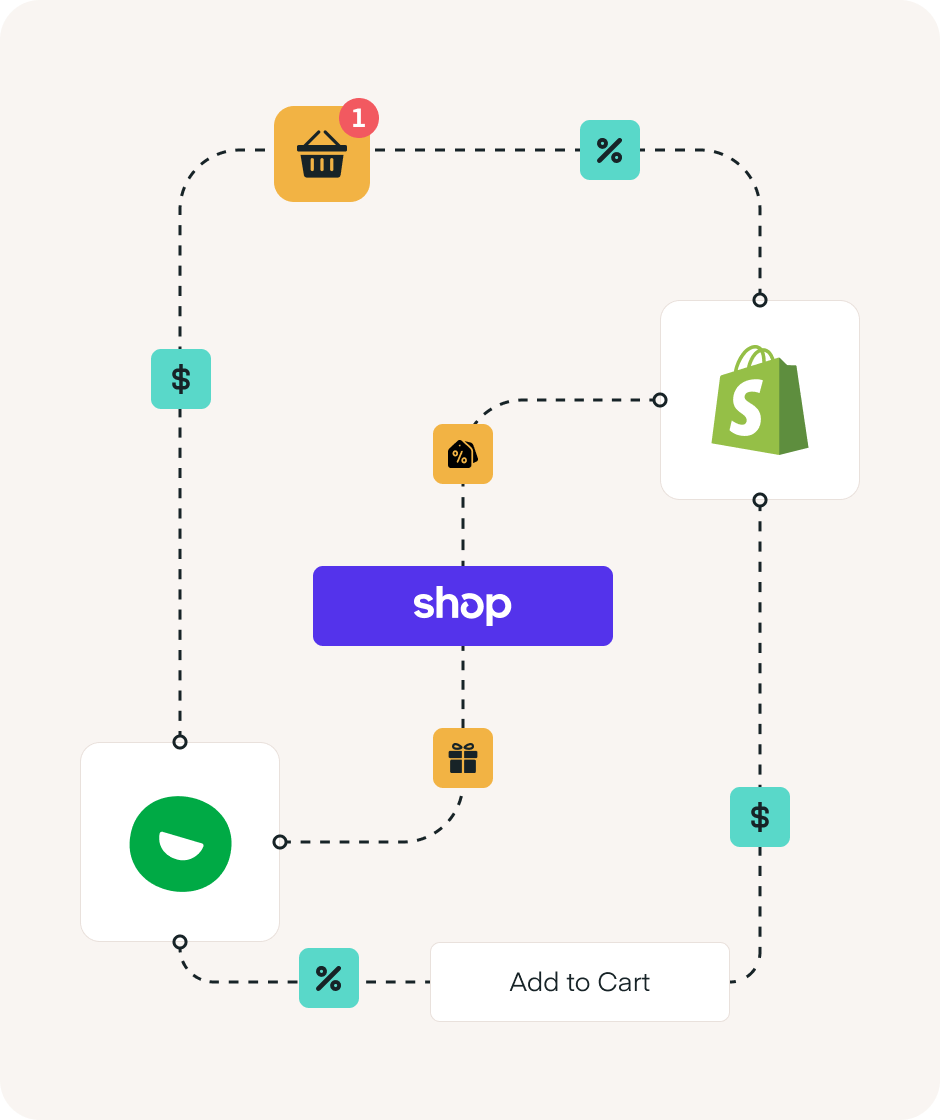 Loop
Loop is a returns platform focused on exchange-first and sustainable growth. They empower Shopify brands to optimize return costs, retain revenue, and prevent return losses.
The boom that the holiday brings leads to a new year bust when retailers see massive product returns from their holiday sales. That can be crushing to your bottom line if you don't have a solid returns platform and strategy in place! Not to mention the long-term impact on return customers and lifetime value.
That's where Loop can help: flip returns from being a cost center to a profit center and rewrite the narrative. Forge a path to profitability while providing customers with an unforgettable brand experience for a win-win this holiday season.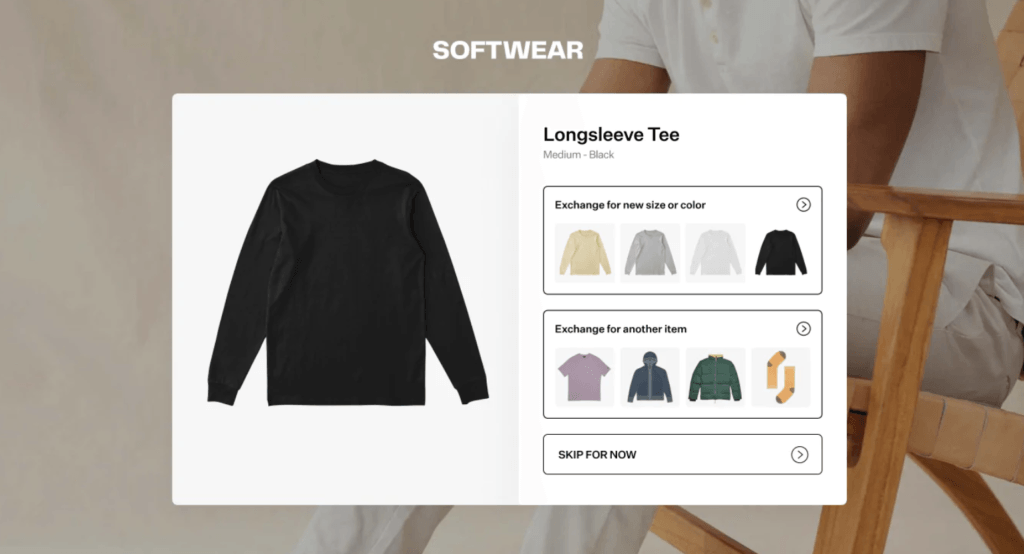 LoyaltyLion
LoyaltyLion is a loyalty program platform that goes beyond points and rewards to drive greater lifetime value and cost-effective acquisition through improved customer relationships/long-term retention.
Did you know that 66% of customers change buying habits to get the most out of reward programs? And not only that, but 41% of customers are more likely to spend with companies they've already purchased from.
That makes your current customers your most valuable resource this holiday season. Use a platform like LoyaltyLion that can help you reward and activate this segment for BFCM. But looking beyond the holidays, loyalty programs can help counteract market troubles such as data privacy, the rising costs of advertising, economic downturns, and shipping delays.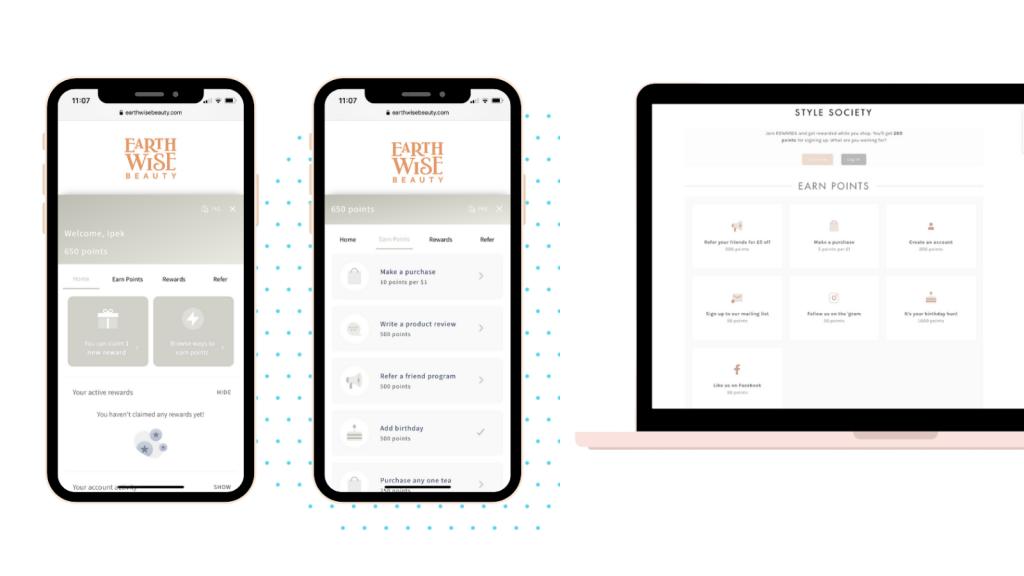 LTVplus
LTVplus is a chatbot + customer support team in one, making it possible to give your customers the gift of 24/7 customer support this holiday season! For brands struggling to keep up with CS, BFCM and the holidays are not the time to scrape by—use LTVplus to combat churn, rescue abandoned carts, and provide a better overall shopping experience.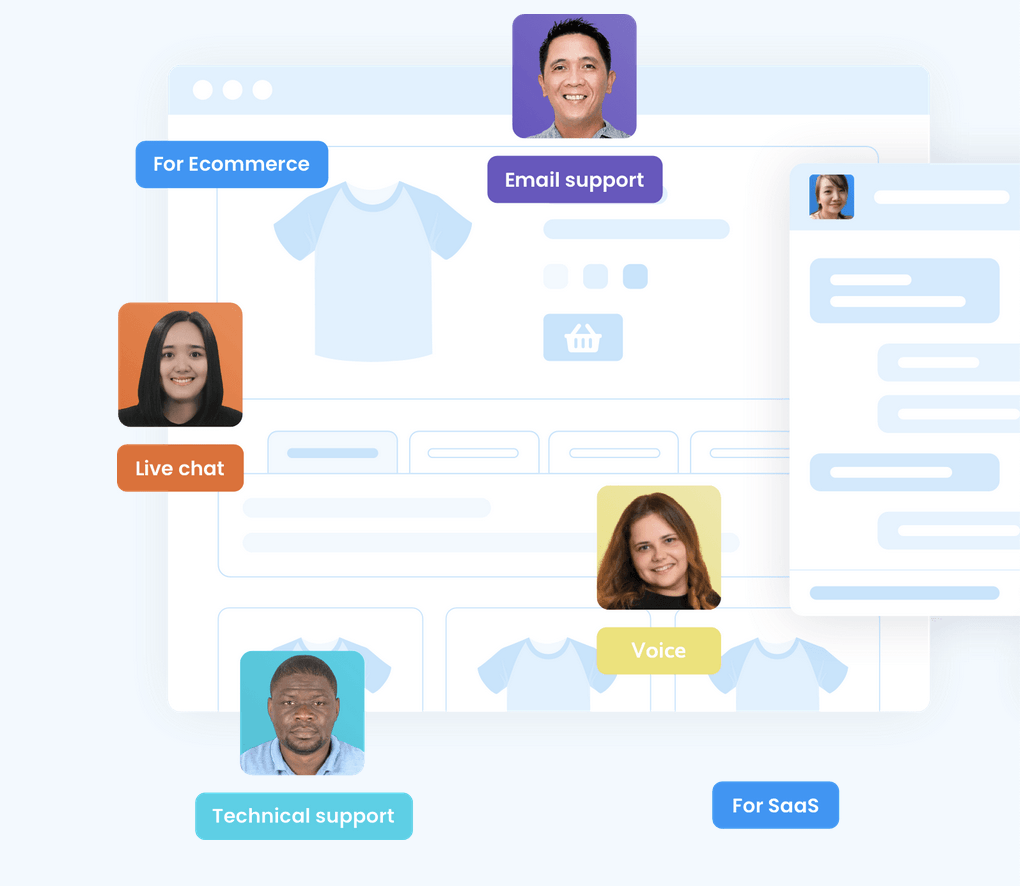 Lucky Orange
Lucky Orange offers heatmaps, session recordings, and live chat that not only increase your website's conversion rate but also provide a deeper understanding of your customers through first-party data. Use insights like those – and more – from Lucky Orange to remove barriers to purchasing before BFCM, improve mobile UX, and even just understand what catches your customer's eye.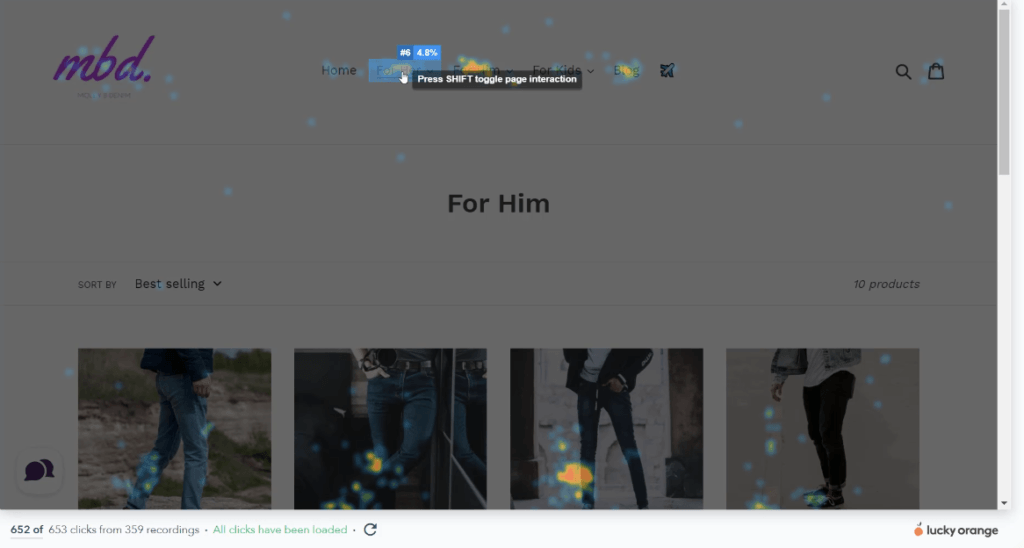 Malomo
Malomo enables you to give customers a premium post-purchase experience. From branded shipping notifications to custom order tracking, Malomo is the ultimate post-purchase tool for this holiday season.
Present customers with personalized messaging on their order tracking page as they anxiously refresh it while waiting for gifts to arrive, or even better, send them order updates before they've even had the chance to look for them!
Combine the power of Malomo with Justuno's onsite messaging to create post-purchase experiences that engage and delight customers from additional channel opt-ins like SMS or social handles to product recommendations—the options are endless!
NoFraud
With NoFraud, you can rest assured your business is safe from fraud. With a combination of AI and human intelligence, this solution eliminates chargebacks, manual review decisions, and false declines. At NoFraud, preventing fraud isn't just about avoiding losses but is also about making you more money and increasing efficiency.
Stop Losing Money: NoFraud correctly identifies and stops fraudulent orders, will reimburse you if a fraud chargeback does occur, and eliminates the overhead costs of in-house manual review.
Make more money: NoFraud has the capability of approving high-risk orders with its precise decisions and in-house manual review team.
Increase operational Efficiency: NoFraud eliminates merchant manual review and offers 100% automation. Get rid of fraud review queues and fraud prevention staffing challenges.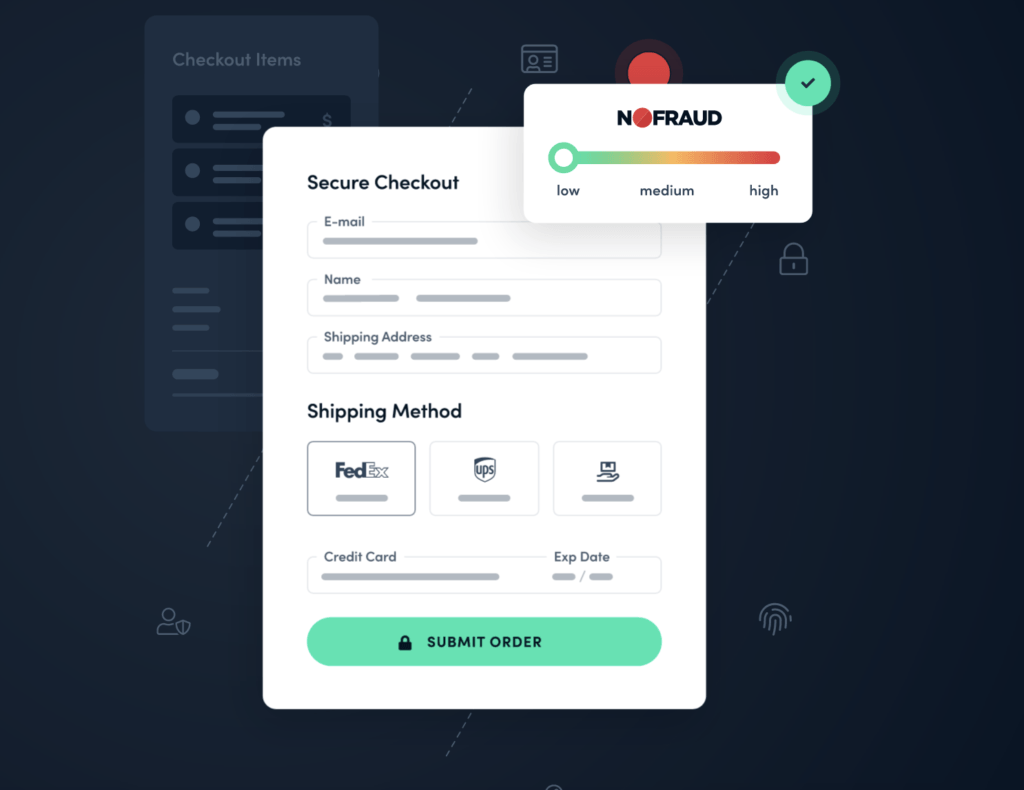 Optily
Optily is the answer to your ROAS prayers this holiday season. During BFCM, ad costs shoot through the roof, but Optily can help you improve your ad performance for a better ROAS this year. From clear attribution and target customer segment sources to a cross-platform connection, Optily is a must-have for brands relying heavily on paid ads this holiday season.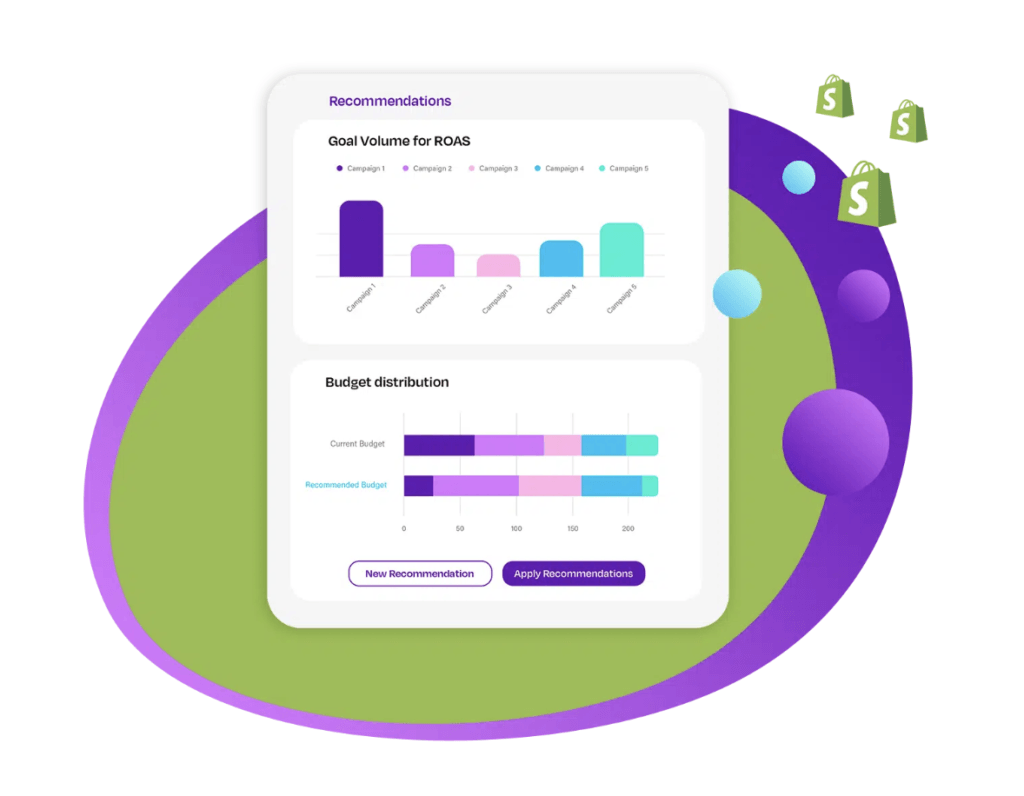 Reviews.io
Reviews.io is a UGC, social proof, product/store reviews, etc., platform that powers a more effective, trustworthy brand experience. Did you know that customers who see authentic reviews are 4x more likely to convert into paying customers and have an average 28% higher basket value? Connect with consumers and showcase real experiences, all while driving more sales!
Pro Tip: Check out their chapter in our Zero and First-Party Data For The Holidays Guide on how to use reviews as a source of valuable zero-party data for a more effective holiday strategy this year.
Sezzle
Did you know that 31% of BNPL users said they would abandon their cart entirely if BNPL wasn't an option? Don't let them! Sezzle is a buy now, pay later solution that provides flexibility for holiday shopping to pay how and when they want.
We all know how high inflation has been these last two years (and continues to climb), so those holiday budgets can be a little tight. Give your shoppers the opportunity to pay with ease using a solution like Sezzle. Not to mention those shopping for gifts online who may not have a credit card, no need to make them look elsewhere. Streamline checkouts, give customers options, and make sure to have BNPL as an option this season!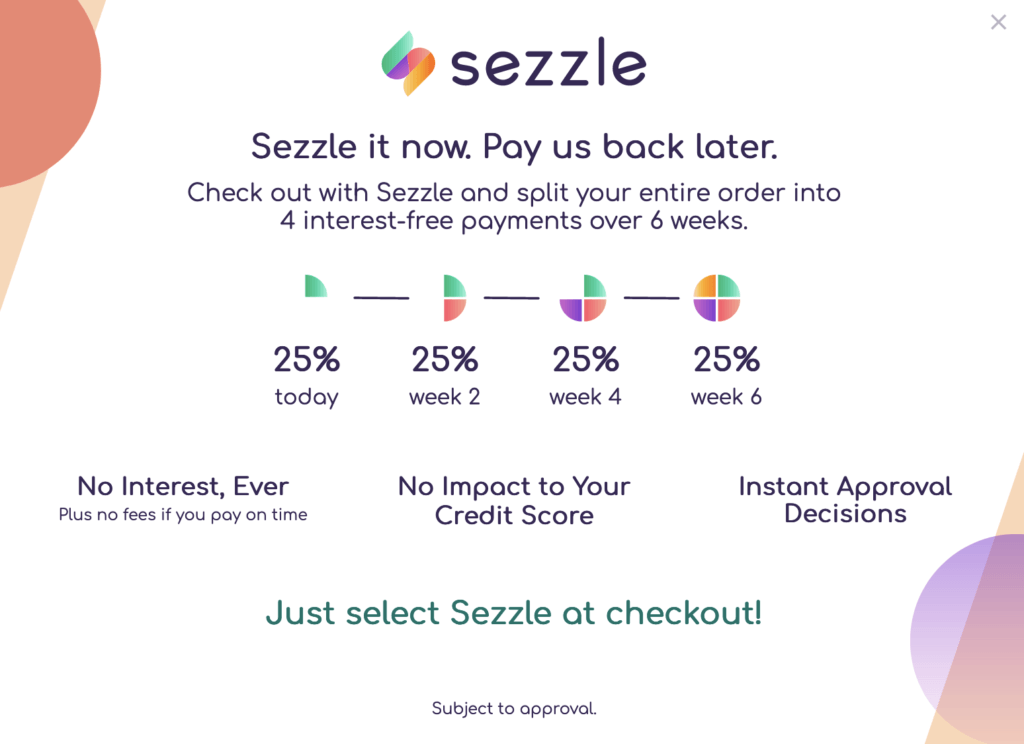 ShipBob
ShipBob is a fulfillment network and platform that effectively improves transit times, shipping costs, and delivery experience for customers worldwide.
By connecting your products and storing inventory in a ShipBob fulfillment center, the network allows for seamless and timely fulfillment and delivery.
The platform boasts affordable two-day shipping, easy-to-understand pricing, transparency of performance, and totally hands-off fulfillment and processing.
As BFCM approaches, order fulfillment and processing are going to be under massive stress. With ShipBob, stores can improve the customer experience while streamlining the back-end work. Not to mention have more control in an area of rising costs from shipping and increasingly one-sided bargaining power.

ShipStation (Auctane)
ShipStation is the fastest way to ship products to your customers; from automated daily fulfillment flows to discounted shipping and instant tracking updates, their platform is key for smooth sailing during BFCM.
Their lowest shipping rates from top carriers mean you'll be able to lock in savings that will preserve profit margins against rising fuel and fulfillment costs.
Their multi-national presence in North America, Europe, and Australia makes ShipStaation the no-brainer choice for international Shopify brands looking to fulfill and scale with ease.
Pro Tip: Check out ShipStation's guest blog for us on how shipping surcharges can affect your business if you don't stay on top of them during the holiday season!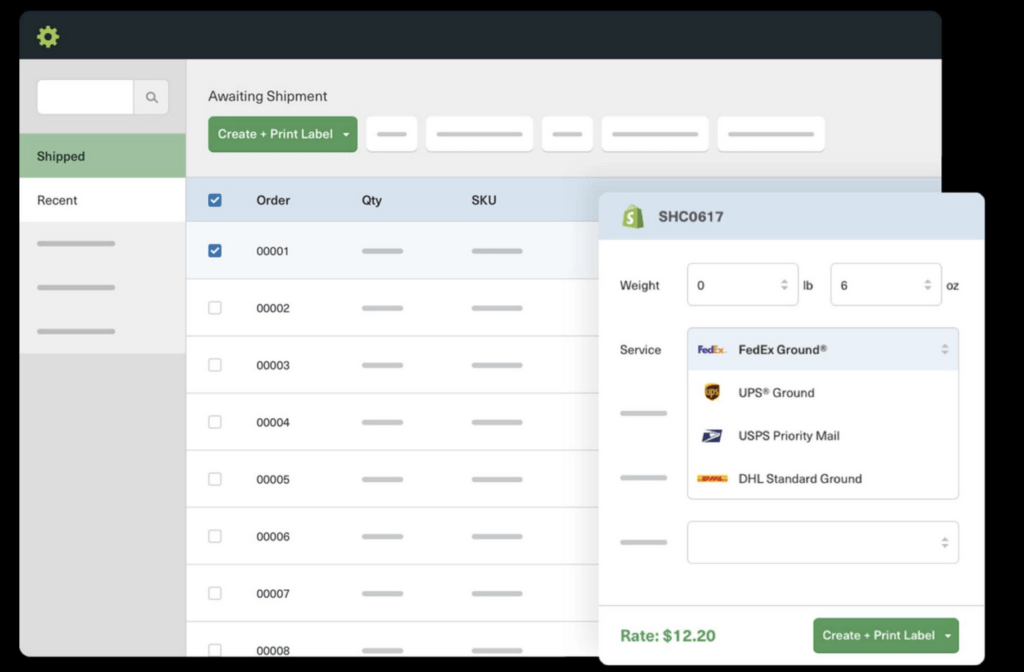 ShoppingGives
ShoppingGives is a simple solution empowering DTC brands to give back, creating more purposeful and profitable customer relationships. Giving Tuesday is the last day of Cyber Week, and while it's not anywhere near the size of its siblings…it can be a powerful day for brands that have or would like to include a more socially conscious or charitable mission.
Easily add on checkout options to round up their order to donate to a cause close to your brand's heart or give them the option to choose where their support goes. Even better? Turn your loyalty program into an impact program—combining rewards and donations this holiday season to make a big difference in your community.
Smartrr
Smartrr is a subscription platform for Shopify brands that's built around the customer. From features like gifting your next shipment and custom dashboards to the ability to set members-pricing. Their customers boast 15X more sales over a customer's lifetime, and subscriptions are one of the hottest gifts around this year.
Make it easy to give the gift of your brand this year and set up a subscription option. Even better? Let VIP customers give the gift of a free 3-month subscription to your store to someone this holiday and double up on the power of referrals + subscriptions for your next biggest advocate!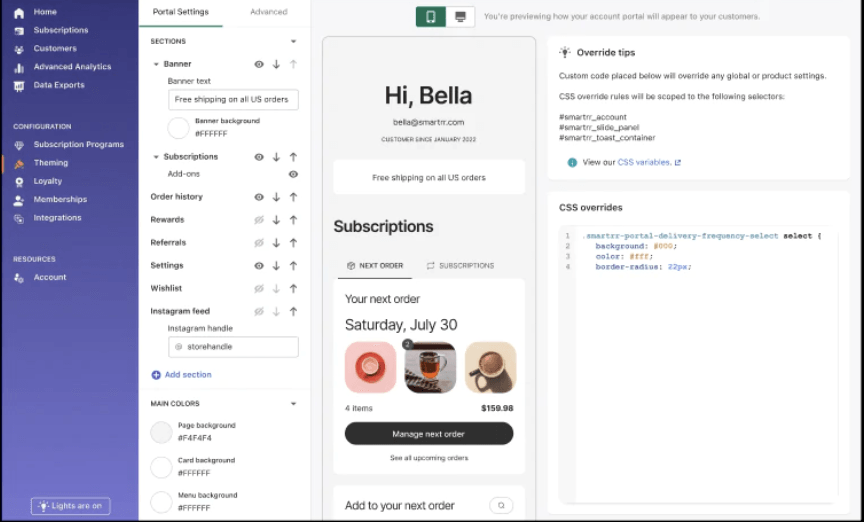 Stamped.io
Stamped.io is a review and loyalty platform with features like Net Promotor Score (NPS) and machine learning to pull actionable insights from your data. Have total control over UGC using things like content, color filters, or automated rewards for engaging with your brand.
Loyalty, reviews, UGC, etc., are all intricately connected, and Stamped.io has something to help you with them all this holiday season.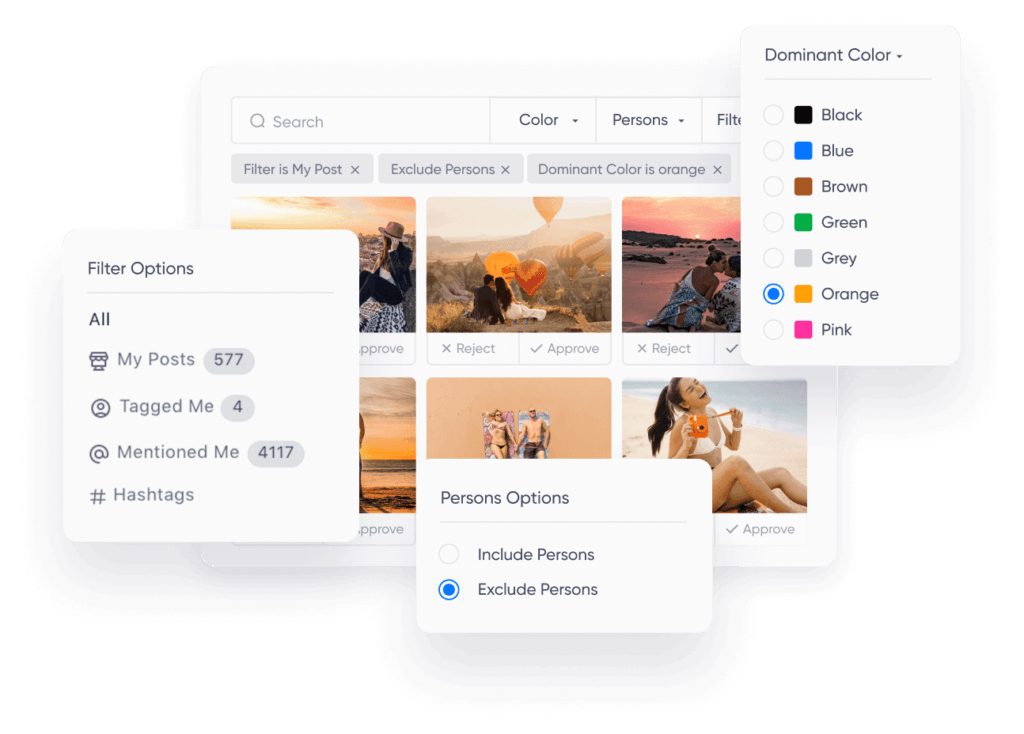 Tapcart
Tapcart is a mobile app builder for Shopify merchants; no code required. As more consumers turn to mobile devices and, increasingly, mobile apps for their shopping needs—brands with high-frequency purchase rates or engaged communities need to rise to the challenge.
Let your holiday shoppers have the shopping experience of a lifetime using Tapcart's mobile app builder that turns your mobile-friendly website into a truly rewarding interactive experience.
Not to mention, mobile apps = unlimited push notifications, unique behavioral data, and recurring sales from an audience segment that wants to hear from you!
Treet
Treet is the prime option for brands wanting to expand their sustainability mission. Their resale approach opens up a new stream of revenue and also allows you and your customers to dodge the landfills.
With their quick support and platform set up they are able to get you resale channel set up in just days. Their custom approach, mixed with efficiency, takes the headaches away when it comes to your exploration of a new resale channel.
As we have seen creatives and influences take the reigns in product discovery for the masses, we see Treet opening up a door to peer-to-peer marketplace. A stellar way to build up community and treat your customers with special offers for being sustainability-focused with you.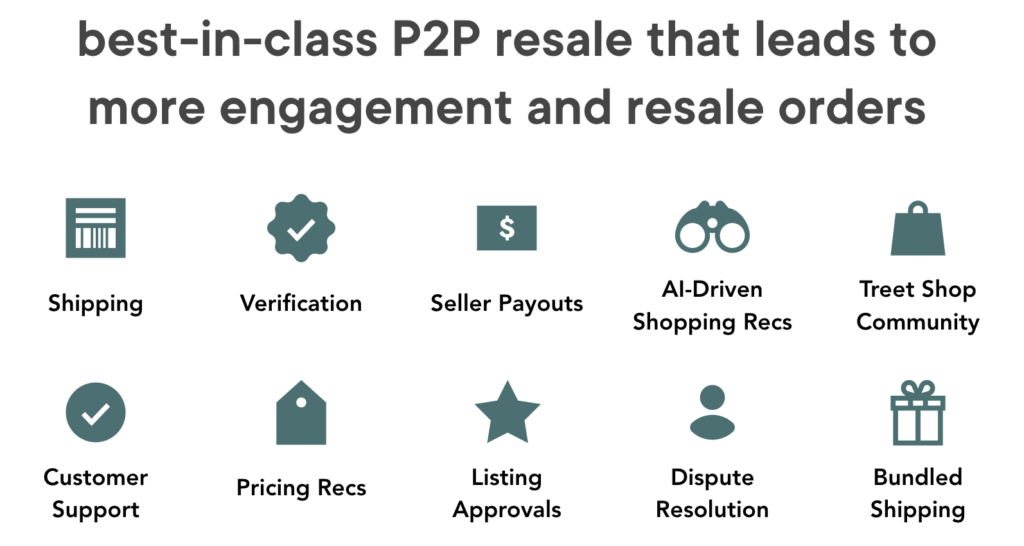 Triple Whale
Triple Whale is a data platform that bring metrics and attribution that matter most to you. You can use their dashboards to make informed decisions about your spend and on site and off site strategies.
Their platform gives you simplified data to inform and save you time when analyzing your efforts. With a full picture view you'll be able to see where performance needs a boost and make game time decisions that you'll be able to monitor in real-time.
You'll find useful features for your review of cohorts, AOV, Bundling opportunities, and behavioral trends! Really endless possibilities to answer any question you may have about your audience and shoppers. Full feature list below!
◦ Triple Whale Dashboard
◦ Triple Pixel
◦ Creative Cockpit
◦ Affluence Hub
◦ Integrations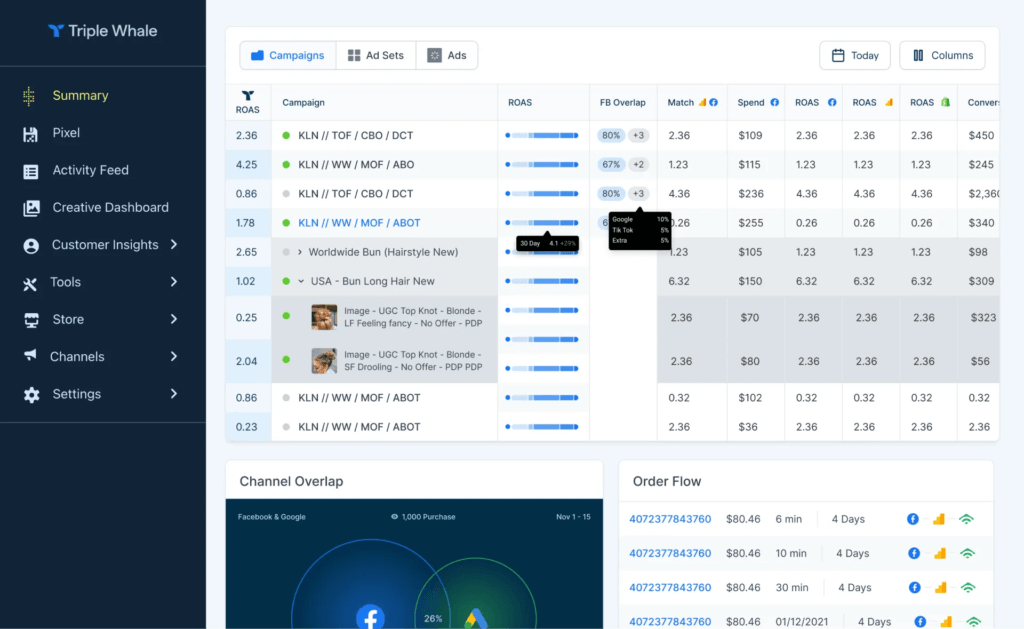 WeSupply
WeSupply is a one-stop shop for Shopify brands this holiday season, featuring post-purchase tracking, estimated delivery dates, curbside pickup options, returns options, and even post-purchase analytics. If you're looking only to add one app to your stack this holiday season, WeSupply is it.
Let your customers know about their order before they even ask with branded notifications to keep them up to date, helping them beat porch pirates and feel in the loop. Make it easy for last-minute procrastinators to pick up at your brick-and-mortar using BOPIS, or make sure that online shoppers are confident checking out with estimated delivery dates for guaranteed arrival times.
WeSupply has all your BFCM needs covered; plus, during the new year, post-purchase is the key to long-term customer retention.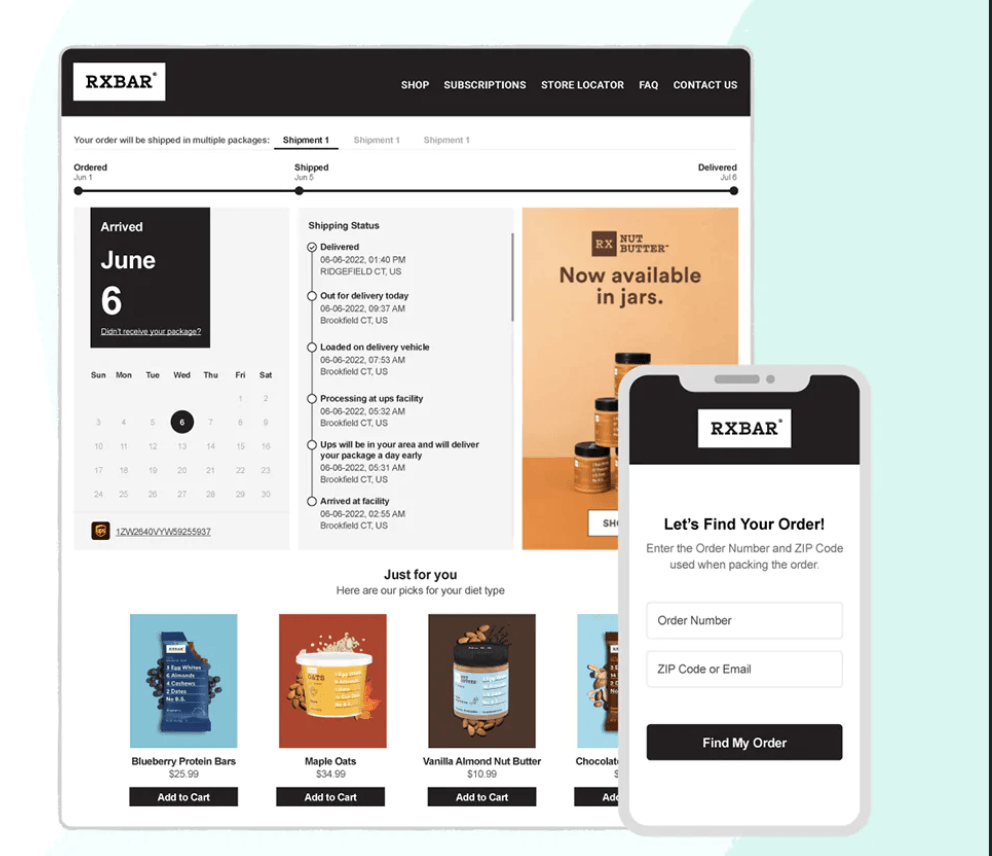 Whiplash (Now Ryder)
Whiplash is a proven omni-channel fulfillment and tech partner featuring end-to-end supply chain solutions for an all-in-one logistics dream.
From storing inventory to packing orders featuring real-time control over materials—Whiplash has you covered. Use intelligent bidding to provide great customer shipping service while saving yourself money on your most VIP orders, and know that your products are getting to their new homes ASAP from Whiplash's extensive network of facilities, including international warehouses!
It's important to get the shipping experience right this holiday season but still maintain your profit margins—Whiplash helps you do just that!
Yotpo
Yotpo comes in hot with a suite of tools ready to be used by the starter or pro e-commerce marketer. Their tools include SMS and email, loyalty and referrals, and subscriptions to give you the ultimate place to manage engagement with your customers and subscribers.
The Yotpo goal is to drive more sales from repeat shoppers. This is in perfect alignment with the way brands are growing and trying to reach their audiences. With this comes retention efforts and their platform allows you to explore different ways to do that. With brands across different industries, they're well equipped to address a brands specific needs! Want to impact your entire experience? They'll open the door to all sorts of possibilities for channel engagement.
Yotpo helps tens of thousands of forward-thinking brands like Patagonia, Rebecca Minkoff, MVMT, Untuckit, and SteveMadden accelerate direct-to-consumer growth. Yotpo's single-platform approach integrates the most advanced solutions empowers brands to create smarter, higher-converting consumer experiences.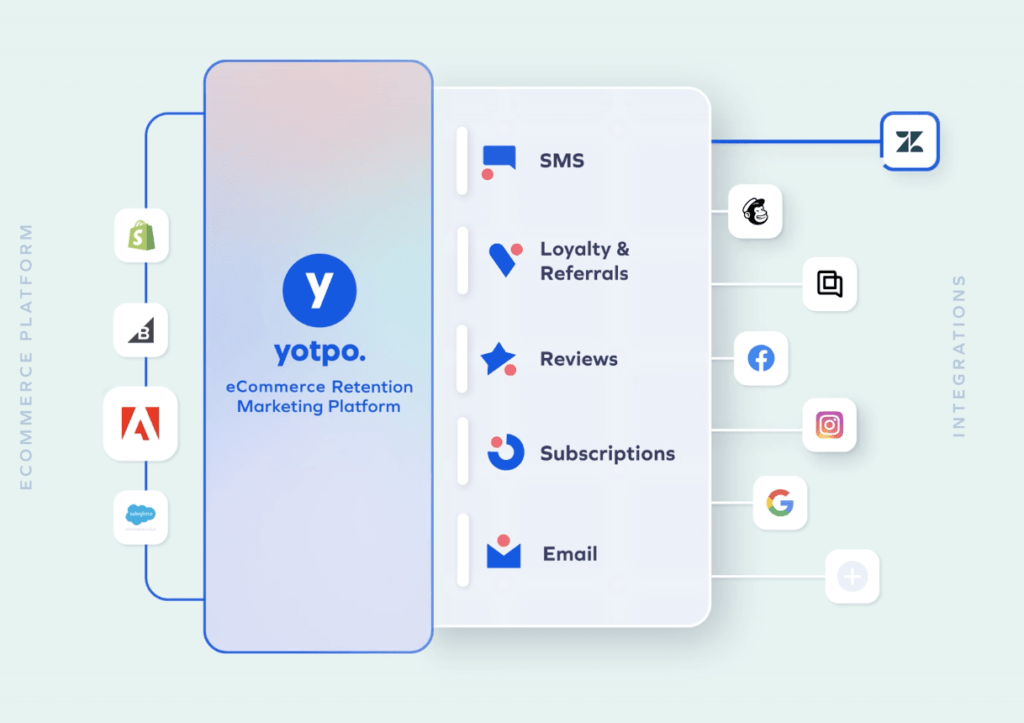 Conclusion
With the holiday season upon us, it's important to have a strategy and tools that will help you maximize your revenue and efficiency.
These 31 Shopify apps are some of the most effective ones on the market before, during, and after BFCM.
Check them out to see how they can help you take your store and your BFCM plan to the next level! Looking for other holiday content? Check out our BFCM corner for all the latest e-commerce holiday resources.