The Best Attentive Alternative
Deliver a personalized experience to every visitor using a more accessible and tailored alternative to Attentive.

Justuno provides high-performing onsite messaging and conversion optimization focused on improving the shopping experience, not disrupting it. Get a personalized walkthrough of the platform to see how you can elevate your website experience today.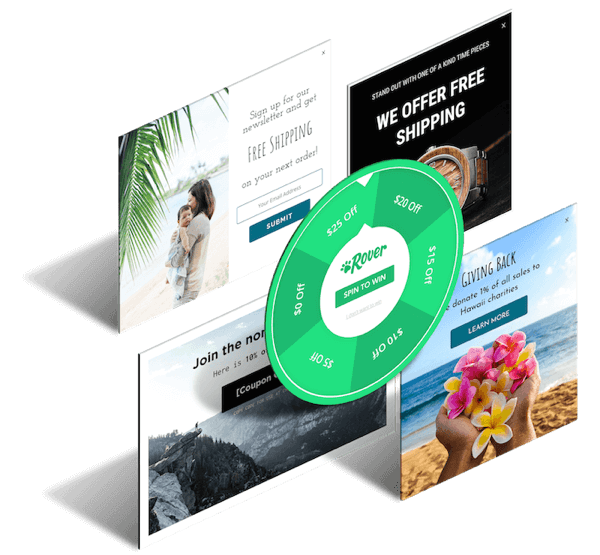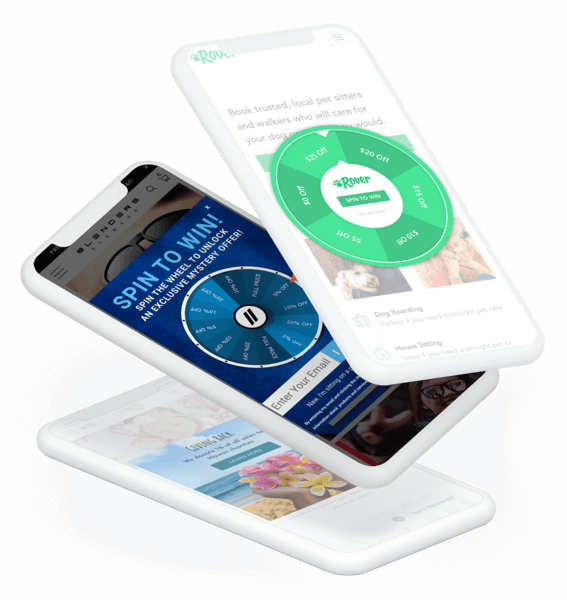 Control Your Own Data
With Justuno, you can access your real-time analytics at any time without having to be dependent on an account manager. With today's fast-paced landscape, agility and speed are key to success; you can't afford to wait for key performance data when implementing changes.

The Justuno dashboard gives you instant access to key metrics, options for deep-diving into website performance, and more. It's powerful data in an easy-to-understand report for actionable insights into how customers behave so you can get even better results.
Smooth Integration With Your Tech Stack
Justuno integrates with over 100 technology partners, empowering you to automatically send onsite data directly into the ESP, SMS, CRM, or any technology of your choice.

We pride ourselves on customer support and service, giving customers the power to control their data how they want and making it easy to integrate your most important apps. Grow your email list, optimize SMS-based marketing campaigns, and design customer journeys from acquisition to retention and beyond.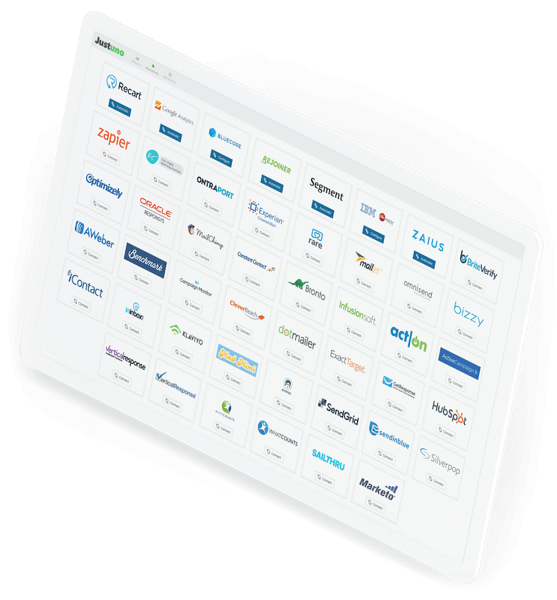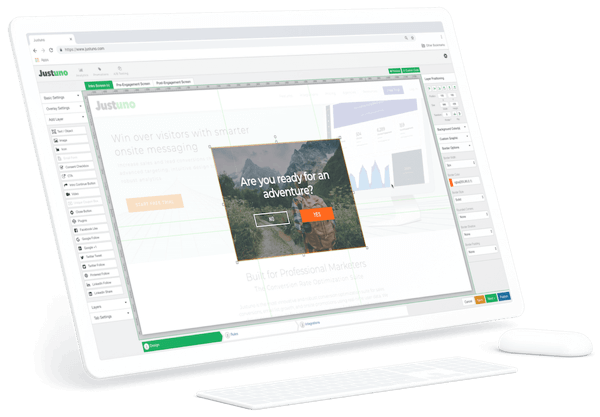 Designs For Everyone
Create lead captures that engage and stand out from the crowd; Justuno's drag-and-drop design canvas makes it easy to build on-brand pop-ups for every website. Don't want to start from scratch? We have hundreds of professionally designed templates for every scenario that you can set live in just minutes. Whether you want a sleek lead capture for new visitors, in-page AI-powered product recommendations, or a custom game for SMS subscribers–Justuno can help you build it all.
Transparent Pricing
Avoid hidden fees and random upgrade charges with Justuno's plan pricing. Your plan's price is the same every month, not based on arbitrary impression counts or hidden fees to use different features. Be confident in the ROI you're getting from your onsite conversion platform from accessing your data whenever and knowing exactly what you're paying for. Choose between our self-service essential plan and the managed Justuno Plus plan depending on your team size and business goals.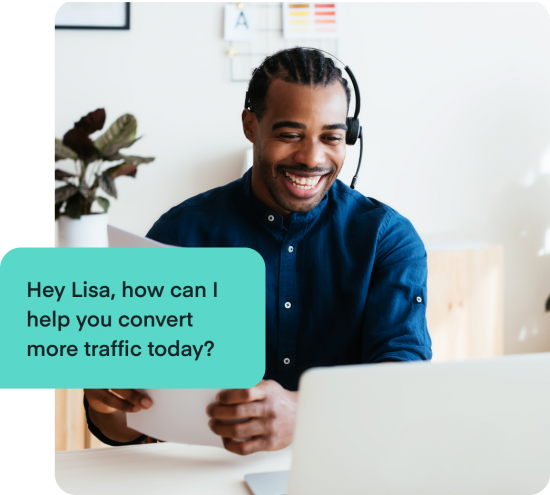 Attentive vs. Justuno
.
Products & Services
AB Testing
Audience Targeting
Audience Sync
Behavioral Targeting
Conversion Tracking
Lead Capture
Geotargeting
Multi-channel Marketing
Social Media Integration
Plan Types
Free Version
Free Trial
Subscription
Support
Email/Help Desk
Phone Support
Chat
Integrations
AWeber
BigCommerce
Google Analytics
HubSpot Marketing Hub
Klaviyo
Magento
Shopify
Attentive
Products & Services
Plan Types
Support
Integrations
Justuno
Products & Services
Plan Types
Support
Integrations
Ready to Take The Next Step For Your Business?
Start a Free 14-Day Trial Today!
Start optimizing onsite experiences today with access to designer templates and 80+ advanced targeting rules
Our customers see a 135% increase in revenue during the first year, see what Justuno can do for you!
Start my 14-day free trial
See It For Yourself, Request a Demo
Get a personalized walkthrough of the platform to see how Justuno can help uncover hidden opportunities and improve performance.
Our team will help you find the plan that fits your business goals and get you started on your CRO journey.
Request my demo