This report analyzes your website's performance metrics with billions of Justuno visitor profiles. Our AI insights on your website's visitor behaviors provide focused areas for improvement and important conversion optimizations.
Email marketing has a more successful conversion rate than any other marketing channel. In fact, email is 40 times more effective at acquiring new customers compared with Facebook or Twitter. The average order value of an email is at least three times higher than social media. Use Justuno to create high-performing email captures that are proven to convert.
Justuno visitor profiles are built on billions of data points across industries, visitor behaviors, and customer purchase patterns. From this data we can deliver powerful AI insights, audience segmentation, and marketing automations.
AVG TOTAL VISITORS / MONTH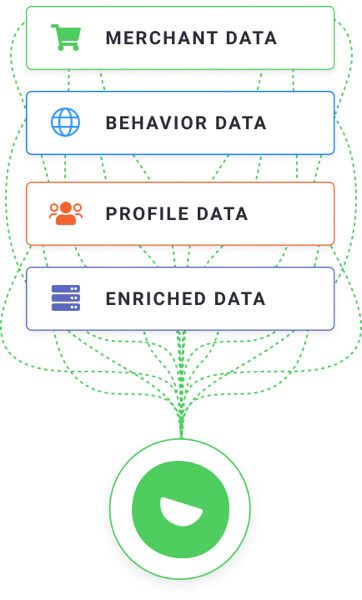 Personalized marketing is one of the most effective ways to reach your conversion goals. Marketers typically see an average increase of 12% in sales when implementing more personalized website experiences.
EST ANNUAL SALES INCREASE
EST ANNUAL CONV RATE INCREASE
Justuno's Commerce AI gives you have full access to our data driven upsell, cross-sell, most purchased, and most viewed promotions. Let Commerce AI intelligently and dynamically present product recommendations, seamlessly integrated into your e-commerce site.

"Since moving to Justuno we tripled our performance and understood our customer behaviors throughout."
Reducing your bounce rate is key to increasing conversions, improving your organic traffic, reducing your paid ad CPC, and determining if visitors are engaging with your content.
Justuno can help reduce your bounce rate by an average of 14%, giving you the chance to market more effectively.
Reducing cart abandonment is every retailer's dream. Nearly three out of four shoppers leave a site without purchasing. That's an average cart abandonment rate at around 76%.
Justuno's exit offers are designed to recover more of your lost orders. How much more could you be earning?
Use Justuno to improve the ROI of all customer acquisition investments and off-site marketing channels.
Realize the full potential of your marketing efforts with an optimized onsite experience. Often, for every $92 spent driving traffic to a website, only $1 is spent on optimizing conversions. Investing in your customer experience will increase the ROI of your acquisition efforts.
Add Your Heading Text Here
Add Your Heading Text Here